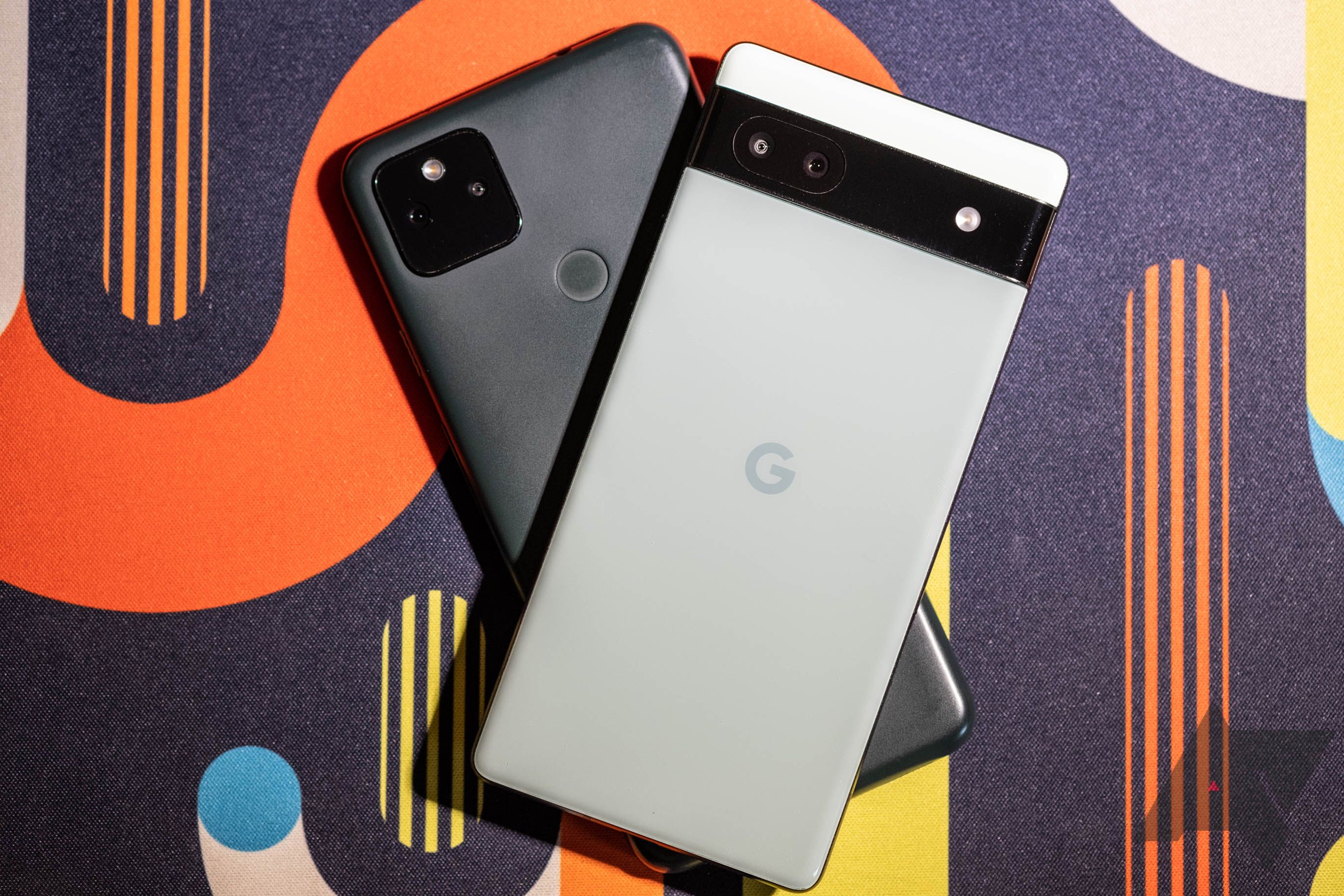 Google Pixel 6a

Incredible Value

The Pixel 6a is the best budget smartphone you can buy right now. It may not be the cheapest, but it delivers outstanding value, featuring Google's powerful Tensor chip, an impressive camera for a phone in its class, plus five years of security updates.

Pros
Shares the most important features of the pricier Pixel 6
Impressive camera
Five years of security updates
Great build quality
Cons
Lacks wireless charging
No headphone jack
Google Pixel 5a

Classic Design

Better battery and a bigger screen

The Pixel 5a is a great budget option for those looking for a larger smartphone with a classic design. Despite being three years old, it still delivers advantages such as a larger display, a longer battery life, and a decent camera system. However, it's nearing the end of the road for software updates.

Pros
Great battery life
Includes a headphone jack
Solid build quality
A good camera
Cons
A bit chunky
Only three years of security patches
Older chipset
Lacks wireless charging
The Pixel 7 and Pixel 7 Pro may be Google's latest powerful new flagships, but you don't need to splurge on the latest and greatest technology to get the best mobile experience. Google's Pixel 6a is still a strong contender and the best budget smartphone you can buy right now, offering incredible value for its price tag.
After all, the Pixel 6a packs in the same Tensor chip that made the Pixel 6 Pro a front-runner in performance and computational photography, yet it comes in at a fraction of the price. Although it's tempting to assume its predecessor, the Pixel 5a, would be even more affordable, that's becoming less true as the Pixel 6a continues to drop in price and the older model becomes harder to find.
Nevertheless, while the newer Pixel 6a may be easier to find than the device it replaced, it's not an upgrade over the old one in every way.
Google Pixel 6a
Google Pixel 5a
Chipset
Google Tensor
Qualcomm Snapdragon 765G
RAM
6GB LPDDR5
6GB LPDDR4x
Storage
128GB UFS 3.1
128GB UFS 2.1
Display
6.1″ FHD+ (1080×2400) OLED, 60Hz, Gorilla Glass 3, Always-on Display, High brightness mode, In-display fingerprint scanner
6.34″ FHD+ (1080×2400) OLED, 60Hz, Gorilla Glass 3, Always-on Display
Battery
4,410mAh, up to 18W wired charging
4,680mAh, up to 18W wired charging
Rear Cameras
12MP f/1.7 primary, OIS, 1.4μm pixel width; 12MP f/2.2 ultrawide with 114° field of view and 1.25μm pixel width; Camera features: Night Sight, Top Shot, Magic Eraser (with Camouflage), Real Tone, Face Unblur
12MP f/1.7 primary, OIS, 1.4μm pixel width; 16MP f/2.2 ultrawide with 118.7° field of view and 1.0μm pixel width; Camera features: Night Sight, Top Shot
Front Camera
8MP f/2.0
8MP f/2.0
Connectivity
5G (Sub-6GHz/mmWave exclusive to Verizon), Wi-Fi 6e, Bluetooth 5.2, USB Type-C, NFC
Sub-6Ghz 5G, Up to Wi-Fi ac, Bluetooth 5.0, USB Type-C, NFC, Headphone jack
Dimensions
152.16 x 71.8 x 8.85, 178g; IP67 certified
156.2 x 73.2 x 8.8 mm, 183g; IP67 certified
Software
Android 13 (launched with Android 12), OS updates are promised until July 2025, and security updates are promised until July 2027
Launched with Android 11 (now on Android 13), OS and security updates are promised until Aug. 2024
Colors
Charcoal, Chalk, Sage
Mostly Black
Price
$450
$450
Review
Google Pixel 6a
Google Pixel 5a
On paper, the two phones share some internals in broad strokes: Similar RAM and storage capacities, similar cameras, similar screens, the same IP rating, and the same price. But a few details already stand apart; they have different chipsets, different-sized screens, different battery capacities, and different dimensions, all of which manifest as a noticeably unique experience when you use them.
Price and availability
Even though the Pixel 6a has some noteworthy upgrades over the Pixel 5a, it has the same $450 price. The Verizon-specific mmWave version of the phone costs an extra $50, but you can ignore that unless you're looking for the fastest possible 5G speeds, which usually isn't a priority for a phone in this class.
Pricing may not have changed, but regional availability has. The Pixel 5a was criticized — not for being a bad phone, but for being an amazing phone you could only buy in the US or Japan. Customers in other markets were left with envy (though many other markets arguably have better-value smartphones, to begin with). But the Pixel 6a fixes that. You can buy it in Australia, Canada, France, Germany, Ireland, Italy, Japan, Puerto Rico, Singapore, Spain, Taiwan, the UK, the US, and India (where it is the first Pixel to launch in the country since 2020).
Your best bet for picking up a Pixel 5a at an affordable price is going through the used market. That route can score a phone as cheap as $150, which is well below the original $450 launch price. That said, we've seen the Pixel 6a priced as low as $250 with carrier activation. For a phone as powerful as this, it's basically an unbeatable price, and I'd highly encourage anyone choosing between these phones to opt for the newer model.
Design and durability
The Pixel 6a and Pixel 5a are made out of very different materials. The older Pixel 5a shares a design with the Pixel 5, which means the phone's body is a "bioresin" coated aluminum, with the camera island set in one corner as a rounded square. In practice, it's a solid-feeling unibody design with pleasantly curved edges and few seams. The corners can be prone to picking up a bit of shine over time if you don't use a case, and the "bioresin" can pick up light scratches, but it's hard to actually gouge and exceptionally durable.
The newer Pixel 6a, on the other hand, has adopted the design language of Google's Pixel 6 line. That means it has a two-tone back with two separate pieces inset in an aluminum frame, divided by the company's characteristic Robocop-looking camera visor. The plates on the back are plastic rather than glass (as in the case of the Pixel 6 and 6 Pro), but it's pretty durable plastic. While mine has picked up some light scratching visible when light is at the right angle, in my earlier tests to confirm the material, I mistook it for glass when I had difficulty scratching it with a metal implement. I think it's likely to age well even if left exposed. But if you plan on using a case, it doesn't matter.
Of course, there are some complaints about the Pixel 6a's design. Google changed its camera bar for the Pixel 7 series, opting instead to cover it with an aluminum frame that remains missing on this device. The lack of coverage can lead to lens flare issues, not the type you want to see in your photos. Still, it remains a solid design as long as you know about its potential problems.
The two phones don't just use different materials; they're different sizes. The Pixel 6a is noticeably smaller than the Pixel 5a, making it easier to use one-handed. Having used both phones, I consider the Pixel 6a closer to the Goldilocks smartphone size for portability. It's not the small Android phone some people dream about, but it is closer to a mini phone in the lineup than last year's Pixel 5a was.
Both phones share an IP67 rating, so taking the occasional call in the rain shouldn't be a problem, but I should point out that the Pixel 6a marks the end of the headphone jack in Google's mid-range phones, so you'll either need some Bluetooth headphones or a dongle to get your audio connections.
The Pixel 6a also switches to an in-display optical fingerprint sensor. The Pixel 5a's rear-mounted capacitive fingerprint sensor is a little more reliable and noticeably faster. There have also been recent concerns about the security of the Pixel 6a's fingerprint sensor, with some claiming that others can unlock the device. But it seems Google has fixed this through a recent security patch. As long as you can handle the slower optical sensor on the Pixel 6a, both phones should provide you with a secure experience.
Lastly, Google has expanded the color options for the Pixel 6a. You can get it in three colors: Charcoal (black and gray), Chalk (white and gray), and Sage (green and… green). The Pixel 5a is only available in a mostly black colorway that is just dark green. More choice is always better, so chalk this up as a win for the Pixel 6a.
Displays
The Pixel 5a and Pixel 6a have 1080p displays with the same aspect ratio but are different sizes. The Pixel 6a has a smaller 6.1-inch display and has its "hole-punch" camera set in the top middle of the screen, while the Pixel 5a has a noticeably larger 6.34-inch display with its hole-punch camera set in the corner.
The two displays are both OLED, but I found the Pixel 5a screen slightly higher quality than the Pixel 6a screen. All OLED displays are subject to the so-called OLED lottery, and panels can vary, but my Pixel 6a had noticeable issues with uniformity at night, causing dark themes to appear as if they had a splotchy gradient. So on paper, the two screens are quite similar, but In practice, I liked the screen on the Pixel 5a just a little better. However, the Pixel 6a's screen is slightly sharper since it's a similar resolution but is smaller.
The brightness between the two screens was about the same for me, with each getting bright enough to use in daylight without any issue and dim enough for use at night. Both screens have the same 60Hz refresh rate, too, so you aren't sacrificing any smoothness in choosing between the two phones, though some other devices at this price support higher refresh rates. They're also both Gorilla Glass 3 — not the most bleeding edge of impact-resistant glass, but plenty durable and more scratch-resistant — and each supports technologies like HDR for playback of high-quality content in compatible streaming apps and an always-on display if you choose to enable it.
Front and rear cameras
The Pixel 6a and 5a have the same primary camera (12.2MP f/1.7 IMX363 with OIS) using the same sensor and what appear to be identical or nearly identical optics. That means photos you take in the default mode should look basically the same between the two phones. They're excellent cameras and take superb-quality low-light photos with some of the best processing and color science you can get.
The ultrawide cameras between the two phones vary, though. The Pixel 5a technically hits a higher resolution at 16MP and a slightly wider 118.7˚ field of view. Still, it has an arguably lower-end sensor, using a Sony IMX 481 that offers 1.0μm sub-pixels. The Pixel 6a has the same wide-angle camera as the more expensive Pixel 6 and 6 Pro at 12MP with a slightly narrower 114˚ FoV and an IMX 386 with larger sub-pixels at 1.25μm. (Regarding the field of view, the Pixel 5a may use some distortion correction that effectively makes its angle slightly narrower. We've previously asked Google to no avail, but regardless, the difference shouldn't be substantial.)
All those numbers and details cumulatively mean that the Pixel 6a's ultrawide camera offers better low-light performance at a slight loss of resolution, which I'd argue is an objective upgrade over the Pixel 5a. In addition, both phones have an 8MP f/2.0 selfie camera and should take similar photos there.
Now that you know the hardware, it's good to reiterate that software is arguably as important, if not more important. The Pixel 6a is powered by the same Tensor chipset that the Pixel 6 and 6 Pro use, and that means the Pixel 6a gets access to Google's newer photographic technologies, like Magic Eraser touch-ups, Face Unblur to fix photos of kids in motion, Motion Mode photo capture modes, and Real Tone for better skin tones.
On top of that, the Pixel 6a processes captured images more quickly than the Pixel 5a, due to its extra oomph, so you'll spend less time sitting and waiting for photos to be usable. Sticking on Tensor also means that — at least in the foreseeable future — new tricks added to devices like the Pixel 7 can usually be backported to the Pixel 6a, either through official channels or with the help of dev-made mods.
They may share a lot of hardware, and "basic" photos in some circumstances may look the same, but the Pixel 6a has more photo tools and modes, faster processing, and a better ultrawide camera.
Hardware and performance
Source: Google
The Pixel 5a and Pixel 6a have very different chipsets inside them. While the Pixel 5a packs an older Snapdragon 765G, the Pixel 6a has the relatively new Tensor chipset designed by Google and Samsung. I can fire off core counts and gigahertz for you to compare, but those details obscure the fact that the Pixel 6a is much faster than the Pixel 5a.
In my Geekbench benchmark scores, the Pixel 6a is roughly twice as fast as the Pixel 5a is across both single-core and multi-core results, and Google said at the Pixel 6 launch that the CPU performance of the new Tensor is around 80% faster than the 765G and GPU performance is about 370% better. My experience with both phones agrees with these numbers — the Pixel 6a is noticeably faster than the Pixel 5a across all use cases.
I'd argue that neither phone is built for gaming, but the Pixel 6a hits higher frame rates in more demanding titles than the 765G. However, it also runs noticeably hotter and seems to consume more power than the Snapdragon 765G. In light use and day-to-day tasks, the difference in power between the phones probably won't be very noticeable, but the Tensor's speed shines through when you're doing AI-related workloads like voice typing or translation. It even supports related features like real-time transcription and translation that the Pixel 5a's older chipset can't quite handle.
However, there's one other fundamental way that performance in a phone matters that we sometimes forget: phones need to connect to a network and make calls. That's what they did before we made them all so smart, and that's one way that the Pixel 6a falls behind. As with the more expensive Pixel 6 and 6 Pro, you'll notice reduced signal strength and more cellular connectivity issues on the Pixel 6a than you would on the Pixel 5a. If you live in an area with strong coverage, that might not be a problem. But out in more rural areas, you will notice the Pixel 6a losing signal in areas where other phones may still have it, and that's what I observed in my testing.
Finally, it's unclear how much of an upgrade this actually is, but the Tensor chip in the Pixel 6a is paired with a Titan M2 security coprocessor, while the Pixel 5a has the original Titan M.
Battery life and charging
The Pixel 5a lasts for ages on a charge. In my testing, I was able to break ten hours of screen-on time across three days, and I'm convinced that with very light use and battery-saving measures applied, it might be possible to reach 4-5 days on a charge (or longer). This phone just goes and goes on its 4680mAh battery. The Pixel 6a, in comparison, offers merely "good" battery life.
Having used both phones back-to-back, I know they're both all-day phones very easily. But the Pixel 6a is, at best, a two-day phone, reaching around 6 hours of screen-on time in my testing. Part of that has to do with the slightly reduced 4410mAh of battery capacity Google gave the newer model, but the bigger difference is likely due to the chipsets used by each phone.
As discussed previously, the Tensor in the Pixel 6a is much more powerful — and almost certainly much more power-hungry as a result. Even just playing games, I noticed the Pixel 6a would suck through its limited capacity even faster. The Pixel 5a's slower chipset may be a performance disadvantage, but it does seem to make it last much longer on a charge. Google is two generations into its Tensor chipset now, but it has yet to blow us away with extended battery life.
Both phones charge at the same 18W rate, which is arguably pretty slow compared to other phones. That means you will have to spend a little more time charging the phone, and you can't just plug it in for a few minutes and expect to see a big difference. Google says that to hit full speeds, you'll need a good PPS charger. Neither phone has wireless charging, either — that's not uncommon at this price.
Overall, the Pixel 6a has a pretty good battery life, and most buyers are unlikely to be disappointed. Still, the Pixel 5a lasts much, much longer on a single charge, and it's arguably one of the few reasons to choose the older phone.
Carrier support and connectivity
The Pixel 6a is the newer phone, so it supports some new sub-6GHz 5G frequencies that the Pixel 5a doesn't, but the distinction is immaterial right now. Both phones support the full suite of sub-6GHz 5G bands that US carriers currently have deployed, and both should be both 5G and VoLTE certified to work on all US carriers — though some unlocked Pixels have had issues on AT&T's FirstNet network.
Complicating our discussion slightly, the Pixel 6a also comes in a mmWave 5G version compatible with Verizon's network and costs an extra $50. Frankly, that connectivity isn't worth the extra money, but it's an option if you want to pay more for a Verizon-locked version of the phone. Note, too, that neither phone makes our current list of the best 5G phones.
The Pixel 6a supports up to Wi-Fi 6 and 6e, but the Pixel 5a can only connect up to Wi-Fi 5/ac. That means the Pixel 6a can reach faster speeds on compatible Wi-Fi networks using the new standards, and it can connect to the brand-new Wi-Fi frequencies that just opened up. Even if you aren't shopping for this sort of feature right now, Wi-Fi 6e support could be a noteworthy benefit in a few years if and when you upgrade to a compatible router.
The Pixel 6a also supports Bluetooth v5.2, while the Pixel 5a can only do Bluetooth v5.0. This means the Pixel 6a will have support for the technologies that underpin the new Bluetooth Audio LE standard, which will offer battery life improvements and other benefits for compatible Bluetooth audio devices — another potential long-term perk. That sort of future-proofing is arguably pretty important because, as I mentioned before, the Pixel 6a doesn't have a headphone jack.
Special features, software, and updates
One big way that the Pixel 5a and 6a differ is when it comes to the software update commitment. Of course, the Pixel 5a is the older phone, so more of its lifespan has been used up at this point, but even then, Google promised a mere three years of OS updates and security patches. That means it will continue getting updates until at least August 2024. Beyond that, the phone will become increasingly less secure to use as unpatched security vulnerabilities start to build up. Google's Project Mainline might make a difference when it comes to some of them by still updating critical components past that date. However, I still wouldn't recommend using a phone that is no longer getting security updates simply because you can't be sure.
The Pixel 6a, on the other hand, benefits from Google's new software commitment that debuted with the Tensor-powered Pixel 6 series. Google still only guarantees three years of OS updates, but it also promises an extra two years of security patches, meaning the phone will be safe to use until at least July 2027. That's three extra years of life compared to buying the Pixel 5a, and a pretty significant benefit if you're amortizing the cost of ownership over the years. That means you'll be able to keep the Pixel 5a a whole lot longer, saving you money on a new device.
Both phones run nearly identical versions of Android. Still, we've already touched on a few software features that the Pixel 6a gets by virtue of its Tensor chipset that the earlier Pixel 5a doesn't get, like real-time translations, better voice input, and camera features such as Magic Eraser and Real Tone. Both phones benefit from quarterly Feature Drop updates, but the Pixel 6a will likely get more features with time than the Pixel 5a, given that newer chipset.
So far, we have yet to see most of the Pixel 7's exclusive features trickle down to the Pixel 6 or 6a. There are a handful of features coming from Google's latest phones to its older devices, though in many cases, these are coming to all currently supported phones — that means Pixel 4a and newer. Still, Real Tone enhancements are confirmed to arrive in the 6 series, and it seems like Clear Calling could make its way to older Tensor-powered hardware as well. Other tools, such as face unlock, require specific Pixel 7-related hardware and won't arrive on the Pixel 6a in any form.
Which one should you buy?
The Pixel 5a still has an advantage in battery life and screen size, but the Pixel 6a beats it in most other ways. The Pixel 6a will get updates for three years longer than the Pixel 5a, which becomes all the more significant as the Pixel 5a's August 2024 deadline approaches. The Pixel 6a also has Google's Tensor chipset, which is much more powerful, plus some small but significant camera upgrades, with an improved ultrawide sensor, new camera modes, and more advanced computational photography features.
While there's little reason to upgrade to a Pixel 6a from a Pixel 5a, if you're comparing the two for a new purchase now, the 6a is the easy winner; it's secured a spot on our best budget Android Phones list and our best Android phones list, and it handily won our award for the best budget phone overall in 2022 for delivering incredible value.
Google Pixel 6a
The Pixel 6a is an improvement on its predecessor in almost every way. While it loses out on a headphone jack and can't quite compete in the battery department, the improved performance, camera, design, and five years of security updates all make it the obvious winner.
Google Pixel 5a
The Pixel 5a is a reasonable budget pick for folks who prefer its classic design. It boasts a larger display, a longer battery life, and a decent camera system. However, it's now three years old and nearing the end of the road for software updates.
Conclusion on Which phone is the better value?
If you have any query let me know in comment section.