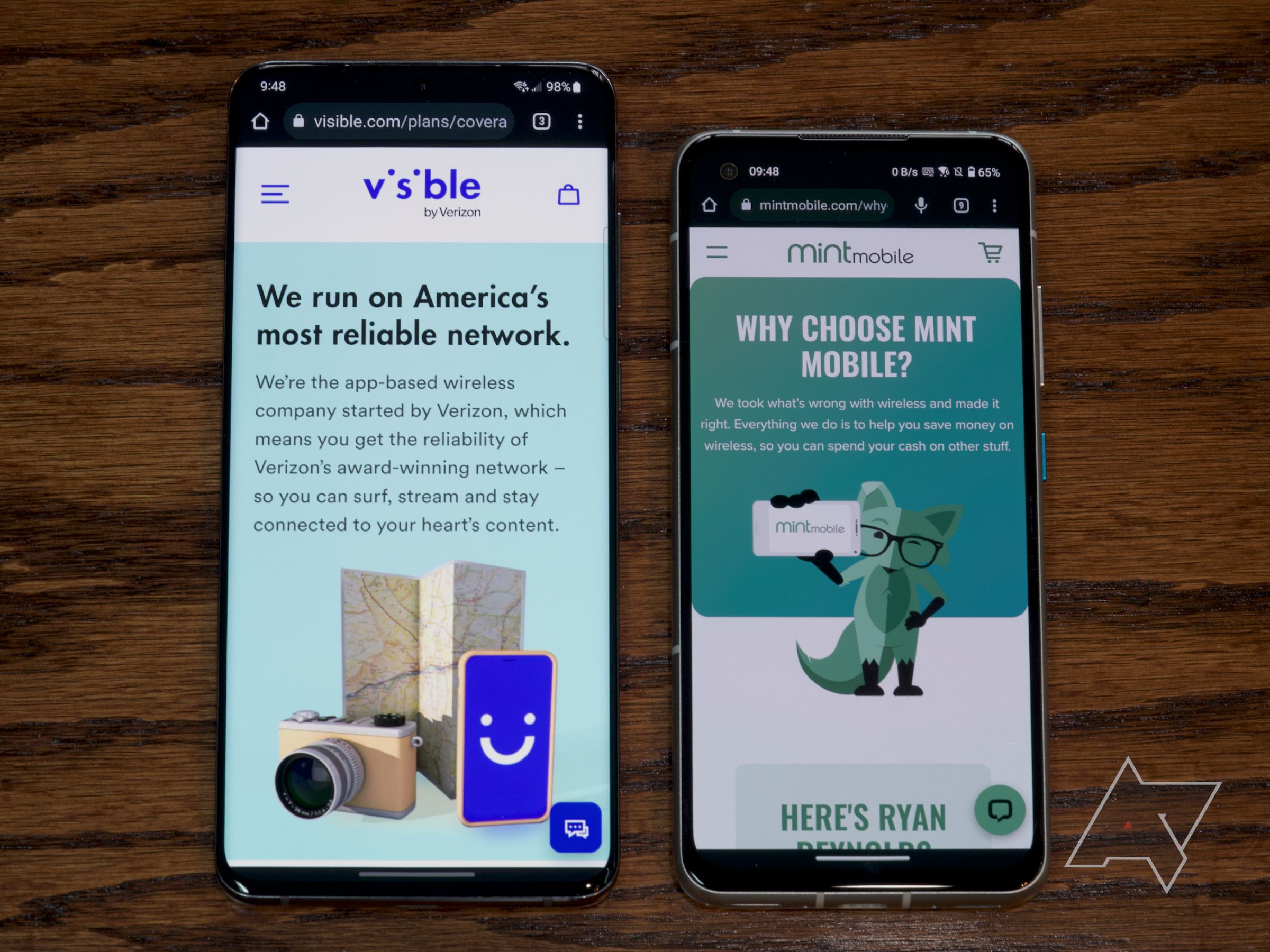 Visible

Unlimited Data

Visible by Verizon is a prepaid carrier with two completely unlimited plans. Both plans use the Verizon network with 5G access, though only the more premium Visible+ plan comes with Ultra Wideband speeds. Both plans also have unlimited hotspot data at 5Mbps, which means you can keep a laptop or tablet online with just a single Visible plan.

Pros
Completely unlimited data on both plans
Unlimited hotspot data (5Mbps)
Coverage on the vast Verizon LTE network
Access to 5G on both plans
Can be bought one month at a time
Taxes and fees are included
Cons
Base plan lacks full 5G speeds
A faster hotspot option would be nice
Weaker phone compatibility than Mint
Credit: Mint Mobile
Mint Mobile
Multi-Month Savings
Perfect for lighter users
Mint Mobile has won over a lot of customers with its simplicity and excellent compatibility, but it's still a tough sale for those who want truly unlimited data or live in rural areas. Mint Mobile uses the T-Mobile network with full 5G access on all plans, so all customers need to do to find the best Mint plan is figure out how much data they use.
Pros
Cheap plans for light users
Hotspot data on all plans
Great 5G coverage on T-Mobile
Strong phone support
Multi-month savings
Mint Family makes multi-line savings more accessible
Cons
The unlimited plan is only 35GB at full speed
You must buy at least three months
Taxes and fees are extra
If you're looking for a new phone plan, Mint Mobile may seem like the freshest choice, but if you're a heavier user, Visible may be exactly what you've been looking for. Visible sticks to its roots by offering truly unlimited data on Verizon's network. On the other hand, Mint Mobile's unlimited plan only comes with 35GB of high-speed data each month, and after that, it's 2G speeds. If you use less than 35GB each month, Mint's plans could be a great way to save on wireless.
Mobile carrier features
Visible is owned and operated by Verizon and runs exclusively on Verizon's LTE and 5G networks. Visible almost seems like an experiment for Verizon, being one of the first carriers to require VoLTE and ditch 3G entirely while offering truly unlimited data. Visible has recently updated its service with a new plan featuring premium data and international options. Both plans still include unlimited high-speed data for your phone and unlimited hotspot data.
Mint Mobile has four data plans to choose from, with fairly standard 4GB, 10GB, 15GB, and unlimited plans. Mint Mobile uses T-Mobile's network (including access to the 5G network) for coverage. Mint Mobile also sells data for multiple months at a time, with the shortest term being three months. You can save more by buying six or 12 months at once, with the best rates for those paying for the whole year.
Mint Mobile also comes with hotspot data on all of its plans, so you have data whether you want to use it on your phone or tablet. The three smaller data plans can use all of their data with the hotspot though the unlimited plan only comes with 5GB.
Visible
Mint Mobile
Network
Verizon
T-Mobile
Discounts
Purchase through PayPal
Multi-month savings
Minimum term
One month
Three months
Taxes and fees
Included
Extra
eSIM activation
Supported
Supported
Mobile coverage and reception
Activate your eSIM with the Mint Mobile app.
Visible uses Verizon's LTE and 5G network for coverage, so for the vast majority of Americans, coverage will be excellent. Verizon's 5G network is continuing to grow, with Verizon hurriedly deploying its C-band coverage across the country. In the meantime, LTE has plenty of speed for most of what people do on their phones, like music streaming, GPS navigation, and browsing social media.
Most people won't notice, but it's worth mentioning that rural customers may notice reduced coverage compared to Verizon since Visible doesn't have roaming or access to the older 3G network. However, as long as you have LTE or 5G Verizon coverage, you should be fine with Visible.
Mint Mobile uses T-Mobile LTE and 5G for coverage, meaning it has the country's largest and fastest 5G coverage. T-Mobile was able to get a head start on mid-band 5G deployment thanks to the valuable 2.5GHz spectrum it got from its purchase of Sprint. This allowed T-Mobile to blast ahead while Verizon and others were still waiting for the FCC to clear some more mid-band spectrum. Make no mistake, Verizon is spending big to close the gap, but T-Mobile's 5G lead is huge.
One thing that 5G can't fix is dead zones. Since T-Mobile hasn't invested as much in rural areas as Verizon, Mint Mobile service is more likely to drop signal in the country. T-Mobile has made a point of covering the majority of interstate highway miles with 5G, but if you spend more time on a two-lane road between fields or in a forest, Mint Mobile may not be for you.
If you want to try out Mint Mobile's network, you can get a SIM or download an eSIM to try out the network before you make a commitment. Visible also has a free trial, but only for iPhones, which is quite annoying.
Phone compatibility
Visible supports a wide range of Androids and iPhones that support Verizon's network bands and VoLTE. Most of the best Android phones, such as the Pixel 7 series and Galaxy S23 series, will work on Visible. To be sure yours will, enter your IMEI in Visible's compatibility tool. Bringing a phone purchased from a carrier like AT&T may not be fully compatible, so it's still a good idea to check, even if it has all of the required bands.
To get the best 5G coverage on Visible, your phone should support 5G bands n2, n5, n66, and n77. If you live in an area with mmWave Ultra Wideband coverage (and signed up for Visible+), you can get faster speeds with bands n260 and n261.
Mint Mobile supports most unlocked phones thanks to T-Mobile's network. You can check Mint Mobile's compatibility tool to be sure, but if you bought your phone unlocked in the past couple of years, you're probably good to go. To make the most of T-Mobile 5G, your phone should support bands n71 and n41. T-Mobile can deliver faster speeds using carrier aggregation with n71, n41, and n25 in some areas; however, T-Mobile has some spotty mmWave coverage with n260 and n261.
Plans
The network means nothing if you can't get the right phone plan. Mint Mobile has a wide range of choices, so you can pick exactly what you need. Visible keeps things much simpler with just two plans, and both of them are unlimited. If you're looking for truly unlimited data, Visible is the clear victor.
Visible plans
Visible has two unlimited plans starting with the base Visible plan for just $30 per month. This plan can access nationwide 5G, which offers speeds similar to LTE and unlimited hotspot data at 5Mbps. Included are unlimited domestic talk and texts, plus calls and texts to Mexico and Canada.
Visible+ upgrades your data speeds with access to Ultra Wideband 5G, which includes Verizon's fast C-band coverage. Visible+ also has 50GB of premium data. If you live in a dense area, you may have noticed data speeds plummeting during peak times; premium data helps to alleviate this.
Visible+ also adds unlimited roaming in Mexico and Canada, international calling to 30+ countries, and international texting to 200+ countries. You can also save $10 per month on Verizon Home Internet with this plan.
Visible
Visible+
Price
$30 per month
$45 per month
5G
Nationwide
Nationwide and Ultra Wideband
Talk and text
Unlimited
Unlimited
Data
Unlimited
Unlimited (50GB premium)
Hotspot
Unlimited (5Mbps)
Unlimited (5Mbps)
Perks
None
$10 off Verizon Home Internet
If you're willing to pay for Visible with PayPal, you can get an extra $5 off your monthly plan. This deal is only for new customers.
Mint Mobile plans
Mint Mobile has four data plans which all come with unlimited talk and text, free calls to Mexico and Canada, and hotspot data. Most of the time, the smallest 4GB plan will work for lighter users or users with Wi-Fi access. If you need more, you can pick the 10GB or 15GB plan. You can check your last phone bill to get an idea of how much data you typically use. Here's a tip: If you're trying to save, start with a smaller plan and upgrade if needed.
Mint's Unlimited plan will appeal to heavier users who regularly use more than 15GB of data monthly. This plan comes with 35GB of high-speed data, which is more than enough for most people. You still get hotspot data, but it's limited to 5GB on this plan.
All Mint Mobile plans can be purchased for three, six, or 12 months at once, with the best monthly rates coming with the longer terms. If you're looking for maximum savings and have the money, buying the year is your best bet. You can, at least, get your first three months at the 12-month rate, so you're not on the hook for too long if it doesn't work out.
Mint Family allows you to bring up to five lines to Mint Mobile, and while there's not technically a multi-line discount, you get Mint's best rate renewed every three months. This makes Mint Mobile more accessible to families since they won't need to pay for multiple 12-month plans at once.
4GB
10GB
15GB
Unlimited
Pricing
3 months: $75
3 months: $105
3 months: $135
3 months: $120
6 months: $120
6 months: $150
6 months: $210
6 months: $210
12 months: $180
12 months: $240
12 months: $300
12 months: $360
Talk and text
Unlimited
Unlimited
Unlimited
Unlimited
Data
4GB
10GB
15GB
35GB
Hotspot
Shared
Shared
Shared
Shared
Which is right for you?
Mint Mobile has a lot to offer, and no doubt, it's an incredible value for light to average users. Mint's strong phone compatibility means you have many more Android phones to choose from, such as the OnePlus 11. Mint's plans also give you much more flexibility than Visible's two plans, and if you can keep your data usage down, you can save a lot of money.
Visible is the best overall value thanks to its truly unlimited data and no-nonsense savings. There's no need to scramble to bring multiple lines, you don't need to buy multiple months, and Visible's unlimited data is actually unlimited. If you're looking for a simple data plan and don't want to count how many gigs you're burning away, Visible makes a ton of sense. While T-Mobile's 5G speeds are better, Verizon's coverage on Visible will still be plenty for most users.
Visible
Visible is a truly unlimited prepaid carrier owned and operated by Verizon. Visible has just two plans, but both feature unlimited data and unlimited hotspot usage. Visible is a strong choice if you have great Verizon coverage and want to save some cash.
Credit: Mint Mobile
Mint Mobile
Mint Mobile is a simple carrier with many plans to give customers plenty of opportunities to save. Get Mint's best rates by signing up for up to a year at a time or by bringing up to five lines to your account with Mint Family.
Conclusion on Which MVNO carrier is best for you?
If you have any query let me know in comment section.