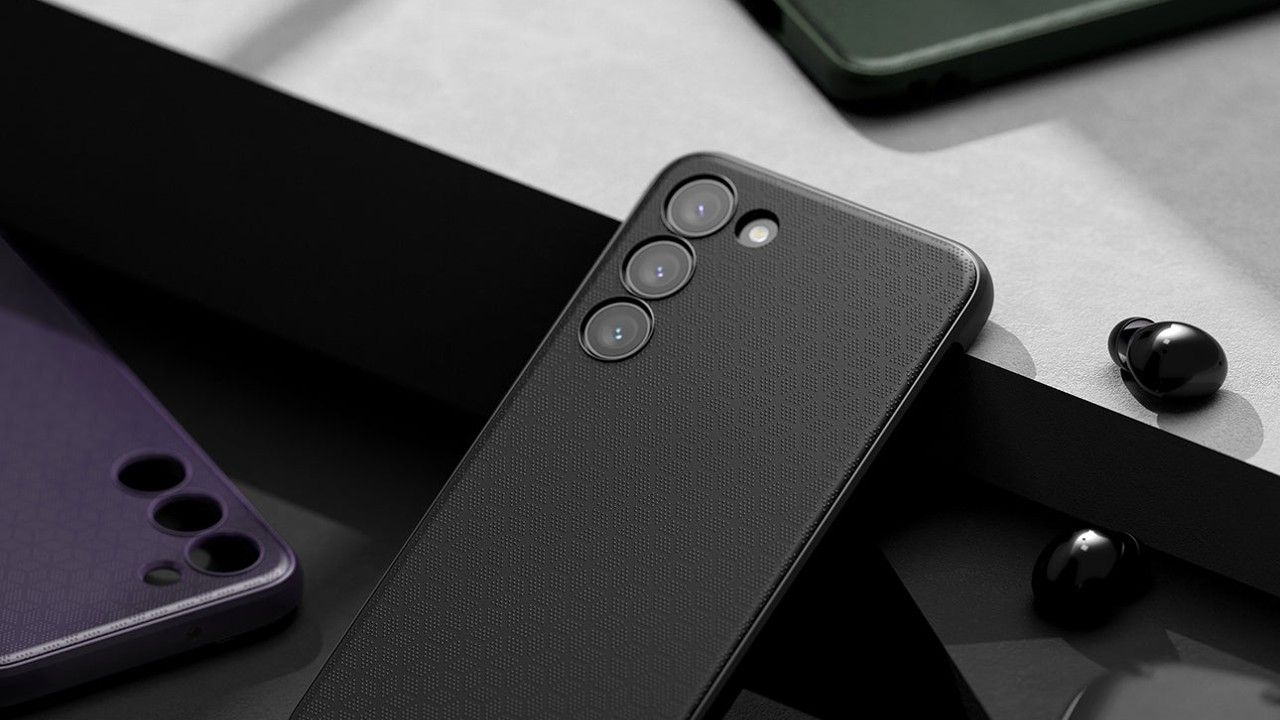 Samsung's Galaxy S23+ has arrived more practical and manageable than the S23 Ultra, while not being as limited as the "baby" S23. And with that 6.6-inch screen, the S23+ isn't too big or too small — it's just right once you get a good case on it. These Galaxy S23+ cases won't turn your phone into a tank, nor will they slip and slide out of your hands. Instead, they'll protect your digital lifeline and look darn good doing it. Once you're done ordering your Galaxy S23+, let's grab some cases before it arrives.
Source: Poetic
Poetic Neon for Galaxy S23+
Editor's Choice
Despite the flamboyant colors the Neon is named for, it also offers several more subdued colorways among its seven options, like this subtle Navy Blue. The two-layer TPU inner sleeve with hard polycarbonate outer shell is a design that is as classic as it is durable. And while it costs half what the Otterbox Commuter Series and UAG Civilian Series do, it'll take almost everything life throws at your Galaxy S23. Although some might miss a dust plug, it's easier to use with wired charging and Android Auto without it.
Source: Ringke
Ringke Onyx for Galaxy S23+
Best Value
While I'd love to recommend the Onyx for all three versions of the S23, only its Galaxy S23+ case features this checked, dot-matrix texturing across the back for added grip and style, and I am in love. Eschewing the bumper corners of the Spigen Rugged Armor, the Ringke Onyx offers a more compact feel in the hand and a better grip all-around. We also get sweet Deep Purple in addition to Black and a Dark Green that's about five shades better than the Spigen Liquid Air.
Smartish Wallet Slayer for Galaxy S23+
Premium Pick
Wallet cases are traditionally complicated messes or folios that never stay properly closed once you load them up. However, this Austin-based case maker bucks the trend with a single-piece plastic case that better grips your cards and looks damn fine doing it. You can even upload photos in dozens of patterns or customizable designs to get a one-of-a-kind case. The flexible wallet grip securely holds up to three cards plus cash, but it's (obviously) too thick for wireless charging, even when empty.
Mous Limitless 2.0 for Galaxy S23+
Magnetic majesty
The Galaxy S23+ seems to be largely left out of the MagSafe case trend, while the S23 Ultra and baby S23 both have plentiful options. Thankfully, Mous started including magnetic rings in its Limitless 2.0 cases for Android phones last year with the Pixel 7 series. And unlike all the clear MagSafe cases with the ring fully visible, Mous hides its ring well, so you wouldn't even know it's magnetic unless you read the box or checked out this guide.
Otterbox Defender Series Pro for Galaxy S23+
Best rugged case
After seeing the cases from Poetic and Supcase, it might be hard to understand why the Defender Pro snuck its way on here. No, it's not the antimicrobial shards embedded in the plastic, and no, it's not because of the fancy holster. It's here for two reasons: Otterbox is to heavy-duty cases what Kleenex is to facial tissues — a brand everyone knows and often believes is the first and last word in its category. Second, Otterbox finally answered the prayers of its audience and gave us actually decent color choices this year.
Source: Caseology
Caseology Parallax for Galaxy S23+
Great value
Missing the camera module now that Samsung's ditched it for that floating camera design? Yeah, us too, but thankfully Caseology still lets us keep that style with its built-in camera "module" on the Parallax. The cube pattern across the back is shallower than it looks, and yes, that's a good thing. The bottom accent feels more pleather-like, the good kind of smooth, while the newly retextured sides should help you hang on better. The camera module also means that you can use any color Parallax with any S23+, even the Lavender that would otherwise clash.
Source: Supcase
Supcase UB Pro for Galaxy S23+
Promoted pick
In partnership with Supcase
After years of users complaining that the built-in screen protector leaves that bubble in the middle of the screen, Supcase has done away with it for the S23+. So you can use a dedicated screen protector instead, and Supcase can focus on delivering one of the toughest Galaxy S23+ cases on the market. The UB Pro is famous for surviving duels with freeways, semis, and lawnmower blades, but let's hope you never have to test it that hard.
Source: Incipio
Incipio Organicore for Galaxy S23+
Best clear case
Made of 100% compostable materials, Incipio's Organicore aims for transparency in all things. The back plate might be a teeny bit more lint-prone than virgin plastic, but it's easy to clean and can survive up to 14-foot drops thanks to its slim, flexible bumpers and subtle inner texture. I will note that 100% compostable does not mean you can throw it in the trash; take it to a local composting project (most community gardens have one) to actually make good on its ecological promise.
Torro Premium Leather Wallet for Galaxy S23+
Best folio case
Genuine leather cases are getting rare with each new generation of smartphones, but that's okay, the Torro offers a fantastic wallet case that feels great and should last you the entire lifetime of your Galaxy S23+. The clasp on the side has been thoughtfully placed so as to not interfere with the power button, and the red accents across the stitching and cutout logo gives it just the right amount of pop.
Pela Case for Galaxy S23+
A biodegradable beauty
While the Incipio Organicore may be compostable this year, Pela's cases have been compostable for years while feeling even softer and sporting a wider variety of patterns and engraved styles. It's early days, so the selection right now is a little slim, but this Forest Mist design makes me feel like I'm on my way to some elven enclave or a dungeon. And don't worry, this case has been drop tested, with previous Pela Cases withstanding up to 20-foot falls.
Source: Amazon
Spigen Liquid Crystal Glitter for Galaxy S23+
Best design
While the Liquid Crystal also comes in Crystal Clear and a darker Space Crystal, the Liquid Crystal Glitter is, in fact, the best of the batch and the most practical. The glitter embedded in this case doesn't go overboard like some bedazzled monstrosities, but it's a nice even coat that can cover unsightly oil buildup, scuffs the case picks up over its rough life with you, and any small cracks or scratches your Galaxy S23+ picked up before you got it the protection it deserves.
Cyrill UltraColor for Galaxy S23+
Tell your story
We may not get the Caseology Nano Pop this year, but Cyrill's Ultra Color gives us the same style with the added benefit of Creative Studio designs that can jazz things up and bring a little more flair to your Galaxy S23 case. There are multiple series of design lines, but I have to say, the "Don't talk to me, I'm on my phone" and "Self love is not selfish" speak to me on multiple levels, while the Dream Garden series give off major princess vibes in the best way.
Speck Presidio 2 Grip for Galaxy S23+
Grippy and comfy
The best way to protect your Galaxy S23+ against drops is to avoid dropping it in the first place. That's where Speck's Presidio 2 Grip comes in, with unique inverted no-slip grips and a soft-touch finish that lets you keep a firm hold on your phone without feeling uncomfortable in your hand. If you do fumble your device, the Presidio 2 Grip also features 13-foot drop protection with Speck's Armor Cloud air cushioning technology, plus an antimicrobial coating to help it stay clean.
Samsung Clear Gadget Case for Galaxy S23+
Hack your life
Samsung's Clear Gadget case is designed to show off the finish of your Galaxy S23+ while offering solid protection and versatility you don't find in many other cases. A connector on the back of the case lets you attach a variety of accessories, such as a cardholder, kickstand, or tripod, so you can configure it for whatever mission you happen to be on. Naturally, this case is also made with precision cutouts to fit your Galaxy S23+ like a glove.
Ghostek Exec for Galaxy S23+
A rugged wallet
The Ghostek Exec offers a solid blend of top protection and convenience for your Galaxy S23+. Premium 12-foot drop protection is joined by a magnetic connector that lets you clip on the included wallet attachment when you need to travel with up to three payment or ID cards at hand. The connector also works with many MagSafe accessories, opening up a world of other possibilities, from chargers to stands and mounts.
How to choose the best Galaxy S23+ case for you

I would love to point to a single case and say that it'll be the best case for everyone every single time, but cases are like music: everyone has their own preferences. However, we can all agree on current and classic songs/features. So, when judging a case, here are some things to keep in mind:
How much protection do you actually need?
Look, I want my phone to survive the apocalypse, too, but I spend most of my time in my apartment or at a theme park. I don't need extra drop protection so long as I have ample grip and my holster nearby. On the other hand, if you work outdoors or in an area with a lot of loose matter — sawdust, wood chips, and metal shavings — then not only do you want a heavy-duty case, but you need one with a dust plug on the bottom, like the Supcase UB Pro. Otherwise, that junk could sneak into your USB-C plug, potentially breaking the USB-C port or shorting out your phone entirely.
If you're not as close to potentially damaging debris, or you just hate having to shove a piece of plastic back every time you plug in for Android Auto, the Poetic Neon and Incipio Orangicore both lack dust plugs, yet they offer some impressive drop protection nonetheless. They also both offer slimmer profiles, which is much appreciated.
How slippery are you?
I'm not trying to make a butterfingers joke here, but the number one need in most cases isn't impact protection. It's grip. Being able to hold on to your phone, especially in non-ideal conditions like taking a selfie or one-handed typing while trying to carry your lunch, is critical, and it's the one thing your Galaxy S23+ cannot do on its own. This Armor Aluminum and Gorilla Glass Victus 2 box may be shiny and perfectly shaped, but it's slippery. And so are your hands, to a degree.
My hands sweat more than the average girl, and living in Florida, where it's almost 90 degrees in February, means I'll often hold my phone while sweaty and slippery. That's why I use an extra-grippy case like the Ringke Onyx and add a phone grip for good measure. And if you're going to be using a phone with gloves on for more than half the year, grip will be a critical factor. Cases like the Onyx, the Caseology Parallax, Presidio 2 Grip, and even the Smartish Wallet Slayer offer superb grip whether your hands are dry, wet, or covered in a half-inch of wool.
How cool do you want to be?
Stylish cases in the olden days always cost more than "boring" ones, but with affordable cases like the Cyrill UltraColor, Smartish's customizable Wallet Slayer, and the sparkly Spigen Liquid Crystal Series, you don't have to settle these days. You can still opt for a basic black case or get colorful with the Poetic Neon! Get a Wallet Slayer with your favorite cat on it! Tell the world to go away with a Cyrill UltraColor, because you are on your new Galaxy S23+, and it deserves all your attention.
By balancing these factors, you can determine the best case for you, your lifestyle, and your budget. Just do me a favor and make sure it's a fun one. As one of the best Android phones on the market, it deserves to flaunt itself a bit. You'll also want to pick up an excellent Galaxy S23+ screen protector because nothing will turn a phone into a paperweight faster than a shattered screen.
Conclusion on The most reliable cases you can buy today
If you have any query let me know in comment section.