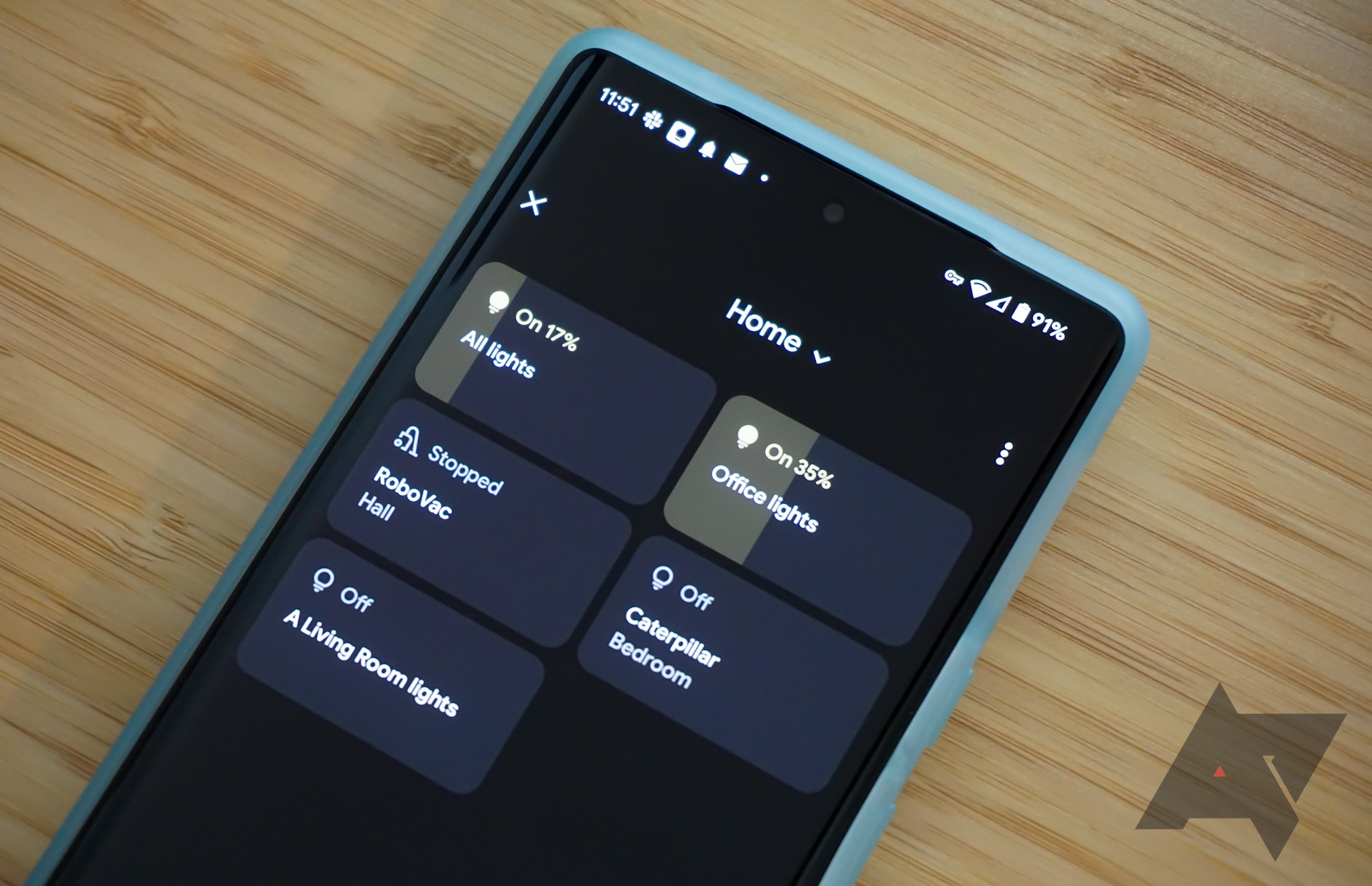 When setting up your smart home ecosystem, you may not buy the same brand for everything, and that's fine. If you plan to interact with these devices using a smart speaker or display, you may forget the bulbs in the living room are a different brand compared to the ones in the kitchen. That's because you interact with them through a speaker, which sends the command to the proper server that controls the lights.
However, there are times when you may not want to use your speaker, either because you'd rather keep it quiet or because it sometimes doesn't understand what you're saying. In addition, these devices aren't free, so having one in every room may become costly. On the other hand, you usually carry your phone with you, which means you can use it to control your smart appliances wherever you are. However, using different mobile device apps to interact with different platforms may be cumbersome.
There are apps you can install that help you interact with a variety of providers without worrying about having devices from different brands. Here's our selection.
Amazon Alexa
Amazon's Echo devices were among the first smart speakers on the market to let people control smart devices such as lights, plugs, and more. It makes sense for the app to act as a control center for all your smart devices, especially considering the impressive number of supported products and third-party services. And since most Alexa-powered hardware has, or will get, a Matter smart home protocol, the list of supported accessories is going to grow in the coming months.
The Alexa app offers a dashboard to control all linked smart devices, regardless of their manufacturer. They can be accessed in different ways, such as by their type through the top bar and grouped by room. Finally, you can add favorites to quickly access the devices you often control without searching for them.
The Alexa app isn't the most user-friendly, and its interface isn't the most eye-pleasing. Also, when you open it, it requires an extra tap to display the device list. There's also no widget with shortcuts to control your smart devices besides orally asking Alexa to do so. Lastly, depending on your device type, Alexa may not allow you to control it using the app's graphical interface, even though it can do it orally. This limitation is particularly surprising, considering the device appears in the list and can be controlled vocally. A good example is certain garage doors, which can be opened from an Echo speaker but not with the Alexa app.
However, Alexa offers some of the most powerful routines. Consider using it to automate how your smart devices interact with each other according to an impressive number of conditions.
Google Home
The Google Home app is one of the easiest ways to control your smart devices, as it acts like a smart home control center for all of your devices, regardless of their brand. Like Alexa, all the devices you use with Google Assistant appear in the app without extra configuration. Since Google Assistant is a popular option, it also supports an impressive list of products, brands, and services.
There's no need to add each device to the app manually, and you can control them from one screen. The main advantage compared to Alexa is that all devices are displayed immediately when you open Google Home without opening another tab.
Your devices are grouped by room, but there isn't an option to set a list of favorites. Also, although there's a shortcut at the top to control the lights and thermostats, there's no option to filter by device type as precisely as Alexa.
Some devices can't be operated using Google Home, despite being compatible with Google Assistant and appearing in the app. For instance, even though you can ask the Assistant to turn off the TV, there's no way to do it from the Google Home app. Even more surprising, while the Google Home app could open our skylight windows, it wouldn't open or close the shutters, but we could do it vocally. The most intriguing is that Alexa let us do it using the app, so the inconsistency is disturbing.
You can overcome these limitations by using Assistant Routines, which help you automate various commands at home, such as turning all the lights off when you're leaving. However, these routines are limited compared to Alexa, as there are few starting conditions to choose from.
Google Home can work for most people, especially as a control center for basic smart home devices like lights, plugs, and thermostats. For more advanced controls and automation, you must gauge whether the app can control your devices and how well it integrates with your existing ecosystem. Regardless, you must accept the app's default layout, which is organized by rooms and ordered alphabetically. In our example, the first room that shows up is the bathroom, which is controlled the least often. Worse, there is no widget you can use to access the controls you use frequently.
As a consolation, and if your phone runs Android 11 or above, you may benefit from the integration with your phone's Power Menu. This makes accessing your smart home controls easier since no extra app is necessary, but it isn't offered on all devices.
Samsung SmartThings
SmartThings is one of the nicest-looking apps on this list. Although it's made by Samsung, it's not exclusive to the brand's products and doesn't require a hub. It can integrate with a large number of third-party services, but not as many as Google Home and Alexa. The app is easy to set up and lets you set your favorite devices that you can access from the app's main page, as well as organize them by room.
In addition to offering a more intuitive interface and better customization options than the first two apps, SmartThings also has handy features, such as setting timers for the lights to turn off automatically after a certain amount of time or at a specific hour. Similarly, it lets you create light groups that can work independently of rooms, letting you control several bulbs simultaneously, regardless of their manufacturer. However, the app doesn't let you change the color for several lights at once, even when they're in a group, and only lets you dim them to the same level.
Despite this limitation, SmartThings usually fully supports the devices it works with, meaning it's unlikely to show a device in the list if you can't interact with it. For instance, it can display a live feed of our Ring cameras and doorbells, while even Alexa doesn't let us achieve this. This is easier to do when dealing with a smaller number of providers, but it's still worth noting. Most importantly, it allows you to add widgets to your homescreen, making it more convenient to control your lights and other devices without opening an app.
In addition, SmartThings' built-in automation features are powerful. They can be conditional and control various devices at the same time. Configuration is easy, and it avoids using a third-party platform like IFTTT.
SmartThings is probably our best recommendation to turn your phone into a remote control for your smart devices, provided they are compatible. It's easy to set up, comes with a widget, and the app is intuitive. Also, since it integrates with Google Assistant and Alexa, you can use it to centralize your devices without adding them another time in other apps to use them with your smart speakers, as they are automatically added once they're linked to your SmartThings account.
Olisto
Olisto is not a control panel per se but a way to automate most of your smart home devices and appliances, then direct them to communicate with each other. It allows you to create triggs based on various elements, such as the time or location, to perform various actions. For instance, you can ask it to turn on the lights, lock the doors, and open the blinds every weekday at 9:00 a.m.
You can also automate various actions based on triggers from devices you have at home, such as your smart camera, fitness tracker, and more. Thanks to Olisto's integration with an extensive range of services, you can input creative triggs like locking the kitchen door when you haven't exercised enough before 7:00 p.m.
What's particularly powerful is its ability to create "now" buttons to perform triggs. For example, you can press a single virtual button to open the blinds, turn on the lights, and play music on your speakers. The downside is that you have to manually create a button for every feature in every product, which is time-consuming to set up, but convenient when used daily.
Olisto is probably not for everyone, especially if you're not looking to spend a lot of time on configuration. On the other hand, if you like to fiddle with technology and want to create some neat home automations that are triggered at the touch of a virtual button, give this app a try. It allows you to create more complex routines than IFTTT but supports fewer services. Lastly, although there is no widget, there's an option to engage a persistent notification, which is handy.
iHaus
iHaus isn't an eye-pleasing app, but it can be useful if you don't mind the looks. It doesn't require extensive setup like most other apps, as it lets you connect your smart home devices without logging in to third-party services. For example, we linked a Roomba vacuum and Hue lights with the touch of a button, as the app automatically scanned for devices connected to the Wi-Fi network. However, few devices and services are supported compared to the other apps above. For instance, some lights, smart plugs, cast-enabled speakers, smart shutters, and garage doors aren't compatible, so you may not be able to have all your devices in the app.
iHaus is designed to act as a unified control panel for your smart devices, including some speakers, lights, plugs, kitchen appliances, locks, thermostats, and even your Tesla. It's easier to use than Google Home because you can tap a device's icon to turn it on or start it. What's also great is that it can automatically recognize groups, such as Hue rooms, so you can turn on all lights in a room at once or change their color at the same time.
You can also create routines to turn off everything at home with a single virtual button. iHaus offers the ability to create scripts with conditional triggers, but they're not great in practice. This depends on what you want to achieve, your devices, and whether they're compatible with the app.
All in all, iHaus can be a useful option if you're looking for something simple and easy to try but don't mind the looks, provided your devices are compatible.
IFTTT
IFTTT is one of our favorite services. It's not exactly a control panel for your smart devices but rather a smart automation platform that's compatible with an impressive number of partners. Once you've set up everything, you can forget it exists. For instance, if you use various smart plugs at home to control your lights and don't want to thumb through multiple apps to turn them off when you leave, IFTTT can help. Just add all the plugs to the app and create a location-based applet. IFTTT is so efficient that you rarely need to use the app unless you're setting up a new applet or checking your activity log.
There's also an option to control your smart devices directly from your phone, thanks to widgets and Do buttons. Like Olisto and Google Home, you need to create applets manually, but they can be useful for a few features, such as turning lights on or off.
IFTTT is worth considering if you don't intend to create too many buttons. The platform supports a range of services and allows you to create tasks in a few clicks. The app also has a widget, which most others don't, so it might be a good option for many.
Home Remote
Home Remote has an intuitive and pleasing interface that invites you to organize your devices into groups and rooms. The app is designed to support a range of devices, including lights, plugs, thermostats, TVs, and speakers. And while it can't compete with Alexa and Google Home, it supports a decent number of services. It even lets you control your cast speakers as it integrates with SmartThings, further increasing its compatibility.
The interface is customizable, including the background image and the order in which devices appear. It's worth giving it a try to see if it fits your needs and works with your smart devices.
If you want to work with some advanced options, consider Node Red or Hubitat. These apps are not a great fit for the average user, as they require specific hardware or programming skills. However, if you're ready to fiddle with these to take control of your connected hardware, you should try them.
If you're ready to explore and have some time to invest, these two methods can help you unlock the potential of your smart home and design the automation you want to achieve and even help you control any device the way you want. You may have to provide most of the setup since they're not necessarily as user-friendly as the apps above, but they can help you achieve great things at home!
Turn your phone into a smart home remote
The above apps make it easier to control your smart home devices using a single application instead of using different ones for each brand you have. In addition to installing these apps on your home phone, consider repurposing an old handset or tablet into a smart home control panel, giving everyone easy access to the controls across your home.
If you're ready to make the most of your smart devices, check out how to turn them into a customizable theft-deterrent system without breaking the bank.
Conclusion on The best Android smart home apps
If you have any query let me know in comment section.