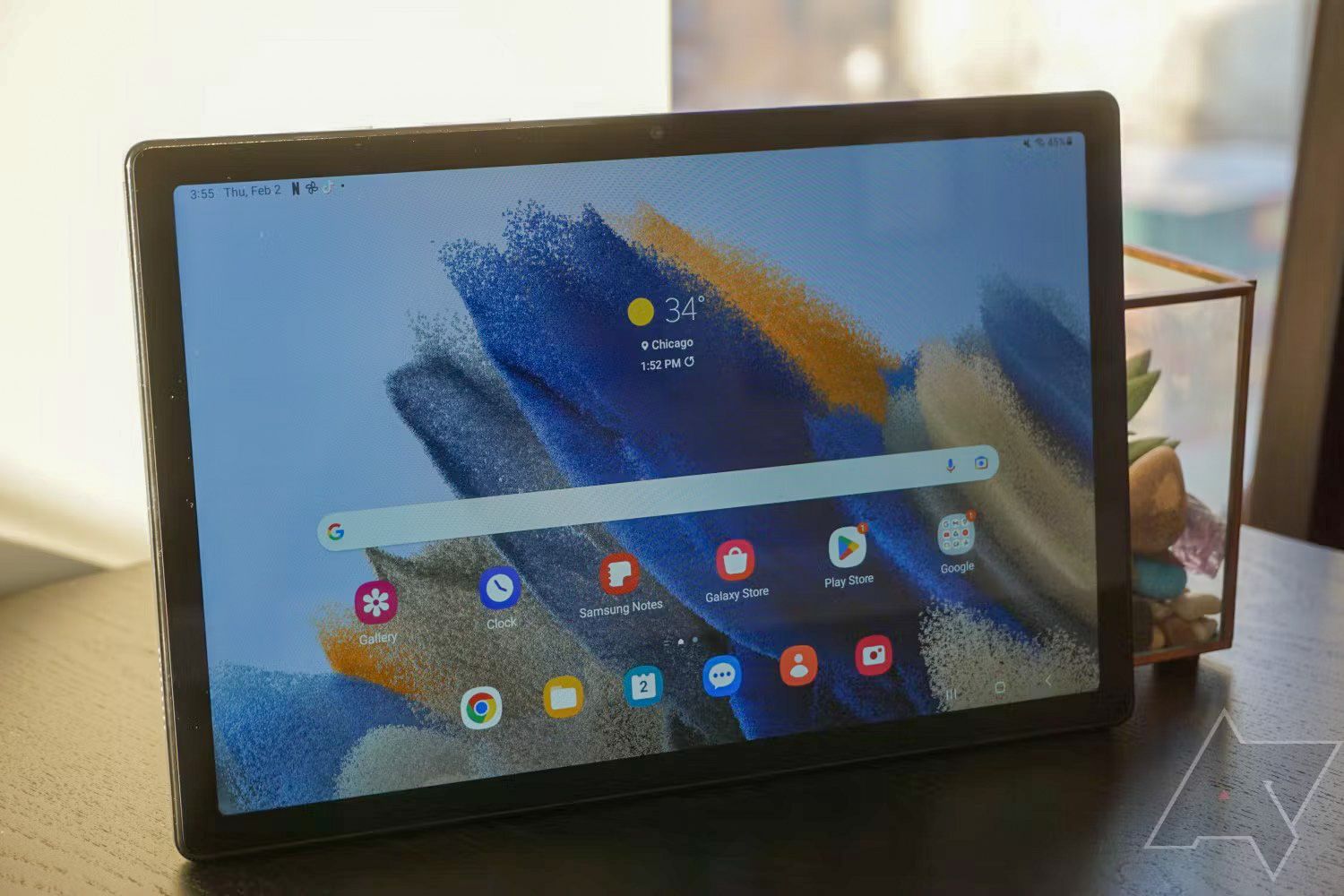 Source: Samsung
Samsung Galaxy Tab A7
The old one
A little less good all around
The Samsung Galaxy Tab A7 isn't quite as good as its successor, but it's still a decent budget tablet to consume media or browse the web. If you can find it, it will likely be cheaper than the newer Tab A8, which may make it worth it if you want to save money.
Pros
Cheaper
Same cameras
Screen is 1200p
Cons
A little less powerful
Only has Android 12
Only 3GB of RAM
Samsung Galaxy Tab A8

The new one

The Samsung Galaxy Tab A8 is a refreshed version of the Tab A7, and for the same starting price as the older model, you get a decent budget tablet. With an updated design and Unisoc processor that's a bit faster than the low-end Snapdragon in the previous generation. Plus, you can get models with up to 4GB of RAM and 128GB of storage.

Pros
Slightly larger display
Can get Android 13
Better chipset
Same great starting price
While Apple has dominated the high-powered tablet market for a long time, some of the best cheap Android tablets have often been overlooked. If you're looking for a large-screen device you can carry around to do light tasks, like watching your favorite streaming services, checking email, or browsing the web, then checking out some of Samsung's budget tablets is the right call.
The Samsung Galaxy Tab A8 is the newest affordable tablet that Samsung sells, and it does most of the basics you would need for a very affordable price, but is it better than the Tab A7 that came before it? Let's take a look.
Galaxy Tab A7
Galaxy Tab A8
SoC
Snapdragon 662
Unisoc Tiger T618
Display
10.4-inch LCD; 2000 x 1200px
10.5-inch LCD; 1920 x 1080px
RAM
3GB
3GB or 4GB
Storage
32GB or 64GB; expandable via MicroSD
32GB, 64GB, or 128GB; expandable via MicroSD
Battery
7,040mAh
7,040mAh
Ports
USB-C, microSD, Headphone jack
USB-C, microSD, Headphone jack
Operating System
Android 10 (Can update to Android 12)
Android 11 (Can update to Android 13)
Front Camera
5MP
5MP
Rear camera
8MP
8MP
Connectivity
Wi-Fi, Bluetooth 5.0
Wi-Fi, LTE (not in the U.S.), Bluetooth 5.0
Dimensions
247.6 x 157.4 x 7 mm
246.8 x 161.9 x 6.9 mm
Weight
476g
508g
Charging
15W
15W wired
IP Rating
None
None
Colors
Dark Gray, Silver, Gold
Gray, Silver, Pink Gold
Price, availability, and connectivity
While we typically are used to seeing prices go up these days, the Samsung Galaxy Tab A8 stays at the same $230 MSRP that the previous A7 did, making it a very affordable tablet. If you look around, you'll find deals on the Tab A7 for anywhere from about $170 to $190. You can find them cheaper than that if you look in the second-hand or refurbished market. However, finding a Tab A7 these days is getting harder since it has been replaced by the Tab A8, which is readily available from Amazon, Best Buy, Samsung, and other retailers.
The Tab A8 didn't change anything significant in terms of connectivity as both tablets have Wi-Fi-only models in the U.S. and Wi-Fi + Cellular models in Europe.
Design
The Galaxy Tab A8 did get a bit of a makeover when it comes to the design. The fronts look more or less than the same, sporting a fairly large bezel around the screen and speakers on both sides of the device. However, the Tab A8 looks and feels a bit sleeker thanks to its slightly squared design and less ugly camera on the back.
Display
The display is the biggest noticeable change from the Tab A7 to the Tab A8. Looking at the spec sheet, it may not seem like much. After all, the size of the display is only 0.1 inches different, with the Galaxy Tab A8 clocking in at 10.5 inches. The difference comes from the slightly different form factor.
The Galaxy Tab A8 is 2000 x 1200px making it 1200p, and it has a 5:3 aspect ratio, which makes for a slightly wider display as opposed to the standard 1920 x 1080px display on the newer Tab A8. How much of a difference is there between 1200p and 1080p? On a screen of this size, it doesn't make a noticeable difference. Both will be crisp and clear, and you shouldn't have any problems enjoying the content you watch on either one. Due to the wider screen on the Tab A7, you may have less noticeable black bars when watching movies.
Software
The Tab A8 wins out in the software debate between these two affordable tablets, which shouldn't be surprising since it is newer. The Galaxy Tab A7 launched with Android 10 but received updates to Samsung's One UI build of Android 12. That's where the update train stopped rolling.
The new Tab A8 launches with Android 11 and is immediately upgradable to the latest Android 13, which is a nice touch. That might be it for the Tab A8 since that's technically the two versions of Android updates it was promised. Still, it's possible that it could get Android 14 if Samsung decides to ignore the skipped Android 12. Only time will tell.
Performance
Neither of these tablets is meant for serious work or advanced gaming. Still, there is a noticeable difference between the Snapdragon 622 inside the A7 and the Unisoc Tiger T618 that the Tab A8 uses. The Unisoc chipset performs a little better and seems to stutter a little less when navigating through the UI or doing basic tasks. Still, keep your expectations low. This isn't a device you'll love using for multitasking.
It's helpful that you can choose to buy a Tab A8 that has 4GB of RAM instead of the 3GB you'll find on Tab A7, as that extra little bit makes the process of using the tablet a tad smoother.
Battery life
You'll get the same battery performance on either model since both pack a 7,040mAh capacity, which is not a bad thing. The Tab A8 and A7 should last you through a whole day and then some with regular use and offer about 10 hours of screen time. Still, that's a long time to watch Disney+, so you should be able to get through a few Marvel movies before you need to charge it up.
Cameras
Though the shape and design of the camera on the back of the Tab A8 looks nicer, it doesn't produce a much nicer picture. The 8MP sensor on both devices can take a photo for you in a pinch, but they typically look grainy and a bit blown out. Plus, the low-light performance is basically nonexistent.
The front-facing camera is the same story. The 5MP sensor is passable for video calls if you don't care too much about what you look like when chatting with your friends and family.
Which is right for you?
For most people, there's no reason not to get the Galaxy Tab A8 over the Tab A7 since it is readily available and performs better than the Tab A7 overall. Yes, the screen is technically a little less sharp, but you won't notice it on a screen this size. Plus, the option to get 4GB of RAM and 128GB of storage is nice for people who want a better experience using their tablet.
The Tab A8 has essentially replaced the Galaxy Tab A7, and it's easy to see why. The Snapdragon 662 doesn't perform quite as well, and it only comes with 3GB of RAM with no option to get more. Its screen is so minimally better that it's a non-issue. If you want to save the most money you can, you may be able to find a sweet deal on the Tab A7 somewhere.
Samsung Galaxy Tab A8
There's no reason not to buy the Tab A8 if you're looking for a cheap tablet to watch Netflix or browse the web. It has the same affordable price point the Tab A7 had, but it performs a little better thanks to the Unisoc processor.
Source: Samsung
Samsung Galaxy Tab A7
If you really love the idea of the 1200p screen or want to save as much money as possible, the Galaxy Tab A7 might be worth a look. Just know that with no option for more RAM and the Snapdragon 662 chipset make for very low performance.
Conclusion on Samsung Galaxy Tab A7 vs. A8: What's the difference?
If you have any query let me know in comment section.