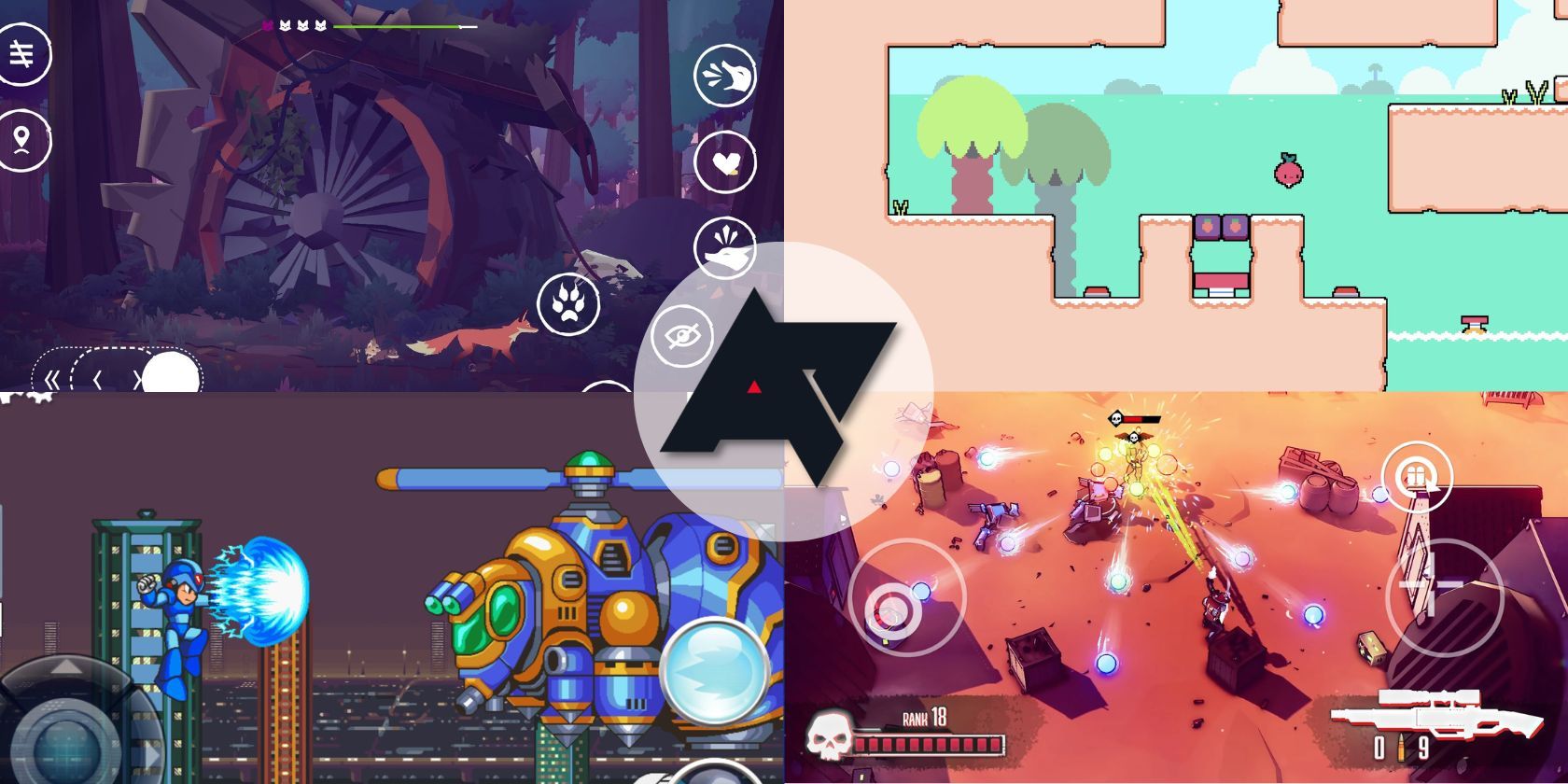 January kicked off 2023 strong with a range of fantastic new games for Android, and February has followed up with some stellar releases of its own. From ports of PC gems like the badger survival sim Shelter to the deeply disturbing Happy Game and its psychedelic horror, there's a game for everyone this month.
We've gathered the best Android games released in the last month so you can stay up to date on the latest and greatest titles to come to the platform. Rest assured, there are quite a few in today's list that'll make it to our roundup of the best games on Android, and most of these will easily run on even budget Android phones, ensuring everyone can jump in on the fun.
1 World Heroes 2 Jet
Kicking off the monthly stream of ACA NeoGeo ports this February was World Heroes 2 Jet. It's the third game in the World Heroes series (after World Heroes 2 if you're confused about the naming convention) and offers a retro SNK fighting experience. The word Jet in the title refers to the addition of dash mechanics alongside faster movement overall.
When it was released in 1994, World Heroes 2 Jet was praised for its depth and range of features. While it may not stand up to modern fighting games, at $3.99, it's a great way to explore this classic.
2 Valiant Hearts: Coming Home
In our hands-on with Valiant Hearts: Coming Home, we were pleased with the game's approach to the horrors of WWI. While it often opted for the simplistic approach, the characters were full of life, and the cartoony look didn't dull the overall message. Rest assured, the 2D graphics perfectly convey the atmosphere of each scene, whether you're trudging through the ocean or flying a biplane over enemy lines.
Valiant Hearts: Coming Home is a short but beautiful interactive graphic novel that will linger in your mind long after you've finished it. Unfortunately, it's exclusive to Netflix subscribers, but this means you can play it without being bothered by in-app purchases or ads.
3 Pompom: The Great Space Rescue
Pompom: The Great Space Rescue might seem to be yet another retro Mario platformer clone, but it's got a unique mechanic that helps it stand out. Rather than directly controlling the titular hamster, you'll place platforms, obstacles, and items to help him reach his goal. Even if you're satisfied with the best platformers on Android, it's worth giving Pompom a go to try out this take on a classic genre.
Pompom: The Great Space Rescue is free to download, but you'll need to make a $5.49 purchase to unlock the entire game. Fortunately, there are no more in-app purchases after this, so there's no reason not to give this charming platformer a go.
4 Happy Game
Happy Game is a perfect example of why you shouldn't let your kids have unrestricted access to the Play Store. Forget the shooters and the zombie games; if there's one thing guaranteed to give your child a nightmare, it's the ironically titled Happy Game. It describes itself as a "psychedelic horror adventure." Unfortunately, it does its job a little too well. There are plenty of challenging puzzles to solve, but the intensely disturbing visuals are sometimes a little distracting.
Happy Game is a puzzle game, but not for the easily disturbed. The visuals are the major selling point, but the music is equally weird. Happy Game is a little short for a $5.99 purchase, but it's a must-play for any horror/puzzle fans.
5 Endling – Extinction is Forever
It's often hard to realize what effect humanity has on the world, but one of the best ways to visualize the destruction we cause to the environment is through the eyes of a fluffy creature. Endling – Extinction Is Forever uses an adorable fox family, but don't dismiss it as some feel-good environmental message; it's a disturbing experience that doesn't pull any punches.
Endling – Extinction is Forever is short (4 to 5 hours) but doesn't pad out the experience with unnecessary content. It's a survival game, and while veterans of the genre won't find it challenging, you'll quickly note that the game is more interested in seeing how you react than throwing artificial challenges at you. Available for $9.99, it's an unforgettable experience.
6 Daily Dadish
Daily Dadish is a game you should download right now. It's similar to previous Dadish games, but each of the title's promised 365 levels are only available for one day each, so you won't get another chance if you don't beat it in that time. It's like Wordle if Wordle was a charming platformer about a sentient radish.
Each level in Daily Dadish offers a carefully balanced challenge. You'll have to give each one a few goes before you figure out the traps, but they won't take up your entire day. Controls are easy to master, and the retro graphics are fun if a tad simple. It's free to download with ads, which can be removed for $4.99.
7 Sengoku 3
The second ACA NeoGeo release in February, Sengoku 3, is the sequel to Sengoku 2, which got its Play Store release last month. It's a beat 'em up game where you'll plow through hordes of enemies to find victory. Sengoku 3 was originally released in 2001, eight years after its predecessor, and is easily one of the best NeoGeo games of this genre.
Sengoku 3 fixes one of the main drawbacks of this era of arcade brawlers. Instead of janky and awkward animations, Sengoku 3's gameplay is smooth and satisfying. We recommend picking up an Android-compatible controller for the best experience, but the touch-screen controls are easy enough to use. Much like the other ACA NeoGeo releases, Sengoku 3 is available for a one-time purchase of $3.99.
8 Mega Man X
Mega Man X on Android is a remaster of the classic 1993 SNES title. While the broad gameplay mechanics remain the same, the pixel sprites have been replaced with smooth models, and a range of difficulty options was added. While die-hard fans of the original may be frustrated by the changes, it's still an excellent remaster.
Mega Man X was initially launched on iOS in 2011, but since then, the release has been optimized, and the problematic launch day features have been removed. It's available to download now for $9.99.
9 Samurai Shodown III
The third ACA NeoGeo release of the month, Samurai Shodown III, it's a fast-paced fighting game that is one of the more unique entries in the series. While fans of the Samurai Shodown games could have an endless discussion about which is best, newcomers will likely be struck by the fast and brutal matches over any other feature.
Matches in Samurai Shodown III are over in seconds, which sets it apart from the other NeoGeo fighting games. While we usually recommend a controller for these titles, one is almost mandatory to enjoy Samurai Shodown III due to the button-mashing necessary to win. Samurai Shodown III is available for, surprise, surprise, $3.99 on the Play Store.
10 Tomb Raider Reloaded (Netflix)
There are two parts to Tomb Raider: Reloaded. The first is the enjoyable run-and-gun gameplay; the second is the disgusting microtransactions that poison the entire experience. Fortunately, the Netflix Games version of Tomb Raider: Reloaded removes all these predatory mechanics, letting you enjoy the core game without interruption.
Without the microtransactions, Tomb Raider: Reloaded is a fun, albeit basic, action game. It doesn't come anywhere near the masterpiece that is Vampire Survivors, but it's still an enjoyable way to pass the time. It's available through a Netflix subscription, or you can download the stand-alone version for free. But be warned, that version is a game about microtransactions, not having fun.
11 Dust & Neon
Exclusive to Netflix Games, Dust & Neon is a top-down roguelike shooter that is a far better experience than the underwhelming Tomb Raider: Reloaded. A mix of Western and sci-fi elements makes for an original setting, and the cover-based system offers a unique take on the genre.
Dust & Neon's gameplay is a nice balance between strategy and action. While you must carefully plan your approach against enemies, the engagements are fast and brutal. There's plenty to enjoy here, from the wide variety of weapons and upgrades to the Borderlands-like visuals. Dust & Neon is available on additional platforms as a one-time purchase, but you must be a Netflix subscriber to play it on mobile.
12 Shelter: An Animal Adventure
Shelter was initially released on PC in 2013, and this new Android version is a direct port of the PC game. It's vaguely similar to Endling – Extinction is Forever in that you'll control a group of fluffy animals, but Shelter pits your badgers against a range of natural threats rather than humans. It's a sandbox game, but don't let the soothing graphics fool you; death lurks around every corner.
Shelter's survival gameplay is brutal and unforgiving yet endlessly rewarding. Losing your cubs is easier and more devastating than you think, but careful planning will see you through. Shelter is available for free to download, but you'll need to make a $4.99 purchase to unlock the full game. It's an absolute must-play, though animal lovers should steel themselves before starting it up.
13 Ultra Blade
Ultra Blade might not be the same indie hit as Vampire Survivors, despite offering similar gameplay, but it's still an excellent top-down hack-and-slash game. It's also more hands-on than Vampire Survivors, so give Ultra Blade a shot if you prefer to have more control over your character.
Even if you're a die-hard Vampire Survivors fan, Ultra Blade is easily worth a try. The resemblance to Vampire Survivors is mostly surface-level, as the extra controls and loadout combinations help it stand alone as a worthy competitor. It's available to download for free, but in-app purchases can help you unlock characters quicker.
14 Tacape
There are some fantastic card games on Android, but Tacape has a unique charm that helps it stand out. The main campaign is a good place to start, but the roguelike mode offers infinite replayability. Gameplay is a straightforward cycle of matching the right cards to your opponents, and after each round, you can upgrade or buy new cards.
Overall, Tacape is a solid card game that won't disappoint. Despite some underwhelming animations, the overall look is excellent, with plenty of variety in landscapes and monsters. However, while free to download, you'll need to pay $3.99 to unlock the full game.
February's releases include a game for everyone
While fans of platformers and top-down roguelikes will be pleased with the releases this month, we recommend trying out hidden gems like Shelter and Happy Game to experience something new. Overall, it looks like 2023 will be as much of a success for Android gaming as 2022.
Conclusion on New Android games released February 2023 — from Shelter to Valiant Hearts
If you have any query let me know in comment section.