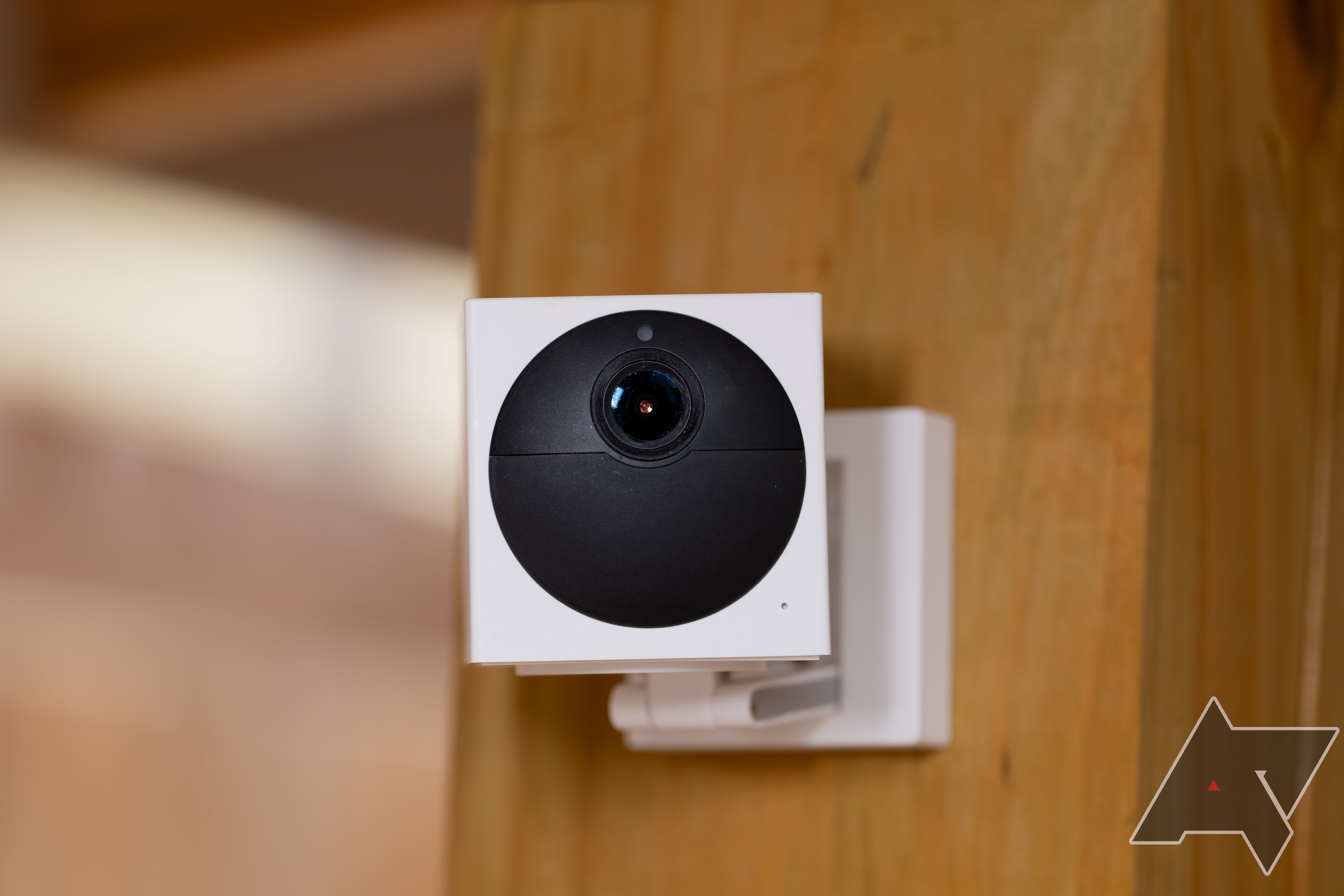 Wyze has become very well known for producing affordable home security devices that perform on par with cameras two or three times as expensive. Since the company introduced its first camera with its "Starlight" sensor (and subsequently put that sensor in every camera update), the improvements to low light performance and added color footage at night have made them excellent bang-for-the-buck cameras. The original Cam Outdoor was already great, but the Cam Outdoor V2 version is one of the best battery-powered security cameras money can buy.
When you purchase any smart device, you aren't just buying the product — you're also buying into the company. Unfortunately, Wyze hasn't been without controversy with its unsecured camera fiasco; so while the Cam Outdoor v2 is a fantastic budget option for outdoor home security, buying a Wyze camera may not feel right for everyone. In addition, competitors like Eufy have had similar scandals lately, making it hard to buy into a camera ecosystem without expecting security issues of some kind.
With drastically improved low light performance and motion detection, the Wyze Cam Outdoor v2 is one of the best budget security cameras on the market, and easy for Cam Outdoor v1 owners to upgrade to since it's compatible with their existing base station and mounts.
Specifications
Battery Life: Six Months
Resolution: 1080p at 10 or 20 fps
Lighting: 4x 850nm IR LEDs
Field of view: 130 degrees
Connectivity: 2.4 GHz Wi-Fi
Operating limits: IP65, -4°F to 122°F
Storage: MicroSD up to 256GB
Hub required: Yes
Dimensions: 2.3" x 2.3" x 2.8"
Remote viewing: Wyze app, Alexa/Google Assistant enabled smart displays
Pros
Six-month battery life
Local storage with the MicroSD card slot
Color footage at night is impressive
Night vision has a great range
Up to four cameras can record to the same base station
Optional solar charging for permanent installation
Cons
It needs a base station
Still uses a micro b USB charging port
It takes nearly 4 hours to recharge
Pricier than other cameras from Wyze
You need a Cam plus subscription, even for local full-length recordings
Buy This Product
Price and availability
At $80 for the starter kit and $70 for an extra camera, the Cam Outdoor v2 is the most expensive security camera in Wyze's lineup. However, you can drive that price down a couple of bucks per camera with a bundle of two or four cameras at $150 and $290, respectively, though apart from the single camera starter kit, the single camera and bundles practically live on sale for a few extra dollars off.
Design, hardware, what's in the box
Wyze has a consistent "If it ain't broke, don't fix it" ideology regarding its cameras. Because of this, the Outdoor Cam v2 looks identical to its predecessor at first glance. Although it's every bit the same cube, the hardware upgrades are significant. Between the upgrade from a 110 to 130-degree field of view and the better low-light performance, the Cam Outdoor v2 can see more — and in worse conditions — than the original Cam Outdoor.
Wyze has been putting its new Starlight sensor in all of its camera refreshes for a while, and for good reason. Even with nearly no ambient light, its decent low-light performance for color footage at night is a killer feature, while many other budget competitors depend solely on monochrome UV-lit night vision. Although the Cam Outdoor v2 has that option and an upgraded passive infrared motion sensor, it's not exclusively dependent on that upgraded sensor.
Rounding out the hardware is the magnetic mount and the base station you'll be plugging into your router. The mount is unchanged from the original Cam Outdoor, but this definitely falls under "if it ain't broke, don't fix it," given how flexible and secure it is. The base station also gives the Cam Outdoor v2 some added flexibility. While it's slightly more annoying to set up a camera on your network with this extra piece of hardware between your cameras and the internet, the base station includes a MicroSD card slot you can record to. For anyone with the original Cam Outdoor, your old base station and mounts will also work fine.
Software, features, video
The first concern when looking at security cameras is how good the video is. The Cam Outdoor v2 records in 1080 at 20 frames per second during regular recording and 10 frames per second in night vision mode. Wyze also lets you set zones for motion detection and turn features like human and package detection on and off on a per-camera basis, provided you pay for that.
With the inclusion of Wyze's new Starlight sensor, the Cam Outdoor v2 has no issue churning out full-color video at 3:00 AM, even without the benefit of moonlight. Adding a driveway or porch light into the mix is a surefire way to get great footage on even pitch-black nights.
Even though the main feature of the Cam Outdoor v2 is the Starlight sensor, it also has more than adequate night vision. For instance, one issue I ran into was trying to monitor a dimly lit part of my yard with my well-lit driveway still in the frame. After manually changing it to night vision, I had no issue seeing my entire backyard and even found out who had been sneaking into my pool in the middle of the night.
Wyze also isn't shy about adding features in software updates. Travel mode is one of the bigger examples of that, and it's the only way to use the Cam Outdoor v2 without the base station. As long as you've previously connected to it through the hub, you can connect your phone directly to the camera to view motion alerts, record video, or make time lapses.
How optional is the subscription?
For the Cam Outdoor to feel like a true smart home security camera, you'll have to spring for its Cam Plus subscription. Subscription plans aren't unusual in the smart home security landscape, and Wyze has a couple of tiers available.
With the free plan, you'll receive push notifications with a screenshot of any motion alerts on a five-minute cooldown. With the name-your-price Cam Plus Lite plan, you're still limited by the same annoying cooldown, but you at least get 12-second clips instead of a single still. Paying for the full Cam Plus plan gets rid of both of these time limitations and enables Wyze's suite of AI features.
Paid subscription or not, tapping on a motion alert will drop you into the corresponding camera where you can manually record, start two-way communication if you just want to say hello, or turn on the siren. If you're willing to trade potential subscription costs for storage capacity, you can opt to record entire chunks of time regardless of motion alerts.
Unlike the wired-only offerings, which can continuously record like a conventional CCTV system, you'll have to manually schedule recording on the Cam Outdoor v2. And you can expect the battery life to fall from months down to weeks or days.
An entire week of footage recorded this way can fit on a 32GB MicroSD card. And the Cam Outdoor v2 supports up to 256GB of storage, so it's not exactly a Herculean feat to record an entire month's worth of footage, even from multiple cameras to the same card in the base station instead of individual cameras.
The option of recording to the base station instead of the camera is great if the footage getting stolen along with the camera is a concern. However, the 3-2-1 rule (three copies, two separate local copies, one off-site) would suggest that cloud storage is still worth considering.
Charging and battery life
If you're willing to stick with motion events and scheduled monitoring times, you should expect a six-month battery life, meaning the Cam Outdoor v2 can record your first swim of the summer and the first snow of the winter, all on a single charge. When recharging it, you'll wait around four hours to go from 10% to full. If you want to avoid that chore, Wyze also sells a solar panel with a weatherproof cable, which is a good option for anyone who wants a more permanent installation but doesn't want their security camera conspicuously plugged into an outlet.
Is the competition any better?
There are plenty of competitors in the smart home security space right now, so you aren't just stuck with Nest and Ring anymore. If you wanted an alternative to SimpliSafe, though, with Nest winding down its partnership with Brinks by the end of the year, Wyze is one of a dwindling number of smart home companies that offer home monitoring, and not just motion and AI alerts.
If you just want a battery-powered outdoor-friendly camera, the Ring Stick Up Camera Battery is the closest competitor when it comes to price and performance. However, the Cam Outdoor v2 has an extra four months of battery life, and you can upgrade it with a solar panel down the line, while you have to spend a decent extra chunk to get the solar version of the Ring camera. The Stick Up Camera Battery is normally $20 more than the Cam Outdoor starter kit, but you can currently find it for $10 less.
Should you buy it?
The Wyze Cam Outdoor v2 is one of the best outdoor security cameras on the market. If you're patient, you can find slightly older competing cameras from Arlo and Ring on sale for about as much, but new features like Wyze's Starlight sensor and its insane low-light performance make it hard to recommend those over the Cam Outdoor v2.
If you were less interested in the Cam Outdoor v2 for its battery and more for its IP65 rating, the Wyze Cam v3 Pro is an affordable way to get most of the same features sans battery, provided you spring the extra money for the weatherproof power cord. However, if you're soured on Wyze and Eufy, you're still spoiled for choice regarding fantastic smart home security cameras.
Conclusion on Low light footage that won't leave you in the dark
If you have any query let me know in comment section.