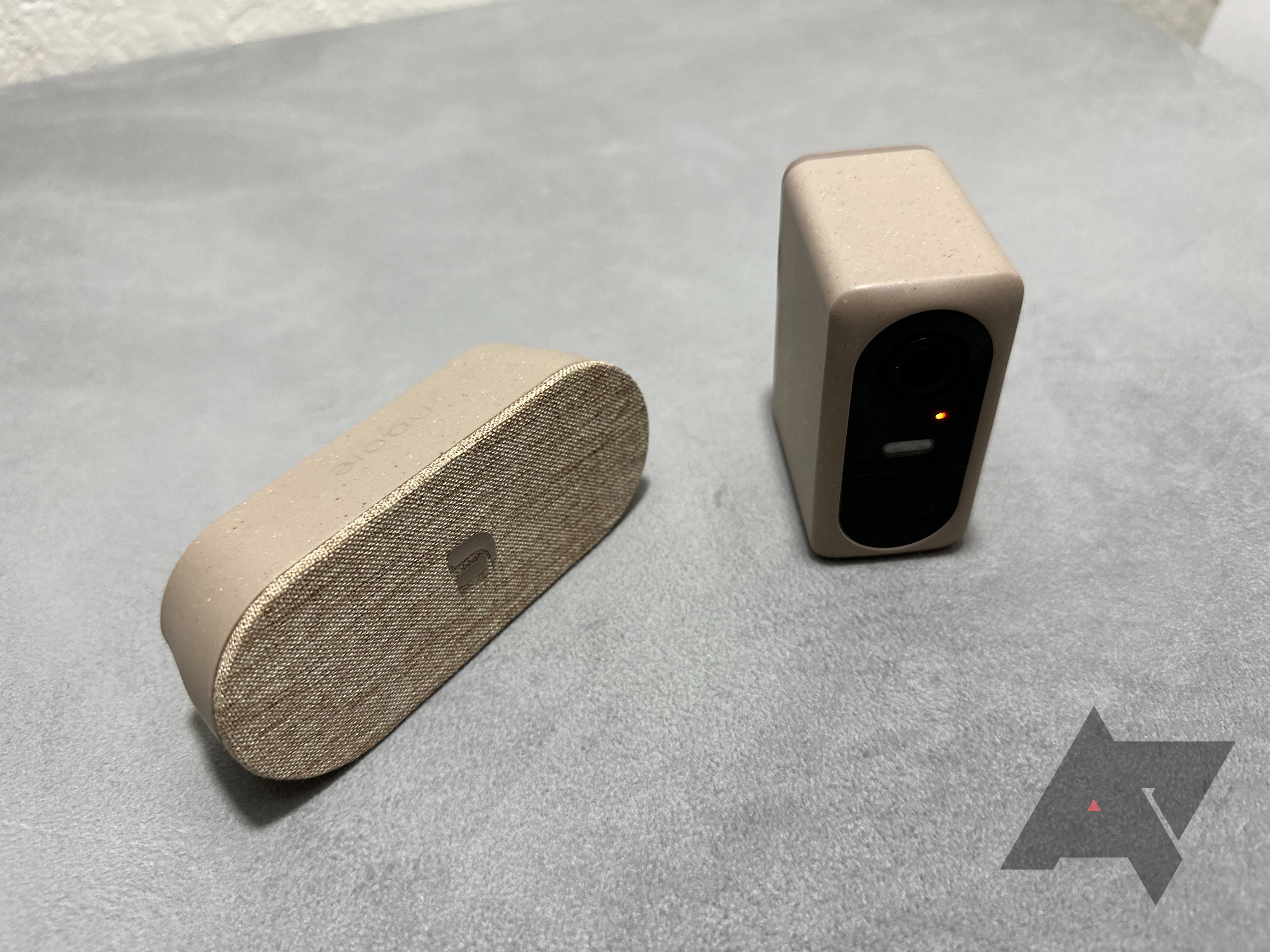 There are a lot of great security cameras out there, and the Nooie Pro Cam is decent if all you need is a powerful 2K camera for day and night that you can check in on from time to time. While its battery life is formidable, the camera's in-app experience is subpar at best. The lag you'll experience when accessing your camera or adjusting its settings will be enough to dissuade you from using it much. And that defeats the point of a security camera, doesn't it?
Nooie's Pro Cam is an excellent device for viewing what's happening during the day and night. However, getting to that point requires dealing with an app that isn't well-built for home security. It can take a while for you to connect (and reconnect) to your camera to view what's going on or change its settings, and the Nooie app's dashboard requires you to manually log in to your cameras to update the static image of what it saw last. If you're looking to build a multi-camera setup to protect all corners of your living space, you'll do a lot of manual connecting to see what's going on.
The same is true if an intruder wanders by and your camera notices. You'll get a notification but not a snapshot of what the camera saw. You'll have to fire up the app, wait to log in to a camera, and hope the person stuck around. And while each Nooie Pro Cam supports video recording (and local storage), you might find that it's too busy processing said video to immediately show you that glaring thing it noticed.
Specifications
Brand: Nooie
Resolution: 2K QHD
Connectivity: Wi-Fi (2.4/5GHz) and Wired (Ethernet)
App Compatibility: Android, iOS
Night Vision: Infrared
Internal or External: Internal and External
Power Source: 5,000 mAh battery
Measurements (camera): 3.6cm by 6.2cm by 7.5cm
Integrations: Amazon Alexa, Google Home
Hub Required: Yes
Field of view: 140 degrees
Pros
Excellent image (and decent frame rate) for night and day
Magnetic mount makes it easy to attach and remove the camera
Months-long battery life
Integrated microphone and speaker in each camera, for yelling at the neighbors
Cons
Lackluster app isn't well-designed for home security
Too much "waiting to connect" when pulling up a camera or changing its settings
Pretty expensive considering what you get versus competing camera kits
Only one charging cable in the box for two cameras
Buy This Product
Price and availability
Nooie's Pro Cam comes in a variety of configurations. We reviewed the version that has two cameras and a single base station for $260. Add a solar charger as part of the overall kit, and the cost bumps up to $310 (or you can buy the solar charger separately for $50). A single-camera, single-base-station kit costs $160.
A supplemental subscription to Nooie+, which unlocks around-the-clock recording and cloud-based storage of your video history, starts at $19 per year for 14 days of video and $49 per year for 30 days for battery-operated cameras. A wired camera's lowest plan changes to $29 per year for three days of video history.
Design, hardware, what's in the box
All Nooie Pro Cam kits come with a base station, which can support up to four Pro Cams or four Nooie doorbells at once. It connects to your existing network via a 2.4GHz or 5GHz wireless signal, though you can connect it to your router directly via an included Ethernet cable. The base station has a solid range.
I had no issues pulling up a live feed from a Nooie Pro Cam that was set up at the opposite end (and floor) of my two-story townhouse from the base station. The base station plugs into a power outlet. It has a single slot for a micro-SD card (not included), and an LED helps you during the setup process, but it doesn't glow while it's plugged in. Other than that, the base station is pretty unremarkable.
Each Nooie Pro Cam has a single Micro-USB port on the rear that pairs with the single Micro-USB/USB-A cable you get in the box. Yes, even a kit with two cameras only has one cable. There's a small reset button on the back that you'll use during the setup process and a magnetic attachment for each camera's included mount and wall plate combination. Each camera has a built-in speaker and microphone, as well as an LED light, an infrared LED, and a passive infrared sensor.
The camera records a 140-degree field of view at a 2K resolution, which you can't lower if you experience bandwidth issues with streaming. While Nooie doesn't share a frame rate for the camera, it's decent-to-good — at least a minimum of 15 frames per second, like Nooie's other cameras, though it feels fine to capture everyday motion.
You won't have any issues picking up on motion. This camera's streamed images won't look like a PowerPoint presentation gone wrong when you're tuning in from afar. And its low-light (or no-light) functionality is excellent. I had no problems picking out details in a completely dark room.
The included LED spotlight is as good as you get on a phone camera. It's average for things that are up close, but something I'd probably ignore in favor of the infrared LED when it starts to get dark.
You can mount the Nooie Pro Cam indoors or outdoors. Nooie says it's waterproof and fire-resistant. You'll probably want to place it in a location that's safe from the elements but easily accessible since you'll have to charge the battery unless you're plugging it into power (or an optional solar charger).
As for that, the Nooie Pro Cam's battery will probably last a long time, measured in months, thanks to a built-in 5,000 mAh battery and the "when you need it" way the camera works. The battery barely dipped into the high-90% during my multiple days of use and testing. This was great to see and confirmed that I'd probably only charge it every half-year or so instead of dealing with plugging it into anything. What you lose in uninterrupted power, you gain in being able to install the Nooie Pro Cam in more useful locations.
Finally, the Nooie Pro Cam has a built-in speaker that you can talk through when connecting to the camera within the Nooie app. You can also trigger an alarm on the camera that sounds more like a frantic rancher hitting a triangle for dinnertime on the farm. It's not very intimidating.
Software and performance
The app that controls the Nooie Pro Cam and the base station is my biggest gripe about the entire package. The setup process, while full of steps, isn't very cumbersome. But the app is sluggish once the base station and camera are up and running. With nearly everything you do — from checking the camera feed to adjusting your camera's settings — you'll wait a long amount of time for the app's spinning wheel to go away and the thing you wanted to load. We experienced the same issues across the iOS and Android versions of Nooie's app.
Nooie felt a little faster on Android, but it was still slow to switch between multiple camera feeds and options. If I had to guess, I'm assuming that limiting your ability to interact with the camera quickly is partly why the camera has a tremendous battery life. But there's, "We're doing this to maximize longevity" and "This is annoying," and I feel like the constant waiting you'll do in the app, even after you've connected to the camera once, really sucks the joy out of using either.
I also disliked that the app's main dashboard page, first shown when launching the app, shows your connected base station and camera feed. However, this feed isn't an updated image of what the camera is seeing at that moment. You'll see an image that was taken the last time you tuned into the camera, and refreshing this dashboard by swiping down doesn't update the picture. You have to connect to your cameras to update the image on the dashboard, which defeats the point of having one. In a perfect world, what your cameras see — whether you're getting a glance at them on this dashboard or from the official multi-feed stream — should always be updated when you're bouncing around the app.
The app's multi-feed stream works well for viewing a live feed of multiple cameras at once, so I'll give Nooie credit for that. You have to launch each camera's feed individually, and pivoting your phone to portrait or landscape mode requires you to relaunch (and wait for) each feed. When viewing a camera feed, you can snap a quick screenshot or video recording, and both save locally to your device (your smartphone, for example). That's incredibly convenient, even though the cameras are perpetually inconvenient to access.
When the camera detects a person, you get a notification automatically unless you turn the feature off (or enable its scheduling mode, so you aren't constantly bombarded with notifications when people walk by). However, tapping the notification only takes you to the connected camera's landing page. You still have to tap it to Go Live, which means another wait for the connection to happen. Getting a glimpse of what your camera saw requires you to back out and load the camera's Activity Center, which is where you should have been taken to begin with. And you can't pull up a full-sized screenshot of what the camera saw unless you pay for Nooie+. If you go the microSD route, you'll wait too long for the video to process before you see what your camera saw.
I love that the camera saves video footage to a microSD card (that you provide) and more so that Nooie doesn't charge you for this capability. Otherwise, its standard "save to the cloud" feature requires a subscription, but the cost is reasonable for the various tiers.
There aren't many settings you can adjust within the Nooie app, save for the aforementioned recording options and making subtle adjustments like enabling audio recording or rotating connected cameras' images. In addition to adjusting its person-tracking sensitivity, detection zones, and schedule, you can turn on the camera's infrared LED or regular LED automatically if it detects motion at night, which is a nice touch if you're trying to make the Cam Pro feel more like a security camera.
You can connect the Nooie app to Amazon Alexa or Google Assistant, which lets you access your connected cameras via either digital assistant (especially useful if you have a smart display from either company). HomeKit is not supported.
Competition
There are a ton of security cameras that you can pick from, so it's not like you're starving for alternatives. Depending on your needs, you might be able to get away with a cheaper Wyze camera (like the v3) for indoor or outdoor tracking — especially since it supports local video recording via a microSD card, and you can voice-trigger the camera with a connected Amazon Alexa or Google Assistant device. For the price of the Nooie Pro Cam pack we reviewed, you could outfit your house with at least seven Wyze v3 cameras. They're all wired. However, for a battery-powered device, the Wyze Cam Outdoor v2 is a bit more expensive but still cheaper, in total, than Nooie's kit.
TP-Link also has its C420S2 camera system that gives you two 2K devices (that support around 180 days of total battery life) and the same features as Nooie's Pro Cam kit, but for roughly $200. That kit includes a hub, too. And then there are Amazon's Ring cameras, or the Arlo Pro 4 and Essential series of cameras, and we think there's enough competition that Nooie's system, while fine, is hardly the best you can do for what you'll pay.
Should you buy it?
Nooie's Pro Cam kit isn't terrible. The cameras are solid, easy to connect to your Nooie system, have an incredible battery life, and give you a great picture in day and nighttime conditions. The problem is that the lackluster app makes their helpfulness less helpful, which includes significant delays every time you do anything with the cameras.
Just as annoying, the app isn't very useful for getting a quick look at what's happening in one (or many) locations at once, nor does it do a good job of showing you exactly what's happening when the cameras detect human-like movement. In those moments, a person needs information: a snapshot of the situation you can explore to determine if you need to watch a video or tune in live.
The Nooie system falls short in this regard, even if your BYO-microSD and competing camera systems (that cost less) provide more responsiveness even if the end image is only, say, 1080p instead of 2K. Using Nooie to protect my home felt clumsy and cumbersome, which are the last things you want to deal with in a security camera system. So, really, if you want something that doesn't really look like a security camera and are willing to deal with a less than stellar app, this may be the right choice for you.
Conclusion on Looks great, but annoying to use
If you have any query let me know in comment section.