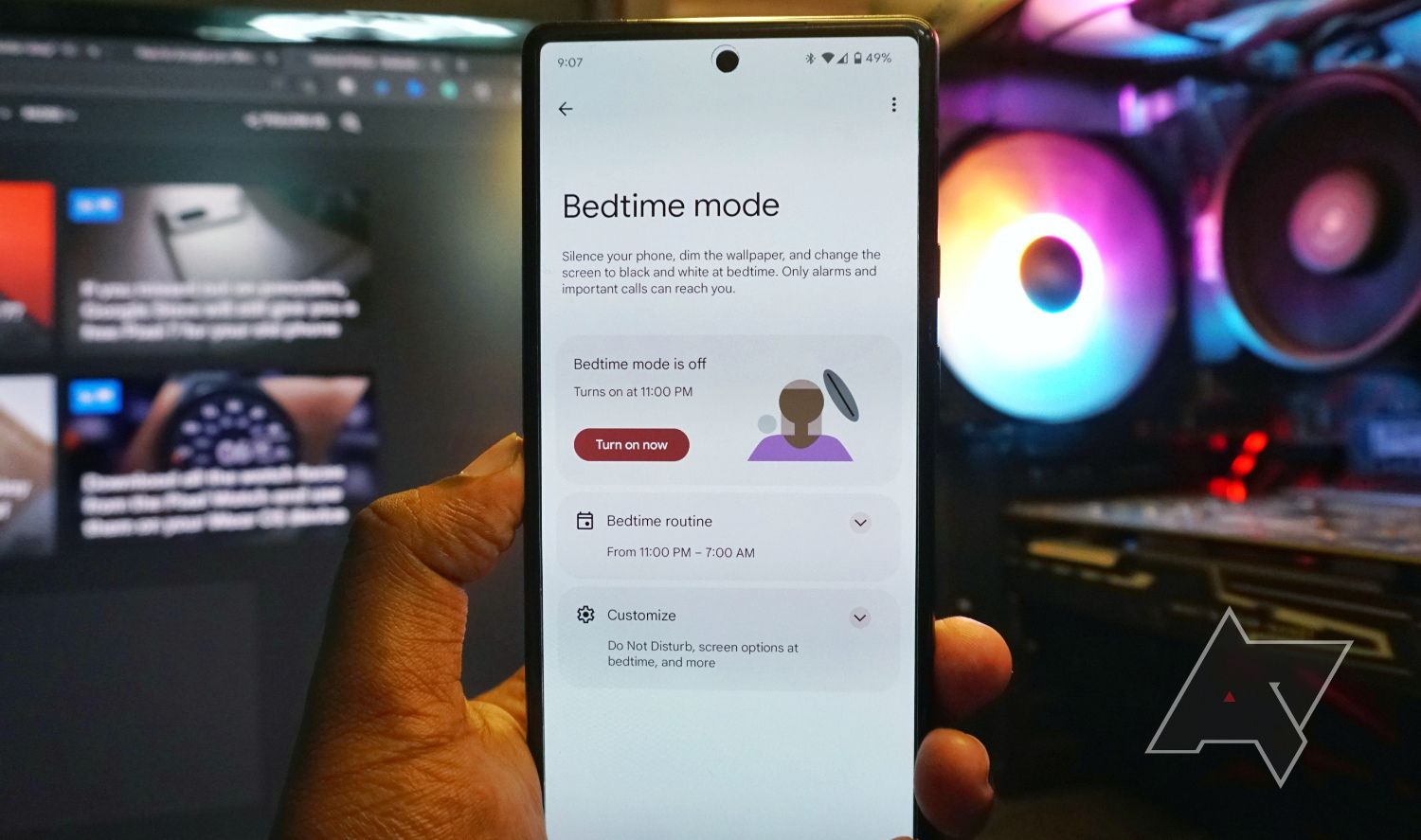 Bedtime mode helps you put away the most interesting Android phones. The feature uses Do Not Disturb (DND) mode to mute calls, texts, and other notifications, earning you some shut-eye. With the One UI 5.0 release, Samsung replaced the feature with its robust Modes system. Bedtime mode is now "Sleep" and is one of five new modes to replace Focus mode. Non-Samsung smartphones can still access Bedtime and Focus modes as these are standard Android OS features.
If you struggle to maintain consistency in your sleep pattern, here's how to use Bedtime mode to correct that.
What is Android Bedtime mode?
Bedtime mode is a Digital Wellbeing feature that enables you to restrict device activities when you need to take a break from your phone. On Samsung devices, the feature appears as "Sleep" and is part of five modes, which include Driving, Exercise, Relax, and Work modes. Samsung also offers the option to create a custom mode.
With Bedtime mode, you can set your sleep and wake-up times and repeat alarms for them every day. You can also enable DnD mode within that time to prevent calls, messages, and notifications. However, DnD mode is optional. If you want your favorite contacts and apps to reach you, disable DnD.
Additionally, Bedtime mode houses settings for creating a dark and quiet ambiance and saving power. Automatically, sleep mode activates Greyscale and Dark modes to drain colors from your phone. The idea is to block the visual stimulus that keeps your attention glued to your device. If you don't want them, you can disable them, although it defeats the purpose of Bedtime mode as you'll experience disturbances.
How to enable Bedtime mode on stock Android OS
The Digital Wellbeing dashboard provides statistics on how you use your phone and tools for managing screen time. The dashboard is in the Settings menu, although you can pin the icon to your App gallery and access it faster. Use the following steps to set up Bedtime mode:
Open Settings.
Scroll up and tap Digital Wellbeing & Parental controls.
Tap Bedtime mode.
Go to Bedtime routine > Use a schedule.
Choose a Start and End time.
Select the days you want Bedtime mode to turn on automatically.
Tap Customize to access more options.
Automatically, DnD mode is enabled. To disable it, tap the toggle switch. You will experience disturbances if you do so.
To use Greyscale, Dark theme, and Dimmed wallpapers, tap Screen options in bedtime.
Tap Turn on now to activate Bedtime mode.
How to create a sleep schedule on Samsung phones
If you upgraded to the Android 13 OS, Bedtime mode is now in the Modes and Routines menu. Although the Digital Wellbeing dashboard still exists, it redirects you to Modes and Routines when you tap Bedtime Mode.
Open Settings.
Select Modes and Routines.
Tap Sleep, then tap Start.
Use the clock to set your Sleep and Wake-up time.
Use the alphabets below the clock to choose days when bedtime mode should repeat.
When you're done, tap Next.
Automatically, DnD mode is enabled. To disable it, tap the toggle switch. You will experience disturbances if you do so.
To choose contacts and notifications that can reach you while DnD is on, tap Calls and Messages or Notifications.
When you're done, tap Next.
By default, Greyscale and Dark modes are switched on. You can also turn on Eye comfort shield, Sound mode and volume, and Power saving. Use the checkboxes to turn them on or off.
Tap Done.
Tap Turn on to activate Bedtime mode.
How to use Bedtime mode in clock apps
Not all default clock apps integrate Bedtime mode. If you don't see the feature on your phone, download Google Clock. Samsung Clock also supports Bedtime mode. However, the app is only available for Samsung devices. You can't get it on Play Store.
Use Bedtime mode in Google Clock
Open Google Clock. If you don't have it, install it from Google Play Store.
Tap Bedtime in the lower-right corner.
Tap Get started.
Use the – and + signs to set your wake-up time.
Use the alphabets to select days when your bedtime alarm repeats.
If you dock your phone with the display facing you, enable Sunrise Alarm. This feature imitates a natural morning light, slowly waking your screen before the alarm rings.
Tap Sound to change the alarm tone.
When you're done, tap Next.
Set a bedtime and choose days when the alarm repeats.
Tap Reminder notification to get a heads-up before the alarm rings.
Tap Done.
Use Bedtime mode in Samsung Clock
Open your Clock app.
Tap the three-dots icon.
Select Set Sleep mode schedule.
Create a sleep schedule. If you already have one, adjust the settings to your preference.
To record your sleep pattern, tap Sleep details.
Tap Enter data.
Use the clock to set how much sleep you've had for the day. Then tap Save.
How to enable Bedtime mode in Quick Settings
The Quick Settings menu provides the fastest way to access Bedtime mode and other settings when you swipe down from the top of your screen. On select phones, you may be able to open Quick Settings when you slide down on the fingerprint sensor beside the device.
Swipe down from the top of your screen with two fingers to open Quick Settings.
Tap Modes.
Select Sleep.
If you don't see Modes in Quick Settings, tap + to view the available buttons.
Drag Modes to Quick Settings. Then tap it to enable the feature.
If you haven't created a sleep schedule, long press Modes to enter the Modes and Routines menu.
Improve your sleep pattern with Routines and App timers
The Digital Wellbeing menu provides insights into your daily screen time. This data can help you decide what apps you need to use less. Digital Wellbeing also provides timers that lock an app for a specific duration. You can't use the app until the timer expires. Also, Routines allow you to set conditions and determine the resulting actions.
When you voice a command, Google Assistant activates the routine, so you don't have to do it manually. For example, if your phone is in bedtime mode, it can play sleep sounds, read you a poem, or adjust brightness and volume. This feature presents an opportunity to multitask without moving a muscle. You can also set Routines from the Modes and Routines menu on Samsung phones. However, Samsung's version uses Bixby, which is a less powerful AI than Google Assistant. Use Google Assistant for better automated functionalities, but disable Bixby first to avoid accidentally triggering it.
Make a Bedtime Routine with Google Assistant
Press the Home button in the navigation bar or say "Hey, Google" to open Assistant.
Swipe up to expand Assistant.
Tap your profile icon.
Select Routines.
Under Your Routines, tap Bedtime.
Google defines a starter with commands for you to say when you need to sleep. To add more words, tap the default starter.
Select Add another and type a word or phrase.
When you're done, tap Add starter to return to your routine settings. Add another starter if you want.
Under Actions, tap Add action to choose what happens when your starter occurs.
Google also offers suggested actions if you're out of ideas. Tap Add under them.
Use the drag icon to reorder Starters and Actions.
When you're done, tap Save.
Catch some Zs with Digital Wellbeing
Smartphones and social media aren't going anywhere, and neither are the distracting content they display every day. If you think you're spending too much time on your smartphone, set up Digital Wellbeing on your phone. Besides Bedtime mode, the Digital Wellbeing menu provides tools for assessing your screen time and presents the data you need to build life-changing habits. You can set goals, driving monitors, and parental controls for the little ones.
Conclusion on How to set up and use Bedtime mode on your Android
If you have any query let me know in comment section.