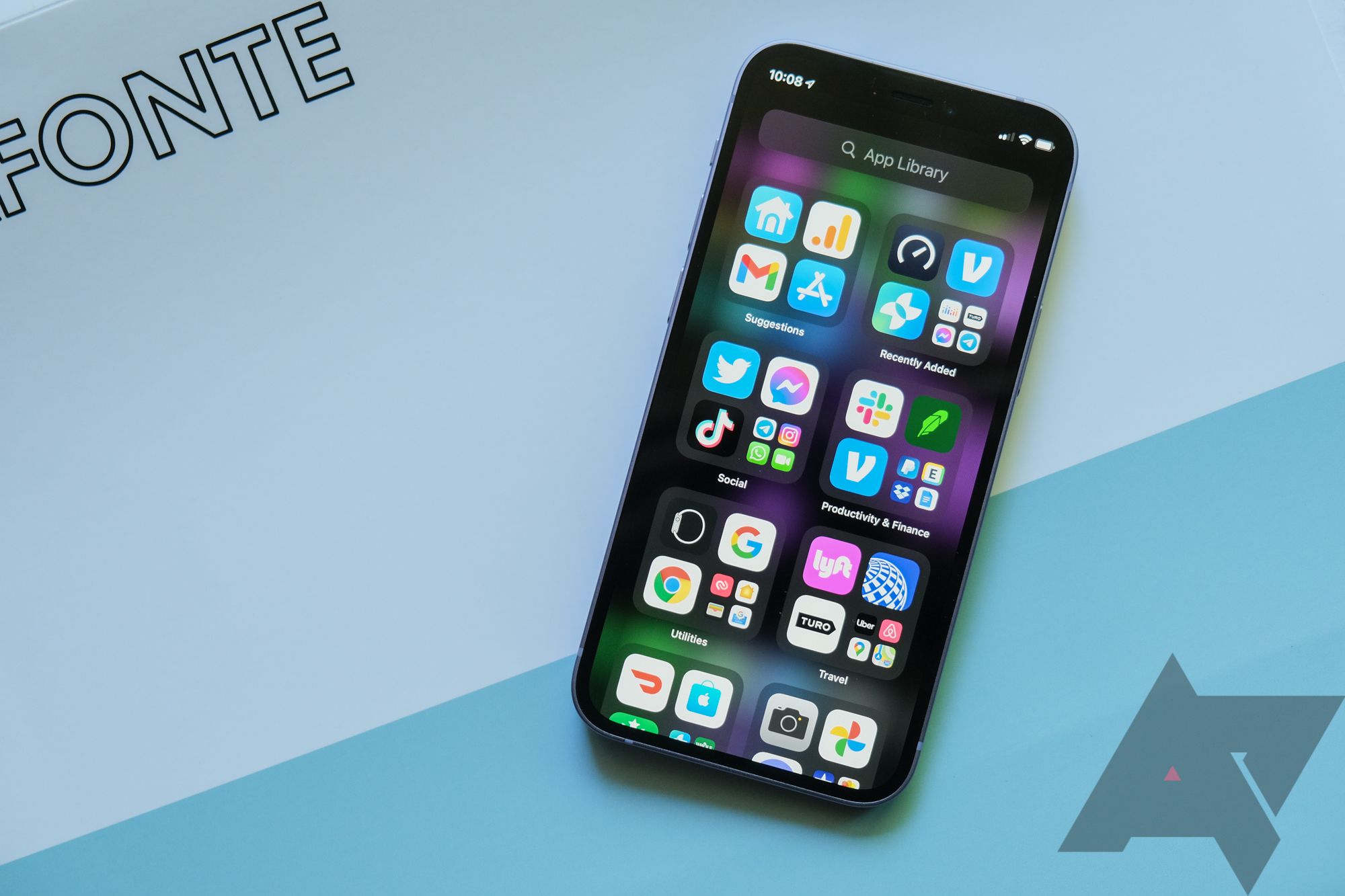 Many people love iPhones due to the simple and sophisticated user experience, which helps the iPhone value proposition. This experience and other factors, such as iMessage, cause some Android users to jump to an iPhone. Even with Google's ever-expanding use of RCS on the best Android phones, such as the Google Pixel 7 Pro or the Samsung Galaxy S23 Ultra, if everyone around you uses iMessage, it might make sense to switch to an iPhone. If you're a seasoned Android user moving over to iPhone, you may want your iPhone to feel and work more like the Android phone you're used to. Here are the best ways to make your iPhone feel more like an Android phone.
Replace Apple's apps with Google's
What better way to make your phone feel more familiar than using the apps you're used to? Even though not all of Google's apps are available on the App Store, the most used ones, such as Chrome, Gmail, Google Maps, and Google Photos, are all there. If you'd like to see which apps are available, go to Google's developer page on the App Store. Apple even allows you to change some of the default apps on your iPhone, so you don't need a workaround to use these apps easily.
To change your default browser from Safari to Chrome, follow these steps:
Open the Settings app.
Scroll down and select Chrome.
Tap the Default Browser App option
Change Safari to Chrome from the drop-down default menu.
After completing these steps, Chrome will be the default way to browse the web on your iPhone. If you want to use Gmail instead of Apple's Mail app, follow the same steps to make it the default.
Even though Apple allows users to set default apps for certain tasks, they don't allow you to change other default apps. You can't use Google Calendar instead of Apple's Calendar app or Google Photos over Apple Photos. It's great that they're allowing some user preferences, but they're nowhere close to Android's level of customization in this department.
Replace Apple's default keyboard with a better one
Even though Apple hasn't fully opened default app customization, they have allowed default keyboard customization for a long time. Many of the best Android keyboard apps, such as Gboard and SwiftKey, are also available on Apple's App Store. Setting the default keyboard on an iPhone is easy, which makes the decision to change it a no-brainer.
To start, download your keyboard of choice from the App Store. Once the download is finished, follow these steps:
Open the Settings app.
Tap the General option.
Tap Keyboard.
Tap Keyboards.
Tap Add New Keyboard and choose your desired keyboard from the list.
To take full advantage of the features, you must give them full access. This may, according to Apple, allow developers to log your keystrokes, so enable it at your own risk. To do so, tap the name of your keyboard app and turn on Allow Full Access.
Once you've allowed full access, open your keyboard in any app. Tap the globe icon in the lower-left corner to switch your keyboard to the third-party keyboard you enabled.
Use Google Assistant instead of Siri
Apple's digital assistant, Siri, is the default on iPhones. Siri frustrates many iPhone users because it can be activated by accident and doesn't have as much functionality as they'd like.
If you're a previous Android user, you're probably used to Google Assistant, which is commonly thought of as the best overall virtual assistant. You can download the Google Assistant app from the App Store to get the assistant on your iPhone, but the app doesn't allow you to use a trigger phrase to activate the assistant. However, a workaround allows you to make this dream a reality.
To start, download the Google Assistant and Apple Shortcuts apps from the App Store.
Then, follow these steps:
Open the Shortcuts app and tap the plus icon in the upper-right corner to create a new shortcut.
Tap the Add Action option.
Choose Hey Google from the list.
Turn on the Show When Run toggle.
Name your shortcut "Hey Google," and click Done.
Now that you've created this shortcut, you can use Siri to open Google Assistant. You can say, "Hey Siri," wait for it to open, and say, "Hey Google," along with what you want the Google Assistant to do. Alternatively, hold the button on the side of your iPhone to launch Siri and follow the same method to use Google Assistant. It's a little convoluted and more annoying than it should be, but it's better than having just Siri.
Even though you can use Google Assistant using this method, it won't be as functional as it is on an Android phone. You won't be able to use it to turn on your iPhone's flashlight or to send a text. You'll still have to use Siri for that. Using Google Assistant this way is also slower than on an Android phone because you have to activate Siri, which in turn has to activate Google Assistant. It isn't a perfect solution, but this method lets you use the Assistant to control smart home gadgets or ask questions like you're used to on an Android phone.
Apple was behind the pack on this feature, but they finally added widgets to iPhones in 2020. Apple's widgets generally look cleaner and more polished than Android widgets, but they are not as interactive and customizable as they are on Android. Apple allows you to create a stack of widgets that places widgets on top of each other in a scrollable pile. Stacks allow you to conserve space on your homescreen while still having a plethora of information at your fingertips. Samsung devices have practically the same feature, which they call Smart Widgets.
Apple allows you to add widgets to three different parts of your iPhone: the homescreen, the lock screen, and the today view. Adding widgets to the homescreen allows you to place widgets among your apps. Adding widgets to your lock screen allows you to access information without unlocking your device. The today view is Apple's take on Google's Discover feature, and both are found by swiping to the left on your homescreen.
However, because this is Apple we're talking about, you can't put widgets wherever you like. You must place them at the top or below a row of app or folder icons. On the bright side, you'll find a lot of great-looking widgets to make your iPhone experience better. There are a lot of great widgets from Google apps like Google Search, Gmail, Google Maps, and more that can help make your iPhone feel more like an Android. To add widgets, use whatever method you use to customize the screen you're on, tap the plus button, and choose a widget to add.
Clean up your homescreen using Apple's app drawer feature
Before the release of iOS 14, the only way to arrange an iPhone's homescreen was to have every app you have installed on a homescreen or in a folder on your homescreen. This made organizing your homescreens a bit difficult and made them look cluttered.
When Apple released iOS 14, it added an app drawer feature called the App Library. It's not a full-fledged app drawer that shows all of your apps listed alphabetically like most Android phones, but it's better than it was. If you swipe to the right of your homescreen, you'll find the App Library. The App Library sorts your apps into categories based on the app's functionality to make it easier to find them. This means you don't have to have every app on your homescreen, only the ones you want.
Android phones allow you to download launchers that let you arrange your app drawer and homescreen in different ways. Some make your homescreen a circle of the most used apps, and some let you change how everything looks and is organized. With Apple, you can't have an app launcher, have to arrange apps in neat rows, and can't customize how the App Library sorts your apps. But this improvement is better than nothing.
Use Apple versions of Android features
Some features are core to any phone's functionality. If you're an Android user, you're probably used to the way Google does things, but there are iOS features that do the same things. Here are a handful of features you'll want to check out when you get your iPhone up and running.
Digital Wellbeing > Screen Time + Focus
A recent push in the technology space is using your device less. Google's digital wellness feature, Digital Wellbeing, is one of the best in the business. If you're making the switch to an iPhone, you may miss Digital Wellbeing. However, Apple offers some powerful digital health tools of its own.
Apple has two features that equate to the Digital Wellbeing feature: Screen Time and Focus. Screen time lets you see how much time you spend on your phone each week. It shows a breakdown by app, lets you set usage limits for apps, and lets you set a downtime where many of the phone's features are turned off or silenced.
Focus, which was introduced with iOS 15, is Apple's take on Do Not Disturb. The feature allows you to set schedules for when you're working, at home, or whatever you like. When one of these modes is active, certain apps and notifications are suppressed until you switch to a different mode. You can even change the apps and widgets that appear on your homescreen with each mode. To use these features, go to the Settings app on your phone and scroll down until you find them.
Find My Device > Find My
If you ever lose your phone, it's good to have a way to locate or remotely wipe your device. Google has the Find My Device feature, which lets you see where your devices are, have them make a sound, and wipe them from another device if someone steals them. Apple has an equivalent feature called Find My that leverages all Apple devices to help you find your phone. Once you log in to the Find My network, you can see your device, ring an alarm to help you find them, and remotely wipe them if you can't get them back.
Google Pay > Apple Pay
Using your phone to pay for something is convenient, and this feature has only picked up popularity since the COVID-19 pandemic. Google's Google Pay feature is practically the same as Apple's Apple Pay feature, so it won't be hard to switch. Once you add a card to your Apple Pay Wallet, you can use it to pay wherever contactless payment is accepted. Take out your phone, hold it near a compatible payment terminal, authenticate your identity with Face ID, and you've made a payment. It's super simple and something people should take advantage of.
Personal Safety > Emergency SOS + Car Crash Detection + Medical ID + Personal Safety
Google created a robust suite of safety features that fall under the Personal Safety app. These features include Car Crash detection, Emergency SOS, medical information storage, and location sharing and check-ins. These features make an Android phone a great personal safety companion.
Apple recently added to its suite of safety features and has a similarly robust set of features to keep you safe, albeit not under one app. Apple's Emergency SOS feature is basically the same as Google's. It lets you call emergency services or an emergency contact in case of an emergency. To activate it, hold the side button and one of the power buttons until the Emergency SOS slider pops up, slide it, and emergency services can be called. Alternatively, you can keep holding the buttons after the Emergency SOS slider pops up and a countdown begins with an alert sound. Once this countdown finishes, your phone automatically calls emergency services if you release the buttons.
Car Crash detection was recently introduced with the release of the iPhone 14 series. It works like Android in that it asks if you're okay after it detects you've been in an accident. If you don't respond, it automatically calls emergency services. Medical ID allows you to store medical information on your device. If something happens to you and someone finds your phone, it allows them to have some preliminary information for first responders. Personal Safety allows you to share your location and information with certain people. This is helpful if you're walking alone and want to make sure someone knows where you are.
Family Link > Screen Time
Each operating system also includes a way to make sure parents have control over what their children do on their devices. Android includes Family Link, which allows parents to limit their child's usage and see what they've been doing. Apple includes a similar feature on iOS called Screen Time. Screen Time allows parents to limit how long their children can use a device, what apps they can use, and who they can talk to. Parents also receive regular reports on their child's screen time to help them monitor their usage.
More iPhone tips and tricks for Android users
Switching from an Android phone to an iPhone is a large undertaking. There is a lot of information you need to move over and many new settings, apps, and features to get used to. If you don't want to leap over to an iPhone, make your Android phone look and feel like an iPhone.
Conclusion on How to make your new iPhone feel a bit more like Android
If you have any query let me know in comment section.