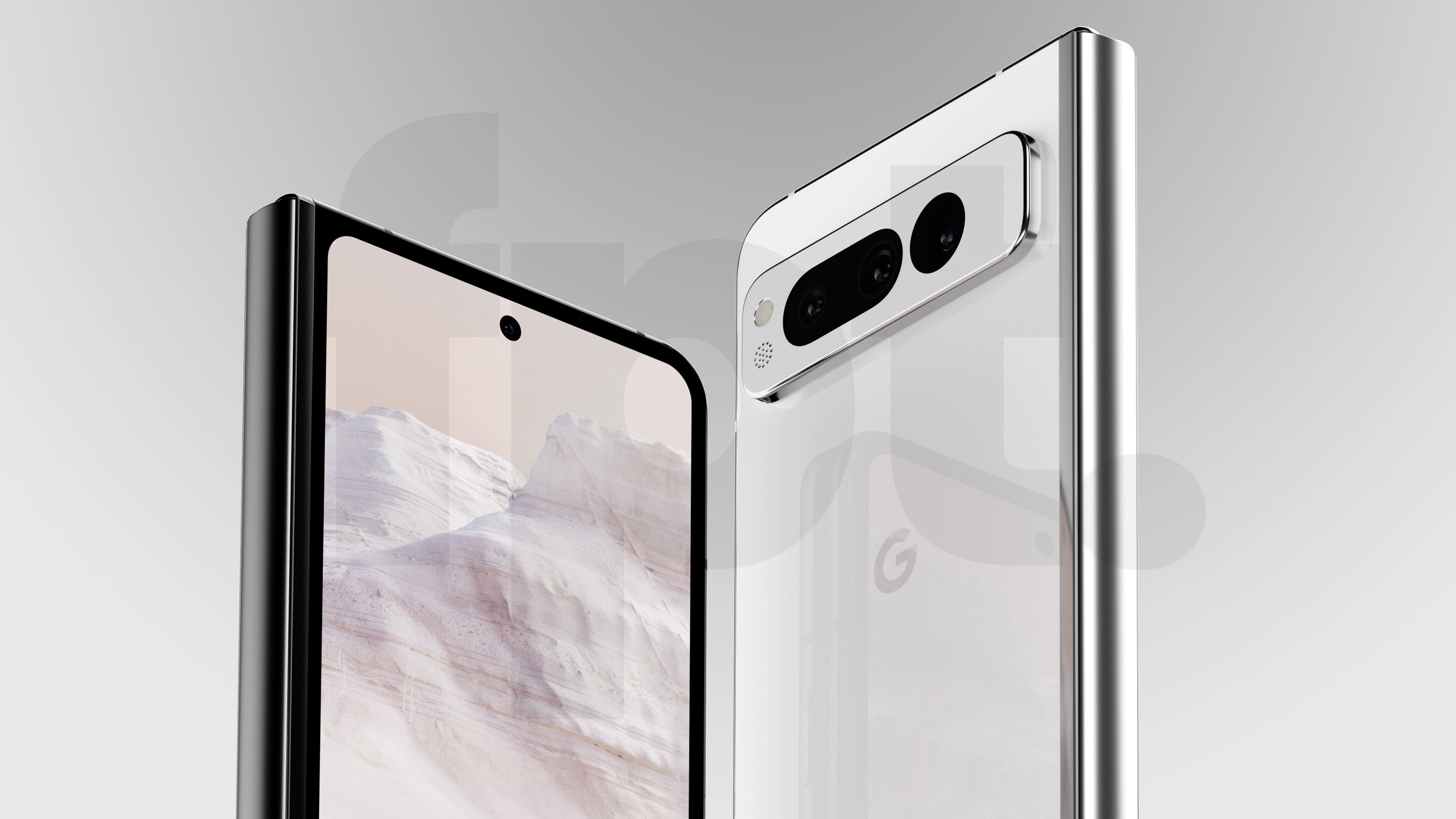 Google might have a foldable in the works. We suspect as much, even though Google hasn't shared any concrete details on what it has planned for the emerging form factor that could live alongside the Pixel 7. A few key facts have leaked, but the details are far and few between, and some of them contradict each other. It becomes increasingly clear that the Pixel Fold, if it will be called that, is far out in the future. But don't worry. We're here to separate the wheat from the chaff and to give you all the details we have on the Pixel foldable.
Google's foldable has been in the making for a long time. The company first confirmed to CNET that it was experimenting with the form factor in 2019, but Google didn't see much sense in launching its own device at the time. In 2020, an internal Android document revealed a device codenamed "passport," which was supposed to be a Google-made foldable. Since then, rumors have circulated, especially as Android 12L launched and a new "Jumbojack" codename was released.
Google Pixel Fold: Look, feel, and name
While we've often called the device "Pixel Fold" for consistency's sake, the name isn't confirmed yet. A report from 9to5Google mentions that Google may want to differentiate itself from Samsung's Galaxy Z Fold branding by naming its foldable Pixel Notepad instead. That would be ironic enough, given the proximity to Samsung's other highly regarded (but discontinued) series, the Galaxy Note. For what it's worth, "Logbook" was also considered as a name. Out of these, Pixel Fold rolls off the tongue the easiest, so that's what we're going to call it until there is an official denial or confirmation.
This is a Google device, so it's unsurprising that leaks began flowing long before we ever started to think about a retail launch for the Fold. Our earliest glimpse came from an animation spotted in Android 12L, depicting a generic folding phone that seemed to represent the Google foldable.
For what it's worth, many sources agree that the Pixel device will mirror Samsung's style with the Galaxy Z Fold series, with a smartphone-like tall exterior screen and a tablet-like interior display. It's unclear whether this description relates to both the "Jumbojack" and the "passport" code names that are floating around, and it's unclear if those are even two distinct devices that will be released alongside each other. For all we know, the codes could denote two different prototypes or prototype generations.
Animations and renders are one thing, but what about renders? It took months for us to get a glimpse of what the Google Pixel Fold might look like whenever it lands on store shelves, but it's finally here. Jon Prosser of Front Page Tech debuted unofficial renders in November 2022, showcasing a design that any Pixel 7 Ultra owner will feel well acquainted with.
In fact, this design — particularly when looking at the camera bar along the back of the device — all but confirms the Pixel Fold is set to debut within this current generation of Google design. While it's possible Prosser's renders are incorrect in certain ways, he nailed the Pixel Watch's design months before it was officially announced, lending some credence to these images.
The main takeaway here, frankly, is one of little surprise. If you had to imagine what a Pixel Fold would look like — specifically in a post-Pixel 7 world — this would be it. With a glossy glass back panel, a shiny camera bar, and a centered hole punch camera on the front display. Really, the only obvious change between the Pixel 7 Ultra and these images of the Pixel Fold is the lack of an edge-to-edge camera bar. Instead, this version looks more like a large camera bump, running along the back of the phone but not connecting to the edges of the phone.
Open it up, and you have that expansive screen you'd expect on a foldable. Anyone who's tried out the Galaxy Z Fold 4 might be disappointed though — these bezels are noticeably larger than what Samsung uses on its folding phones. On one hand, this design removes the need to keep space for a hole punch camera, or to turn to under-display cameras that create permanent screen distortion. On the other hand, keeping bezels makes the Pixel Fold look far less futuristic, and much more like a first-gen device. Samsung is on track to release its fifth-gen foldable in less than a year; at this point, we expect more from our folding phones.
Okay, but what about the hinge? The thing that makes a foldable, you know, a foldable? Thanks to a leak from YouTube Dave2D, we know Google plans to use a teardrop hinge, similar to the engineering used by Oppo on its Find N series. It's a different style than what Samsung has used throughout all four generations of the Z Fold, though the company is rumored to adopt this technology on the upcoming Galaxy Z Fold 5. This should provide users with a completely flat device when folded, avoiding any gaps that can attract dirt and debris.
Finally, it's possible we see a side-mounted fingerprint sensor built into the power button, rather than an optical sensor build into the front screen. The issue with relying on a sensor embedded in a single display on foldables is obvious — what if you already have the device open? While this change wouldn't bring back the rear-mounted sensor that plenty of Pixel fans miss, it might be a step in the right direction.
If one leak isn't enough to convince you of Google's foldable design philosophies, you're in luck. Onleaks, one of the internet's most notable sources for early phone information, published new animations of the Pixel Fold ahead of its presumed 2023 launch. These renders look near-identical to what Prosser published, right down to the bar-shaped camera bump and the small left-size bezel next to the front display. Aside from some differences in how the phone is presented — a glossier finish, a more prominent selfie camera — it seems like these images give us a good idea as to what to expect.
We might have also seen our first real-world spotting of Google's upcoming device. An anonymous Redditor posted blurry images of what they claimed was a Google employee using the device on the A Train in New York. The photos are lacking in detail, and without a clearer image, it's difficult to make out too much of what's seen in these photos. Still, if the Fold was indeed being used in public, we could be nearing an eventual announcement — perhaps at Google I/O on May 10th.
Google Pixel Fold: Specs and Camera
More than a year after we first started hearing about the Pixel Fold, early spec leaks have started bubbling up online. Developer and leaker Kuba Wojciechowski was able to pinpoint the exact measurements of the Fold's display, spanning 123 × 148mm with a resolution of 1840 × 2208. That's a 7.58″ panel — impressive stuff. It'll also be a high-refresh rate display, though it's unclear if that means 90Hz or 120Hz. Expect an average brightness rating of 800 nits and a peak rating of 1,200 nits.
Thanks to Onleaks, we've also learned the dimensions of the device when it's unfolded: 58.7 x 139.7 x 5.7mm. That's more than half a millimeter thinner than the Galaxy Z Fold 4 in a similar state, suggesting a relatively svelte design even when it's folded in two. Meanwhile, a separate report suggests the foldable will weigh more than Samsung's hardware, though it's unclear by how much.
We don't know much about the internal hardware yet, but according to some leaks, but with the Pixel 7 now available, we wouldn't be surprised if the Google Pixel Fold would get the same Tensor G2 upgrade, rather than sticking with the first-gen Tensor chip as some rumors suggested.
As for the camera, a few details have been leaked thanks to an early leak discovered in the Google Camera app. A string called "isPixel2022Foldabl" reveals that the software is being developed toward the elusive Pixel Fold. The code shows that the device should come with the trusty 12.2 MP Sony IMX363 primary sensor and the 12MP IMX386 wide-angle, like the Pixel 5 before it.
That said, these specs are nearly a year old, and it sounds like Google may have retooled its configuration as development on the Fold continues. A more recent leak suggests some improved sensors, including a 50MP Sony IMX787 primary lens and a 10MP Samsung S5K3J1 telephoto lens for those far away subjects. It sounds like that 12MP IMX386 ultra-wide sensor is still here, along with an 8MP Sony IMX355 front-facing camera.
Google Pixel Fold: Software
We long thought that Google would use the Pixel Fold to showcase the tablet-focused Android 12L to its fullest, but that hasn't panned out. Instead, the Pixel Fold will assuredly use Android 13, as it's Google's latest OS upgrade.
Android 13 builds on Android 12L, which took everything from Android 12 and added APIs and other improvements that allow apps to work better with big screens. In particular, 12L makes it easier for apps to adjust dynamically to different screen sizes on the fly. This way, the phone delivers better multitasking and split-screen experiences. A foldable device like the Pixel Fold would benefit greatly from these improvements.
Something interesting was spotted in the Pixel Launcher that's related to this split-screen, dual-pane experience. When you set the screen density of your regular Pixel phone really low (below 230, to be specific), you can unlock a dual-pane view for your homescreen. This looks pretty broken on a regular smartphone. Still, since the Pixel Launcher is only available on Pixel phones, we see this as evidence that Google is working on a foldable phone of its own, and meant to run its software.
Android 12L also added a taskbar to the operating system for foldables and tablets, which owners of these form factors can utilize for multitasking and easier access to often-used applications when using a big screen, visible in the screenshots above and below. The system has been refined further in Android 13.
As for other software tidbits, Google's s keyboard is also getting ready for the wider screen of a foldable. The evidence we uncovered in Gboard's settings suggests that Google has a split layout in the works that would be perfect for devices like the Galaxy Z Fold 4 or, you know, a Pixel Fold. Meanwhile, the Flip to Shhh setting from the Pixel 7 is getting a new twist with this device: you'll need to keep it folded and face-down, according to leaked strings of code from the Digital Wellbeing app.
All of this said, we have our first glimpse of Android 14 with its initial developer preview, and depending on when Google decides to launch the Pixel Fold, it could have a big impact on this device. Google is once again focusing in on big screens with this release, pushing developers to optimize their apps for tablets and foldables with a new quality checklist. It's complete with some new example layouts, all of which are meant to help devs build software fit for various screen sizes.
We have at least one more Android 14 developer preview, as well as the first beta drop, to go until Google could feasibly announce its Pixel Fold at I/O in May. That said, if Google decides to hold off on a foldable launch for after August — when Android 14's stable build is set to roll out to users — we'll almost assuredly see the Fold jump to the latest build available.
Google Pixel Fold: Launch dates and pricing
Nailing down the specific launch date for the Pixel Fold is tough. We saw hints of a 2022 launch — take another look at that "isPixel2022Foldabl" string from the Google Camera app — but obviously, that's come and gone. Unsurprisingly, follow-up rumors, including one coming straight from the New York Times, suggests a 2023 window is finally set to happen.
While specific availability remains unclear, Jon Prosser has reported a May launch is on the books. That's timed perfectly with Google I/O — set to be held on May 10th — where we may see the Fold's worldwide debut, and it matches an alleged roadmap leak detailing the next several years of Pixels. However, a report from The Elec says the opposite, claiming the company's first foldable is set for a fall launch alongside the Pixel 8.
We're still in the dark about pricing. Early rumors pointed to a pleasant surprise, with Google reportedly aiming to undercut Samsung's Galaxy Z Fold 4 pricing. Even if the Pixel Fold is set to be the company's most expensive phone yet, any movement in bringing foldables down in price is excellent. Unfortunately, recent word suggests the exact opposite, with Jon Prosser pegging the Fold at $1,800.
That's mighty expensive, matching the Fold 4's MSRP and ensuring that the Pixel Fold remains out of grasp for many shoppers. At the very least, you have a few months — or more — to start saving.
Conclusion on Everything we know about Google's foldable
If you have any query let me know in comment section.