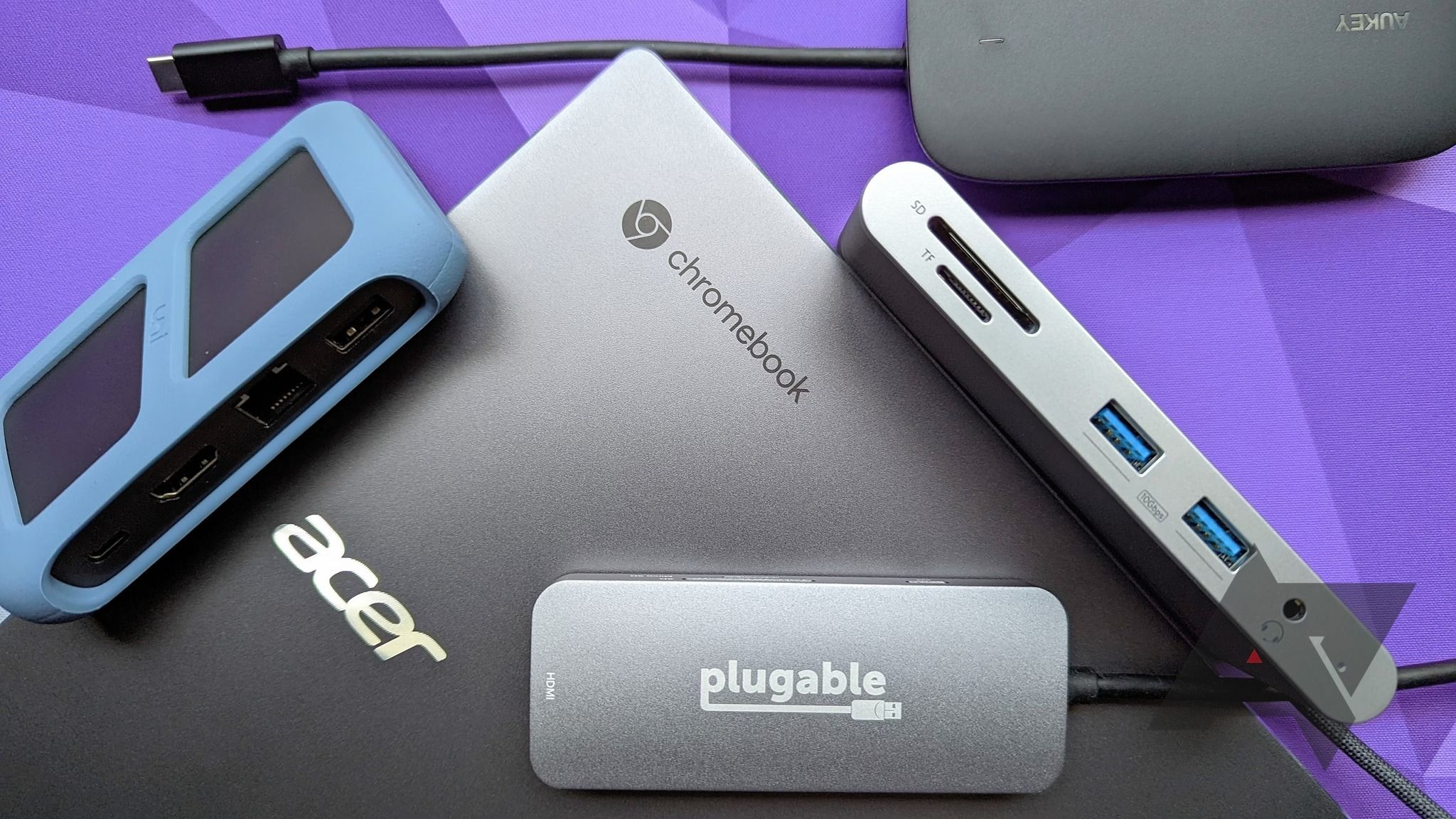 Even some of today's best Chromebooks can be a little sparse on ports — after all, minimalism and lightweight overall design are the order of the day with these machines. A USB hub is probably the only thing you need to get to ensure you always have all the wired connections you need. Thanks to the versatility of the now-ubiquitous USB-C port, there's a huge variety of powerful hubs to choose from.
USB-C Power Delivery pass-through and USB-A expansion ports might be the most obvious hub features, but they're far from the only useful ones. A high-quality hub lets you expand to external monitors, connect to wired networks, access SD card storage, and do various fun and productive tasks. It's also worth considering one certified under Google's Works With Chromebook program, which promises perfect compatibility and a long functional lifespan.
For consistent reliability and the use of external, high-resolution displays, you can't get much better than this Cable Matters Multiport Adapter. Its Works With Chromebook certification promises you'll never have any compatibility issues, even if you're connecting to a 4K monitor and need a smooth, 60-hertz refresh rate. A gigabit Ethernet port eliminates the security, lag, and consistency issues that Wi-Fi sometimes introduces, and a pair of USB-A slots deliver up to 5 Gbps of throughput between them. It's also about as slim and light as they get and doesn't cost a fortune.
Read More
Specifications
Ports: 2x USB-A 3.0 (5Gbps), USB-C (Power Supply), HDMI (4K @ 60Hz), Gigabit Ethernet
USB-C Power Delivery: 86W
Price: $50
Buy This Product
Cable Matters Multiport Adapter with HDMI
Three Type-A ports, both sizes of SD card reader, and a single HDMI output make the Plugable 7-in-1 hub a relatively complete package at a respectably low price. It's also as slim as a USB hub can get and as durable. You can trust that it'll last quite a long time, too, as Plugable has a great reputation for connectivity accessories. As long as you don't need less common features like an Ethernet port or audio jack, it's hard to beat the value here. It can't push a 4K resolution at more than 30 hertz; otherwise, it's about as useful as they come.
Read More
Specifications
Ports: 3x USB-A 3.0 (5Gbps), USB-C (Power Supply), HDMI (4K @ 30Hz), microSD slot, SD slot
USB-C Power Delivery: 87W
Price: $30
Buy This Product
Not everybody needs the kind of connectivity capability the Anker 655 offers, but if you demand the best, this is it. It's one of the few to boast both a TRRS 3.5-millimeter (that is, a combination input/output jack) and a full-size Ethernet port — no annoying fold-out Ethernet connector in sight. And it's not just the features that make it so great; the braided nylon cable and simulated leather exterior provide a much more premium feel than the average boxy aluminum body. It's graced with a pair of Type-A ports, both of which can accommodate up to 10 Gbps of throughput (although not at the same time). And, as long as your Chromebook sports the DisplayPort over USB-C Alt Mode protocol using DP 1.4, it can even produce a 4K, 60-hertz video signal without issue.
Read More
Specifications
Ports: 2x USB-A 3.0 (10Gbps), USB-C (Power Supply), Gigabit Ethernet, HDMI up to 4K 60Hz, microSD slot, SD slot, 3.5mm audio
USB-C Power Delivery: 100W
Price: $100
Buy This Product
Nothing does it all quite like Plugable's recently released UD-MSTHDC docking station. Tons of USB ports, including six Type-As and a pair of Type-Cs, give you every opportunity to connect your most important peripherals. It lets you expand to up to two external monitors and use your choice of DisplayPort 1.4 or HDMI 2.0 for either one, supporting 4K resolutions at a comfortable 60 hertz. There's even a combination audio input/output jack and a gigabit Ethernet port for low-latency network operations. Of course, it's quite a bit different from other USB "hubs," as it costs $200 and is anything but portable since it's quite large and requires you to use the included wall adapter at all times. But if you want something that's Works With Chromebook-approved and absolutely packed with ports, this new Plugable model is the way to go.
Read More
Specifications
Ports: 2x USB-A (10Gbps), 4x USB-A (5Gbps), 2x USB-C 3.2 (10Gbps), 2x DP, 2x HDMI, Ethernet, 3.5mm audio
USB Power Delivery: 60W + 15W
Power supply included: Yes
Price: $200
Buy This Product
Plugable UD-MSTHDC Docking Station
There aren't many others as versatile and full-featured as the Dockteck DD0015. On top of the typical USB PD passthrough, two USB-A ports plus HDMI and Ethernet ports give you pretty much everything you should need for most devices. It's also relatively affordable for something that supports the more comfortable 60-hertz refresh rate at 4K. Real-world testing shows that it rarely, if ever, runs into compatibility issues, which is reassuring considering its somewhat unknown manufacturer. Nonetheless, we can't quite recommend it over every single other option until the company collaborates with Google for Works With Chromebook certification.
Read More
Specifications
Ports: 2x USB-A 3.0 (5Gbps), USB-C (Power Supply), Gigabit Ethernet, HDMI up to 4K 60Hz, microSD slot, SD slot
USB-C Power Delivery: 100W
Price: $40
Buy This Product
If you have tons of peripherals to connect and love external displays, the UtechSmart UCN3270 might be exactly what you need. Its 12 total ports dwarf all but the bulkiest and most expensive competition, and it's one of the rare hubs with full Thunderbolt 3 support. In other words, it can go as fast as your Chromebook's Type-C port can, while most others are limited to 5 or 10 Gbps. There's also one more interesting wrinkle: The DisplayLink chipset inside acts as a sort of standalone GPU, transferring processing responsibility to the CPU instead. The end result is that this versatile hub can mitigate some compatibility and performance issues that can arise when using one or two high-resolution external monitors with a medium-performance Chromebook.
Read More
Specifications
Ports: 2x USB-A 3.0 (5Gbps), 2x USB 2.0 (480Mbps) USB-C (Power Supply), USB-C (Data), Gigabit Ethernet, VGA, 2x HDMI up to 4K 60Hz (DisplayLink), microSD slot, SD slot
USB-C Power Delivery: 100W
Price: $90
Buy This Product
The Uni 8-in-1 sports most of what you need, including TF card readers, four USB ports, and an HDMI output. Its durability considerations, though, are what make it interesting. Unlike many, its hub-to-host cable is removable, so you don't have to worry about cable damage completely bricking it. Furthermore, the high-impact silicone bumper around its edge makes it practically impervious to everyday damage. Its compatibility with USB 3.2 Gen 2 speeds (i.e., 10 Gbps of bandwidth) provide your USB peripherals with plenty of performance, and the roughly 85W of passthrough power is more than any Chromebook needs. Probably the only downside is that it's considerably thicker than most, due largely to its protective bumper.
Read More
Specifications
Ports: 2x USB-A 3.0 (5Gbps), USB 2.0 (480Mbps), USB-C (Power Supply), Gigabit Ethernet, HDMI up to 4K 30Hz, microSD slot, SD slot
USB-C Power Delivery: 100W
Price: $60
Buy This Product
Belkin's 7-in-1 USB-C hub was among the first to receive Google's official Works With Chromebook approval, so you'll never have to worry about security or compatibility issues. But even aside from dependability, its functionality is spot on, with just enough USB and video ports for most people. It's also a very rare portable, pocket-size hub with an audio input/output jack. The only minor issues with it are the HDMI port's version 1.4 (which results in a max of 30 hertz at 4K) and the USB 3.0 limitation, which means newer Chromebooks might not be able to take advantage of all their bandwidth.
Read More
Specifications
Ports: 2x USB-A 3.0 (5Gbps), USB-C (Power Supply), HDMI up to 4K 30Hz, microSD slot, SD slot 3.5mm audio in/out
USB-C Power Delivery: 85W
Price: $45
Buy This Product
They don't get much simpler than the Vemont VE-3108, which sports three Type-As, one USB-C PD passthrough, an Ethernet adapter, and nothing else. That implies a couple of other positive things, like a compact size and low price. Of course, you'll miss out on external SD card readers, additional headphone jacks, and external video output, but a few extra USB ports is all most people need. You'll likely never run into compatibility problems when using it with a Chromebook, and its high USB Power Delivery capacity makes it useful for plenty of full-size laptops, too.
Read More
Specifications
Ports: 3x USB-A 3.0 (5Gbps), USB-C (Power Supply), Gigabit Ethernet
USB-C Power Delivery: 100W
Price: $23
Buy This Product
Picking the right USB-C hub for a Chromebook

Your chief considerations will likely be how many USB ports you need, whether you'll ever need to access a wired Ethernet network, and if you need to display 4K video externally at a smooth 60 hertz. Those last two are the hardest to nail down, with the Dockteck DD0015 being one of the few affordable models offering both. If you don't need video, though, the Vemont VE-3108 is worth a look. If your needs include everything but a LAN connection, it's impossible to beat the price of our value pick, the Plugable 7-in-1. For 100% assurance of reliability, you can't top our Editor's Choice from Cable Matters, and there's an important reason why.
Thankfully, we're far removed from the days when USB-C compatibility was uncertain from device to device and accessory to accessory. These days, there's only a rare chance of no USB-C compatibility. To ensure peak interoperability and a streamlined user experience, Google's introduced its Works With Chromebook certification. Manufacturers work directly with the electronics, software, and data giant to make certain their products work perfectly with Chrome OS in every imaginable configuration. They're also required to implement features like automatic firmware updates, which allow hubs to stay on the cutting edge of bus controls and security patches.
With that in mind, you'll find that some of our favorite hubs sport this advanced qualification. Our top recommendation from Cable Matters is one of them. Another recommendation is the ultra-high-end Plugable UD-MSTHDC docking station, which also functions as a full-speed wall charger thanks to its included DC power adapter.
However, not all of them have Google's official approval, so we've included some high-end options, like the Anker 655, that work well but weren't built under Google's watchful eye or didn't hit the market before the certification actually existed. In most cases, you won't have an issue with hubs from reliable name brands, though. The Uni 8-in-1 is another example, as Uni has a good reputation for reliable connectivity accessories, and its rugged construction and protective casing make it as durable as anything else out there.
Conclusion on Best USB-C hubs for Chromebooks in 2023
If you have any query let me know in comment section.