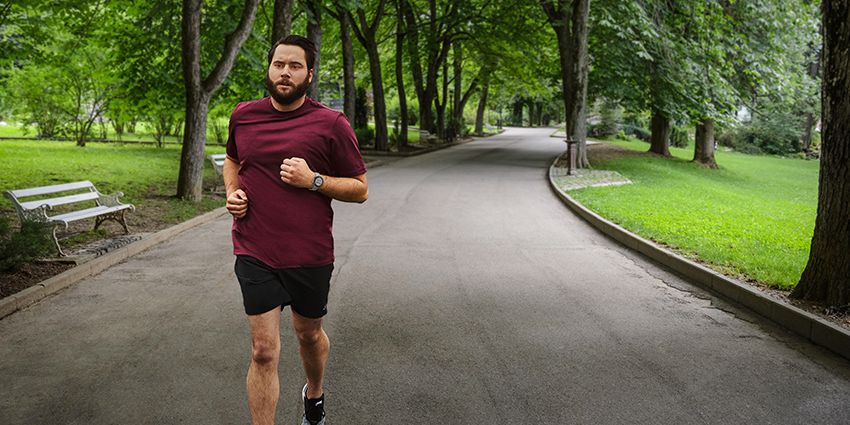 The smartwatch has to be one of the best inventions ever made for runners. The best smartwatches provide a lightweight way of tracking your pace and performance without sticking your phone in an uncomfortable armband. Just press a few buttons on your watch, wait for GPS to lock on, and then race to the finish line.
While almost every smartwatch available today has built-in fitness features, they're not all equally popular with runners. Some have iffy GPS reliability, while others don't track enough metrics to be useful.
There's also the vague line between what constitutes a smartwatch and what is a more basic running watch. For this list, we've tried to highlight wearables that have a foot in both camps, but invariably some are more one than the other. We've highlighted that where possible.
While Garmin would point dedicated runners to its Forerunner range, those who want to prioritize the smartwatch elements would be better off picking ut the Garmin Venu 2 Plus. True, it still isn't up there with devices running Wear OS in terms of third-party app support and built-in features. Still, the Venu 2 Plus takes some big steps towards competing in smartwatch territory while maintaining Garmin's reputation as the runner's choice.
At the time of writing, it's the only Garmin device to let you take calls directly on the wrist thanks to the built-in speaker and microphone — two components that also mean it supports Siri, Google Assistant, and Bixby (though not Alexa). It can also hold up to 650 songs, including downloaded playlists from Spotify and Amazon Music. Its limited smartwatch features are displayed beautifully on its 416×416 AMOLED screen, lasting nine days on a single charge.
On top of that, it's packed with features that runners love, from the basics of accurate GPS and heart-rate tracking, to Garmin Coach's custom training plans and Body Battery, which tells you how ready you are for a workout. It supports ANT+ for additional accessories, and all of the data is neatly collected in the Garmin Connect app — which remains one of the best for runners that like to nerd out over the data.
Read More
Buy This Product
For $50 more, there's Garmin's top-of-the-range running watch, the Forerunner 955. It's even more limited as a smartwatch, losing support for on-wrist calls and virtual assistants, but it does come with more features that runners will love.
In particular, the Garmin Forerunner 955 has Training Load and Training Readiness — two features that help runners improve by analyzing their pre- and post-run metrics to ensure they're pushing themselves without going too far. There's even a Race Day Widget that counts down to the big day, showing your goal time and your current predicted finish time!
Once again, the Garmin IQ store is limited in terms of third-party apps, and while it'll do notifications, it's more of a running watch than a smartwatch. But with a battery that promises up to 15 days (or 20 with the solar model), it's built for those who want to go the distance.
Read More
Buy This Product
The Samsung Galaxy Watch 4 remains a good choice for those prioritizing smartwatch features over run tracking. Yes, it's less dedicated to fitness than watches from Garmin, Polar, and Coros, but it covers the basics with built-in heart rate and GPS tracking. It's less accurate, granted, but good enough for casual runners.
And as a general smartwatch, it's miles ahead with a stylish design, a bright OLED screen, and Wear OS — an operating system home to plenty of useful apps.
Why is the Galaxy Watch 4 ahead of its successor? Mainly because it's cheaper without losing much in the way of features. Both use the same W920 chipset for identical performance, although the battery is smaller, meaning less time between charges. But there's one other advantage: buyers can treat themselves to the Galaxy Watch 4 Classic, with its rotating bezel — a stylish and useful feature taken away from the fifth generation.
Read More
Specifications
Battery Life: Around 40 Hours
Display: Super AMOLED 396×396 (40mm) or 1.4″ 450×450 (44mm)
CPU: Exynos W920
RAM: 1.5GB
Storage: 16GB
Connectivity: NFC, GPS, Bluetooth 5.0, Wi-Fi 802.11 a/b/g/n, LTE (optional)
Durability: IP68
Software: Wear OS 3.5 Powered by Samsung
Price: From $300
Strap: 20mm
Dimensions: 40.4 x 39.3 x 9.8mm (40mm) or 44.4 x 43.3 x 9.8mm (44mm)
Weight: 25.9g (40mm), 30.3g (42mm)
Buy This Product
Back in running watch territory, the Polar Vantage V2 is a great alternative for those that can't get on with Garmin for whatever reason. Built-in GPS and heart-rate monitors help track runs with a series of dedicated metrics from pace to cadence on the wrist, but the real magic of the Vantage V2 is in its recovery guidance.
Not only will the Nightly Recharge feature analyze your sleep through the lens of a runner (i.e., are you ready for another run?), but you can also conduct a Leg Recovery Test to see if your pins are ready for another tough training session. Like most running watches, the smartwatch credentials are limited to things like notifications, weather, and music playback, and there's no support for ANT+. But if those limitations don't bother you, the Polar Vantage V2 is worth a look.
Read More
Buy This Product
Like the Galaxy Watch 4, the latest Samsung wearable runs Wear OS, meaning it's a fully rounded smartwatch with plenty of extra apps and built-in features. It also comes with a larger battery, meaning it's less likely to let runners down while out on the trail.
Again, while it has fitness features, the Samsung Galaxy Watch 5 is more for casual runners than those training for their next ultramarathon. Accuracy is merely so-so, and the Samsung Health app doesn't pack the kind of detail that fitness obsessives will want from their wearables. Still, for casual fans, it's a great jack-of-all-trades smartwatch that'll look good on any wrist.
Read More
Specifications
Display: 1.19″ Sapphire Crystal Glass AMOLED 396 x 396px (40mm) or 1.36″ Sapphire Crystal Glass AMOED 450 x 450px (44mm)
CPU: Samsung Exynos W920
Battery: 284mAh (40mm) or 410 mAh (44mm)
Connectivity: NFC, GPS, Bluetooth 5.2, Wi-Fi (2.4Gz & 5Ghz), LTE (optional)
Durability: IP68, Waterproof to 50m (5ATM), MIL-STD-810H
Software: One UI Watch 4.5 atop Wear 3.5
Health sensors: Optical Heart Rate, Electrical Heart Sensor (ECG), Bioelectrical Impedance (BIA), Continuous SpO, Skin Temperature Sensor
Dimensions: 40.4 x 39.3 x 9.8 mm (40mm) or 44.4 x 43.3 x 9.8 mm
Weight: 29 g(40mm) or 32.8g (44mm)
Workout detection: Yes
Color options: Silver, Graphite, Pink Gold (40mm only), Sapphire (44mm only)
Buy This Product
Google pitched the Pixel Watch as having "help by Google" and "health by Fitbit," which sounds like a dream combo for those looking for the best running smartwatch. It's not perfect yet, but it's not bad for a first attempt, assuming you always keep it charged — the GPS has a tendency to run down the one-day battery quickly, so ultrarunners need not apply.
The flip side, of course, is that it's Google's first wearable and a reference device for what Wear OS can do. As a smartwatch, it's great, though the high entry price means that you may gravitate toward a dedicated running watch instead.
Read More
Specifications
Display: 1.6″ 384×384 AMOLED, up to 1000 nits brightness boost, Ambient light sensor, Always-on display
CPU: Exynos 9110 SoC, Cortex M33 co-processor
RAM: 2GB
Storage: 32GB
Battery: 294mAh, "up to 24 hours"
Connectivity: 4G LTE, UMTS, Bluetooth 5.0, Wi-Fi 802.11 b/g/n 2.4GHz, NFC, GPS, GLONASS, BeiDou, Galileo
Durability: 5ATM
Software: Wear OS 3.5
Health sensors: Optical heart rate sensor, Multipurpose electrical sensor, Blood oxygen sensor, Accelerometer, Gyroscope, Altimeter, Compass
Price: $350 (BT/Wi-Fi), $400 (LTE)
Strap: Active band included: Small (130 – 175 mm) and Large (165 – 210 mm)
Dimensions: 41 x 41 x 12.3 mm
Weight: 36g (without band) Built-in speaker
Audio: Built-in speaker
Workout detection: Yes
Color options: Matte Black with Obsidian Active band, Polished Silver with Charcoal Active band, Polished Silver with Chalk Active band, Champagne Gold with Hazel Active band
Buy This Product
Along with the Sense 2, the Fitbit Versa 4 is the closest thing the company has to a smartwatch, even if it's still more smart-ish than fully smart. Bafflingly, the company has done away with the App Gallery this generation, too, meaning the basic apps are all you'll ever have. But it's getting better, with both Google Maps and Google Wallet added in recent weeks, and as a running watch, it's not bad at all, with built-in GPS and improved heart-rate monitoring.
Yes, some features — such as Daily Readiness, which tells you how prepared your body is for a run — are Fitbit Premium features, but you get six months' worth free with the watch. And the Fitbit app remains one of the best in the business, especially if you're just starting your fitness journey and need some pointers.
Read More
Buy This Product
Suunto makes plenty of running watches, but the Suunto 7 is unique because it uses Wear OS rather than the company's operating system. That, in theory, means you get the best of both worlds: a dedicated running watch with all the features an athlete could want and plenty of smartwatch functionality too.
Unfortunately, it doesn't quite pan out like that due to a weak 1-2 day battery life and a chipset that's a bit long in the tooth now. First released in 2020, it uses the Snapdragon Wear 3100 chipset, meaning it'll never get Wear OS 3, and it's starting to feel sluggish. Hopefully, Suunto will try the Wear OS experiment again at some point to give us a true running smartwatch worth recommending. But for now, its $399 price tag makes it hard to endorse.
Read More
Buy This Product
Suunto 7, GPS Sport Smartwatch
It's certainly expensive, but the Coros Vertix 2 packs everything a runner could want and then some, including an incredibly accurate dual-band GPS and the best battery life on this list. How good is that? Try 60 days or 140 hours of GPS-connected action. You won't need to top it up very often, which is just as well as it has its own proprietary charger.
The Coros app is packed full of useful data for runners, too, and there's full support for the likes of Strava, Training Peaks, and Final Surge. It does lack ANT+ support if you want to connect third-party accessories. It won't win any award for smartwatch features, but those it does have are pretty well-thought-out. Alongside notifications, it has 32GB of music space, can control certain Insta360 cameras, and will offer storm alerts for worrying weather.
Read More
Buy This Product
Smartwatch or running watch? Where to compromise.

After reading this list, you may conclude that the perfect running smartwatch doesn't yet exist. That's hard to argue with: the best running watches aren't the smartest wearables, and the best smartwatches don't offer a great running experience.
It's about knowing where you want to compromise. If hitting the trail is your life, you'll want to sacrifice third-party apps for the best possible run tracking. That means picking something from the big beasts in the industry: Garmin, Coros, Polar, or Suunto.
The best option for you

Of those, the top running pick is the Forerunner 955, but it's undoubtedly expensive. You may be able to compromise on a cheaper model like the Forerunner 255 — carefully compare specs and see for yourself. If you don't want to compromise too much on smarts, then the Garmin Venu 2 Plus is the best bet. It's not as smart as something running Wear OS, but it's not far off and has the accuracy and wealth of running stats that Garmin fans have come to rely on.
Finally, if you're a casual runner and are more interested in the smartwatch experience than pinpoint accuracy and running metrics, then something by Samsung or Google is worth a look. Our value pick is the Samsung Galaxy Watch 4, which has plenty of flexibility thanks to Wear OS, but is suitably discounted thanks to the arrival of its successor.
Hopefully, Suunto will try another watch with Wear OS in the future. The Suunto 7 is a brave experiment but a bit long in the tooth to recommend today. But if the company — or anyone else — tries to make a serious Wear OS running watch in the future, we may have a serious contender to offer the best of all worlds.
Conclusion on Best smartwatches for running in 2023
If you have any query let me know in comment section.