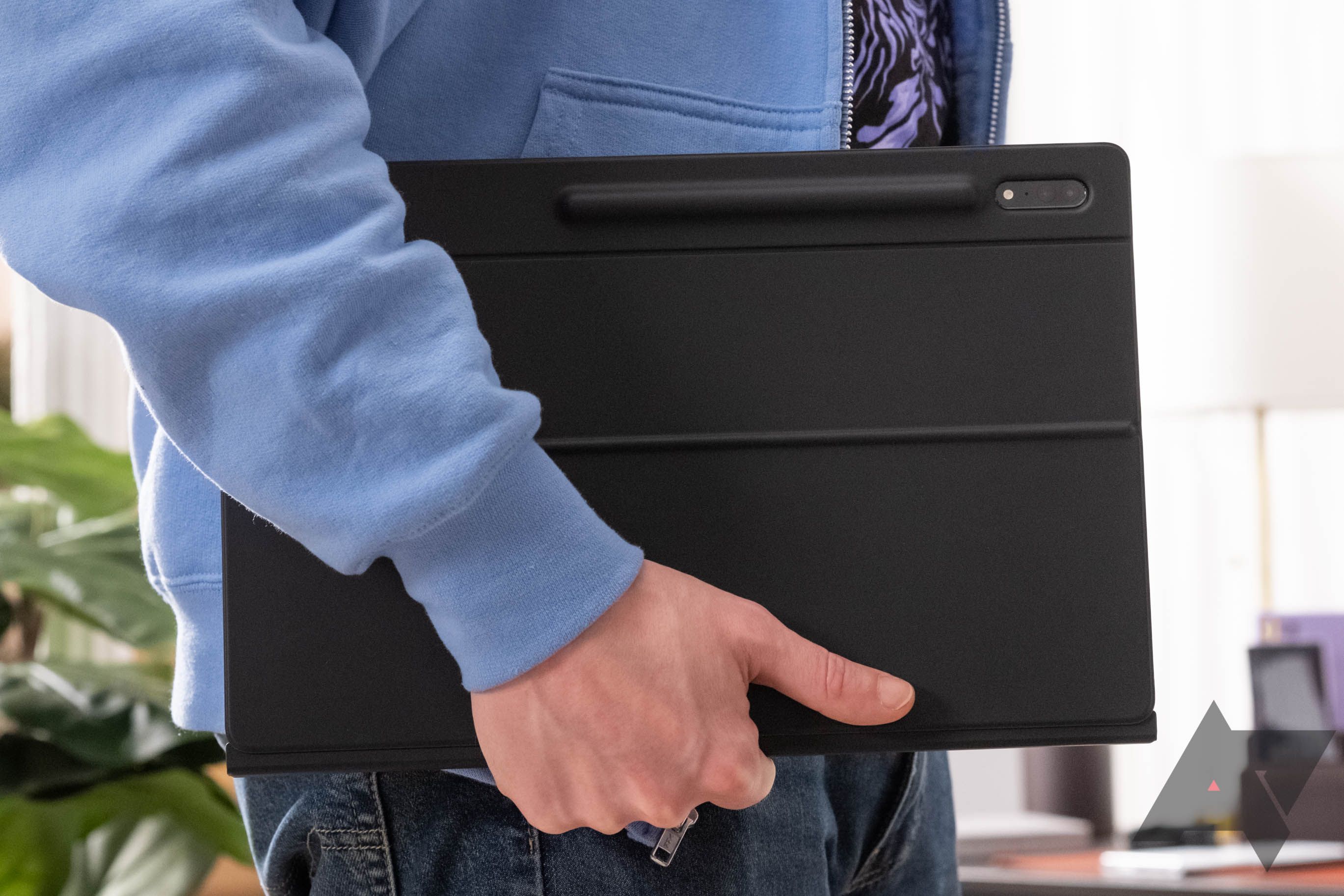 At long last, there's a decent selection of quality cases for the Tab S8 Ultra
No other Android tablet can compete with the Samsung Galaxy Tab S8 Ultra right now. Much like its distant cousin, the S22 Ultra, the top-shelf S8 Ultra is large and in charge, sporting the biggest display and most powerful hardware of anything in its class.
That kind of superiority does come at a cost. Not only is the S8 Ultra quite expensive, but it's also notably more unwieldy to carry around than other tablets, including the rest of the Galaxy Tab S8 family. Since its release, though, we've seen a handful of high-quality cases pop up that are worthy of protecting this top-dollar beast. There aren't a ton, mind you, but the variety available includes something for pretty much everybody.
Poetic TurtleSkin for Galaxy Tab S8 Ultra
Best Value
Poetic makes some of the best and most protective smartphone cases, and Galaxy Tab A8 owners would do well to consider the TurtleSkin. It's anything but fancy and, in fact, quite utilitarian, with premium engineering underlying multiple layers of shock protection and a significantly raised bezel to prevent chips on the screen's edges. It's the perfect minimalist choice for people who don't need an integrated kickstand, and it provides considerable physical protection despite its limited feature set and remarkably low price.
SaharaCase Protection for Galaxy Tab S8 Ultra
Editor's Choice
Since the Tab S8 is so big and heavy, look to the SaharaCase Protection series for safekeeping. A rugged strap on the back makes it simple to use the tablet one-handed without fear of dropping it, and you can rotate the strap to hold it in either orientation. There's also a small kickstand underneath that's perfectly balanced and lets your screen rest at multiple angles. The only minor issue is that it's pretty expensive, but you don't want to cheap out after spending this much on a tablet.
Source: Samsung
Samsung Book Cover for Galaxy Tab S8 Ultra
Premium Pick
Samsung's in-house cases may be a bit on the expensive side, but you can't go wrong with them. The official Book Cover offers wrap-around protection, covering your device's back and the large 14.6″ display to add grip while keeping most accidental scratches at bay. It also has an S Pen holder, allowing you to sit your device outright, as the book cover can fold into a stand.
Supcase Unicorn Beetle Pro Series for Galaxy Tab S8 Ultra
Promoted pick
In partnership with Supcase
Supcase's iconic UB Pro offers a kickstand that locks securely into place, unlike the kickstands on folio cases and single-joint kickstands on Samsung's Book and Protective Standing Covers. This means it won't wobble or slowly slide down while you're tapping or doodling on it. In addition, brackets securely hold the S Pen in place in the wireless charging groove. So you don't have to choose if your S-Pen will stay safely covered in an interior slot or get the recharge it desperately needs.
Fintie Portfolio for Galaxy Tab S8 Ultra
Simple and good-looking
You won't have to drop much of your hard-earned cash on the high-quality Fintie Portfolio cover. A set of slip-resistant strips of material inside ensure it won't slide around as you use it at one of three preset angles. There's also a small pouch for storing small items like business cards. It can even wake the tablet or put it to sleep when it's opened or closed, respectively. You'll get these features and quality craftsmanship for remarkably little money compared to many bulkier and heavier competitors.
SaharaCase Business Folio for Galaxy Tab S8 Ultra
Classy and protective
There's not much to the SaharaCase Business Folio, which is part of its appeal. It has the size, reinforcement, and padding necessary to limit damage to your high-dollar Android tablet, and its straightforward black PU leather exterior is about as professional as they get. If you're keen to keep up appearances while adding basic stand functionality and a good level of protection, consider the SaharaCase Business Folio.
Source: Samsung
Samsung Protective Standing Cover for Galaxy Tab S8 Ultra
Toughness and class
Folios certainly make up the bulk of the tablet case market, but some of you don't need that bulk and the unstable kickstand it creates. For more practical, productive users, the Samsung Protective Standing cover features a sturdy, dedicated kickstand, and the cover itself is robust, with a grippy back texture and ridged edges for drop protection. It's also not as expensive as other OEM models. If you need heavy-duty protection and want to stick to the original manufacturer, this is your best bet.
AMZCase Keyboard Case for Galaxy Tab S8 Ultra
Best keyboard case
Samsung's OEM Galaxy Tab S8 keyboard case gets almost universally poor marks in hands-on testing, so try this third-party AMZCase Keyboard Case option instead. It costs considerably less and is relatively spartan in terms of appearance and feel, but it gets the job done as far as typing and does a reasonable job protecting your investment. In addition, it has a slot for discreetly storing the S Pen and includes a Bluetooth keyboard. Thankfully, it comes in a few fun colors other than black.
Soke Stand Case for Galaxy Tab S8 Ultra
Affordable and lightweight
There's not much to the Soke Case, which some Galaxy Tab S8 owners will appreciate. It's thin and light, lets you stand the device on a table or desktop, and confers reasonable protection against scratches, chips, and dings. It doesn't have any real bells or whistles unless you consider an S Pen slot a bona fide feature. But it does offer simplicity, a low price, and the comfort of not carrying around enough plastic and fabric to make your fancy tablet as big and heavy as a full-on laptop.
The best Samsung Galaxy Tab S8 Ultra cases

There weren't many cases available for the Tab S8 Ultra at first release, but we've managed to nail down some excellent choices over the last few months. You might notice that we haven't included the OEM Samsung keyboard case, and there's a good reason. At roughly $300, it should perform like a high-end piece of equipment, but it doesn't. It's flimsy, inconsistent, and unpleasant to type on, so we recommend avoiding it.
We have included a great and reasonably priced keyboard case from AMZCase, but one of the best Bluetooth keyboards for Chromebooks, along with a folio or kickstand case, could also work for most users. The Fintie Portfolio is one good example.
Given the Tab S8 Ultra's size, not everybody wants to add a bulky, multilayered cover with internal struts and air cushioning. Of the durable, non-folding cases out there, the Poetic TurtleSkin is one of the most dependable. And, unlike the Samsung keyboard case, the Samsung Book Cover is especially well constructed. This quality minimalist case isn't cheap, but it did win our Premium award due to its fantastic construction.
The most protective Tab S8 Ultra case
Finally, our Editor's Choice pick went to the popular Supcase UB Pro, due specifically to the incredible amount of protection it provides this big and expensive tablet. In addition, its integrated screen protector helps to ensure the device stays in perfect condition.
Conclusion on Best Samsung Galaxy Tab S8 Ultra cases and covers in 2023
If you have any query let me know in comment section.