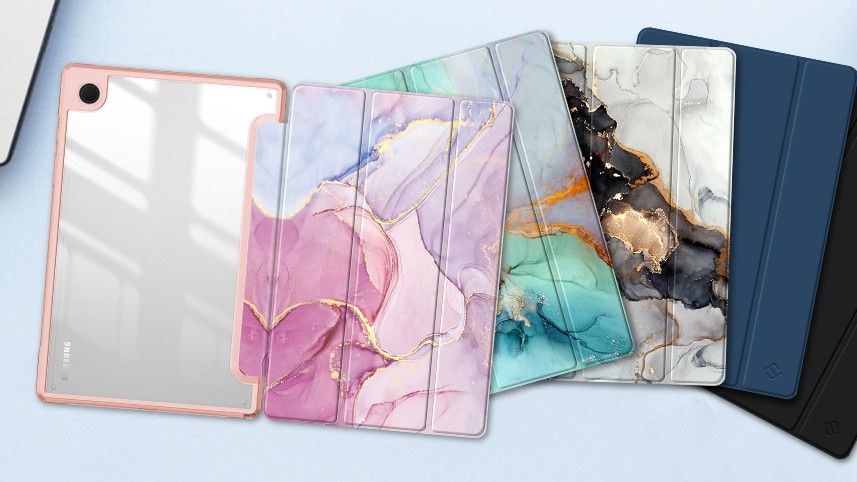 The best budget tablet deserves only the best case
Surprisingly refined for something so affordable, the Samsung Galaxy Tab A8 continues to redefine how great a budget-friendly tablet experience can be. Despite its midrange performance, its low price means it's still one of today's best Android tablets, and as such, it totally deserves your respect and the protection of a reliable case.
Some of the usual suspects offer excellent cases for the Tab A8, but you might not want to shell out almost as much on a cover as you did for the device. With that in mind, we've gathered some ultra-premium cases in addition to a handful of well-constructed but considerably more affordable choices. Whether you need something rugged, fun, or packed with storage pockets, one of these great Tab A8 cases has you covered.
UAG Scout for Galaxy Tab A8 (2022)
Editor's Choice
The UAG Scout's soft, impact-absorbing core combines with a tough yet lightweight shell to make certain your Tab A8 isn't hurt by drops or bumps. Despite its drop-test-ensured ruggedness, it's neither heavy nor bulky. The kickstand on the back is probably the most dependable on the market, and a hand strap makes it safe and convenient to use your tablet while on the go. The only real knock against it is the lack of colorways other than black.
ProCase Slim for Galaxy Tab A8 (2022)
Best Value
The ProCase Slim Protective Smart cover perfectly combines a soft folding cover and a hard protective case. Not only does this case have anti-fall and anti-slip protection, but it's also about as compact and unobtrusive as they get. For easy viewing, you can fold the case into an adjustable and sturdy stand. Close the cover when you're finished, and the magnets inside will automatically put your device to sleep.
Otterbox Defender Series for Galaxy Tab A8 (2022)
Premium Pick
The OtterBox Defender Series for the Galaxy Tab A8 offers multiple layers of defense from the inner shell to the outer cover. It keeps dust or debris from entering your device with the built-in port covers, and the built-in screen protector keeps everything clean inside and out. Also, the outer cover can be converted into a stand for horizontal or vertical hands-free viewing. For all-around protection and durability, the OtterBox Defender Series case will not let you down.
Spigen Rugged Armor for Galaxy Tab A8 (2022)
Understated Ruggedness
Don't let the compact design and neat appearance of the Spigen Rugged Armor fool you. It'll do wonders in the long term due to premium materials and years of research and development in mobile device protection. A perfectly snug fit and internal air cushioning work together to prevent damage to the tablet inside. Meanwhile, subtle yet contrasting matte black and carbon fiber patterns give it a professional-quality look that many alternatives lack.
Supcase Unicorn Beetle Pro for Galaxy Tab A8 (2022)
Promoted Pick
In partnership with Supcase
Routinely named the most rugged case for a wide range of tablets and phones, the Supcase UB Pro series comes through yet again with impressive heavy-duty protection for the Galaxy Tab A8. Reinforced corners, raised bezels, and a built-in screen protector keep the screen and camera out of harm's way, while a dependable kickstand makes it comfortable and easy to enjoy media. And, unlike many rugged cases, there are multiple colors to choose from.
Stylio Zippered Padfolio
Most Professional
If you're looking for expanded functionality as much as a good look and drop protection, look no further than the Stylio Zippered Padfolio, which isn't made specifically for the Galaxy Tab A8, but can fit any tablet up to 10.5 inches. A healthy contingent of pockets inside offer space for a phone, keys, and the various small accessories you need throughout the day. We recommend checking out the brown faux leather version if you want your device to look especially nice.
Samsung Book Cover for Galaxy Tab A8 (2022)
OEM Perfection
If you're looking for a simple folio-style case that is true to size, you won't find a better fit than the Samsung brand Galaxy Tab A8 cover. You can choose between a subtle gray or silver design or spice it up with the beautiful Pink Gold color, perfect for couples matching cases. When buying top-brand accessories, you can expect to pay a bit more than most. But these companies stand by their products, with a lot of them including some pretty hefty warranties.
Poetic TurtleSkin for Galaxy Tab A8 (2022)
Heavy-Duty Simplicity
The rugged silicone Poetic TurtleSkin comes in a variety of different colors and is designed for both fun and functionality. The sides of this case are outfitted with tactile grips and perforated edges for airflow and sound, while the back has raised textures for better grip and drop protection. Also, since extended gameplay is almost inevitable with kids, you can prevent your Galaxy Tab A8 from overheating with the raised heat vents that keep your device cool.
Wesorol Heavy Duty for Galaxy Tab A8 (2022)
Bold and Well-Built
There's a lot to like about the Wesorol Heavy Duty case, including eight optional colorways ranging from standard black to bright pinks and purples. It adds a third layer of protection compared to the two layers found on other rugged cases, all but guaranteeing your tablet's safety. Conveniently, the kickstand supports the device in portrait and landscape orientation, and the whole thing is relatively affordable.
Fintie Hybrid Slim for Galaxy Tab A8 (2022)
Nicest Looking
You don't have to hide your great-looking Galaxy Tab A8 away from the world if you protect it using the Fintie Hybrid Slim case. It comes in a host of interesting colors and decorations — our favorite is the classic composition book design — and each has a rigid, transparent rear panel that provides decent security without being too thick. In addition, the magnetic auto wake and sleep function work flawlessly, and the folding cover also serves as a three-position kickstand.
Suplik Kids for Galaxy Tab A8 (2022)
Best for Young Kids
Kids aren't known for going easy on their toys, but this child-friendly case from Suplik can help. It's as rugged and tamper-resistant as they come, with a convenient handle on top that doubles as a well-balanced kickstand. In another win for young folks, there's a great selection of bright colors to choose from. And from a parent's perspective, it doesn't cost much at all, with a price tag of $20 or less.
Give your Galaxy Tab A8 the protection it needs

There's a great selection of highly varied cases for Tab A8. For pure protection and usability, it's hard to beat the UAG Scout due to its nearly unmatched ruggedness and lightweight. The Otterbox Defender is one of the few that does as well as or better than the UAG in terms of protection, which is no surprise coming from Otterbox. And if you need something simple and affordable, you won't find a better value than the ProCase Slim.
There are plenty of other cases to consider, with varying feature sets. The Stylio Zippered Padfolio is one of our favorites, due entirely to the utility of all the pockets inside. The Spigen Rugged Armor confers powerful protection without thick sides or a lot of weight, while the Supcase UB Pro is nearly indestructible but also slightly bulky.
If you want to accent the appearance of your tablet as much as protect its screen and hardware, the Poetic TurtleSkin is worth a look as long as you need a front cover or kickstand. If you want both of those, the Fintie Hybrid Slim is a well-designed alternative with a vast selection of fun colors and designs.
Conclusion on Best Samsung Galaxy Tab A8 cases in 2023
If you have any query let me know in comment section.