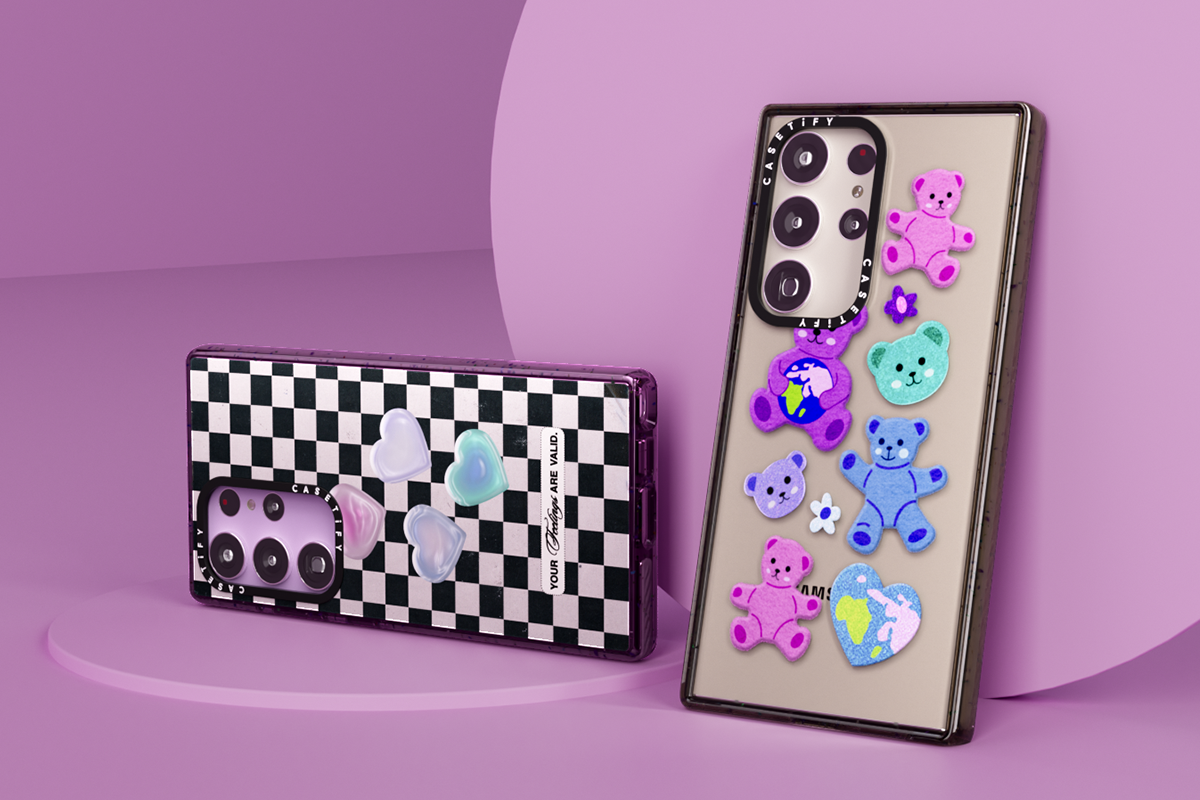 Iterative though this version might feel on the surface, the Samsung Galaxy S23 Ultra will rule the Android market for most of 2023 — so long as you can get a good deal on one through your carrier. A phone as large as the S23 Ultra offers little margin for a case before "big and manageable" turns into "a tacky and torrid tank." Walking around without a Galaxy S23 Ultra case seems ill-advised.
Although the curve of the phone has been markedly improved, it remains a slab of glass and Armor Aluminum, with neither material textured for proper grip. Of course, once you get into cases, you have to consider how best to use the larger footprint of the case for things like kickstands, wallets, or other add-ons. From the simplest of clear cases to the cutting edge, we're rounding up the best Galaxy S23 Ultra cases to ensure your Ultra is well-dressed and just the right amount of clingy.
Source: Ringke
Ringke Fusion for Galaxy S23 Ultra
Best Value
Clear cases are usually super glossy and super-dup smudge prone. Grabbing a matte clear case can help keep things a little more tidy looking, and the Ringke Fusion swings both ways. You can go traditional with the Clear Fusion and just keep a shirt hem handy to wipe things down, opt for the Matte version with its frosted backplate, or even go to the dark side with the Smoke Black and its more translucent grey hue.
Source: Amazon
Spigen Cryo Armor for Galaxy S23 Ultra
Editor's Choice
Spigen has over a dozen Galaxy S23 Ultra cases for you to choose from, but if you're a power user, the only one to look at is the Cryo Armor. Its multi-layer design and ArticFlow technology help pull heat away from the phone and dissipate it so that you can game hard and longer before that clocked-up Snapdragon 8 Gen 2 for Galaxy gets throttled. Just remember, that even this will eventually get warm, too, if you play long enough.
Source: Bellroy
Bellroy Leather Case For Galaxy S23 Ultra
Premium Pick
Samsung's first-party leather case comes in brown, a somewhat drab green, and basic black, but Bellroy's green is stunning and distinct. The Terracotta brown and Bluestone navy also draw the eye and feel amazing in your hands. Rather than having the leather come all the way up to the edges to wear down or peel over time, Bellroy encircles the screen lip with color-matched plastic that also makes getting the case on and off easier.
Source: UAG
UAG Pylo Pro For Galaxy S23 Ultra
Best clear MagSafe
Of the three Galaxy S23 magnetic case series from UAG, the Pylo Pro is both the most affordable and the most distinct. UAG's choice to use hexagonally shaped rings helps it stand out from the pack, and the bumper design still allows for up to 16-foot impact resistance. That bumper can either come in clear or a somewhat shiny Ash gray, which offers a slightly more refined look as it obscures the patterning and air cushions inside the corners.
Source: Amazon
i-Blason Cosmo Series for Galaxy S23 Ultra
Promoted pick
In partnership with i-Blason
The mosaic of swirled marble that the Cosmo Series became known for is iconic, but all trends must shift and evolve. This year, i-Blason is beefing up its Cosmo collection with new styles. From the contrasting appeal of the Blue Swirl and silver against your phone's colorway to doodled hearts, there's new flair here that won't completely cover up your Galaxy S23 Ultra's beauty the way the Marble versions might. And if you're mad for marble, those colors are still available.
VRS Design Damda Glide Pro for Galaxy S23 Ultra
Best wallet
While folio wallet cases will forever be more popular, I'm partial to VRS Design's Damda Glide Series because they fit more cards and cash while still closing perfectly each and every time, thanks to its semi-automatic sliding mechanism. While it inevitably bulks up the S23 Ultra a bit, that wider bottom makes it easier to grip when taking photos and keeps those floating cameras far, far away from anything that might scratch them.
Casetify Impact Series for Galaxy S23 Ultra
One of a kind
Casetify's got hundreds of styles available for the Galaxy S23 Ultra right now, but the real fun with Casetify is going to start in a few weeks as it starts getting added to new Co-Labs — and hopefully added to some existing collections. Until then, there are still a wide variety of designs to choose from in four case colors: Solid Black, Clear with Black bumpers, translucent Lilac, and translucent Midnight Green. If you need pattern suggestions, I dig Inky Night Sky and Tiny Watercolor Dinos.
Source: Supcase
Supcase Unicorn Beetle for Galaxy S23 Ultra
Promoted pick
In partnership with Supcase
The Supcase UB Pro would normally be a shoo-in for collections like these as an ultra-durable heavy-duty case, but when your phone is already as big and heavy as the S23 Ultra, slimming down can be preferable. This case is single-layer rather than two-piece, but you still get that stocky kickstand to use vertically for video calls or horizontally for late-night, in-bed YouTube binges. We only get one color option here, but hey, it's rare to see the OG Unicorn Beetle case available at all.
Source: Incipio
Incipio Duo for Galaxy S23 Ultra
Classic design
Incipio is better known for its Grip case, but for the Ultra, you should skip that bulkier, more expensive model and opt for a cleaner, lighter, and honestly grippier Incipio Duo. As the name implies, this is another dual-layer case with a flexible inner sleeve and a hard outer shell for stability and support. The vertical grooves along the edges feel better in the hand than the Grip's raised cross-hatching and should help you get the phone in and out of your pocket with less fuss.
Gear4 London for Galaxy S23 Ultra
Soft yet strong
It's been a hot minute since we've seen fabric cases from Samsung, yet another casualty of the pandemic. It was easier for sweat, moisture, and microorganisms to hide inside a fabric case, making it a breeding ground for bugs, but Gear4's London built-in antimicrobial agents help keep out all that nastiness. The Black colorway lacks any eye-catching details, but the Graphical Blue is just to die for. I mean, look at those 3D-printed designs on top to give it extra grip!
Ghostek Exec for Galaxy S23 Ultra
Magnetic wallet win
This is not your father's wallet case. While Ghostek used to use a proprietary clip system with its Exec wallet cases, they've upgraded to MagSafe these days. It allows for easier application and removal of the wallet as well as giving you the option to swap the boring black wallet for a third-party option with more color or pizzazz. The pink/white combo won't be to everyone's tastes, but the Gray and Black colorways get the job done while staying under the radar.
Source: Samsung
Samsung Clear Gadget for Galaxy S23 Ultra
Best new Samsung case
Off the two new cases among the first-party accessories, the Ultra Clear Gadget Case for the Galaxy S23 lets you snap a phone ring cum kickstand on and off your phone as desired while fully showing off your Galaxy S23 Ultra's exclusive colors and that "improved curve" to the backplate and frame. You'll definitely pay a bit of a brand tax buying a Samsung case, but it's a case that will be laser fitted to your phone and could be even more interesting once the swappable wallet or gimble "gadgets" arrive later this year.
Source: Poetic
Poetic Spartan for Galaxy S23 Ultra
Best kickstand
The Revolution might be a couple of dollars cheaper, but if you ask me, it's 120% worth the upgrade. The Poetic Spartan has a more metallic finish as opposed to the glossier Revolution, it features polyurethane leather accents to break up the otherwise monotonous backplate, and you get better color options. And like i-Blason, Poetic includes two front frames, one with and one without a built-in screen protector, as the built-in screen protector can interfere with the S Pen.
Source: Otterbox
OtterBox Symmetry Series For Galaxy S23 Ultra
Name-brand prestige
The first name in heavy-duty cases almost doubled the available colorways for its Symmetry Series Galaxy S23 Ultra cases. We get two translucent colors, two clear cases — one crystal clear and one glitter — four solid colors, and one green graphic design. It's nice to see Otterbox step more into bold aesthetic styles after years of our solid colors in its Android offerings. The graphic design options will explode once the S23 series is added to Otterbox's customization matrix and licensed case series.
Source: Amazon
Torro Premium Leather Wallet Case For Galaxy S23 Ultra
Folio with feel
Torro makes cases for the smaller S23 models, but it pulled out all the stops for the Galaxy S23 Ultra's leather wallet case. While the brown and black leather versions are fairly standard among the brand, we also get a wonderful Navy Blue, which helps the iconic Torro Red accents pop even more. Inside this genuine leather case are three card slots and a cash flap. The magnetic clasps on the sides are placed well to avoid any possible overlap with that lowered power button.
Source: Itskins
Itskins Spectrum R Clear for Galaxy S23 Ultra
Our favorite clear case
Itskins has made a brilliant case with the Spectrum R, the nicest clear case I've ever used. The corners are raised to protect the front and rear glass from impacts, and the honeycomb mesh frame doesn't just help with impact dissipation — it looks fantastic. I've been using this for over a week with my red S23 Ultra, and the red back and black frame look great in this case. If you have a lavender S23, the purple-tinted version will look perfect.
Source: Spigen
Spigen Ultra Hybrid Zero One for Galaxy S23 Ultra
A unique design
Making cases stand out is hard, but Spigen pulled it off with the Ultra Hybrid Zero One. The case has everything you'd expect from the Ultra Hybrid, offering superb protection from drops and knocks. What makes it stand out is the design, a stylized illustration of what your phone could look like if you took the back off it. We love the clear elements that show off the color, especially on the red and lavender models.
Source: Thinborne
Thinborne Aramid Fiber With Magsafe for Galaxy S23 Ultra
Thinnest MagSafe case
Thin Aramid Fiber cases like this don't offer much protection, but that's not the point of such products. They are designed to look and feel luxurious and premium while adding some grip to make drops less likely. What's especially noteworthy about the Thinborne is the inclusion of Magsafe. The magnets are strong, the accessories line up perfectly, and they don't inhibit the cameras on the S23 Ultra. The case is thin, feels great, looks fantastic, and the included screen protector is a nice addition. 
Samsung's best phone gets everyone's best cases

As the biggest and fanciest of the S23 models, the Galaxy S23 Ultra also gets more love from case makers, with some smaller companies only making Ultra cases, while well-known brands like Spigen, UAG, and i-Blason offer twice the number of cases for the Ultra compared to the S23 and S23+. This means we get the cream of the crop, but it also means we have even more cases to sift through to find the best ones for you. Another benefit of all this extra attention is that case makers are more willing to experiment when new ideas on the Ultra, such as Spigen and UAG's first magnetic ring cases and a reinvented lineup for the i-Blason Cosmo Series.
Among this year's many cases, a few standouts rise to the top, including a surprisingly strong showing for UAG. When UAG rolled out its magnetic Galaxy S23 Ultra cases, my mind instantly ran to the Monarch, but the Pylo Pro offers a more refined look with the hexagonal pattern while still being drop-tested up to 18 feet. The Poetic Spartan and Supcase Unicorn Beetle also provide plenty of protection while costing a fraction of the UAG and Casetify cases on this list, but neither holds a candle to the premium brands for style. Speaking of style, it's wonderful to see more rugged yet stylish clear cases this year between Casetify Impact Series and the i-Blason Cosmo Series, with Ringke's Fusion picking up the minimalists and more budget-minded users.
Clear cases aren't usually exciting, but the Spectrum R Clear from Itskins quickly became one of our favorites. The corners are raised in all four corners on the front and back, which protects the screen from impacts and makes the phone sit flat on a table, eliminating camera wobble. The inside of the frame has a honeycomb pattern that dissipates impacts to keep the phone protected and looking fantastic. It might not be as exciting as the i-Blason, but this is the best option if you're looking for a case that shows off your phone as it is. If you have a lavender S23 Ultra, Itskins has a purple-tinted version of the R Clear to go with it.
Spigen's Ultra Hybrid case has been around for years, so it's nice to see that Spigen has added some flare to it with the Zero One. You get the same levels of protection and comfort bolstered by a lovely design. The back of the case features a stylized depiction of what the S23 Ultra looks like inside, with the rear glass removed. It isn't a detailed and accurate representation like you'd get with a dBrand teardown skin, instead opting for a cleaner and more pleasing design. Tying all of his together are clear elements that allow the phone's color to shine through. If you have one of the brighter colored phones, like lavender, lime, or red, this case will look amazing, and it doesn't cost much more than the regular version.
So, are you won over by Casetify's 960 design choices, or are you sticking to the tried and true Poetic Spartan? Do you prefer the new i-Blason Cosmo styles or the classic marble? Or are you function-focused with the Spigen Cryo Armor? Whichever cases win you over, grab a trusty S23 Ultra screen protector, even if the selection is a little slimmer because of that curved screen.
Conclusion on Best Samsung Galaxy S23 Ultra cases in 2023
If you have any query let me know in comment section.