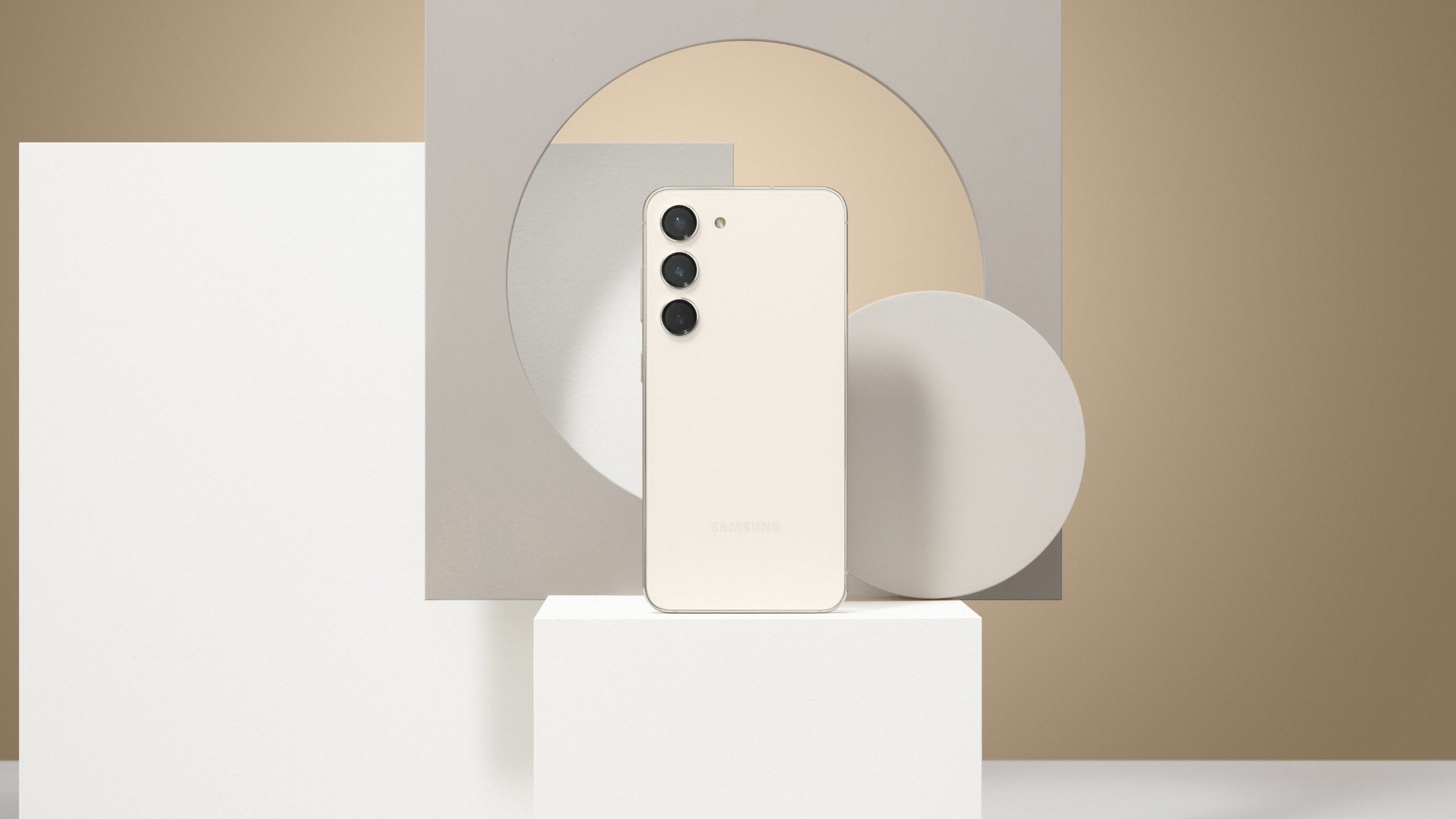 S23's beautiful AMOLED screen deserves the best protection
Source: Samsung
The Samsung Galaxy S23 packs the new Gorilla Glass Victus 2. And while it certainly improves the scratch resistance and drop protection of the 6.1-inch display, the glass is not invulnerable. So, if you are shelling out $800 and upgrading to the Galaxy S23, you'll want to ensure that its beautiful screen remains intact and scratch-free. A quick and relatively-affordable way to do that is by adding a screen protector.
Thankfully, just like great Galaxy S23 cases, there is no shortage of high-quality tempered glass, TPU, or PET screen protectors for the Samsung phone. But if you want to get the best one for your phone, our recommendations can help. We have carefully selected each option, considering their scratch resistance, durability, clarity, and ease of installation.
Spigen Glas.tR EZ Fit For Galaxy S23
Editor's Choice
Spigen's Glas.tR EZ Fit is a solid-tempered glass protector for the Galaxy S23. Its auto-alignment kit makes the installation a breeze; within a minute, you will have a screen protector on your phone. It's also excellent at keeping the beautiful S23 screen free from scratches and other blemishes. There's also an oleophobic coating on the Glas.tR EZ Fit to keep the fingerprint smudges away.The only issue with the Spigen offering is its compatibility with the fingerprint sensor, as glass-based protectors don't typically play nice with in-display fingerprint readers.
Whitestone Dome Glass Screen Protector For Galaxy S23
Premium Pick
Whitestone's Dome Glass protectors have garnered a significant following despite their relatively premium price tags. This is because the company's liquid dispersion and UV curing technologies essentially bind the screen protector with your phone's display and offer an excellent seal. It helps the glass protector deliver significantly better performance with the in-display fingerprint sensor than regular tempered glass protectors. The Dome Glass protector is scratch-resistant and will guard your phone's screen against scrapes, dents, and drops. However, installing it is a little unusual. You may want to check out the company's installation video tutorial for help.
amFilm OneTouch Screen Protector For Galaxy S23
Best Value
The amFilm OneTouch is one of the easiest-to-install screen protectors for the S23 due to its innovative auto-alignment tray. Just put the tray over your phone's screen, swipe down the middle, and you are done. In addition, being a tempered glass panel, the screen protector is excellent at scratch resistance and guarding against other blemishes. It also comes with a bundled camera lens protector that helps keep that protruding rear camera setup safe from scratches, bumps, and dents. The amFilm offering costs under $15, and you get two screen protectors and two camera lens guards.  
ArmorSuit MilitaryShield For Galaxy S23
ArmorSuit has a solid track record regarding TPU-based flexible screen protectors; it's hard to go wrong with its MilitaryShield film for the S23. It fits the screen perfectly and features self-healing properties to recover from minor abrasions. Remember, this particular ArmorSuit MilitaryShield delivers maximum coverage of the Galaxy S23 front, so it may not play well with every case and cover. Moreover, the screen protector uses wet installation, which might be tricky for anyone doing it for the first time.
Official Samsung Galaxy S23 Screen Protector
If you prefer the official Samsung accessories over the third-party offerings, you'll be happy to know that the company offers an official screen protector for the S23. It's a PET film that Samsung promises will protect the display against scratches, scrapes, and more. And as you can expect, it's also fully compatible with the in-display fingerprint sensor. Samsung also includes an alignment tool to help with installation, and you get two screen protectors in each pack.
Case-Mate FlexiShield For Galaxy S23
If you are looking for a screen protector that plays well with the in-display fingerprint sensor, the Case-Mate FlexiShield is a good option. It's a thin piece of durable TPU film that will guard your screen against everyday mishaps, including scrapes and drops. Also included in the shipment is a free clear case and a lens protector for 360-degree protection of your phone. Case-Mate is part of Samsung's Designed for Samsung accessories program, so you can rest easy knowing that FlexiShield will be fully compatible with the Galaxy S23.
Zagg InvisibleShield Fusion XTR2 Eco For Galaxy S23
The InvisibleShield Fusion XTR2 Eco is another high-quality and premium screen protector option for your phone. It uses a hybrid polymer that mimics the characteristics of glass to give you the best of both worlds. So you won't have issues with the fingerprint sensor while still getting glass-like clarity, protection, and sensitivity. The Fusion XTR2 Eco is also filled with features that are relatively rare on other options. For example, it comes with blue light filtration to reduce eye strain. Moreover, its adhesive is designed to install smoothly over dust, which most screen protectors struggle to do.
Magglass Display Guard For Galaxy S23
From the house of case manufacturer Encased, the Magglass Display Guard is another easy-to-install tempered glass protector. Like the Spigen Glas.tR EZ Fit, you can apply it in a matter of seconds with little chance of you messing things up. It's also durable and will protect the screen from any mishaps. In other features, it retains touch sensitivity and has an oleophobic coating to keep the smudges away. But while the fingerprint sensor on the phone seemingly works after installing it, there is a delay in registering the fingerprint, as per user reviews, compared to a bare screen.
UAG Glass Shield Plus For Galaxy S23
This premium tempered glass protector for UAG is great at keeping the scratches and dents away. But more than that, it can help you reduce glare in high-brightness environments or under direct sun. Plus, the glass has an oleophobic coating to repel fingerprint smudges and keep the display looking pristine. In other features, the screen protector covers the Galaxy S23 screen from edge to edge, but it's still case-friendly. And there is no reduction in touch sensitivity or screen clarity. But, remember, being tempered glass, it may not play well with the in-display fingerprint sensor.
IQ Shield Matte Screen Protector For Galaxy S23
This excellent IQ Shield TPU-based matte screen protector can handle reflections and glare. It'll also keep the display safe from scrapes, dents, and other abrasions. Plus, it works flawlessly with the fingerprint sensor. The IQ Shield offering uses the wet install method (which is tricky for first-timers), but there is a silver lining: wet installation gives you enough time to get rid of bubbles before the TPU film takes hold of the screen. In other highlights, the IQ Shield protector comes with a lifetime warranty.
Caseology Snap Fit For Galaxy S23
Although Caseology is primarily known for its cases, the company also produces decent screen protectors. So if you need another tempered glass option for your phone, the Caseology Snap Fit is worth considering. It covers the entire front of the phone to keep the display and the front shooter safe from unfortunate accidents without sacrificing clarity or touch response. The Snap Fit is also easy to apply, thanks to the included installation frame. But like other glass protectors, it won't likely play well with the fingerprint sensor. 
JETech Screen Protector For Galaxy S23
The JETech Screen Protector is one of the most affordable screen guards for the Galaxy S23, and you get two tempered glass films and camera protectors in each pack. This is great if you don't want to spend much on screen protection. And like our other tempered glass recommendations, it's excellent at keeping the beautiful OLED screen safe from scrapes, impacts, and drops. It's case-friendly and features hydrophobic and oleophobic coatings to reduce fingerprint smudges and sweat stains. Unfortunately, while JETech suggests compatibility with the fingerprint sensor, it doesn't seem to be the case.
Skinomi TechSkin For Galaxy S23
If you don't plan to splurge on a screen protector for the Galaxy S23, the Skinomi TechSkin is a good option. It costs only $10 but can still resist scratches, dents, and other blemishes and keep the beautiful S23 display looking pristine. Plus, it does not impact the fingerprint sensor's performance, display clarity, or touch response. You won't even feel like it's present on the screen. The TechSkin has self-healing technology, which means it can recover from minor scrapes over time. But, unfortunately, the installation process isn't as smooth as tempered glass options.
Ringke Glass For Galaxy S23
Though Ringke is not as popular as Spigen, the company produces several high-quality and affordable smartphone cases and screen protectors. If you want a tempered glass protector for your new S23, the Ringke Glass is worth considering. It's durable, scratch-resistant, and compatible with most cases. It doesn't come with an easy-to-use alignment frame, but a tool is included to help with the installation. Plus, you get a spare if you mess up the first installation. Being tempered glass, the Ringke protector may not work well with the fingerprint sensor.
Supershieldz Screen Protector For Galaxy S23
Supershieldz's tempered glass protector for the Galaxy S23 smartphone is high quality and an excellent value for money. It costs $10 and comes with three thin glass slabs that are great at keeping scratches and other blemishes at bay. The glass also features an oleophobic coating to reduce fingerprint smudges; plus, there's no impact on the phone's touch response or clarity. Unfortunately, most tempered glass protectors have trouble with the in-display fingerprint sensors, and you may face similar issues with this case. Otherwise, it has no other flaws or disadvantages and installs pretty quickly.
Keep the Samsung Galaxy S23 safe with top screen protectors

As expected, there is an excellent selection of Galaxy S23 screen protectors on the market. We particularly like the Spigen Glas.tR EZ Fit. It's easy to install, provides solid protection, and comes from a reliable brand.
If you are willing to spend a little bit more, Whitestone sells its Dome Glass protector for the S23. Because of its UV curing, this tempered glass protector will have better luck with the S23's in-display fingerprint sensor than any other tempered glass option. And, of course, Dome Glass will keep your display safe from blemishes and unfortunate marks.
In other options, amFilm OneTouch is an affordable but high-quality glass protector for the Samsung phone. Its $12 pack includes two tempered glass slabs and two camera lens protectors. Finally, anyone looking for a TPU film can go for the ArmorSuit MilitaryShield or Case-Mate FlexiShield. Both are great and will work without issues with the phone's fingerprint sensor.
Conclusion on Best Samsung Galaxy S23 screen protectors in 2023
If you have any query let me know in comment section.