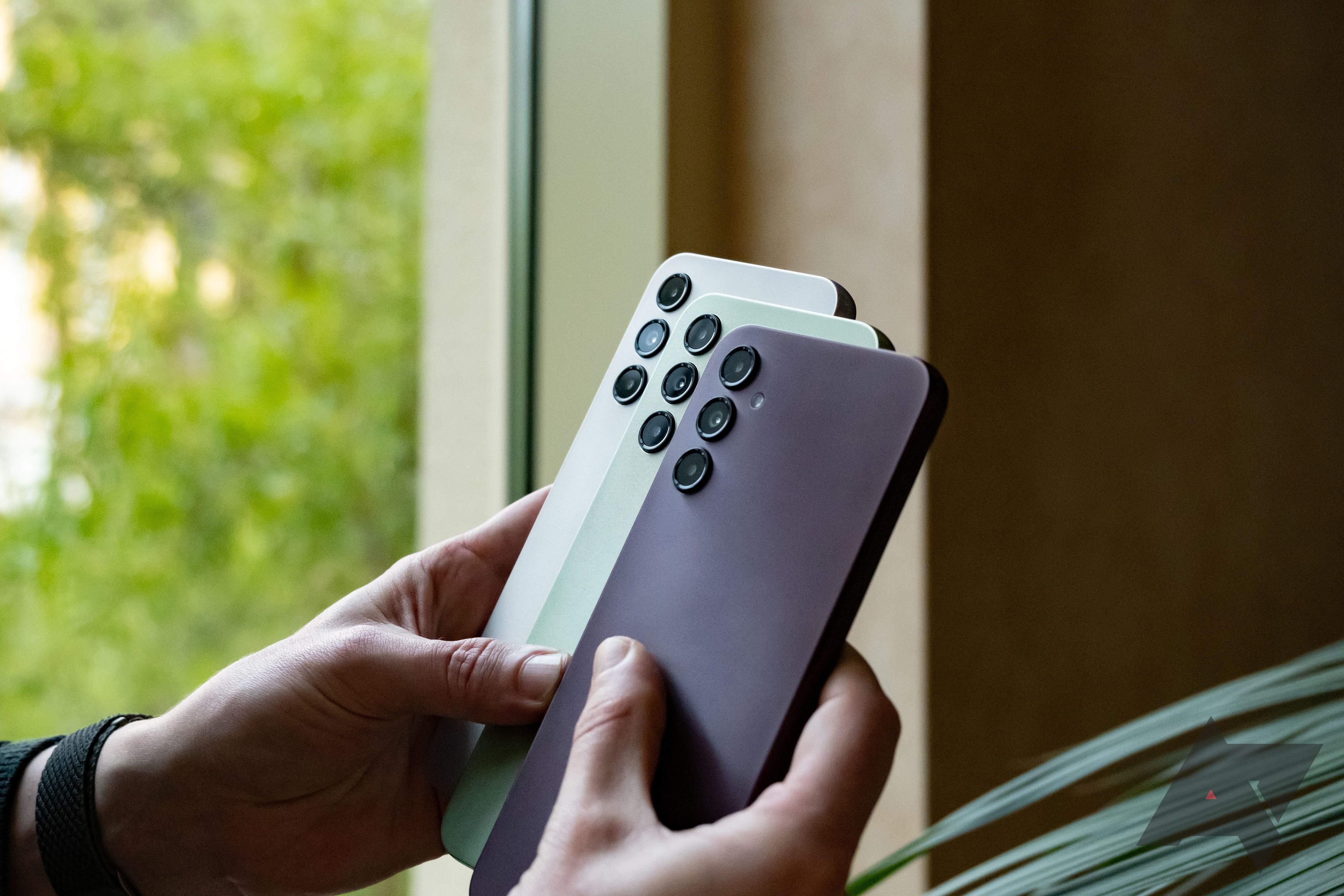 Save your phone from yourself and protect your Samsung Galaxy A14 from the inevitable tumble
The Samsung Galaxy A14 is the latest entry in Samsung's Galaxy A series lineup and the successor to the Samsung Galaxy A13. While the good-looking Galaxy A14 is already shaping up to be one of this year's best budget Android phones, it will need extra protection from a great case to keep up its attractive exterior.
A great case brings more to the table than just protecting your device from the occasional tumble to the ground. A case also adds a bit of your individuality and a fair amount of grip to your phone, making it easier to handle. We poured over the available cases to bring you the best selection for your Samsung Galaxy A14 smartphone.
Caseology Nano Pop For Samsung Galaxy A14
Editor's Choice
Caseology is known for providing thin and attractive cases for the hottest phones on the market. If you need a case that increases the protection of your device without adding a lot of bulk, the Nano Pop is a solid choice. It can withstand drops of up to 4 feet and adds some much-needed grip to the Galaxy A14 while allowing it to be easily inserted or removed from pockets. Caseology launched this case with two color options: Black Sesame and Blueberry Navy.
Spigen Rugged Armor For Samsung Galaxy A14
Best Value
The Spigen Rugged Armor case is solid and won't break the bank. It was designed for people who want a well-built case that offers drop and scratch protection in a thin, light package. Made from TPU and featuring air cushion technology to keep your phone safe from smaller drops. This case has a raised lip to keep the display and camera lenses slightly off hard surfaces. The carbon fiber design at the top and bottom of the case pairs well with the matte black coloring.
Otterbox Commuter Series Lite For Samsung Galaxy A14
Premium Pick
Otterbox is a premiere name in the case industry, known for its durable cases. The Commuter Lite series keeps the device slim while staying true to the Otterbox heritage. This case consists of two pieces: a synthetic rubber slipcover and a polycarbonate shell. The double-layer used in this case has been tested to withstand twice as many drops as the military standard — 52 drops at 4 feet. You also get raised edges for screen and lens protection and open access for easy port use.
Speck IMPACTHERO Grip For Samsung Galaxy A14
Great drop protection
Speck is known for creating some of the best thin and light phone cases. The IMPACTHERO Grip case is thin, light, and provides drop protection of up to 8 feet. (Dropping your phone with this case might actually be tough because it has thin rubber grips all over the back and sides for superior grip.) The case also includes raised bezels to protect your screen and camera lenses. Plus, there's an antimicrobial coating to reduce the number of bacteria on the case.
Supcase Unicorn Beetle Pro Case for Samsung Galaxy A14
Promoted pick
In partnership with Supcase
Supcase designed this case for ultimate protection; it can withstand a beating from even the clumsiest people. The Unicorn Beetle Pro case has a dual-layer back made from polycarbonate and TPU. It also has a built-in screen protector to keep your display scratch-free. These materials add up to 20 feet of drop protection. In addition, Supcase includes a built-in kickstand for portrait or landscape viewing and a rotatable belt clip for those who like to carry their device on their hip.
UAG Scout Series For Samsung Galaxy A14
Lanyard compatible
The UAG Scout series is made from TPU for a strong and durable build, with the back of the case consisting of a hard shell to withstand direct impact. To increase grip, UAG added textured bumpers along the edges. The case can easily survive a fall from 4 feet and has raised edges to keep your screen and lenses safe. It also includes integrated lanyard anchor points for those moments when securing your device with a strap is safer than keeping it in hand.
Case-Mate Tough For Samsung Galaxy A14
Tough protection
Case-Mate is a premium brand, and the Tough series is the most expensive case on this list. You get a solid and protective one-piece design made from premium materials. The premium build and air-cushioned shock-absorbing bumpers result in 12 feet of drop protection. The Tough case has anti-scratch and anti-yellowing properties, allowing the case to look great over extended use. The TPU materials mean you can easily grip it, and raised bezels keep the display and lenses from being dragged across hard surfaces.
Incipio Duo Case For Samsung Galaxy A14
Protection without frills
Incipio has been around for over 20 years and knows how to make a great case. The Incipio Duo case offers excellent protection in a minimal and eco-friendly design. This midnight navy-colored case is partially made from recycled materials and has a nice soft finish. It has an antimicrobial coating to get rid of bacteria and is resistant to scratches and discoloration. Incipio uses its impact strut protection technology (air-cushion technology) to let your Galaxy A14 withstand drops up to 12 feet.
i-Blason Armorbox For Samsung Galaxy A14
Promoted pick
In partnership with i-Blason
The i-Blason Armorbox is similar to the Supcase in both design and functionality. You get a built-in screen protector and a resilient design made from TPU and polycarbonate for full phone protection. With reinforced TPU bumpers on the edges of the Armorbox, this case can easily survive a 4-foot drop to the ground. In addition, it has a built-in kickstand and comes with a belt clip.
Sucnakp Clear Case For Samsung Galaxy A14
Showcase your colorway
Individuals who would prefer to see the attractive build of the Galaxy A14 while keeping it protected from the occasional small drop can't do much better than the clear case from Sucnakp. This case is made from TPU plastic and acrylic, which helps keep it resistant to scratches. With a 0.8mm raised screen edge and a 1.5mm thick backplate, Sucnakp designed this case to be thin while keeping your display and lenses off hard surfaces. This case also comes with a screen protector.
Spigen Ultra Hybrid For Samsung Galaxy A14
Clear and simple
Spigen has been making durable and great cases since 2008, and it stuck to its roots when making the Spigen Ultra Hybrid clear case. With its air-cushioning technology and blend of case materials, this case can survive the occasional small drop. The Ultra Hybrid case consists of TPU for added grip and a polycarbonate back for excellent scratch protection. It also has raised edges to protect your display and camera lenses from hard surfaces.
Foluu Flip Cover For Samsung Galaxy A14
Versatile wallet
A flip cover adds quite a bit of versatility, and the Foluu Flip Cover doesn't disappoint. This faux leather case is made from PU leather (polyurethane leather) and will protect all sides of your Galaxy A14. It is kept closed with a magnet and has a single card slot inside the flip cover. Also, the flip cover pulls double duty by working as a stand when placed on a flat surface. This Foluu case is available in black, blue, gold, gray, and rose colors.
Let your personality show

Far too often, phones look like a glass slab making them look generic and bland. While the Samsung Galaxy A14 offers an attractive rear design, it may not reflect your personality. A case offers you the ability to show off a piece of yourself that otherwise wouldn't be possible.
The best part is you aren't limited with case choices for the Galaxy A14. There are a wide variety of case choices including, thin and light cases, colorful cases, rugged cases, clear cases, and flip cover cases. If you are looking for a more traditional and subdued case design, then the Spigen Rugged Armor case is perfect for you. If you want something with just a pop of color, then the Nano Pop from Caseology would be fantastic while not screaming with color. Then there are cases like the Supcase Unicorn Beetle Pro which look and feel indestructible.
If you are still wielding a Samsung Galaxy A13, there are some fantastic Samsung Galaxy A13 5G cases to choose from as well.
Conclusion on Best Samsung Galaxy A14 5G cases in 2023
If you have any query let me know in comment section.