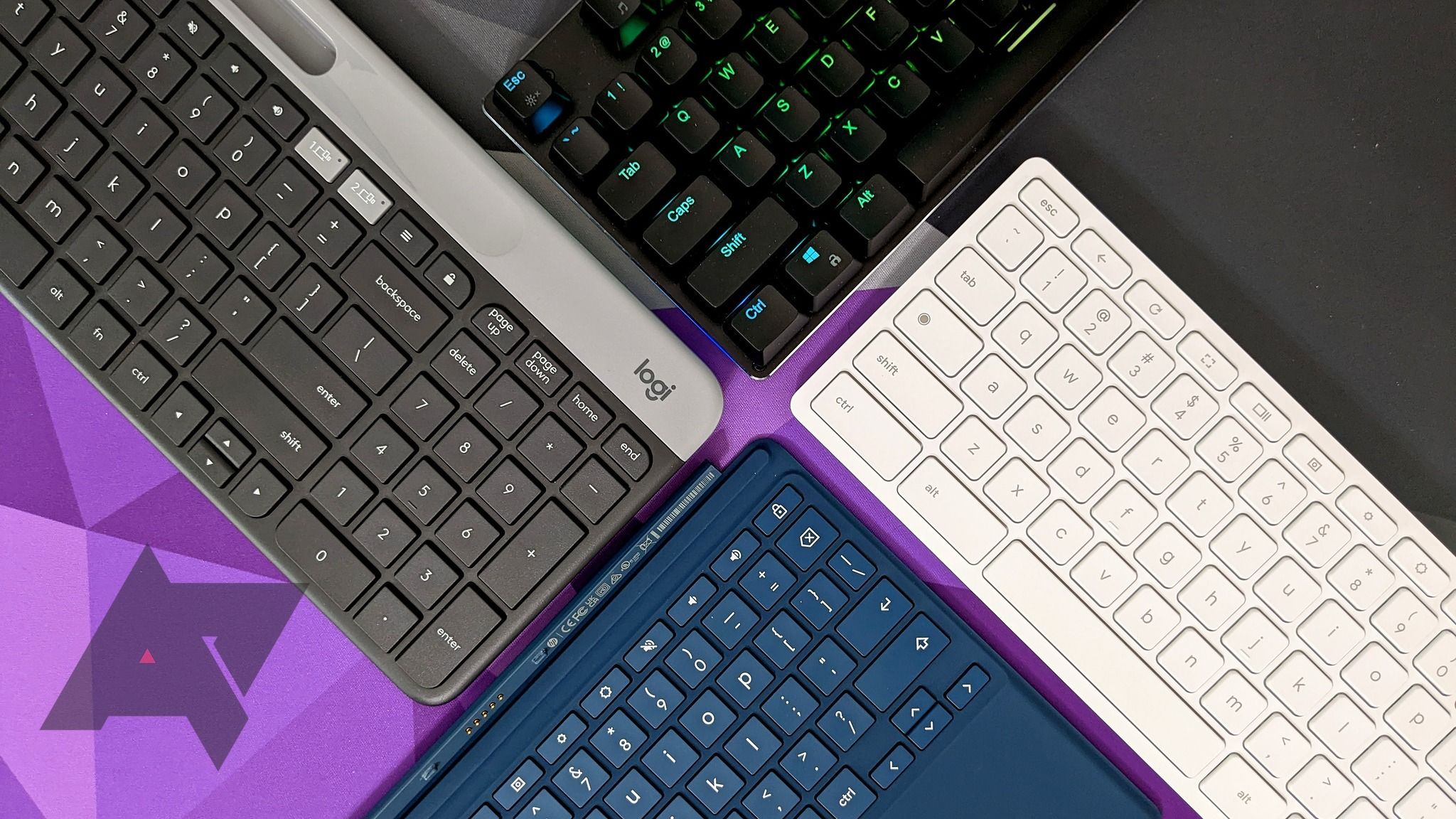 The best wired and wireless keyboards, including the top models with Chrome-specific key layouts
Today's best Chromebooks use the cloud to get a lot done in terms of work, school, and everyday web browsing. Since Chrome OS is so lightweight and efficient, Chromebooks don't need much firepower and usually don't cost much. They even offer productivity-focused features like split-screen mode.
Since they're so compact and affordable, though, Chromebooks rarely have very satisfying keyboards, and sometimes they're downright too small. If that's the case with your Chromebook, consider an external keyboard. Also, if you use Chrome OS shortcuts a lot, you'll be happy to know that, unlike in the past, there are plenty of keyboard options to include them.
Logitech K580 Chrome OS Edition
Editor's Choice
The Logitech's K580 keyboard is one of the rare models emblazoned with Chrome OS shortcut and function keys, including the proper search, Google Assistant, and media navigation keys. It boasts Bluetooth and RF wireless connectivity that lets you switch seamlessly between Chromebooks and Android tablets or phones. There's even a handy slot at the top for holding a smartphone or small tablet, making it much easier to create a linked workspace from various mobile devices.
Keychron K3
Premium Pick
The Keychron K3 mechanical keyboard leverages some of the most impressive keyboard technology, including optical mechanisms registering each keypress and ensuring a long life of latency-free operation. And the combination of Bluetooth and wired connectivity means you can use it with almost any modern device, whether a smartphone, tablet, laptop, or desktop PC. In terms of typing experience, nothing this size really comes close, thanks to the high-end switches and keycaps and the low-flex body made from rugged aluminum.
CTL Works With Chromebook
Best Value
One of the newest Works With Chromebook models, CTL's keyboard is about as compact as a 104-key model gets. Without any wasted space, it can pack the full complement of buttons into a relatively small package, so it's perfect for saving desk space. Add on its Bluetooth 5.2 wireless connectivity, which ensures consistent pairing, fast response time, and long battery life, and it's clear that this is one of the best options for people who type a lot but don't want to spend much.
Targus Works With Chromebook
104 keys and a low price
The Targus Works With Chromebook layout is similar to a full-size keyboard but tailored to the Chrome OS experience, unlike most 104-key wireless keyboards. It's also slim, light, and virtually noiseless, making it great for use in shared spaces and traveling. There's even an antimicrobial coating to minimize pathogen buildup. Unfortunately, it lacks a backlight and isn't the ideal choice for especially fast typists.
HP 325
Highly trusted manufacturer
There's not much to the HP 325 in terms of advanced features, but you can trust that it will do exactly what you want it to (that is, connect to and work perfectly with Chromebook) without argument. Like many of our top picks, it's engineered specifically for Chrome OS with robust Bluetooth connectivity and the appropriate function, search, and assistant keys.
Dell KM713
Zero keystroke latency
This straightforward wireless keyboard from industry leader Dell isn't fancy, but it is almost the only 104-key model with dedicated Chrome OS function keys. While that seems like a small thing, lots of committed Chromebook users will appreciate the touch. Take note, however, that it only works with the exact USB RF dongle it comes with, so don't lose it.
Asus Keyboard Combo
Best keyboard and mouse combo
Equipped with the media controls and search button layout that Chrome OS users are familiar with, the Asus keyboard is a rugged, long-lasting desktop keyboard, complete with a good-quality optical mouse. It won't blow you away in terms of typing feel, and the mouse only has two main buttons and a scroll wheel, but it gets the job done well.
Redragon K552
Affordable for gaming
If you're looking for a no-nonsense mechanical keyboard that can stand up to long-term heavy use without breaking a sweat, the Redragon Kumara K552 is it. Despite costing very little, it boasts rock-solid construction and satisfying Cherry MX clone switches. We've had the pleasure of testing this one for quite a few months now, and it doesn't show any signs of slowing down after countless hours of hardcore gaming.
Tecknet Wireless
Most compact
They don't get any cheaper or smaller than the Tecknet wireless keyboard. It won't provide a premium typing experience and can't stand up to a ton of abuse for years, but it costs next to nothing, works in a pinch, and should last a reasonably long time if you're careful. It's backlit and works for a while before it needs a recharge, although it doesn't support wired use. To maintain long battery life, consider replacing the standard AAA cells with rechargeable batteries.
Logitech MX Keys
For full-time typing
You know you're getting a great blend of form and function with the Logitech MX Keys. A number pad makes it instantly attractive to many Chrome OS users, despite its lack of Chrome OS shortcut keys. And although it's remarkably thin and lightweight, and uses a membrane instead of mechanical switches, it even feels great to type on if you're a high-speed touch typist. Its wireless connectivity is also worth writing home about, thanks to Logitech's convenient multi-device connectivity.
Upgrade your Chromebook experience with the right keyboard

Dedicated Chrome OS shortcut keys are the only functional difference between run-of-the keyboards and those designed for Chromebooks. There's also a relatively recent program called Works With Chromebook that consists of Google certifying if an accessory does, in fact, work perfectly with Chrome OS. Some of our favorite options have that Google-approved badge, but some of the best keyboards don't.
The Logitech K580, for example, comes in two versions, and we've highlighted the Chrome OS version. It's the perfect size for a Chromebook, has a keypad, and promises a long life of satisfying typing. But it's a bit expensive, so consider the CTL Works With Chromebook keyboard if you want to save some cash. While the Logitech Keys is a bit nicer than the K580, it doesn't come in a Chrome OS version, although it may still be worth your investment due to its great keypress feel.
If you don't necessarily require Chrome OS shortcut keys, the Keychron K3 is the best of the remaining bunch. In fact, it's one of the best mechanical keyboards available for less than $100 due to its premium optomechanical switch technology. The Redragon Kumara K552 is another great mechanical option, and it's definitely priced to sell. For what it's worth, we've used and abused a Redragon K552 here in the Android Police labs for years, and it's built like a rock.
Getting the most out of a Chrome OS keyboard

While Chrome OS doesn't support complete universal key remapping, you can reassign a couple of key shortcuts. To change the behavior of keys like the backspace and search buttons, first, open the taskbar and click the Settings icon. On the left, you'll see a "Device" option, and inside, the "Keyboard" settings menu is in the middle of the page. After that, altering the functions of a few select keys is pretty straightforward.
Conclusion on Best keyboards for Chromebooks in 2023
If you have any query let me know in comment section.