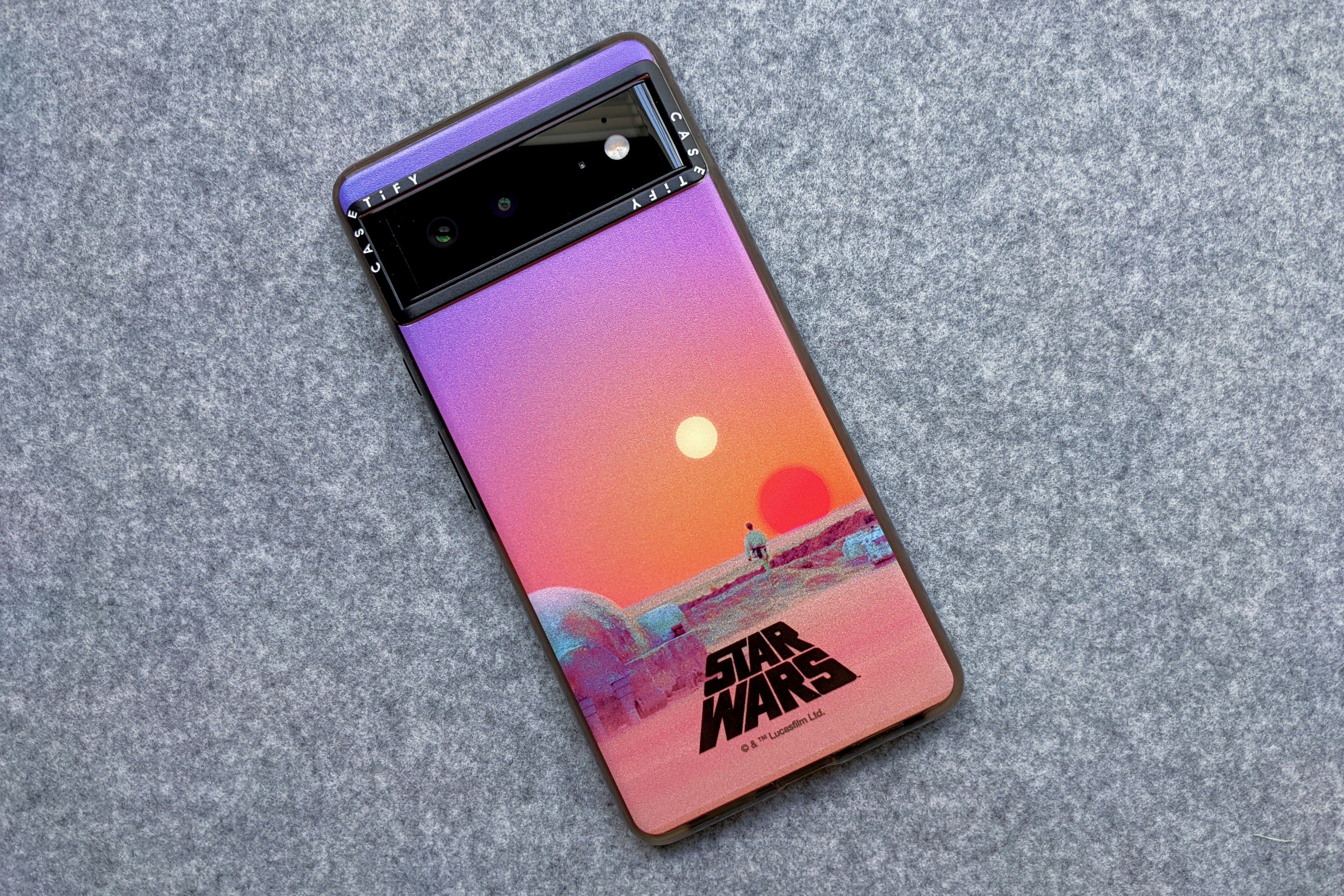 Your all-glass phone needs a very good case, and here are your best options
The Google Pixel 6 was the smallest of the company's 2021 flagships, and recent sales have knocked hundreds off its already reasonable $600 price tag. While all eyes have now turned to the Google Pixel 7 — one of the best Android phones in the market — it's not enough of an upgrade for Pixel 6 owners. This means you'll need to keep your slippery slab of a phone safe for another year (or two).
One of the best reasons to get a quality case for your Pixel 6 is to protect the gigantic camera lens configuration. Luckily, there are plenty of options for doing just that, ranging from slim and minimalist to more bulky and packed with interesting features.
Spigen Liquid Air for Google Pixel 6
Editor's Choice
Spigen's Liquid Air case for the Pixel 6 fits like a glove and largely disappears once it's on. The low profile doesn't add much thickness, and the textured back ensures the device is protected from scratches. The back's shallow triangular texture can be divisive among users — some adore it, and others despise it — but I will say I like the shallow texturing as it allows you to use PopSockets, stick-on wallets, or other adhesive-based accessories.
Caseology Parallax for Google Pixel 6
Premium Pick
The Parallax is Caseology's most iconic case series, striking a few unique styles for the Google Pixel 6. I have been rocking the black and red version for the last year, and it has held up beautifully. The buttons are smooth but still easy to find, and the cutout for the USB-C port has accepted blocker chargers without complaint. However, keep in mind that lighter colorways are more prone to discoloring over time from the oils and dirt on your hands.
Ghostek Covert for Google Pixel 6
Best Value
Transparent cases often look a little tacky, but the Ghostek Covert takes a slightly different approach with a frosted effect in your choice of three colors. In addition to a secure grip, it offers impressively rugged corners with well-engineered braces that, while effective, aren't super big. The buttons are easy to use without straining your fingers, and the back resists scratching while also allowing for wireless charging.
Source: Castify
Casetify Impact Case for Google Pixel 6
So Many Options
Casetify finally started making Pixel 6 cases, giving us some of the best-licensed cases around. Casetify's Impact Case is made of impact-absorbing "qitech" and 65% recycled materials, meaning you get a durable and sustainable case wrapped up in one grippy, compact package. Even without the licensed designs, there are hundreds of case patterns you can get with one of four case colors, allowing you to get a one-of-a-kind look.
Tudia DualShield For Pixel 6
Nice and Soft
The Tudia DualShield has been tested to withstand a 4-foot drop over 26 times to ensure ultimate protection. You get a multi-layered design in a thin package that has a nonslip texture to prevent you from dropping it in the first place. It also has a lip to protect your camera lenses and screen, plus a fingerprint-resistant design to withstand your oily fingers.
i-Blason Cosmo Series for Google Pixel 6
Promoted Pick
In partnership with i-Blason
If you have Sorta Seafoam — or even Kinda Coral — this case offers heavy-duty protection and a unique natural appeal. The Green Butterfly colorway, as i-Blason has named it, takes advantage of the Cosmo's clear outer shell to layer the butterfly wings atop your spring-colored Pixel 6 for a refreshing new look. Best of all, the Cosmo Series is heavy-duty, offering 10-foot drop protection and well-raised buffers around the camera and the screen.
Pelican Protector for Google Pixel 6
15-Foot Drop Protection
Sometimes you just want a simple case that guarantees safety from moderate drops and other sudden contacts. You don't always need something flashy or equipped with all sorts of advanced features. Its unassuming black design draws little to no attention, and it's tested during development for effectiveness even when dropped from as high as 15 feet. It sports the common two-piece design consisting of a soft inner layer secured by a rigid exterior that snaps easily into place, and a lifetime guarantee backs it.
Otterbox Defender Series for Pixel 6
Built Like a Tank
Otterbox is known for its durability and well-made cases. The Otterbox Defender Series comes with multiple layers of protection that can withstand four times the amount of abuse that your typical military standard case can. It has port covers to provide enhanced protection from dust and is made from 50% recycled plastic. You can't do much better than Otterbox for phone protection.
Source: Amazon
X-Level Guardian for Google Pixel 6
Paper Thin
This slim TPU case offers additional grip and a bit of impact resistance. X-Level expanded the color selection for the Pixel 6 by providing not only six solid colorways, but also custom cases using up to six photos and fonts. In addition, you can get your custom cases printed on black, wine red, or clear cases for even greater flexibility. The Guardian Series is easy to get on and off and slips into your pocket easily.
Supcase Unicorn Beetle Pro for Pixel 6
Promoted Pick
In partnership with Supcase
The Supcase Unicorn Beetle Pro was designed to withstand whatever you throw its way. It is slip resistant, has grip points for better handling, and can easily survive a drop from four feet. The case comes with a kickstand for enhanced viewing and has a belt clip for those who enjoy carrying their devices on their hip. For full device protection, the Supcase even has a front cover to protect your screen.
Ringke Fusion for Google Pixel 6
Clearly Beautiful
From the dark matte of the Stormy Black colorway to the playful Kinda Coral and Sorta Seafoam hues, you may actually want to show the device off to the world without sacrificing protection. That's where a clear case comes in and why we recommend Ringke's excellent (and affordable) Fusion case. Made of hard plastic and featuring a raised lip all around for added fall protection, the Ringke Fusion lets you see your phone while using it.
Protecting your Pixel 6

The Pixel 6 has been out for a year now, giving us more than enough time to test various cases on our Pixel 6s. The Spigen Liquid Air's shallow texture remains a "love it or hate it" kind of case, but it's held up well long-term, as has the Caseology Parallax, which is what I still rock on my own Pixel 6. The metallic finish on the red accents hasn't dulled or chipped, shining as brightly as it did the day I unboxed it.
I started with a Caseology Vault in Sage Green, and it slowly turned a sallow mix of gray and brown where my fingers would rest (which is partly why it is no longer on this guide). The official Google case has aged poorly because lighter colors are more prone to discoloration and stains. Translucent, pale cases discolor quickly, and with it warping, too; they are just not worth the money.
Casetify's cases were late to the game, but the Impact Series has more than proven itself worthy of its relatively high price tag. The printed patterns haven't faded or worn off in our hands the way most printed cases do, and it has survived a few unfortunate chest-high and waist-high drops with no damage so far.
We've also added another Ghostek case to the mix; the company's stuff is usually quite well-made, looking and feeling like premium accessories. We like the unique design and frosted appearance of the Covert Pixel 6 case. It's every bit as protective as other cases (or more so) while having a significantly different appearance.
Conclusion on Best Google Pixel 6 cases in 2023
If you have any query let me know in comment section.