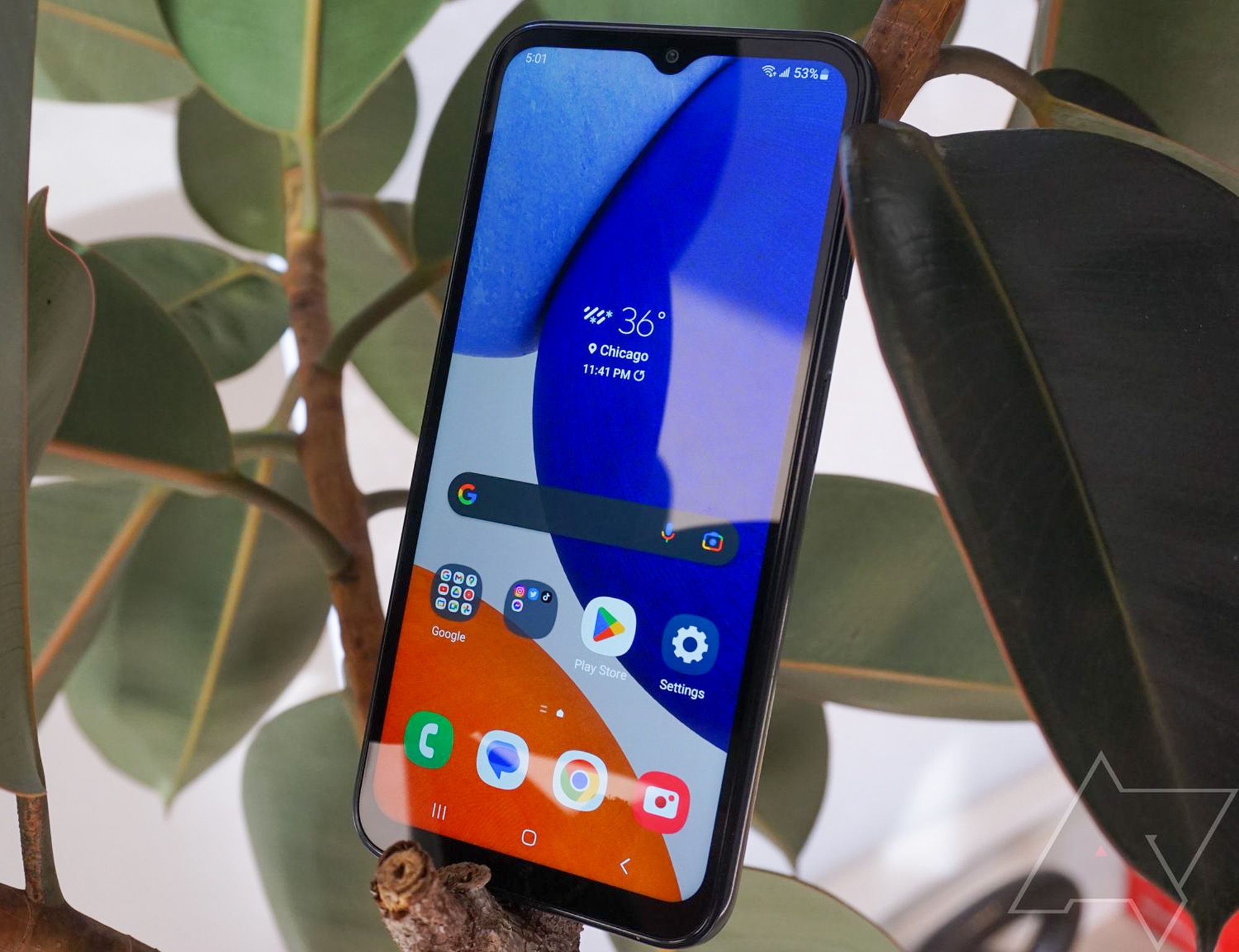 Smartphones can be expensive, particularly if you're after a high-end flagship device. While you might have to shell out the big bucks for the best flagship phones, Samsung offers capable devices across the board, including some of the best cheap Android phones you can buy today. That continues with the Galaxy A14 5G, the latest A-series device that delivers functional specs with some advanced features for just $200 out of the box.
Naturally, the low price tag of Samsung's Galaxy A14 5G comes with a few drawbacks. For example, you won't find wireless charging or a waterproof rating, and your playlists will have to make do with a paltry single speaker. Still, for the price, it's a sturdy smartphone with a long-lasting battery, a good-looking display, and an impressive camera array — not to mention the promise of regular security and software updates, so you won't have to worry about your phone calling it quits after a few months.
Samsung's Galaxy A14 5G is the latest budget phone from the company, keeping the same adequate performance and long battery life from its previous generation but with a better display and a cheaper price.
Specifications
SoC: MediaTek Dimensity 700
Display: 6.6″ FHD+ LCD @ 90Hz
RAM: 4GB
Storage: 64GB, expandable by MicroSD (up to 1TB)
Battery: 5,000 mAh
Ports: USB-C
Operating System: Android 13 with One UI 5.0
Front camera: 13MP f/2.0
Rear cameras: 50MP f/1.8 main + 2MP f/2.4 macro + 2MP f/2.4 depth
Connectivity: 5G, Wi-Fi 5, NFC
Dimensions: 167.7 x 78 x 9.1mm
Weight: 204g
IP Rating: N/A
Price: $199
Pros
Only costs $200
Two-day battery life
Fast, high-res display
Has a headphone jack
Cons
Not waterproof
Only one speaker
Feels a bit cheap
Buy This Product
Pricing and availability
Its price tag is arguably the most attractive feature of the Samsung Galaxy A14 5G. It's easily one of the best phones you can buy for under $200, something many have come to expect from Samsung. The price is also an improvement from its predecessor, the Samsung Galaxy A13 5G, which launched at $250 last year.
The Samsung Galaxy A14 is only available in Black in the US and with 64GB of storage. In Europe, you can also get the phone in Light Green, Dark Red, or Silver. If you're looking to track down the smartphone, you're in luck whether you're buying from a carrier or want to get it unlocked outside the carrier system. In addition to being sold through all three major US networks, the A14 can be found at Best Buy, Amazon, and on the Samsung website.
Design, hardware, what's in the box?
My first impressions of the Samsung Galaxy A14 weren't what you might expect. Right out of the box, the phone felt weird in my hand, though not necessarily in a bad way. The boxy design felt sturdy, although the plastic body made it feel cheap, as it was oddly hollow in certain places. The body didn't flex at all, though, which is a great sign for surviving long-term.
Also, unlike those expensive glass-covered flagships, it's equipped with a uniquely-textured back, adding flair to an otherwise boring design. It even makes that odd zipping sound when you run your fingernails along it, like those holographic cards from the late 90s.
Despite being heavier than the Pixel 7 (7.13 oz. vs. 6.95 oz.), this budget smartphone feels lighter in my hand, probably because it's a bit bigger with a plastic body rather than the more compact, glass back of the Pixel 7. While you can be confident that this device will survive a fall (which it did on multiple occasions), getting a case for the Galaxy A14 won't hurt, even though you'll lose out on that fun zipping sound.
Samsung equipped the Galaxy A14 with volume and power buttons along the right side of the device. The power button doubles as a fingerprint sensor, ever-so-slightly embedded into the phone's chassis.
I liked it at first because it made telling the difference between the power button and volume rocker easy. But honestly, it just made it harder to press and unlock my device. Also, as is expected from a budget phone, the bezels are pretty hefty, featuring a big ol' chin and the slight V-shaped notch for the selfie camera.
The display on the Galaxy A14 is a big upgrade from its predecessor, which earned its low price tag with the help of a 720p panel. Now though, the Galaxy A14 sports an FHD+ LCD at 90Hz, which looks surprisingly good for a budget device. Of course, it won't measure up to an OLED found on flagships, but the LCD is a responsive display and looks good enough for your average viewing experience.
If there's one thing that will never let you forget the Galaxy A14's status as a budget device, it's the audio experience. A single speaker on the bottom right edge of the device makes it sound very one-dimensional. If you're prone to a particular hand position while looking at your phone, you could entirely block it without even trying. Thankfully, Samsung kept the headphone jack around, so if you prefer a wired listening experience rather than relying on the speaker, this could be the phone for you.
Aside from the phone itself, you won't find much in the box, which is to be expected with its price tag. You'll find a USB-C to C cable in the box and a quick start guide. The Samsung Galaxy A14 does not come with a charging brick, so hopefully, you've already got one of your own at home.
Software and performance
When it comes to budget phones, performance is typically one of the spots where you're going to take a hit, and that is certainly the case with the Samsung Galaxy A14, but it's not nearly as bad as it could be for only $200. The device runs on 4GB of RAM and the MediaTek MT6833 Dimensity 700 processor, which is unchanged from the Samsung Galaxy A13. In addition, you won't find a Qualcomm Snapdragon chip in this budget phone, another feature that helps keep the cost down at the expense of performance.
The lag isn't immediately noticeable, but after just a few days, apps opened slower and loading screens were increasingly common during daily use. More specifically, app folders started taking a full second to pop up, and occasionally, Hulu froze and needed a restart in the middle of ads. Still, the performance lag wasn't nearly enough of a problem to get frustrated with it, and again, at this price point, you should be so lucky.
The Samsung Galaxy A14 ships with Android 13 and One UI 5 out of the box, so the budget price doesn't mean you have to deal with outdated software. Samsung has noted that you'll get four security updates and two operating system updates, which will future-proof your budget smartphone until Android 15 rolls around or when 2027 comes knocking, whichever comes first.
Cameras
The Samsung Galaxy A14 has a surprisingly robust camera array, and not just for the price. You're starting with the 50MP main camera, along with the 2MP depth sensor and the 2MP macro lens, which is rarely found in affordable devices like this one. Then you've got the 13MP selfie camera, equipped with a group shot setting, giving you some extra room to get the whole crew in for the selfie.
There's no way around it — $200 for a 50MP main camera is a darn good deal. While it's not an upgrade from its predecessor, which also had a 50MP main camera, you are getting it at a slightly lower price and with a nicer display, so you can actually see how good your pictures are.
As for the actual pictures that come out, you aren't going to turn any heads or make any user-generated billboards for Samsung; however, the colors are bright, the details are crisp, and the photos don't look overly processed, which is a boon in 2023. Granted, the macro lens didn't impress much, but for the price, you shouldn't be expecting anything that rivals a microscope.
Fortunately, all the performance lag in the user interface is reserved for other phone parts, with the Samsung Galaxy A14 taking pictures and processing updates quickly and efficiently. I even matched it against my Google Pixel 7, and while those pictures turned out better, they took a bit longer to load on my device.
Night Mode on the A14 was impressive in terms of how fast it loaded and the quality of pictures; it takes bright, sharp images in low-light scenarios without too much loading time. They were a tad grainy at times, however. Samsung is no match for Google's photo processing power.
As for video, the Samsung Galaxy A14 5G shoots in 1080p at 30 frames per second, which is more than enough to get the shot, but you won't gain any points on social algorithms for "high-quality videos." You'll also get features like time-lapse and slow motion, but it's missing some of the more advanced recording features on Pixel devices, like a cinematic pan.
Battery life
Because budget smartphones often lack performance in specs, the battery life tends to go a long way, and that is absolutely the case with the Samsung Galaxy A14. Due to the phone's 5,000 mAh battery, I was easily getting through two days on a single charge, even on days involving much scrolling and usage.
For this reviewer, regular use comes in the form of scrolling through TikTok, answering emails, scrolling through Twitter, making updates to Google Sheets, scrolling through Instagram, and occasionally passing the time with one of those dumb mobile games you've seen in targeted ads. With this kind of usage, we were able to make it well into the second day without having to even look at a smartphone charger, which is good because the device does not come with a charging brick.
From a charging standpoint, the Galaxy A14 offers 15W wired charging, which is much slower than some of the premium devices on the market, yet still respectable for a budget smartphone. The device went from 0% to 1 a bit more than two hours, which should be expected from a two-day battery.
Competition
The Samsung Galaxy A14 may be one of the better budget phones out there, and plenty of other excellent smartphones won't put an iPhone-shaped hole in your wallet, whether from Samsung or Motorola. So if you want to stay in the Samsung family and have some room in your budget to treat yourself, the Galaxy A53 is another budget device from Samsung that costs only $450. For the extra money, you get an OLED instead of the LCD on the Galaxy A14, as well as more RAM, more storage, better cameras, and a waterproof body.
For arguably the best budget phone money can buy, the Google Pixel 6a is a more than worthy entry. The retail price was $450; however, recent deals have brought it down to as low as $300, making it an absolute steal. It has Google's first-gen Tensor chip and 6GB of RAM, so performance is certainly ahead of the pack for budget devices. Plus, those Pixel cameras are all the rage, and the Pixel 6a has a 12MP main camera that still impresses thanks to its processing power.
If that extra low price tag is what you're looking for and the Samsung Galaxy A14 just isn't doing it for you, there are plenty of comparably priced options. The Moto G Power, for instance, also only costs $200 and comes with the same sized battery as the Galaxy A14. With modest performance specs, it can last three days on a single charge, whereas its Samsung counterpart can only last two. The G Power is also waterproof, but you will have to deal with worse performance and no update for Android 13.
Should you buy it?
If you're looking for an impressive budget device, you've found it in the Samsung Galaxy A14. It's one of the most affordable smartphones on the market and provides passable specs, advanced features, and impressive functionality unheard of in such an affordable device. Be sure to note the reasons it's so cheap, though, like its poor speaker setup and weakness to water.
If these small issues aren't dealbreakers for you, and you need to save money on your next smartphone purchase, it's hard to recommend anything other than the Samsung Galaxy A14. A good phone from an excellent brand that runs Android 13 for only $200? Samsung has, in so many words, done it again.
Conclusion on A whole lot of phone for $200
If you have any query let me know in comment section.