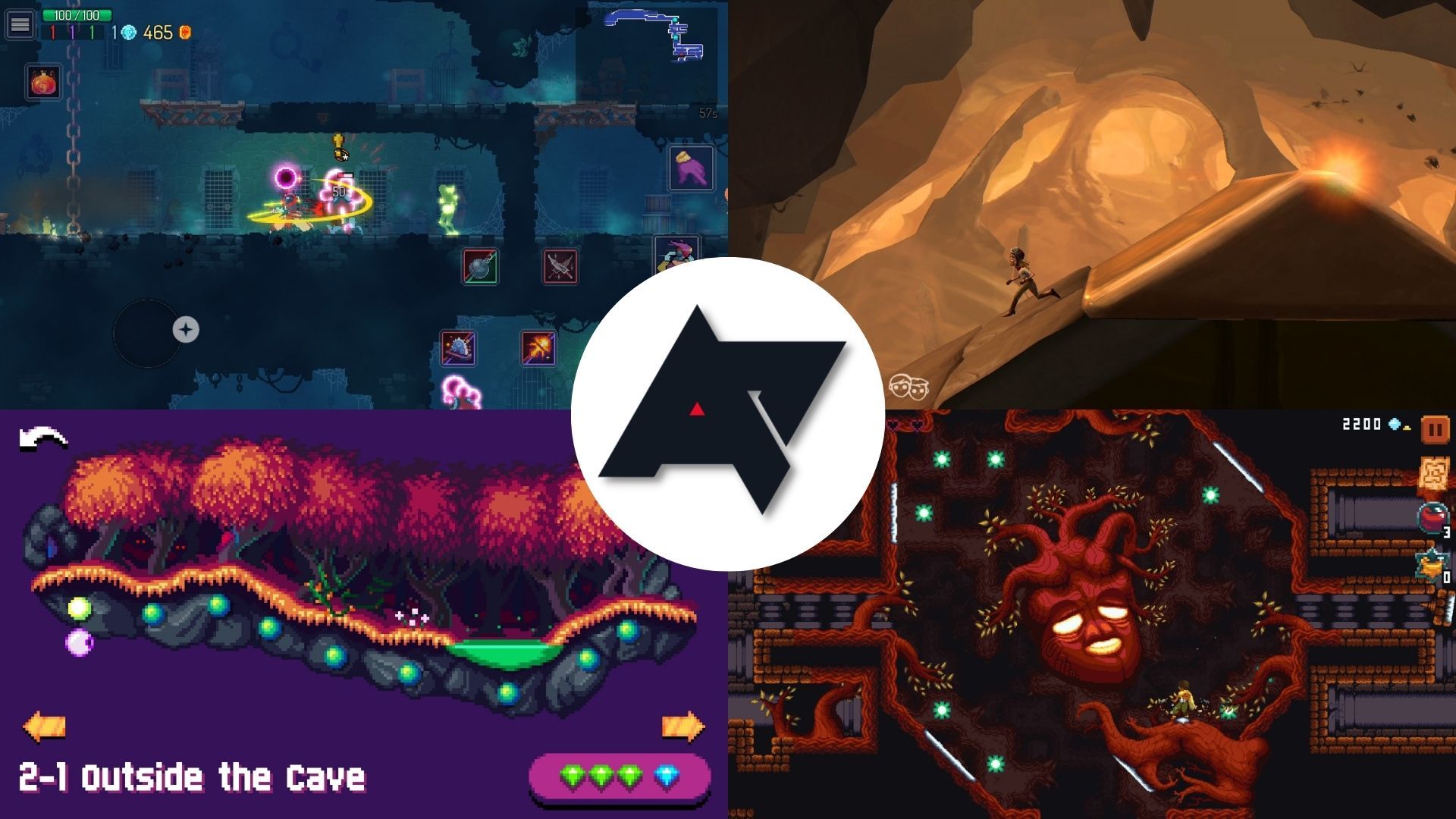 The platformer genre on the Play Store includes some of the best games on Android. The format is perfectly suited for mobile screens, so there's a massive amount of options to choose from. They're not all action games either; there are enough puzzle or adventure games here to satisfy every type of player.
We've rounded up the best platformer games on the Play Store, so you don't have to search yourself. We've included a variety of titles, but regardless of the game, we recommend an Android tablet for the best experience.
1 Dead Cells
Dead Cells is a must-play platformer. It'll keep you hooked for weeks with stunning visuals, punchy gameplay, and an enormous amount of content. It's a roguelike, so death is permanent. While dying can feel frustrating as you're sent back to the start, the gameplay is so fun you won't mind. It's a good thing, too, as you'll be losing most fights until you learn how to counter the game's many enemies. It's a controller-supported title, so make sure to grab one of the best Android controllers for a true console-like experience.
Dead Cells is perfect for those who prefer higher stakes. While brutal at times, getting a little further each session is incredibly rewarding. Play this if you want a hack-and-slash platformer that'll keep you on your toes at all times. It's easy to learn but hard to master.
2 Limbo
Limbo's haunting atmosphere will leave you thinking about the game long after you finish. One of the best horror games around, Limbo is a short but sweet puzzle platformer with a gripping story. Tasked with rescuing your sister from the realm of Limbo, you'll soon find that this game isn't for those easily spooked. Alongside the puzzles, monsters and obstacles ensure this isn't a casual experience. Grab your best wireless headphones for this, as the music is just as important as the gameplay.
Although a relatively short experience, Limbo is an absolute must-play. The puzzles are genuinely tricky without being frustrating; you'll be able to complete them with careful planning. There's simply no weak part of this game.
3 Witcheye
Witcheye is the polar opposite of Limbo. It bombards the player with vibrant visuals, frantic gameplay, and quirky enemies. There's no puzzle-solving or open-world exploration here, just a host of colorful enemies to defeat. Don't think of it as simple; it's as challenging as any other game on this list.
Part of what makes Witcheye so appealing is the innovative control system. This makes pulling off risky maneuvers a doddle yet incredibly rewarding. Overall, it's a brilliant choice for anyone looking for an original, fast-paced platformer that keeps things straightforward.
4 The Cave
Balancing dark humor with puzzles, The Cave throws plenty of twists and turns to keep you engaged. You'll choose three characters out of a set of seven to explore The Cave, solve puzzles, and explore new areas to uncover their secrets. There's a strong focus on puzzles and narrative.
Unfortunately, The Cave's brilliant design is hampered by some fairly frustrating controls. But similar to Limbo, The Cave offers an absorbing storyline that will keep you hooked until the end.
5 Dadish
Dadish's bold, Mario-esque visuals are a joy for all ages. A relatively casual platformer, It's a beautifully quirky game that combines charming humor and a relatable protagonist into an experience bound to bring a smile to your face.
It isn't the most challenging platformer out there, so seasoned platformer players may want to give it a pass. It's similar to the original Mario games, so it's perfect for you if you want a straightforward game with a retro style.
6 Oddmar
Oddmar is a visually stunning, handcrafted platformer that should be counted among the greatest Android games. It's a charming game for all ages that strikes a great balance between puzzles and action. The puzzles aren't the trickiest, but deft movement and clever ability use will get you through. Another controller-compatible game, Oddmar is a great game for your Android tablet.
Oddmar keeps its gameplay fresh with a range of fun weapons, abilities, and plenty of collectibles to discover. You might even end up playing it again just to see everything it has to offer, and there's a three-star score for each level to incentive you to return.
7 Dandara
Dandara is a remarkable experience that feels like playing pinball crossed with a hack 'n slash game. In the world of Salt, gravity is a tool to be used, not a law to be obeyed. Moving around the map involves leaping from walls to floors to ceilings in the blink of an eye. It can look intimidating at first, but you'll effortlessly switch between dodging projectiles and smiting enemies in no time.
Like Dead Cells, it has a non-linear progression system, so exploration is an integral part of the gameplay. It's fast and fun, perfect for those tired of the linear Mario-style platformers. If you enjoyed this, try one of the best action games for Android.
8 Downwell
Downwell, one of the best arcade games for Android, revolves around a simple concept. Rather than beautiful landscapes or elaborate narratives, you're given gunboots (boots with guns) and a well to go down. Packed with various monsters and upgrades, it's an exciting experience. Those who appreciate bullet-hell shooters will love Downwell, as rapid reactions and constant shooting are the keys to victory here.
What makes Downwell truly fantastic is how brilliantly fun it is to play. This isn't a game for those who value story or exploration. It's for those who love dodging bullets and enemies at a breakneck pace. It's similar to Witcheye in that manner, but vertical.
9 Nameless Cat
Everyone loves cats, and by the end of this game, you'll certainly have come up with a name for the titular cat. Nameless Cat is a retro platformer with a focus on puzzles and exploration rather than combat. That being said, there are plenty of challenging bosses and monsters to defeat.
Everyone should give Nameless Cat a go. You'll come for its adorable protagonist and pixel graphics, but you'll stay for the charming characters and fun gameplay.
10 Blackmoor 2
Platformers are traditionally single-player games, but if you're looking for a great multiplayer Android game that's also a platformer, Blackmoor 2 has you covered. It's also got a sandbox mode, so you can build your own dungeon for others to adventure through. Gameplay predominately revolves around these multiplayer features, but a story mode provides plenty of single-player content. While the graphics aren't eye-catching, Blackmoor 2 has enough content to keep you coming back again and again. But of course, it wouldn't last without a decent combat system and Blackmoor 2 more than satisfies here. Its arcade hack 'n slash mechanics are quick to learn and satisfying to use.
11 Grimvalor
Most platformers are brightly colored arcade titles, but Grimvalor opts for the serious and gritty approach. It's also unique in that it's an RPG, so those looking for a great Android RPG need not look further. Its straightforward combat controls are easy to use with a touch screen, but we recommend picking up an Android controller for the smoothest experience. Best of all, a free trial is available, so you can play the first couple of hours before deciding if you want to purchase the full game.
12 Lucky Luna
An atmospheric platformer, Lucky Luna draws on the traditional Japanese story "The Tale of the Bamboo" cutter to create a clever, absorbing game. While the gameplay is rapid, there's a sense of calmness that permeates the levels, mainly thanks to the beautiful music.
Lucky Luna's swipe-based gameplay is simple but effective. It takes seconds to pick up, so you don't have to worry about juggling multiple mechanics like in Dead Cells. Overall, it's a stunning game that is perfect for all ages.
13 Teslagrad
Teslagrad is a puzzle-based platformer with a steampunk style. There's no text or voiceovers here, just engrossing gameplay and beautiful art. Physical controllers are supported, making this a perfect game to enjoy on an Android tablet.
The puzzles revolve around controlling magnets with various tools unlocked during gameplay. While there are enemies to contend with, defeating them usually revolves around solving the related puzzle or springing traps. It's a fantastic indie title that we recommend for anyone tired of hack-n-slash platformers.
14 Kombinera
Atari's glory days may be long gone, but the company is still making games, some of which are actually pretty good. Kombinera is a puzzle platformer where you'll manipulate multiple balls in unison to complete stages. As the name suggests, you'll complete the stage by combining all the balls on the screen. Traps are color-coordinated, so you'll need to carefully time your combinations to make your way through the stage. It's a quirky and fun puzzle platformer that is a return to form for Atari.
15 Super Cat Tales 2
While not the most original platformer, Super Cat Tales 2 offers classic platforming mechanics in the form of adorable pixelated cats. There are over 100 levels with hidden items and secrets, and of course, unlockable cats.
Super Cat Tales 2 is fun, quirky, and easy to pick up and play. While it relies on retro pixel art and music for its charm, the animations are smooth, and the gameplay is satisfying. Some of the microtransactions are a little frustrating, but they won't be an issue for casual players.
There are plenty of fantastic platformers on Android
There's a platformer game for everyone, but puzzle game fans, in particular, can find plenty of games to satisfy them. However, there are lots of fantastic puzzle games beyond the platformer genre. We've rounded up the best mobile puzzlers on this list.
Conclusion on 13 best platformers on Android in 2023
If you have any query let me know in comment section.