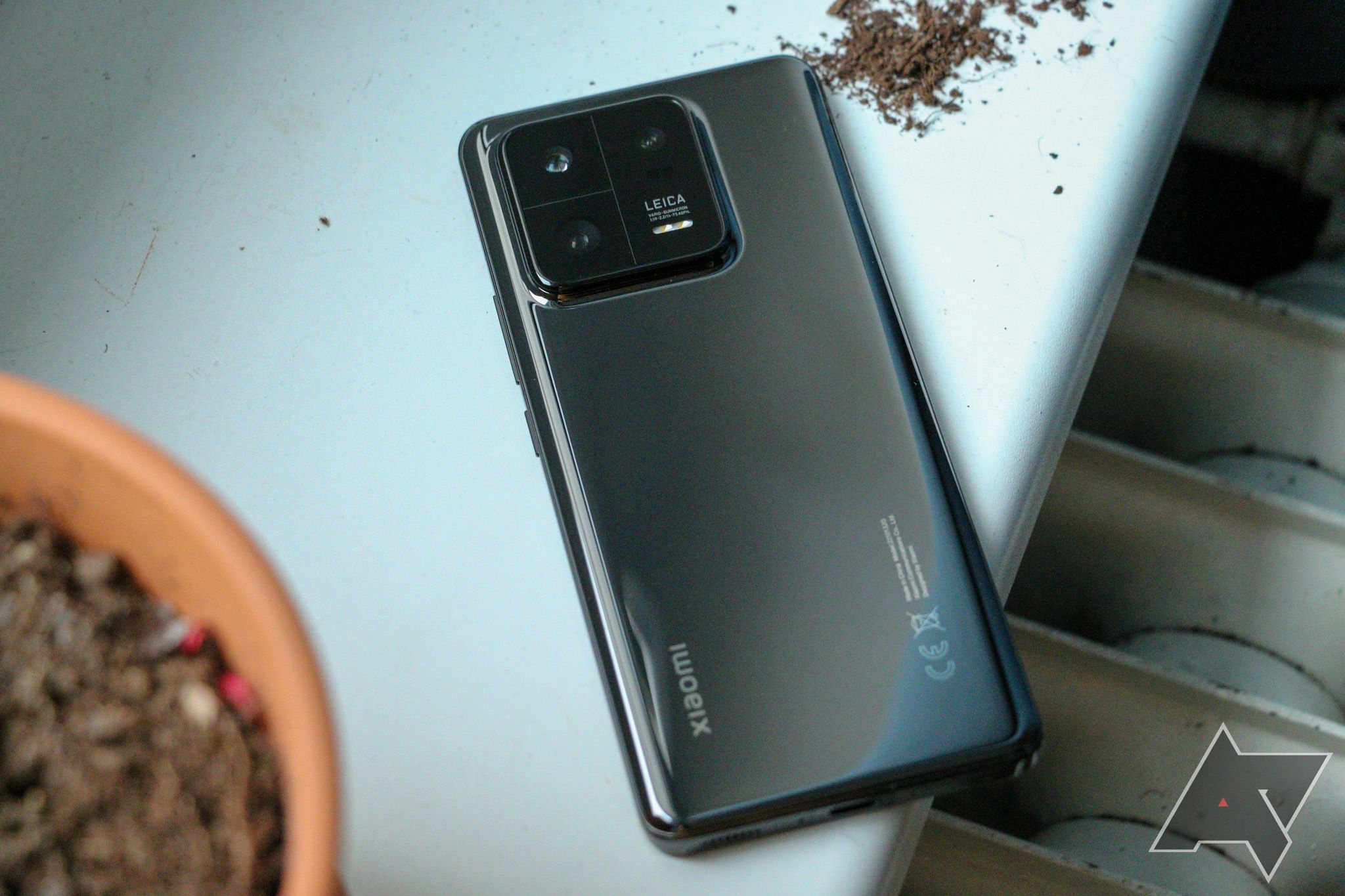 The Xiaomi 13 Pro may have been announced in China already as one of the first phones to come with the Snapdragon 8 Gen 2 and Sony's big 1-inch IMX989 sensor, but it's only now finally official for international markets. Even if that MWC 2023 reveal doesn't mean the Xiaomi 13 series will come to the US, this gives us a chance to take a look at what the US market is missing out on. And based on our first hands-on impressions, the Xiaomi 13 Pro might just be one of the best smartphones in 2023 you can't get.
Xiaomi 13 Pro
SoC Snapdragon 8 Gen 2
Display Adaptive 120Hz 3200 x 1440 6.73-inch OLED, 522 ppi, 20:9, 1200 nits (1900 peak)
RAM 12GB
Storage 256GB
Battery 4,820 mAh
Ports USB-C
Operating System Android 13 (MIUI 14)
Front camera 32MP (f/2.0, 89° FOV)
Rear cameras 50MP IMX989 primary (23mm, f/1.9), 50MP telephoto (75mm, f/2.0), 50MP ultra-wide (14mm, f/2.2)
Connectivity Wi-Fi 7, Bluetooth 5.3, 5G, dual SIM, NFC
Dimensions 162.9mm x 74.6mm x 8.38mm
Colors Ceramic Black, Ceramic White
Weight 229g
Charging 120W fast charging, 50W wireless, 10W reverse wireless
IP Rating IP68
Micro SD card support No
Design and display
The Xiaomi 13 Pro looks and feels premium. When you first pick it up, you'll notice its hefty weight of 229g, making it one of the heavier smartphones in its size category. Combined with the curved ceramic back and the impeccable build quality, this makes for a great first impression. Unlike the regular Xiaomi 13, which moved to a boxy shape with a flat screen, the 13 Pro retains its curves front and back. For anyone who is not a fan of curved screens, that's a bummer. I'm sure the phone is slightly easier to hold and it's possible to fit in an ever-so-slightly bigger screen that way, but I would much rather not deal with slightly off-colored sides and all the reflections they catch.
That and the glossy finish of the black model are pretty much my only gripes with the design, though. The phone feels balanced and well-put together, like you should expect for a €1,300 phone. The haptics are also impeccable beyond just the feel of the hardware in the hand. The vibration motor Xiaomi used is likely one of the best you can currently get in an Android phone, and the company has added a few tricks to MIUI to showcase it to its full extent. Unlocking the screen, moving apps on the home screen, and a few camera features are joined by lovely haptic feedback.
To move on to some hard numbers, the screen is a 120Hz OLED panel with a resolution of 3200 x 1400 and an aspect ratio of 6.73 inches, giving it an impressive 522 pixels per inch. The adaptive refresh rate dynamically adjusts from one to 120Hz depending on what you're viewing on your screen, and it offers additional goodies like 1920 PWM dimming, which is supposed to help against headaches for those sensitive to digital screens. From my limited experience with the phone out and about, it definitely gets plenty bright. At a brightness rated for 1200 nits (1900 nits peak), this is the least you should expect.
Hardware
The Xiaomi 13 Pro doesn't only look premium, it also has the hardware to match. It comes with the latest Snapdragon 8 Gen 2 processor, which is accompanied by 12GB of LPDDR5X RAM and 256GB of fast UFS 4.0 storage. Its Wi-Fi 7 modem allows for multiple simultaneous 5GHz and 6GHz connections, which should translate in less latency. Bluetooth 5.3 is also on board. The Xiaomi 13 Pro additionally supports dual SIM. There is also a trusty IR blaster at the top.
It's also great to see Xiaomi embracing water and dust resistance in the form of an IP68 rating, which means that it's protected well enough from accidents. The company has long been dragging its feet on this — in fact, an IP rating has been missing from last year's 12 series. It's good to see the company finally catch up with other manufacturers that have done this for ages.
You are also hard-pressed to find a phone that charges faster than the Xiaomi 13 Pro. Its 4,820mAh battery, which I found enduring enough during the two days that I've used it, can be topped up at 120W using Xiaomi's proprietary charger, allowing it to charge from zero to 100 in under 20 minutes. In my testing, it indeed didn't take more than 30 minutes, and it's likely that the only reason it didn't hit the advertised 20 minutes is because I had to use it while it was plugged in. The self-developed Surge charging chip that's used to accomplish this is also supposed to prevent the usual pitfalls in the form of faster battery degradation.
Software
Xiaomi promises to give the Xiaomi 13 Pro and the Xiaomi 13 three generations of Android updates and five years of security patches. That's right on par with Google's Pixel promise and long overdue. Just a year ago, the company fell short by one year with the Xiaomi 12 and 12 Pro, which are only supposed to receive four years of security patches. Compared to the earlier days of the company, it's finally in a place where you can comfortably use a phone for years to come without worrying about security.
MIUI 14, which is based on Android 13 on this phone, also feels more grown up and is considerably closer to other Android skins. Anyone who has used it before should still feel right at home though. In any case, Xiaomi has finally added Material You theming for Android apps that choose to support it, making your phone feel just a little more like it's your own. The software also feels considerably more stable then in previous years, though I did run into one or two odd bugs, like the notification shade refusing to blur the background when using battery saving mode.
It also seems like MIUI has grown more friendly to background apps, with fewer activities being killed prematurely in the name of questionnaire energy saving — what good a long lasting battery when your transit app showing your route is constantly forced to reload? This also makes better use of the 12GB of RAM in this phone, though this will need further testing and reviewing. One thing I noticed right away was the lack of Android 13's per-app language settings, which don't seem to be available on MIUI 14.
The camera is a Leica and Sony powerhouse
The camera is probably the most exciting part of this phone. The triple array on the back consists of the 50MP Sony IMX989 sensor, the biggest smartphone sensor to date at 1 inch. It's joined by a versatile setup consisting of a 50MP 75mm telephoto lens and a 50MP wide-angle. All three cameras are co-engineered with Leica and have Leica lenses on them, with Xiaomi also working with the renowned camera company in the software department.
Xiaomi and Leica worked together to design the camera app, which is noticeably faster and easier to use than what I've seen on other Xiaomi phones. Probably the most significant advancement is the shutter button, which seems to react instantaneously in my limited hands-on experience with the phone. The software also lets you choose between two color profiles. You can opt for Leica Authentic or Leica Vibrant, with the former supposedly as close to real life as it can get and the latter a more classical smartphone look you might know from Samsung and the likes, with more, well, vibrant colors.
One thing I noticed is that the telephoto's "DSLR-level" focusing technology seems to fall short in one area. It can't handle raindrops on a window, refusing to focus on what's beyond them. This isn't an issue isolated to Xiaomi, though, but the weak spot of the autofocus technique used.
For those who don't want to solely rely on Xiaomi and Leica's post-processing, there is also the option to use a 10-bit RAW DNG mode. This makes it much easier to tweak images to your liking after the fact, a file format often relied on by professional photographers.
The selfie camera also has a special trick up its sleeve. By default, it offers a slightly cropped view, but when you want to take a selfie of you and someone else, it will automatically recognize that and zoom further out, taking advantage of the full 32MP sensor (yes, there is pixel binning by default). This handy feature is called Dynamic Framing.
Verdict and pricing
It's clear that Xiaomi learned its lessons, and the Xiaomi 13 Pro finally feels like a proper flagship that's worth its price. Xiaomi's refusal to add standard features like IP68 and long-term software support have long made it hard for me to recommend its flagship phones, but that's different this year. If you want an excellent phone that can rival the Samsung Galaxy S23 Ultra and the Google Pixel 7 Pro with a sensor that enables whole new ways for mobile photography, this is the phone to pick. On top of that, you'll also get an enduring and fast-charging battery.
The Xiaomi 13 series is available for purchase from March 8, but as always, the phones aren't officially coming to the US. The Xiaomi 13 Pro will be available in black and white and in its 12GB of RAM and 256GB of storage configuration only. It will start at €1,300, and it almost certainly won't officially come to the US.
Conclusion on Xiaomi 13 Pro hands-on: Xiaomi is growing up
If you have any query let me know in comment section.