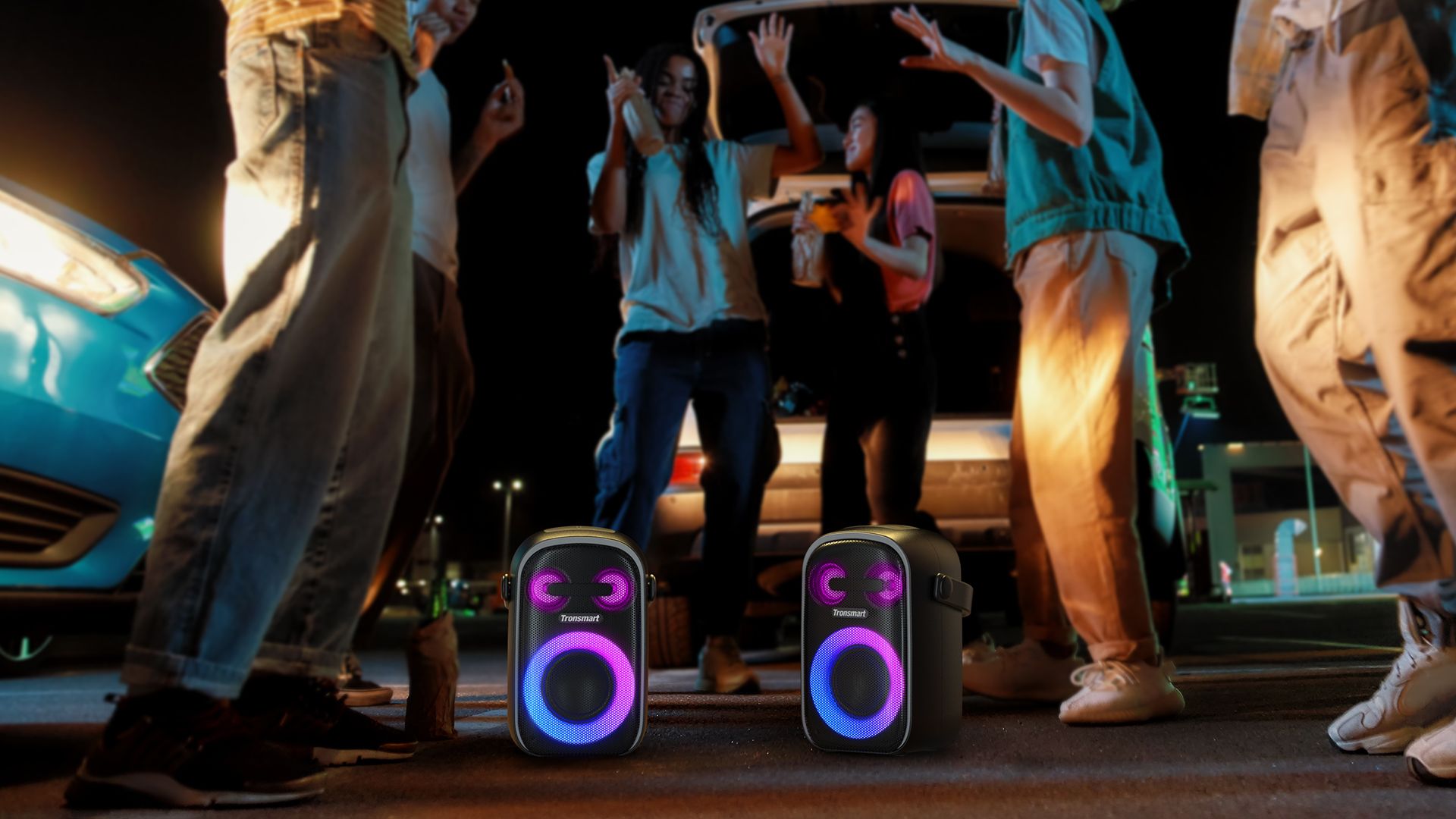 Whether you want to bring some tunes to an outdoor party with friends or just rock out to Spotify at home, a Bluetooth speaker is a must-have these days.
Tronsmart is one of the world leaders in the Bluetooth speaker market, and with unique technology patents built into its products, it produces some of the best speakers available today. Its latest offering is the brilliant Tronsmart Halo 100 60W Portable Party Speaker which, along with a host of improvements on its previous model, boasts longer-lasting battery power and improved sound quality. Let's check out what you get and what it can do.
Design and package
The Tronsmart Halo 100 has a great, durable feel to it, with a sturdy fabric handle, making it comfortable to carry with you. It weighs in at just 4.6 lbs pounds, so it's easy to grab and go wherever you want to bring the vibes. Size-wise, it's 13.15 x 7.56 x 6.46 inches so if you'd prefer, it's also small enough to toss into the average backpack.
Aesthetically, it looks gorgeous. It has an old-school speaker look, with its rectangle shape and classic grill that covers the front. From behind the grill, three interactive lights shine and pulse in time to the beats. These add to the visual element and also hint at what lies beneath. Don't worry, we will fill you in on all of those details in just a bit.
You get a powerful battery, built-in power bank, TF card slot, USB port, and an auxiliary jack if you want to plug a device in rather than use Bluetooth.
Features
This ingenious sound system is packed with great features. As with previous offerings like the Tronsmart Bang, you can hook up two of these speakers to a device via Bluetooth 5.3 for fantastic stereo sound. This is a truly fantastic feature, and the volume and crisp beats sound awesome when you double up in this way.
However, what gets the most out of Bluetooth 5.3 technology is the new Dual Audio Mode. This allows you to connect two devices to the speaker simultaneously, allowing you to seamlessly switch between playlists.
This is a game-changer because it means that the days when one person hogged the music selections from their phone are over!
Another lovely touch is the Splendid Lights feature, which allows five different lighting modes. So as well as the classic Tronsmart beat-driven lights, you can select from five different light patterns, each one bringing a different kind of vibe. These are great for juicing up the atmosphere as the warm lights on the front of the speaker add a great ambiance to the party.
Better still, the large light on the front circles up and down as you adjust the volume, which is just so satisfying when you want to pump up the tunes!
You can control all of these settings with the easy-to-use Tronsmart app. This allows you to have complete control over all of these great features, all in one place on your phone. The app also lets you customize the equalizer settings and update the speaker's firmware.
To make playing your favorite songs even easier, the speaker is compatible with Siri, Cortana, and Google Assistant.
Sound Quality
The most important feature of any speaker is sound quality, and that is where the Tronsmart Halo 100 excels.
This speaker has a power output of 60W, meaning some impressive volume. Does it still sound good at max volume? The answer is – oh my gosh, yes! That's because Tronsmart has created this speaker using its trademark 3-way sound system. One woofer along with a larger passive radiator provides enhanced bass, while 2 mid-range tweeters and 1 tweeter deliver highs with exceptional clarity.
This speaker also incorporates Tronsmart's patented SoundPulse technology. Thanks to this clever invention, it produces a sound quality that is far superior to its competitors. Ordinary portable speakers often have sound defects, or harmonic distortion when you try to up the volume. SoundPulse technology counteracts this by eliminating any harsh noise. This produces more smooth vocals and a much richer sound overall. You can pump up the volume all the way and still get high-quality mids and solid, discernible bass.
The bass on this speaker sounds great. It's punchy and deep, and thanks to the SoundPulse technology, it remains consistently good, even at high volume.
To appreciate this speaker in all its glory, it's worth purchasing two of them so that you can enjoy the stereo pairing mode.
Battery life
It takes 5.5 hours to fully charge the Tronsmart Halo 100. Once juiced, the length of playing time varies on how you use it. That is, if you blast out the party mode (light display) and whack it up to full volume, it won't last as long as if you don't!
With the light display and full volume in operation, it will last for about 16 hours. Without the light display, it can play continuously for an impressive 18 hours. That's more than enough for even the wildest of parties!
Verdict
This is a fantastic choice for a portable Bluetooth speaker, and it far outperforms its market rivals in terms of sound quality and battery life. The light show that it provides is also pretty cool, and it's great for adding some party atmosphere with ease.
It looks and feels great thanks to its slick finish, and it's easy to carry around thanks to its compact size and comfortable handle.
Add to that the extensive list of features that take this speaker to new heights, and this should make buying the Tronsmart Halo 100 a no-brainer to rock you into 2023!
This product is available now at Amazon for just $109.69. If you're in the UK, it's yours now on Amazon for only £99.99.
If you act fast, you can get a 20% discount coupon, available on Amazon now.
See at Amazon – USSee at Amazon – UK
For more details on this device or to see all the other great products available, visit the Tronsmart website now.
This is a sponsored post. The product choices and opinions expressed in this article are from the sponsor and do not reflect the editorial direction of Android Police or its staff.
Conclusion on Tronsmart's Halo 100 Portable Party Speaker offers insane volume and stellar sound quality
If you have any query let me know in comment section.