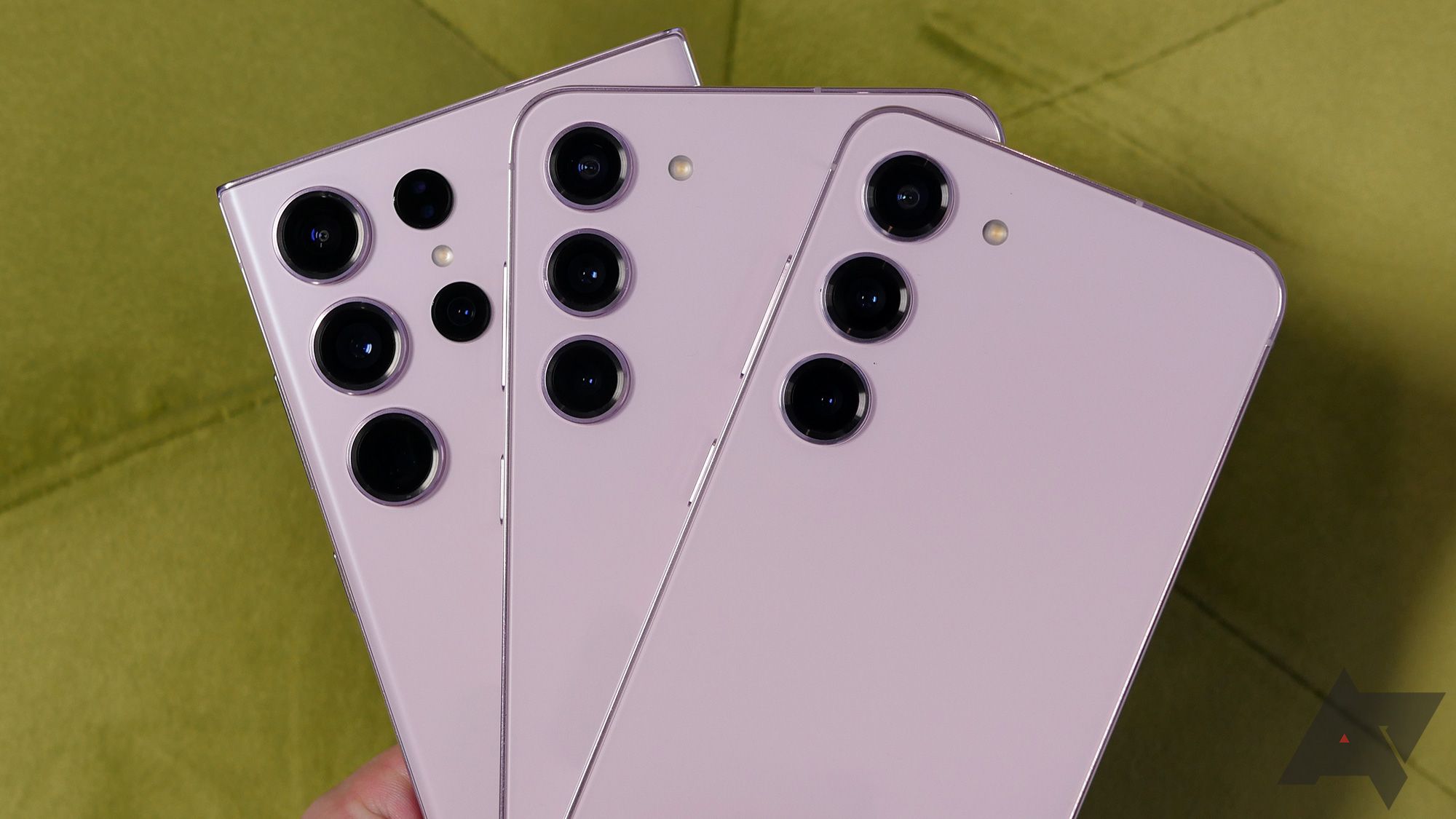 After what feels like an entire year of leaks, teases, and rumors, the Samsung Galaxy S23 series is out and available for purchase. With its public release came a tidal wave of promotions, offers, bundled items, credits, and even gift cards. It can be hard to sift through them all and still have your sanity left, but that's okay; we're here to help you get the best deal on your stellar Android phone. From carriers to manufacturers to third-party retailers, we're gathering up the deals as we find them for your purchasing pleasure.
What you need to know about carrier trade-ins on Samsung.com
You may think, "Oh, $1,000 off my Galaxy S23+ with an AT&T trade-in; that's a free phone!" you'd be wrong. Technically, what the carriers do when you order a Galaxy S23 — or any other phone — through Samsung's website is pledge to pay you back the $800-$1,000 enhanced trade-in credit via bill credits over the next 36 months. But since your carrier entirely handles the trade-in and bill credits, you pay the initial $800-$1,200 to Samsung and then get a smaller wireless bill for three years.
"Hey, what gives? The phone was actually free last time!" If it was free last time, it was likely because the phone was purchased from your carrier, not directly from Samsung. In that instance, you sign up for a three-year monthly payment plan, and the trade-in credit cancels out those monthly charges. Why the difference? For one thing, it means carriers have to pony up less capital at launch for the device — after all, millions of people are buying these phones during its initial release.
Rather than you having to pay up the remaining balance if you swap carriers between now and 2026, you've already paid the money. So, if you swap carriers, you just miss out on the last however many months of bill credits. This allows you to walk away from the carrier anytime, just without the full amount from your rebate. It also means you own the phone outright and can do with it what you like. However, if you trade it in towards another phone before the three years are up, you might miss out on the last of those bill credits, particularly if you're starting another bill credit cycle with the new phone.
Yes, it's convoluted and annoying, but that's what you have us for.
The best Galaxy S23 deals
Source: Samsung
Samsung Galaxy S23
The "baby" of the Galaxy S23 series may be smaller in size, but it's still got just as bright a screen, just as powerful a chipset, and just as smooth an experience on One UI 5.1.1 as the S23+ and Ultra. And at $800, it's the one you can get free at all three carriers so long as you have an eligible phone to trade in.
The $800 Galaxy S23 is what I'm also gingerly calling the free phone because you can get it for free at all carriers with a semi-recent device to trade in if you're on an unlimited plan. Even if you go for the unlocked model at Samsung, this phone is well within the budgets of most buyers so long as you have something recent to trade in. If you don't have anything to trade in, this phone will be the kindest on your wallet and the easiest to fit in your pocket. Samsung was offering free storage upgrades during preorders, but those have all expired.
Samsung
Samsung has actually bucked conventional wisdom and given us an even better trade-in deal than we saw during preorders. Samsung started preorders with lackluster trade-in values for all phones, but especially for the baby S23. Those values seemed to have increased anywhere from $50-$200 depending on the model you trade in, and while that may not seem like much, that's up to an extra 25% off your new phone. Samsung also claims to still offer instant Samsung.com credit to spend towards accessories, cases, or another Samsung device like a Galaxy Watch 5 or Galaxy Buds 2 Pro, but it seems to be hit or miss as to who gets it and who doesn't.
Amazon
If you buy the Galaxy S23 from Amazon, you'll get a $50 Amazon credit voucher — this was a preorder deal, but it's still active for a little while longer. This isn't the best deal we've seen, but at least Amazon credit doesn't expire and can be used on a much, much wider selection of goods rather than Samsung's credit. Most of the best Galaxy S23 cases are at Amazon, too, including Samsung's first-party covers. Amazon doesn't do trade-ins directly, but you can sell your used phone on Amazon. It's a shame the free storage upgrade has expired, though.
Best Buy
Best Buy's trade-in deals were slightly better than Samsung's during preorders, but now they're about on par for most phones you'd want to trade in when it comes to trading towards the baby S23. Best Buy is still offering a $50 digital gift card with purchase, and the free storage upgrade is gone. I would say, at least you could order now and pick it up in-store today, but honestly, Samsung.com buyers can do that and pick up the phone from their local Best Buy, too.
AT&T
AT&T is offering a free, upgraded-storage Galaxy S23 with eligible trade-in — and AT&T tends to be very generous in which phones are eligible — but remember the above section on trading in your phone to a carrier via Samsung before the "free phone" siren song blinds you. If you want a free phone that you won't have to put money down on, you'll want to hit your local AT&T store. Whichever route you go, I highly recommend choosing the 256GB for faster internal storage and smoother overall performance.
T-Mobile
T-Mobile, like AT&T, is offering a free Galaxy S23 with eligible Magenta Max trade-in if you purchase it at Samsung.com or at your local store. However, you'll get your money back faster at T-Mobile than the other carriers as they use two-year monthly installments rather than three.
Verizon
Verizon actually has a trinity of deals going, so we're going to break them down a little more:
If you trade in your existing phone, you get $800 towards the Galaxy S23 (aka free phone) on Samsung.com or your local Verizon store.
If you switch to Verizon, you get $800 towards a Galaxy S23 and a $200 Verizon eCard you can use towards future bills or other products on Verizon's website.
If you go to Verizon directly, alongside the free Galaxy S23, you can get a free Galaxy Watch 5 and Galaxy Tab S7 FE. However, to get this deal, you must also have new or existing data lines to use for both devices.
The best Galaxy S23+ deals
Source: Samsung
Samsung Galaxy S23+
Don't think for a second the Galaxy S23+ suffers from Middle Child Syndrome. Sporting the same UWB support as the Ultra, the same power, and a blessedly flat 6.6-inch screen, the S23+ is the most sensible phone of the bunch.
The Galaxy S23+ clocks in at $1,000, and that has it split between "free on carrier" or "cheap on carrier" with trade-in. You get a larger screen and UWB support that the baby S23 misses out on, but you don't get that ridiculously huge camera sensor — or lose space to its enormous file sizes. Trade-ins for the S23+ at Samsung aren't quite as generous as previous years for the unlocked models, but if you're on a major carrier, this phone is firmly within your budget.
Samsung
You can save up to $700 on the unlocked Galaxy S23+ with trade-in, and unlike the normal S23, the S23+ does seem to more consistently get the $100 Samsung instant credit. If you have a Galaxy S22 series, this upgrade will maybe make sense, but older than the S21, stick to the carrier versions unless you're simply in love with the Samsung.com-exclusive (unlocked-exclusive) colorways — a pretty boring Graphite and that ungodly ugly Lime green.
Amazon
Buying from Amazon will net you a $100 Amazon gift card — but that offer will expire soon. One advantage here is that the phone is unlocked, so you'll get to stay out of the hands — and delayed updates — of carriers, and use that $100 credit to buy cases, screen protectors, and more.
Best Buy
If you want an unlocked Galaxy S23+, your best bet is Best Buy. Trade-in values are slightly higher for unlocked, the same carrier trade-in deals are still available, and you can still snag a $100 eGift Card that you can save for your next appliance or TV upgrade.
AT&T
You can get $1,000 back in bill credits if you buy the Galaxy S23+ with an eligible AT&T trade-in, and up to $100 Samsung instant credit when you buy and initiate your trade-in on Samsung.com.
T-Mobile
T-Mobile's deal matches: $1,000 back in bill credits over two years and up to $100 Samsung instant credit if you buy from Samsung and trade your phone to T-Mobile with a Magenta Max data plan.
Verizon
Let's break down Verizon's deals since they vary quite a bit, but the bottom line is if you're willing to change carriers, Verizon will pay for most of your S23+.
If you trade in your existing phone, you get $800 towards the Galaxy S23 — so it's not quite free — with the Samsung.com instant credit should you purchase from there.
If you switch to Verizon, you get $800 towards a Galaxy S23+ and a $200 Verizon eCard a few billing cycles later you can use towards future bills or other products on Verizon's website.
Get a free Galaxy Watch 5 and Galaxy Tab S7 FE with your Galaxy S23+ when purchased directly from Verizon with your purchase of two data lines for the watch and tablet.
The best Galaxy S23 Ultra deals
Source: Samsung
Samsung Galaxy S23 Ultra
The biggest and fanciest of the trio, the Galaxy S23 Ultra may not have as many year-over-year upgrades beyond a better chipset and a huge 200MP camera sensor, but it's still going to be the best phone of 2023, S Pen and all. Just, please, Samsung, can we call it a Note next year?
Starting at $1,200, the Galaxy S23 Ultra is also the most incentivized of the series. You can get up to $100 Samsung Instant credit when you buy through the links above, and while the carriers won't give it to you for free, walking away with this phone for $200-$400 feels like robbery. The storage upgrade promotion has ended, which is a shame as the storage upgrade on the S23 Ultra costs a whopping $180 to get to 512GB and $420 to get to 1TB. The price for data hoarding is high, my friends.
Samsung
Samsung's offering up to $850 trade-in — up about $150 from the preorder window — with $100 Samsung instant credit and access to those fancy exclusive colors when you buy the unlocked model rather than carrier versions. If I could stomach the sheer size of this phone, that Sky Blue would've come home with me instead of the more pocketable Lavender S23.
Amazon
Amazon is offering the S23 Ultra 256GB or 512GB with a $100 gift card. The inability to trade in your phone is a shame, but if you weren't planning to do that anyway, this is one of the best ways to get an unlocked model.
Best Buy
Best Buy's trade-in values are now slightly below Samsung's, but you're still better off going to Best Buy for a $100 non-expiring store credit rather than Samsung's weird instant credit that only works on some items that aren't already on sale.
AT&T
AT&T will give you $1,000 back in bill credits if you buy an AT&T model from Samsung and initiate the trade-in at that time. You'll have to pay the full $1,200 price upfront in order to get the $120 Samsung instant credit. However, your monthly wireless bill will drop by about $30 a month, so you'll get most of the money back eventually — or you can go to the carrier store, pray a rep doesn't upcharge your account, and get the phone after just paying tax and agreeing to the trade-in and monthly payment plan.
T-Mobile
T-Mobile is also doing a $1,000 trade-in towards the S23 Ultra for a final price of $200 after the bill credits are applied and settled if you're on Magenta Max.
Verizon
As with the Galaxy S23 and S23+, Verizon is only offering $800 trade-in rather than $1,000, but the free $200 eCard and $800 off without trade-in if you switch to the carrier are pretty sweet incentives. The free Galaxy Watch 5 and free Tab S7 FE would be great if only you didn't have to buy separate data plans for them, but where's the fun in that for Verizon's billing department?
Conclusion on Trade-in bonuses, bundles, and credits
If you have any query let me know in comment section.