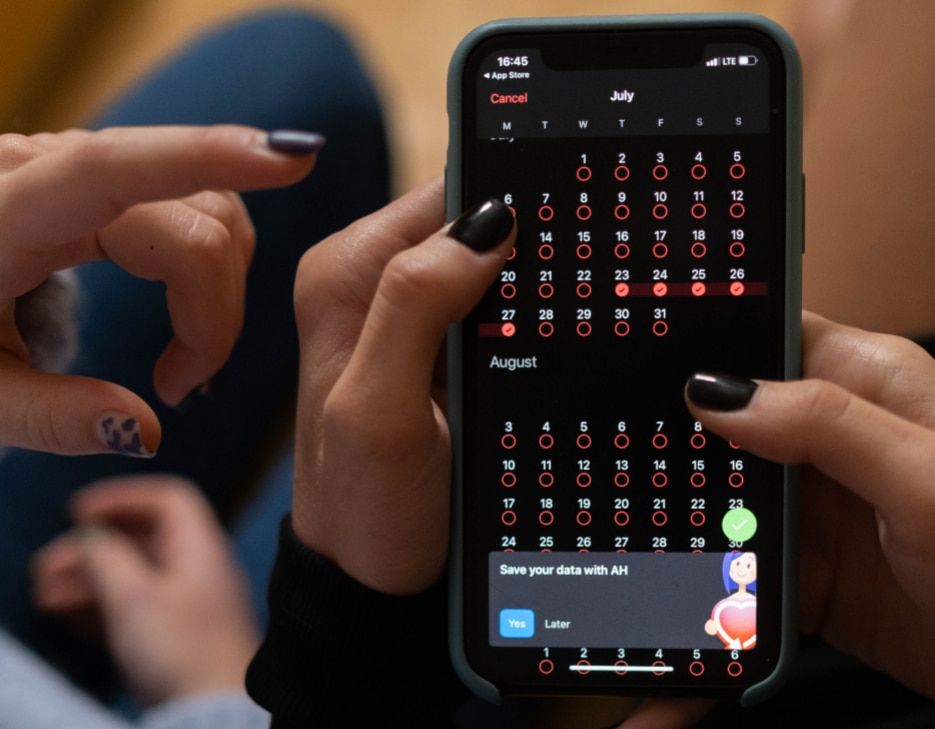 A period tracker app is the best virtual diary for recording biological changes before and after your monthly visitor arrives. Though period and ovulation predictions are not 100% accurate, you can estimate when they will occur. Tracker apps can also get deeply personal, logging information concerning when you had sex, your fertility window, medications, and if you've had an abortion. Although it's now easier to protect your digital privacy, research uncovers the increasingly unregulated nature of the data broker industry.
Companies sell information regarding the abortion clinics and sexual health centers people visit, which may fall into the hands of authorities on request. This issue raises privacy concerns in a post-Roe world. In June 2022, the U.S. Supreme Court overturned the constitutional right to abortion. By August, Nebraska had prosecuted a mother and daughter over abortion after Facebook turned in their messages to the police. But all hope isn't lost. If you need an app that protects your reproductive privacy, you'll find the eight best selections for Android phones, tablets, and iOS devices in this post.
1 Spot On from Planned Parenthood
Spot On is an intuitive app that takes a playful approach to managing your data and educating you about sexual health. The app features dinosaur illustrations, interesting tips, and daily health facts. There's a calendar where you can view your cycle patterns, and each event, from birth control reminders to ovulation, is color-coded. In the main menu, Spot On counts down to menstruation, and reminds you when it's time. Reminders also occur for medications and birth control renewal, whether your method's a pill, patch, ring, shot, IUD, or implant.
Additionally, you can take quick logs of your current mood, physical symptoms, bleeding consistencies, and activities. If you feel something is off with your cycle or birth control method, you can access on-call and professional help via chat or a library of resources containing Q&As and articles from sexual health experts. You can locate and book appointments at the nearest health center if you need urgent attention. The Planned Parenthood Federation of America (PPFA) owns the Spot On app and collects user data for insights on ways to improve the app. The organization only shares your data with vetted third parties and allows you to track your period with an anonymous account. This way, sensitive data stays hidden, and you can export it locally to your device.
2 Flo
Flo displays personalized tips, articles, and community discussions based on your goals, allowing you to focus on what's important to you. If you're trying to get pregnant, the app mostly shows you content relating to conception and fertility. The featured goals include the following:
Track cycle
: Monitor your menstruation cycle, track your symptoms, and set reminders. Flo watches for days when you're ovulating and when menstruation is due based on your cycle history. Flo also tells you if there are irregularities with your cycle length.
Get pregnant
:
Identify ovulation days and when you're most likely to conceive.
Track pregnancy
: See an illustration of the fetus, which grows and changes following the countdown of your pregnancy journey.
Reminders in Flo keep you alert for menstruation. You can also be alerted about lifestyle activities like drinking water, sleeping, and checking your temperature or weight. An anonymous community exists where you can discuss topics ranging from romance, STIs, contraception, and even small talk with millions of other people. These features are free to use. However, you'll need a premium subscription if you want access to Flo's digital health assistant, custom cycle reports, educative content, and weekly health insights. You don't need to create an account to use Flo, and you can operate the app in anonymous mode. However, you won't be able to save your data to the cloud.
3 Euki
Compared to other apps on this list, Euki is not the most intelligent and lacks predictive capabilities. You won't receive reminders and must open the app when you need to track your cycle. To get the most out of the app, use it as a diary to log sexual health information, tests, and appointments. On the bright side, the airtight interface design makes Euki one of the safest cycle tracker apps.
The app lets you create a four-digit pin that isn't tied to your Google account or another platform. When you shut the app or lock your screen, it asks you to re-enter your code. If someone forces you to share information on the app, dial 0000, and Euki opens your browser. Your pin is essential to using the period tracker, and forgetting it means losing access to your data forever with no way to recover it. The tracker also allows you to set dates when the app deletes your data. You can set it to happen weekly, monthly, or yearly.
4 Stardust
While the debate on menstrual and lunar synchronicity is ongoing, Stardust is one period tracker that supports the idea. Staying true to its theme, the app uses a dark mode to represent the night and offers no options to switch to light mode. On your first interaction with the app, it asks questions about your date of birth, birth control method, cycle length, and intentions for using it. Then Stardust determines your astrological sign and cycle type to make predictions. Cycle types include interesting titles based on colors, such as white waning and pink waxing witches, and have a lot to say a lot about your personality. The best part is that you can adjust your cycle length later, up to 60 days, which is great if your cycle can be unpredictable.
Every day, you see forecasts and horoscopes, as well as the current phase of the moon. You can sync these forecasts with friends and view their phases. A graphical representation is also available to help you track hormone levels. There's a separate menu where you can record your feelings, cravings, sex drives, and other factors. Stardust tells you what each craving or symptom you select means and uses humorous phrases for them, such as "crime scene," to mean a heavy blood flow. When you're expecting, you can pause your data until childbirth. During that time, you can't access any of the app's features until you resume. Stardust requires you to create an account. However, your data is encrypted and out of reach from third parties.
5 Clue
Clue offers basic period and symptom tracking for free. You can also access a handful of free content in different categories, including transgender and non-binary (TGNB) articles, to better understand your body. To unlock premium features, such as receiving cycle analysis via email and pregnancy and postpartum tracking, subscribe to Clue Plus.
The Cycle menu in Clue tells you what phase you're in and provides educational information about it. In the Calendar menu, you can view future cycles up to three months. With Clue Plus, you can see up to six months ahead of your current cycle. The Track menu helps you record your emotions, physical state, vitality, activities, medications, and birth control. Plus, you can customize a category the app doesn't mention.
Clue relies on information to offer better predictions. The more you feed the app, the more accurate your results will be. However, Clue only uses the provided data to improve the app and doesn't share it with third parties or advertisers.
6 Eve by Glow
Eve is one of four apps that Glow, a personal health enterprise, powers. The app focuses primarily on period tracking, although you can predict fertility windows and log your symptoms. Eve doesn't shy away from sexual health topics and encourages users to tackle them head-on in communities surrounding different topics. You can share unfiltered opinions, ask questions, and follow your favorite users for more insights. You can also create a wishlist for health and products you'd like to own and share them.
For the best privacy protection, Eve offers the option to enable offline data protection. When you do, the servers delete your information, and it's stored on your device. However, this setting disables period reminders, health insights, and daily email feeds, as they only function with an internet connection.
7 Period Tracker by Simple Design
Period Tracker provides a user-friendly interface for tracking menstruation cycles and syncing them to the cloud. You can view your past cycle histories, future predictions, and average cycle length in the Log menu. A separate menu houses a chart for watching your weight during fertility and ovulation windows in a year. You can write a note for any day and record your moods, symptoms, blood flow, and medications. Medications aren't predefined, so you can document any pills you're taking, even if it's not related to sexual health.
You can sync this data to your Google account to prevent loss. If you always forget to back up, Period Tracker has a reminder. If you switch devices, period tracker lets you transfer your data to any cloud storage and download it on the new device. You can also download it from an attachment the app sends to your email address. If you have a doctor's appointment, you can email your data to them from the app. When you delete your account, the data is gone forever unless you have a backup.
Period tracker gives you pets, but not the kind you groom and feed. Pets are avatars ranging from a panda to a cat and don't do anything. You need to watch an ad to crack an egg to unlock new animals. Currently, the app has 29 pets. Also, you can change your theme, but the app only offers four selections, three of which are free.
8 Drip
Drip is an open source cycle-tracking app where you can contribute to the code on GitLab. If you're a developer, this is a good opportunity to suggest enhancements you'd like to see more of in the app. The interface is a bit bare and doesn't include much except for three menus: Calendar, Charts, and Stats. The calendar enables you to enter menstruation, symptoms, discharges, and temperature.
The fertility window is determined via symptothermal methods, so regularly documenting cervical mucus and basal temperatures is encouraged. You can enable a reminder for this in the settings menu and receive notifications three days before menstruation is due. Drip stores your data locally and allows you to export it in CSV format, which is a great option if you switch to a new device. You can import the file and relocate your cyclical data in a few taps. But if you want nothing to do with the app, you can delete your data permanently.
Period trackers are still safe in a post-Roe generation
Since government agencies can retrieve user data from companies, feeding sexual health information into an app may not be the wisest decision. However, experts agree that the chances of building a compelling abortion case from your period app are slim as there are inconsistencies. For one, you could procrastinate updating your cyclical information or abandon the app for a long time.
The apps in this list provide the necessary features for safeguarding your data and logging your cycle. However, there's no perfect app, and you can't have everything in one place. If you avoid cloud storage trackers, Drip, Euki, and Eve are the best local storage options. Alternatively, use note-taking apps or your phone's calendar. You can choose code words and emojis to mark your cycle. Since these apps aren't designed to record periods, third parties won't know what they mean or be able to prove them. Better still, monitor your cycle with pen and paper.
Conclusion on The best period tracking apps (March 2023)
If you have any query let me know in comment section.