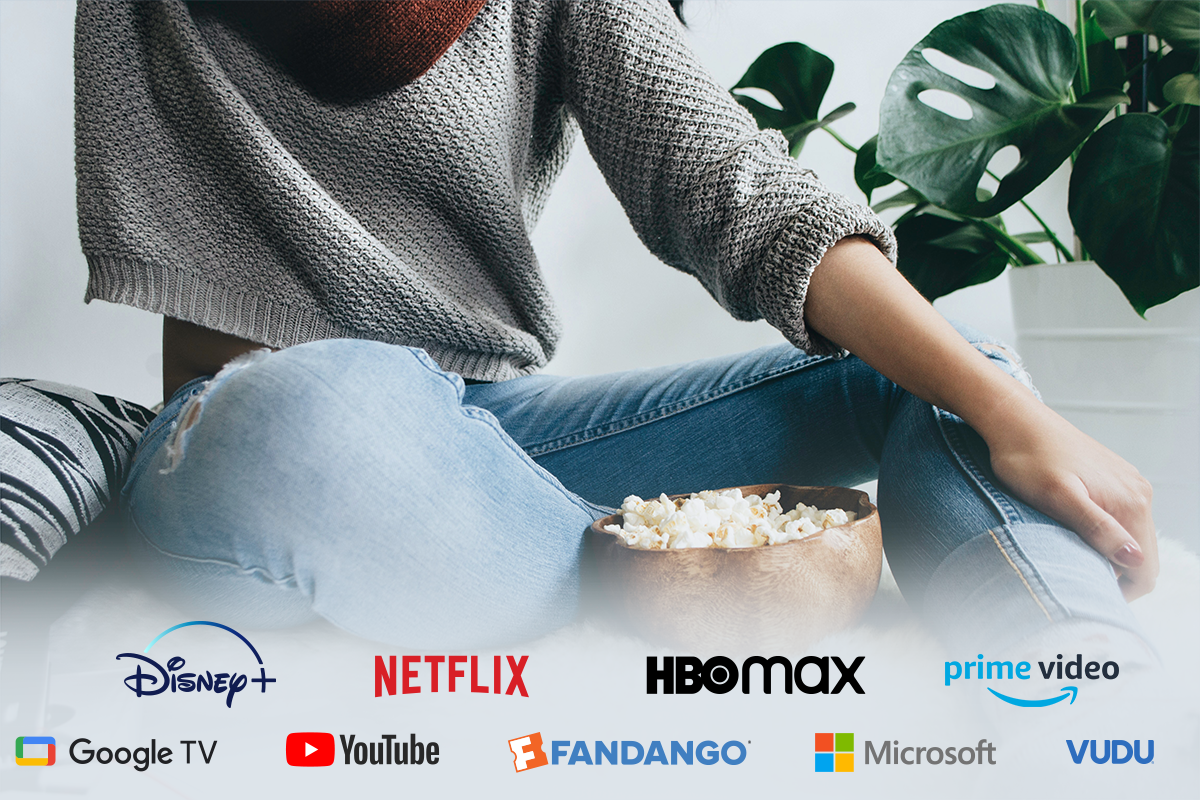 Streaming services have taken over as one of the best ways to catch the latest movies. Whether they're making a stop in theaters before rolling out digital rentals or they launch as first-run originals from the likes of Netflix, Apple TV, or HBO; we're rounding up the best titles so you're not left in the dark — until it's time to start the film, that is. Check back each week (usually on Friday) to see the latest additions for movies that are now available to stream, the latest theatrical releases, and movies coming next week.
February 24
Babylon
Genre: Drama, Comedy
Release Date: February 20 (subscription or buy), March 21 (rent) | December 23 (theater)
Cast: Brad Pitt, Margot Robbie, Diego Calva, Jean Smart, Flea, Jovan Adepo, J.C. Currais, Jimmy Ortega, Hansford Prince
A tale of outsized ambition and outrageous excess, tracing the rise and fall of multiple characters in an era of unbridled decadence and depravity during Hollywood's transition from silent films and to sound films in the late 1920s.
Lamya's Poem
Genre: Adventure, Animation, Drama, Family, Fantasy
Release Date: February 21
Cast: Mena Massoud, Millie Davis, Faran Tahir, Raoul Bhaneja, Nissae Isen, Aya Bryn Zakarya
An inspiring and timely tale about a 12-year-old Syrian refugee girl named Lamya. When she flees the violence of her country, she is given a book of poetry of the famous 13th-century Poet, Rumi. As the perils of her journey mount, the book becomes a magical gateway where she meets Rumi when he was a boy and also a refugee fleeing the violence of his time. In a shared dreamworld, they battle the monsters that follow them from their real world situations, and Lamya must help young Rumi find his calling and write the poem that 800 years later will save her life.
We Have a Ghost
Genre: Adventure, Fantasy, Family, Comedy
Release Date: February 24 (Netflix)
Cast: Anthony Mackie, David Harbour, Jahi Di'Allo Winston, Tig Notaro, Jennifer Coolidge, Erica Ash, Isabella Russo, Niles Fitch, Faith Ford
After Kevin finds a ghost named Ernest haunting his new home, he becomes an overnight social media sensation. But when Kevin and Ernest go rogue to investigate the mystery of the latter's past, they become targets of the CIA.
Amy's F**k It List
Genre: Comedy
Release Date: February 14
Cast: Alyson Gorske, Angel Prater, Mark DeCarlo, Cameron James Matthews, Jason Bortz, Mike Valentine, Petri Hawkins-Byrd
Plain and basic Amy receives news that suddenly turns her world upside down. Together with her outspoken and bold Sister Mary, the pair embark on a mission to set things right in the world and reconnect their once lost bond along the way.
God's Time
Genre: Comedy, Drama
Release Date: February 24
Cast: Ben Groh, Dion Costelloe, Liz Caribel Sierra, Christiane Seidel, Jared Abrahamson, John Pope
Two best friends and recovering addicts embark on a frantic chase through New York City to stop the woman they are both in love with from killing her ex-boyfriend, in director Daniel Antebi's wildly kinetic feature debut.
Cocaine Bear
Genre: Comedy, Crime, Thriller
February 24 (theater)
Cast: Keri Russell, O'Shea Jackson Jr., Alden Ehrenreich, Ray Liotta, Kristofer Hivju, Margo Martindale, Christian Convery, Jesse Tyler Ferguson, Brooklynn Prince
Inspired by the 1985 true story of a drug runner's plane crash, missing cocaine, and the black bear that ate it, this wild thriller finds an oddball group of cops, criminals, tourists and teens converging in a Georgia forest where a 500-pound apex predator has ingested a staggering amount of cocaine and gone on a coke-fueled rampage for more blow… and blood.
Die Hart the Movie
Genre: Action, Comedy, Thriller
Release Date: February 24 (Amazon Prime Video)
Cast: John Travolta, Nathalie Emmanuel, Josh Hartnett, Kevin Hart, Jean Reno, Dan Matteucci
Follows a fictionalized version of Kevin Hart, as he tries to become an action movie star. He attends a school run by Ron Wilcox, where he attempts to learn the ropes on how to become one of the industry's most coveted action stars.
Heart of a Champion
Genre: Family, Drama
Release Date: February 21
Cast: Casper Van Dien, Edward Furlong, YaYa Gosselin, Jojo Marie, Major Dodge Jr., Carson Cunningham, Morgan Harrington
A 14-year-old coping with the divorce of her parents, a new school and typical teenage growing pains finds purpose and pride in a lost horse she cares for and trains for a state competition.
Ambush
Genre: Action, War, Thriller
Release Date: February 24
Cast: Jonathan Rhys Meyers, Connor Paolo, Aaron Eckhart, Mara Lane, Patrick R. Walker, Jason Genao, Mac Brandt, Jordan Johnson-Hinds, Francis Mancho
When a small outpost is ambushed, a US Army squad must take the battle below ground on a high-stakes mission in a new type of warfare the likes of which they have never seen.
La Femme Anjola
Genre: Thriller, Crime, Drama
Release Date: February 21
Cast: Mumbi Maina, Rita Dominic, Nonso Bassey, Femi Jacobs, Chris Iheuwa, Shawn Faqua, Jumoke Aderounmu, Browny Igboegwu, Paul Adams
A psychological-thriller film noir about a young male stock broker whose life is turned upside down when he falls for a femme fatale married to a wealthy gangster.
Who Are You People
Genre: Drama, Mystery
Release Date: February 24
Cast: Ema Horvath, Yeardley Smith, John Ales, Alyssa Milano, Siddharth Dhananjay, Reid Miller, Peter Parros, Devon Sawa, Kiah Butts
After trying and failing to seduce her teacher, 16-year-old Alex runs away from her boarding school. Trying to seek out the biological father her mother has always kept hidden from her.
Women Talking
Genre: Drama
Release Date: February 24 | December 2 and 23 (limited), January 6 (wide) (theater)
Cast: Rooney Mara, Claire Foy, Jessie Buckley, Ben Whishaw, Judith Ivey, Sheila McCarthy, Michelle McLeod, Kate Hallett, Liv McNeil
A group of women in an isolated religious colony struggle to reconcile their faith with a series of sexual assaults committed by the colony's men.
Rosebud Lane
Genre: Drama, Romance, Music
Release Date: February 24
Cast: Tess Harper, Tyne Stecklein, Josh Daugherty, Paul Pape, Brad Abrell, Lucia Tarantino, Wes Robertson, Bronson Leder, John Kennedy
When a middle aged Hollywood filmmaker receives an unexpected card from his young son whom he has never met, he makes the difficult decision to go see him in the Blue Ridge Mountains of North Carolina. Both of their lives then take a life-altering turn as drama surrounding the boy's mother unfolds in the small mountain town.
The Strays
Genre: Drama
Release Date: February 22
Cast: Ashley Madekwe, Michael Warburton, Caroline Martin, Justin Salinger, Bukky Bakray, Alfredo Tavares, Samuel Paul Small, Jorden Myrie, George Greenland
A Black woman's meticulously crafted life of privilege starts to unravel when two strangers show up in her quaint suburban town.
After Love
Genre: Drama
Release Date: February 24 | January 20 (limited) (theater)
Cast: Joanna Scanlan, Nathalie Richard, Nasser Memarzia, Talid Ariss, Sudha Bhuchar, Nisha Chadha, Jabeen Butt, Subika Anwar-Khan, Elijah Braik
Set in the port town of Dover in the South-East of England, Mary Hussain suddenly finds herself a widow following the unexpected death of her husband. A day after the burial, she discovers he has a secret just twenty-one miles across the English Channel in Calais.
My Happy Ending
Genre: Drama
February 24 (theater)
Cast: Andie MacDowell, Miriam Margolyes, Sally Phillips, Rakhee Thakrar, Tom Cullen, Michelle Greenidge, Tamsin Greig, David Walliams, Bhavik C. Pankhania
Andie MacDowell stars as a famous actor who goes incognito to seek treatment for a medical issue. While at the hospital, she meets three unique and remarkable women — an aging rocker, a young mother, and a forever single retired schoolteacher. Together, they help her face adversity with humor and camaraderie while coaching her for the most challenging role she has ever played…herself.
Bruiser
Genre: Drama
Release Date: February 24
Cast: Jalyn Hall, Trevante Rhodes, Shamier Anderson
During summer break, 14-year-old Darious explores the boundaries of his manhood through tumultuous interactions with Malcolm his strict father and a burgeoning mentorship with mysterious drifter Porter.
The Whale
Genre: Drama
Release Date: February 21 (buy), March 14 (rent) | December 9 (limited), December 20 (wide) (theater)
Cast: Brendan Fraser, Sadie Sink, Hong Chau, Ty Simpkins, Samantha Morton, Sathya Sridharan, Jacey Sink
A reclusive English teacher suffering from severe obesity attempts to reconnect with his estranged teenage daughter for one last chance at redemption.
Devil's Peak
Genre: Crime, Drama
Release Date: February 24 | February 17 (limited) (theater)
Cast: Robin Wright, Billy Bob Thornton, Jackie Earle Haley, Emma Booth, Brian d'Arcy James, Katelyn Nacon, Harrison Gilbertson, Hopper Penn, David Kallaway
In North Carolina's Appalachian Mountains, eighteen-year-old Jacob McNeely is torn between appeasing his meth-dealing kingpin father and leaving the mountains forever with the girl he loves.
Body Parts
Genre: Documentary
Release Date: February 2
Cast: Jane Fonda, Rose McGowan, Joey Soloway, Angela Robinson, Karyn Kusama, Mishel Prada, Rosanna Arquette, Guinevere Turner, Sarah Tither-Kaplan
An eye-opening investigation into the making of Hollywood sex scenes, shedding light on the real-life experiences behind classic scenes of cinema and tracing the legacy of exploitation of women in the entertainment industry.
Conclusion on The best new movies you can watch at home right now
If you have any query let me know in comment section.