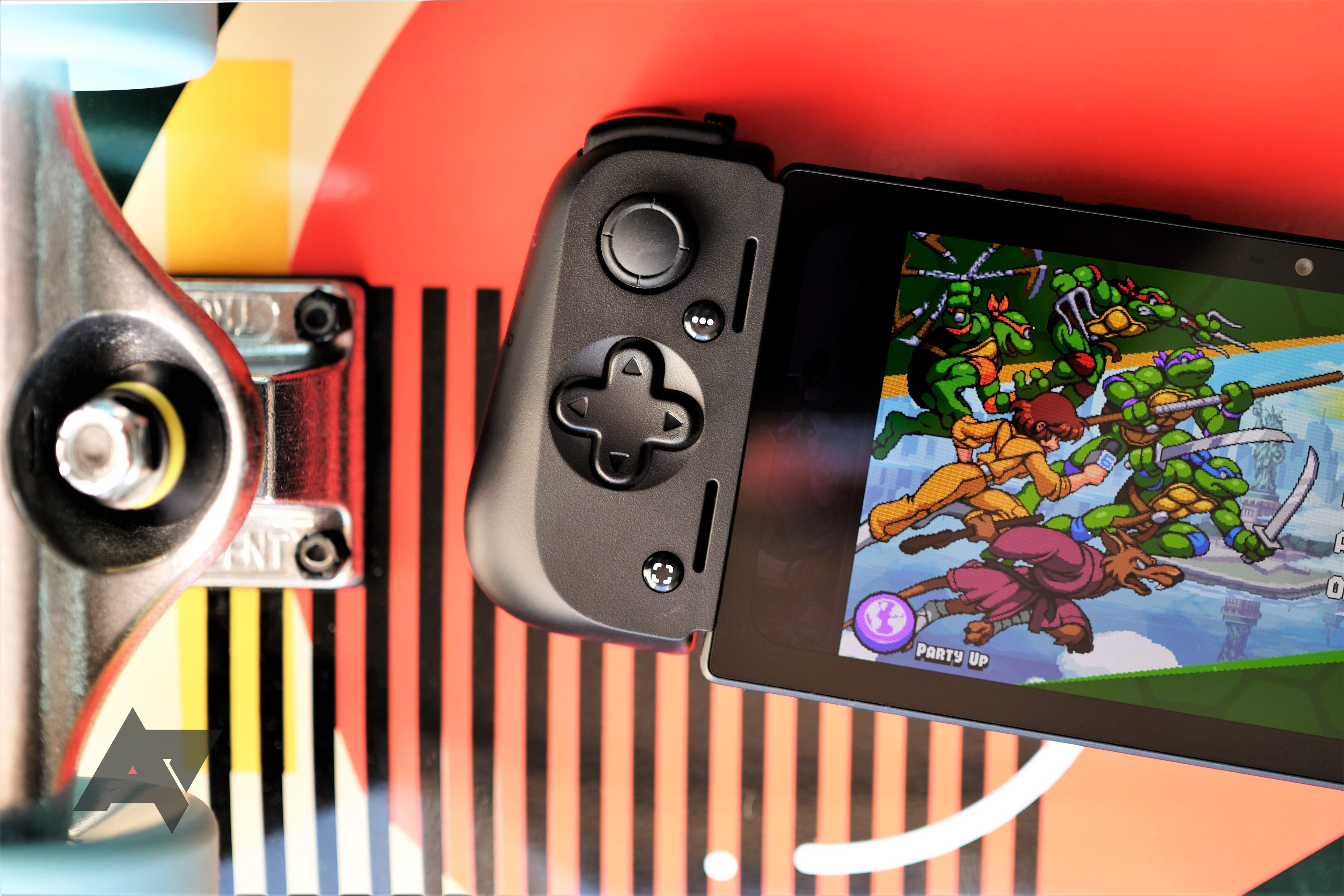 Razer is no stranger to gaming peripherals; it's up there with the greats like Logitech. It even dips its toes into full-fledged console-quality hardware from time to time with devices like the Razer Phone and its second-gen follow-up. While these devices didn't find much success, the company's gaming laptop, the Razer Blade, sure has. This is why I was intrigued to explore the Razer Edge, a new Android tablet created specifically for playing and streaming games.
There's a lot I don't like about the Razer Edge. First and foremost is the 20:9 OLED screen. Yes, the colors are great, but ultimately the ratio is an incredibly odd choice for a device designed to play modern games and watch modern media. Perhaps Razer missed the memo, but modern media across games and TV almost exclusively supports 16:9, something Logitech got right with its competing G Cloud handheld.
That odd screen ratio is only the start of this tablet's problems. So even though I really wanted to like the Razer Edge since I'm a huge fan of handheld gaming, I'm here to report that Razer has come up short. Let's explore why that is.
The Razer Edge is a fresh handheld gaming device made up of a tablet and a controller that attaches for a familiar design and feel. The included Snapdragon G3x Gen 1 ensures excellent performance while playing native Android games, but streaming is also available through popular game streaming services. The odd 20:9 screen ratio choice leaves much to be desired when streaming, but many Android games will fit fine. For $400, you get a performant Android device with great specs. Just keep in mind the experience is very similar to playing games with a phone, which just about everyone already owns.
Specifications
Storage: 128 GB (UFS 3.1), MicroSD (Up to 2 TB)
CPU: Snapdragon G3x Gen 1
Memory: 6 GB (wi-fi) / 8 GB (5G)
Operating System: Android
Battery: 5,000 mAh
Camera (Rear, Front): 5MP 1080p @60fps (front)
Display (Size, Resolution): 6.8" FHD+ (2400×1080) AMOLED 144Hz
Price: $400 (wi-fi)
Size: 260 x 85 x 11 mm
Connectivity: USB-C, Micro SD
Pros
OLED screen offers pleasing colors
Cheaper than a dedicated gamign phone
Native Android games perform well
Static framerate settings the user controls
Comes with everything you need
Expandable SD support
Cons
Horrible screen ratio for modern media
No added value over using a phone with controller attatchment
Aggressively rounded screen corners cut off content
Huge bezels
No control over the fan
Poor/slow software support
Buy This Product
Price & availability
The Razer Edge Wi-Fi edition with 6GB RAM is $400, sold directly through Razer. The 5G model with 8GB RAM retails for $600 through Verizon (or, with a qualifying service plan, $10 per month over 36 months). At the time of this review, both are readily available to purchase. There are no other variants, and since the device is a new release, you won't find either variation on Amazon just yet. That said, the Razer Kishi V2 controller is available through Amazon, so there's a chance the Edge will make its way to more online stores at some point.
Design
The design of the Razer Edge is pretty simple compared to modern Android phones or tablets, but there are a bunch of odd choices, like the aggressively rounded screen corners and incredibly thick bezels. For the most part, it's a rectangle of plastic, metal, and glass that almost looks like a smartphone, as the size is pretty similar, if a little wider, than some of the best gaming phones from Asus and Nubia. It's an odd choice to go so wide when the screen is long (20:9), but that explains the rather large bezels.
Perhaps it's a design choice to fit the tablet evenly with the attachable Kishi V2 controller. But the curved screen corners touch Android's notification bar icons, cutting off visible sections of games and movies when a game or movie fits the full 20:9 screen (a rare occurrence).
Beyond the odd design choices surrounding the screen, there's a volume rocker and power button directly below on the right-hand side (in portrait). There's a USB-C port on the bottom, centered, and two speaker ports on the left and right of the unit. These are off-center and toward the top of the device when held in landscape (the orientation in which most games will be played). There's also a micro-SD tray on the left, so you can expand and not stick with the default storage. Finally, the backplate offers a few vents for the internal fan, with a discreet Razer logo in the middle. So if you were worried about excessive gamer aesthetics, none could be found.
I approve of the blocky design, which seems to be a trend this year if Redmagic's most recent release is a clue. But that's about as far as my approval goes regarding overall aesthetics. "Boring" would sum it up perfectly if it weren't for the thick bezel and rounded corners needlessly making things much worse than humdrum.
Paired with the Razer Edge is the Kishi V2 controller, which we were pretty impressed with last year. There's no mystery here if the controls stack up — they do. Each button offers its own micro-mechanical switch underneath, even the d-pad. They feel nice and much more tactile than traditional rubber domes. The rear triggers are analog, meaning they work well with racing games and other titles that can take advantage of pressure inputs.
The controller is impressive as well. You get pass-through charging with the controller's built-in USB-C port on the tip of the right grip. There's also a headphone jack in the same place on the left grip, which is a good thing as the tablet doesn't offer one.
Display
I'll be frank. I have no patience for screen ratios that aren't tuned to the purpose of a product. For instance, I can't stand that the Steam Deck is 16:10 instead of 16:9. Seeing that the Razer Edge is 20:9 absolutely blew my socks off. Be it movies, TV shows, or video games, 16:9 is a standard for a reason. I'm left scratching my head, wondering why Razer would go with a 20:9 screen for a dedicated gaming device.
Perhaps the 20:9 OLED screen was up for grabs really cheap, but even then, plunking down a minimum of $400 for a gaming device that poorly fits most video games is very questionable. If I wanted to stream games that don't fit my screen, I already own a smartphone, and more than likely, so do you, which calls into question who the Razer Edge is actually for.
The good news is that the 6.8-inch 2400×1080 OLED screen offers great colors, deep blacks, and support for high refresh rates up to 144hz. Android games excel the most on this screen since many are created to fit a range of ratios. Titles like "Stardew Valley" and "Dead Cells" fit fullscreen and look great. However, once you move to game streaming services, that odd ratio really becomes apparent.
I'm left scratching my head, wondering why Razer would go with a 20:9 screen for a dedicated gaming device.
Most game streaming services only stream at a single ratio: 16:9. Nvidia has made strides thanks to cooperation with Google and its new foray into 16:10 gaming Chromebooks, making Geforce Now seemingly the only game streaming service that can display games in non-standard ratios.
The problem is that many PC games don't offer widescreen support, so you will be limited to the few titles on Geforce that offer a wider play. Plus, just because something's widescreen doesn't mean it will fill the top and bottom of the screen. Many Geforce Now titles I tested were widescreen but remained slightly letterboxed on the Edge.
And since the screen is only 6.8 inches, fitting 16:9 games on means that you'll have large pillarboxing, resulting in a tiny viewable area with matching text that's challenging to read. For me, 16:9 games on a pocketable 20:9 screen are mostly unplayable unless they are incredibly simple and don't offer too much text.
Having a 20:9 screen for a dedicated gaming device means that most of the content you consume will be letterboxed or pillarboxed. While I understand 16:9 OLED screens are hard to come by, I would have much rather seen a cheap TFT display used at 16:9 instead of this 20:9 OLED. For a device created specifically to play games, it should show. Instead, hardly any of my content fits the freaking screen. On the other hand, even though Logitech's LCD screen might not be as beautiful as an OLED, it fits all of my games, which is a very important factor.
Software
You can tell Razer hasn't fully fleshed out the software for the Edge or the Kishi V2. Only recently did we see more features come to the Kishi V2 through the Razer Nexus app (more than likely in preparation for the Edge's launch). But the Kishi V2 controller has been available since last June, which means it took six months to see any notable features, such as the new virtual controller mode, come to the controller.
This allows you to use the hardware buttons of the Kishi V2 for on-screen inputs by manually placing a software layer on top so that certain buttons pressed interact with specific screen commands, a fine addition for the Edge. This is handy for Android games that contain static on-screen controls that correlate to a typical controller layout. It isn't a one-size fits all solution for playing touchscreen Android games, but it helps.
More or less, what's offered in Razer's primary Nexus app is still bare bones. You can stream gameplay to Facebook or YouTube, using the device's microphone to relay in-game sounds and your voice. (There's no in-line recording here, though, which is an essential tool found in many gaming phones.) You can also manage your games by grouping them in the Nexus app to use it as a handy game launcher. Unfortunately, along with the fresh virtual controller mode, that's all you get — no Twitch support here.
Unlike all of my gaming phones, you can't change the refresh rate of the screen mid-game with a handy pop-up, you can't control the fan whatsoever, and you can't see how many resources you're using. So yet again, for a dedicated gaming device, Razer comes up short, missing all kinds of gamer-centric features already established in mobile devices years ago by Asus and Nubia, as well as Samsung. I have no way to troubleshoot any games, as I can't see the stats necessary to keep myself informed of performance.
Beyond the dedicated Razer Nexus app, it also runs Android 12 as the OS. It's pretty close to stock, though the home screen appears to be proprietary, with a left slide-out screen that contains content for videos, games, books, and audio. While having something that replaces the typical Discover screen is nice, there's no way to turn off Razer's interpretation. Seeing that I find Discover-like screens useless and filled with ads, I don't want to see what Razer is using, but I can't remove it. Thanks, Razer.
Performance
Performance is the biggest concern for interested parties in a shiny new gaming device. I'm glad to report the Snapdragon G3x Gen 1 is more than capable. I can play Genshin Impact at 60FPS with no dropped frames. I can also play Dead Cells at 144FPS, which is static and smooth as butter. Keep in mind that I'm testing the 5G version of the Edge, so I have 8GB of RAM instead of the 6GB in the Wi-Fi model.
That may be a point of contention for some, seeing that Razer made a rather large snafu when pre-orders were open, claiming 8GB in the Wi-Fi model when there's only 6GB. However, Razer has been upfront about this and even offered refunds to those who felt they were sold something under false pretenses. From what I can tell, this was a simple mistake, and Razer has done its due diligence to make things right, so I can hardly knock the company here.
I'm happy with the overall performance of the Razer Edge when it comes to native Android games. Unlike the underpowered Logitech G Cloud, the Razer Nexus can easily chew through the most demanding titles, all due to a competent chip. This is probably why the Edge is slightly more expensive than the G Cloud, but the better specs make for a better gaming experience. Of course, streaming isn't as demanding as native games can be. For instance, across GeForce Now and Xbox Cloud Gaming, game streams were just as performant as my laptops and tablets. The streams weren't perfectly smooth but comparable to other devices.
Trying to stream games smoothly over mobile data, even on Verizon's renowned network, proved pretty problematic.
What's odd to me is that a 5G model even exists. As is, game streaming can be iffy on even the best Wi-Fi networks. Trying to stream games smoothly over mobile data, even on Verizon's renowned network, proved pretty problematic. Perhaps you don't mind constant stutter and hazy low-res graphics, but I demand performance, and cell networks don't deliver on this front for game streaming.
I can barely tolerate the inherent stutter of streaming games over Wi-Fi. So you can imagine my patience wore thin with the flighty nature of 5G coverage in the rolling hills of southwestern PA. If you're debating picking up the 5G model, don't. It's a waste of money unless you constantly travel and have a high tolerance for poor imagery and performance when streaming games.
While everyone should take benchmarks with a grain of salt, I ran 3DMark as well as Geekbench 6, just so everyone can get an idea of how the numbers of the Snapdragon G3x Gen 1 stack up to the competition.
Battery life
Three times in the last two weeks, I've seen my battery fully drained on standby in a single day. Supposedly, this happens anytime the controller is left connected to the tablet. But if this is a dedicated gaming device, shouldn't it handle putting games on standby without worrying about draining the battery in a single day?
Being conscious of this has resulted in a better experience, as I detach the controller after use. I wish I could pinpoint the offending app draining all my battery, but Razer doesn't list any apps in the battery reporting area in the settings. Once again, I don't have the necessary tool to troubleshoot an issue.
When standby behaves, you can easily get a few days of use from the 5,000 mAh battery. It's a fine size for gaming phones and is certainly good for a device you won't use the entire day, like a phone. So perhaps you'll even be able to eke out three to four days before each charge. It just depends on the games you play. If you mostly stream, the battery will last much longer than if you're playing a demanding game locally at a high refresh rate.
Recharging the battery is simple enough and takes under two hours with the included 45w charger brick and USB-C cable.
Camera
There's only one camera to speak of: the selfie cam. This is available for streamers to show their faces on screen while streaming. Yes, you can also take selfies, but I doubt this will be the focus for anyone who buys this device. This isn't a tablet for taking photos, especially with no rear camera, but I'm fine with that.
More or less, don't buy this device if you need a camera for anything beyond streaming. But, of course, you don't have to take my word for it. Here are a few examples of what the Razer Edge's selfie cam is capable of. Enjoy my mug!
Competition
Logitech launched the G Cloud last September, a purpose-built Android gaming handset similar to Razer's. But instead of a removable controller, Logitech went whole-hog and created a handheld with built-in controls. Logitech's experience creating high-quality peripherals has helped it greatly, as the G Cloud offers excellent build quality with a 16:9 screen. Even at a comparable 7 inches, all my games actually fit that screen, so I'd pick up the G Cloud before considering the Razer Edge.
Sure, the G Cloud contains a weak processor that won't play native Android games very well, but it does stream games well. If streaming is your goal, consider the G Cloud for a cool $100 cheaper than the Razer Edge.
The Anbernic RG353M and the Ayn Odin are two options if you prefer something a little cheaper. Both are handhelds like the G Cloud, but the Anbernic RG353M is more affordable at $175, and it sports Android 11 with a 3.5-inch screen and Cortex A55. The Anbernic offers a 4:3 ratio, making it excel as an emulation device for classic console games.
The Ayn Odin is more for modern games and game streaming, thanks to its 16:9 screen. The Odin will be more challenging to track down, but you can order directly from Ayn for $240. The Odin has much better internals than the RG353M, with a 1080p screen and a Snapdragon SD845 powering the device.
Should you buy it?
If you plan to play native Android games and have a spare $400 burning a hole in your pocket, the Razer Edge makes for a fine dedicated handheld for your favorite Android games. Alternatively, this $400 could easily be put towards a fresh gaming phone that will ultimately operate in the same manner with a Kishi V2 controller attached running the Razer Nexus app. And since everyone owns a phone — even if it was a low-end model at $200 — add that $200 to your saved $400, and you'll have enough to pick up a Redmagic, thus making the price proposition of the Edge somewhat questionable.
If you're interested in streaming games on the device, the crazy 20:9 screen ratio is a huge bummer, to the point where it completely ruins the experience for 16:9 games. Most games will stream too small for them to be legible, thanks to the giant pillarboxing, and the few that support widescreen play on Geforce Now just aren't enough to excuse the expense.
And don't forget that you'll also have to pay monthly to access a streaming service, where only one of these services even offers games that use the 20:9 screen's width, and even these are slightly letterboxed on the Edge.
Sure, the Razer Edge is a good device for playing native Android games, but it fails when it comes to streaming games, as very few titles fit the screen. For me, $400 is too much to spend on a device that doesn't feel fleshed out, especially when the software lacks the typical features of a gaming phone. So I'm left wanting much more from the device between the odd screen choice, the aggressively rounded corners, the fan that can't be controlled, and the lack of local screen recording software. The smarter move is to save the $400 you'd spend here and put it towards the new Nubia Redmagic 8 Pro, or go with the Logitech G Cloud if you need something dedicated to streaming. Either way, you'll be much happier.
Conclusion on Thanks, but I already have a phone
If you have any query let me know in comment section.