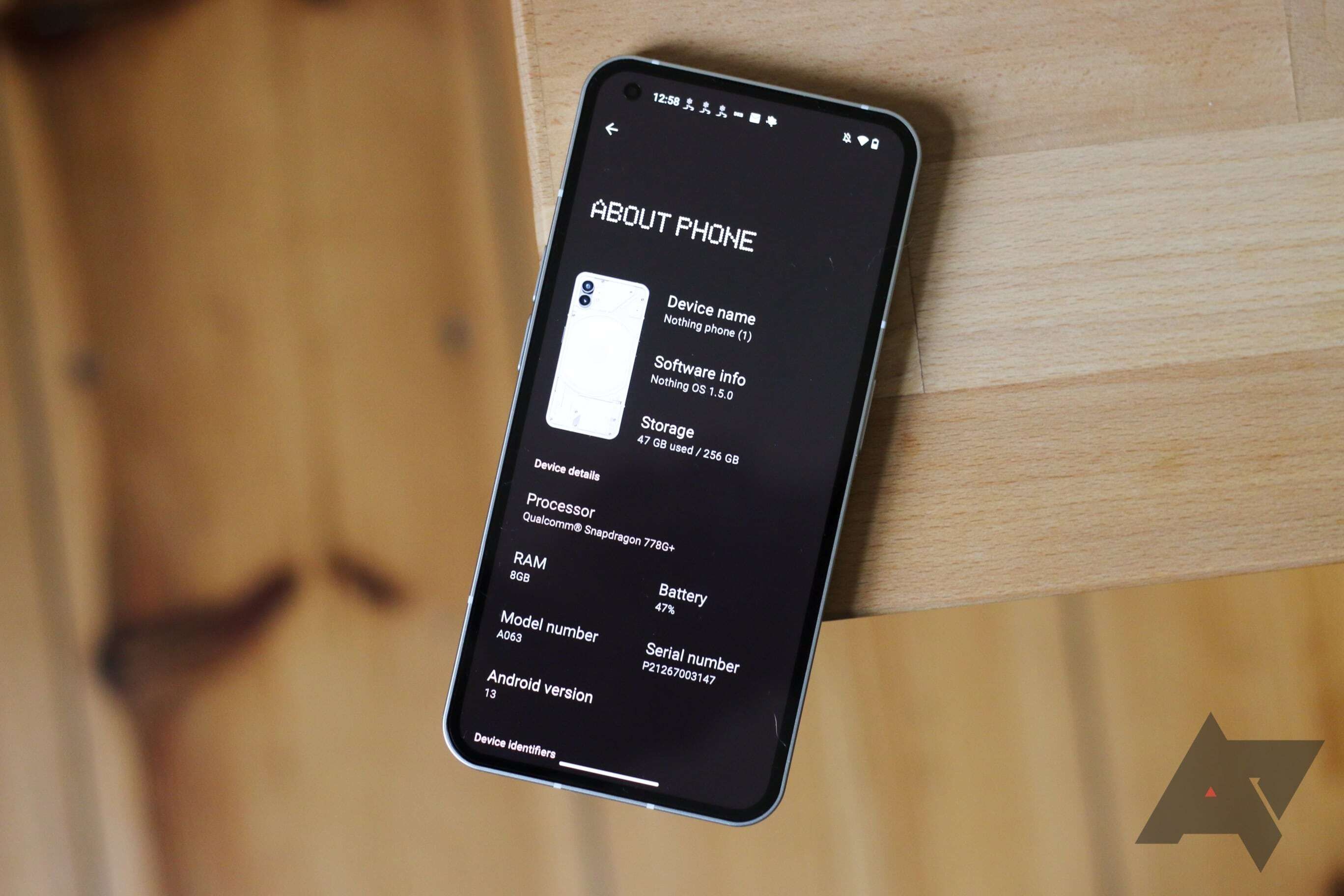 The Nothing Phone 1 launched to much fanfare last year, with a polarizing design but a palatable software skin, making it stand out from the pack of the best Android smartphones around. It arrived running Android 12 out of the box, dressed in trademark Nothing flavor. Last fall we started seeing progress on the phone's first major platform update, as Android 13 testing got underway. Fast-forward to today, and the stable Nothing OS 1.5 is now out for all Nothing Phone 1 users.
With the first Nothing OS 1.5 beta, the company managed to deliver an impressively smooth experience, which we don't necessarily expect from beta software. On top of that, the new OS comes packed with some really compelling features that you're going to want to use every day — a lot is happening with Nothing's take on Android 13. So, here is everything you need to know about Android 13-based Nothing OS 1.5, coming to Nothing Phone 1 handsets near you.
It makes you want to use the Nothing Phone 1 more
Nothing OS 1.5 is a breath of fresh air in a sea of heavily customized software skins, loaded to the brim with superfluous features and more annoyingly, bloatware. Slightly reminiscent of the revered Pixel experience, it's still recognizably Nothing software, thanks to stuff like the dot-matrix design and the unique Glyph interface that brings to life a literal light show on the back of your phone. But rather than these embellishments, Nothing OS's strongest suit has to be its smooth performance, just like it has been right from the first beta.
When we first reviewed the Nothing Phone 1, we did like the overall software approach, but the OS itself didn't feel optimized particularly well for the hardware. It seems like the company has been paying attention to complaints like this, and this Android 13 update feels far more polished than before, with no major issues with the OS crossing our path yet.
The phone feels snappy, the fingerprint reader is quick, and everything just works. Nothing says that it has made quite a few changes under the hood that are responsible for making the Phone 1 feel smoother than before. For instance, a self-repair feature clears the cache and the system dumps automatically. Your Nothing Phone 1 can prioritize load times for the apps that you use most; Nothing claims a 50% improvement over Android 12. All these internal tweaks really do seem to be working in Nothing's favor.
Nothing should also get some credit for keeping the software bloatware-free, which isn't something you always get with phones of its price — even from brands like Samsung.
Besides a clean and smooth user experience, Nothing OS 1.5 has added a ton of new features that you'd want to play with once the Android 13 update hits your phone. These are some of the top Nothing OS features that you should try out first.
1. Nothing special about the aesthetics
That eye-catching Glyph lighting effect is what makes the Nothing Phone 1 stand out from the crowd, and the company is embracing it to the fullest with its latest release. The newly added Nothing Machines (2) is a library of over a dozen ringtones and notification chimes that are all coordinated with matching vibrations and Glyph patterns.
A few of them are downright weird, while others offer some interesting retro tech sound effects that you may find appealing. Although definitely not everybody's cup of tea, this eccentric effort does manage to stand out and is just the sort of thing that many people probably bought the Nothing Phone for.
This update also gets you three sets of minimalist, geometric wallpapers that use a combination of gray, white, and red to match Nothing's design approach. Each set has a pair of light and dark theme options for you to choose from, depending on your liking.
2. Quality-of-life improvements
I've long complained that there's no way to quickly switch between data SIMs on Pixel phones — a necessity in regions where two SIM cards are commonly used. Thankfully, at least the Nothing Phone 1 has addressed my concern by adding a shortcut in Quick Settings to offer exactly that, which earlier required digging deep into the phone's network settings.
Another handy feature coming to the Nothing Phone 1 is the support for customizable lock screen shortcuts. You can choose among Google Home device controls, Google Wallet, flashlight, and camera, while also picking where they appear on the lock screen to quickly access your frequently used features.
3. Nothing X is now part of the OS
A growing number of smartphone brands have dedicated software for their first-party headphones built right into the phone OS, and Nothing is now following suit. To control and manage your Nothing Ear 1 and the Ear Stick earbuds, you won't need to separately install the Nothing X app. That's now part of Nothing OS, saving you a few taps and a visit to the Play Store.
4. Material You for the win!
Android 12 introduced themed app icons along with the new Material You styling, but it's Android 13 that's bringing them to more apps outside the Google ecosystem. That means additional app developers and phone makers are now proactively bringing themed icons to their apps and devices. Android 13 doesn't just bring that to the Nothing Phone 1, but also takes it a notch higher.
On Pixel phones, app icons can match the wallpaper's color scheme, but only when placed on the home screen. The Nothing Phone 1 can now show themed app icons in the app drawer, delivering the kind of uniformity that sticklers among us will love. And as you'd expect, the handset also gets the additional Material You color schemes that Android 13 introduced on Pixel phones, to make full use of app icon theming.
5. Nothing-style weather app
While Android 13 has a fresh vibe of its own, Nothing has a flair for its unique dot-matrix design elements that are also part of the new weather app. Nothing's existing home screen widget can already show weather updates, but it now connects to the new app for Nothing OS 1.5.
With an unmistakable Nothing design, large icons and dotted elements are sprinkled across the interface. For its weather updates, the app relies on AccuWeather and can give you hourly and weekly predictions, along with the ability to send extreme weather warnings. You can use the left menu to access and manage your saved locations, while the settings tab lets you switch between metrics and imperial measurements and change app themes, among other options.
6. Everything new from Android 13
Google loaded Android 13 with tons of tweaks and new features, and a lot of that has been brought over to the Nothing Phone 1. Some of the more notable upgrades include Android 13's privacy controls, notification opt-in, and granular media permissions.
The handy clipboard preview tool has made it to Nothing OS, and so has per-app language support, which multilingual folks are going to appreciate. Nothing has also spruced up the volume controls, allowing you to change alarm and call settings from the same window. Live Caption is another neat addition to Nothing OS.
Finally, Nothing's Game Mode now integrates Google's Game Dashboard. So, when you launch a game on your Nothing Phone 1, you'll now see a new overlay menu with options for screen recording, showing the frame rate, and going live on YouTube without leaving the app.
7. Some Nothing-exclusive software magic
A new Bluetooth pop-up window shows some basic information and controls for your connected headphones — it can even pull the OnePlus Buds Z2's icon from Google's Fast Pair servers, adding a more personalized touch to the Bluetooth tile. However, it gets even better if you have a pair of Nothing Ear 1: In the same pop-up window, you will see the option to change the noise cancellation profile, along with the battery percentage. There's also a new QR code scanner tile in the Quick Settings menu, powered by Google Play Services.
While something less than a momentous change, Nothing has added some new transition animations that appear while locking and unlocking the phone. Both animations track your taps on the display, like in the example GIF below. While minor, it's still a nice touch that makes using the phone a tiny bit more pleasant.
It's Nothing like anything
Nothing wasn't exactly super quick to deliver Android 13 to the Phone 1. Companies like Samsung were fast to follow Pixel phones with their own updates, but it took Nothing six months to come out with its own iteration. This is far from ideal, especially when it only has the one smartphone model. However, the company somewhat made up for the delay by delivering a solid Android 13 update.
Its software continues to be a perfect middle ground between Pixel's version of Android 13 and more overwrought OEM skins. Nothing OS remains minimal with its Pixel-like look, but it still gets you some handy tools and features. This may remind (former) diehard OnePlus fans of the good-old OxygenOS before it was Oppo-fied.
If you have been waiting for the big Android 13 update on your Nothing Phone 1, your wait ends now. The Nothing OS 1.5 release is out via stable channels and should hit your handset sooner rather than later. While you wait for the update to arrive, take a peek at the 'premium' Nothing Phone 2 that will also make its way to the US.
Conclusion on Tempts you to use the phone more
If you have any query let me know in comment section.