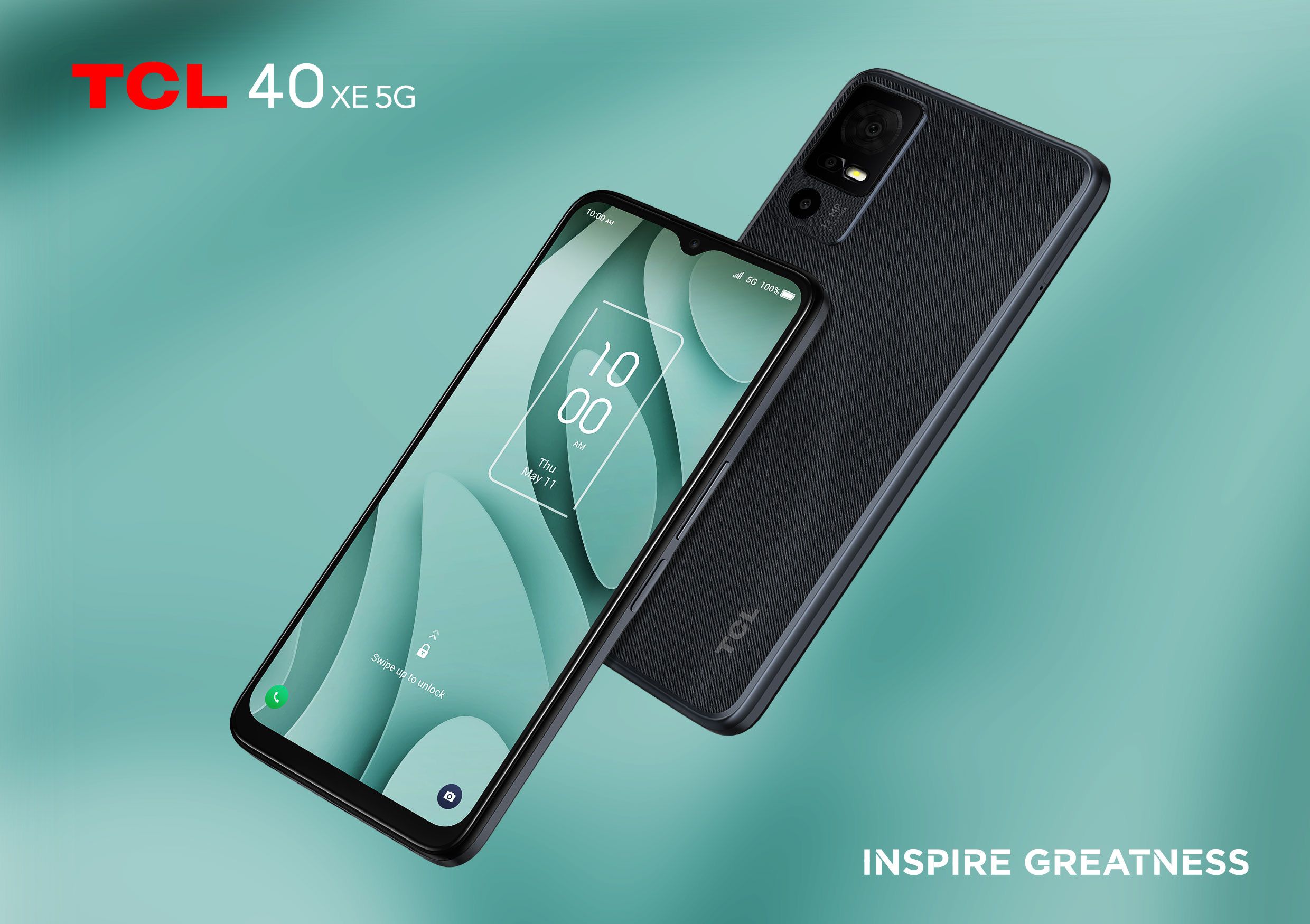 TCL might have staked a nice claim to fame in the crowded television business, but it's also been trying to get people on board with its budget-focused smartphones as well. Just last month, it went old-school with the all-new Ion X featuring a microSD card slot and a removable battery among other forsaken tidbits. The company has now taken the wraps off three new smartphones, two new tablets, and a new pair of earbuds.
On phones, TCL is adding onto its 40 series of smartphones which launched with the TCL 40 SE at CES this year. There are two new 5G phones — the TCL 40 X 5G and the TCL 40 XE 5G — that will be made available in the US from June for $199 and $169, respectively. Meanwhile, the TCL 40 XL, the sole non-5G option, will go on sale in May for $149.
The TCL 40 X 5G and the 40 XE 5G featuring 6.56-inch HD+ screens and 90Hz refresh rates, whereas the TCL 40 XL has a larger 6.75-inch HD+ display. The 5G phones rock MediaTek's Dimensity 700 SoC while the cheapest phone of the three settles for the MediaTek Helio G37 chipset. The non-5G phone does get 128GB of storage, though, while the other two only get half of that. The good news on memory is that all three sport 4GB of RAM and a microSD card slot.
The 40 X 5G and the 40 XL get beefy 50MP primary cameras backed by two 2MP lenses for macro and depth functions. By contrast, the 40 XE 5G gets a 13MP main sensor along with the same macro and depth cameras. All three phones have an 8MP front camera, so you're getting a similar look from all three in this area.
The 40 X 5G and the 40 XL getting side-mounted fingerprint scanners and face unlock for authentication. The 4G-only TCL 40 XL also gets dual speakers, which is certainly welcome on a $149 phone.
TCL is maintaining some parity in terms of battery, with all three featuring 5,000mAh units. The company hasn't shared software info on the three phones, though if last month's Ion X is any indication, we're banking on Android 12 being the default operating system.
ANC earbuds and tablets
Next on the list of TCL's new arrivals is the TCL MOVEAUDIO Neo ANC earbuds with four built-in EQ modes and an attractive $50 price tag, putting it among the best affordable earbuds in the market — if it lives up to its best aspects. You also get up to 25 decibels of bass-boosted sound.
Source: TCL
The MOVEAUDIO Neo is available right away in the US from the company's retail channels, including the online store. TCL says the earbuds can last for up to 7 hours at a time, while the charging case and the earbuds combined can run for up to 40 hours.
Last on TCL's list of MWC launches are a couple of tablets which appear to be targeted toward Europe for the time being. The NXTPAPER 11 is a tablet/e-reader hybrid sporting an 11-inch color 2K display powered by TCL's latest NXTPAPER 2.0 tech, which increases the brightness by 150% compared to v1, offering up to 500 nits and an overall better reading experience. It's an Android 13 tablet for all intents and purposes, but with the ability to instantly transform into a conventional e-ink reader. It runs on MediaTek's Helio P60T processor.
The onboard 8MP front camera enables the NXTPAPER 11 to make video calls or capture self-portraits and there will be plenty of lasting power for those selfies with a mammoth 8,000mAh battery and the option to reverse charge your other devices. Quad speakers and dual microphones are also on-board. Customers across select regions of Europe can get the NXTPAPER 11 starting from $249 (€235) in May. TCL didn't provide a US launch date for the NXTPAPER 11.
The TCL Tab 11, on the other hand, is designed for those who prefer a "conventional tablet experience." It features an 11-inch 2K display, the same MediaTek Helio P60T SoC as frin the NXTPAPER 11, plus 4GB of RAM and up to 128GB of storage. The hardware is crammed into a 6.9mm thick body, weighing just over 1lb (462 grams). TCL said it will make the tablet available in 4G and non-4G versions. There's an 8,000mAh battery inside the Android 13-running Tab 11.
Much like the NXTPAPER 11, the Tab 11 supports TCL's T-pen stylus which will be available separately. The company says it will launch Wi-Fi only and 4G LTE variants of the tablet in May, starting from $179 (€169) and $209 (€197) across Europe, with no word on a US release date at this point.
Conclusion on TCL's latest 40 series smartphones look hard to beat if you've got $200
If you have any query let me know in comment section.