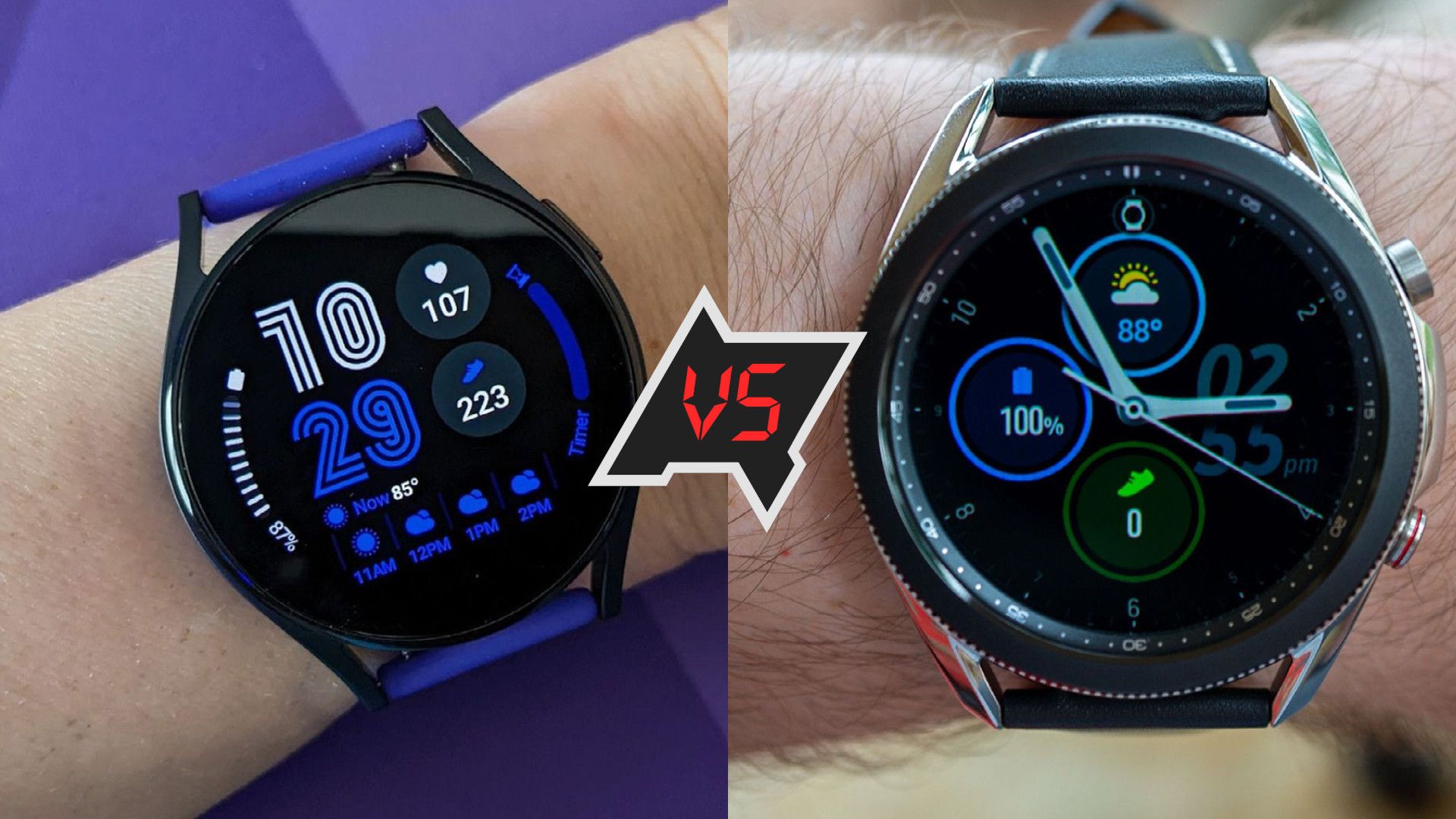 Source: Samsung
Samsung Galaxy Watch 5
The top performer
Peak performance on your wrist
Improving on the Watch 4, the Galaxy Watch 5 is a strong contender for users looking for a great performing wearable to count on daily. It doesn't live up to its bold 50-hour battery life claims, but it delivers one of the best experiences Samsung has ever offered.
Pros
More accurate health sensor data
Sturdier design and display compared to older models
Great performance and OS experience with updated WearOS
Cons
Battery life falls short of Samsung's claims
Blood pressure and ECG sensors require Samsung phones to use
Slightly smaller display than the Galaxy Watch 3
Source: Samsung
Samsung Galaxy Watch 3
The aging but stylish smartwatch
Still a reliable smartwatch
The Galaxy Watch 3 offered a lot in a small package when it was first released, but two years later, it's starting to run out of steam. While still a solid performer, it doesn't offer the newer features and speed that smartwatch users may want from their daily driver.
Pros
Still stylish despite its age
Rotating bezel is still one of the best navigational features
Slightly larger display than newer Galaxy Watch 5
Cons
Health sensors are inaccurate
Limited OS updates
Lower storage than newer options
The Samsung Galaxy Watch 3 was a solid contender for Android smartwatches when it was released in 2020. Almost three years later, those looking to upgrade from the now-aging Galaxy Watch 3 will find plenty of features to look forward to in the recently released Samsung Galaxy Watch 5.
Both watches offer similar features and can more than handle the tasks thrown at them. Let's see how the two stack up side by side to see if it's worth upgrading to one of the best Android smartwatches on the market right now or if you can eke out a little more time with your trusty Galaxy Watch 3.
Galaxy Watch 5
Galaxy Watch 3
Size
40mm, 44mm
41mm, 45mm
Display
1.19″ Sapphire Crystal Glass AMOLED 396x396px (40mm) 1.36″ Sapphire Crystal Glass AMOLED 450x450px (44mm)
1.2-inch AMOLED 360×360 Gorilla Glass DX(41mm) 1.4-inch AMOLED 360×360 Gorilla Glass DX(45mm)
SOC
Exynos W920
Exynos 9110 dual-core
RAM
1.5GB
1GB
Storage
16GB
8GB
Battery
284mAh (40mm) or 410 mAh (44mm)
247mAh (41mm), 340mAh (45mm)
Connectivity
NFC, GPS, Bluetooth 5.2, Wi-Fi (2.4Gz & 5Ghz), LTE (optional)
LTE (only on LTE model), Bluetooth 5.0, Wi-Fi b/g/n, NFC (for Samsung Pay), A-GPS/GLONASS/Beidou7
Durability
5ATM/IP68 water resistance, MIL-STD-810H
5ATM/IP68 water resistance, MIL-STD-810G
Weight
29g (40mm), 32.8g (44mm)
48.2 g (41mm), 53.8 (45mm)
Price
From $230
From $200 (very limited availability)
OS
One UI Watch (Wear OS 3 powered by Samsung)
Tizen OS 5.5
Sensor
Optical Heart Rate, Electrical Heart Sensor (ECG), Bioelectrical Impedance (BIA), Continuous SpO, Skin Temperature Sensor
Heart Rate Monitor, ECG, Ambient Light
Workout Detection
Yes
Yes
Price and availability
The Galaxy Watch 5 is sold in many places, including Amazon, Samsung's website, and retailers like Best Buy and Walmart. It comes in two case sizes: 40mm and 44mm. There's also the Watch 5 Pro, which is much more expensive, but all variants come with options for LTE connections. The Galaxy Watch 3 is much harder to get ahold of. There aren't any listings for it on Samsung's website, and many retailers, such as Walmart, only offer third-party selling, which comes at a much steeper price. You can find some listings for the Galaxy Watch 3 on Amazon, but they are few and far between.
Regarding price, you're looking at $280 for the 40mm Galaxy Watch 5 or $310 for the 44mm. This price rises depending on the size and whether you want the LTE model, which can cost up to $360. Regarding the Galaxy Watch 3, the availability of different models is very spotty, and most of the listings you'll find online for new watches will cost you $200 or more. At the same price, it's hard to recommend the Galaxy Watch 3 over the more recent, more efficient Watch 5.
Durability and design
The Samsung Galaxy Watch 5 might have been a small upgrade from the Galaxy Watch 4, but those with the Galaxy Watch 3 will find quite a few things to look forward to.
The Watch 5 features a new curved back, which allows the BIA (bioelectrical impedance analysis) sensor to connect with the wrist better, providing more accurate readings. Both watches also offer 5ATM/IP68 water resistance and a military standard durability rating. It is worth noting that the only significant difference in their durability ratings is based on changes made to the standard, which makes the Watch 5 just a bit more durable.
The Watch 5 sports a slightly smaller display, measuring 1.9 and 1.36 inches, depending on the model. The Watch 3 features a slightly larger display on each size, and the model sizes are slightly bigger, too. But these differences are minuscule and aren't noticeable during daily use.
The display on the Watch 5 is also brighter and more refined than the Watch 3's. And, because it features a newer grade of Gorilla Glass, you can take advantage of its clearer picture without sweating the bumps and scrapes that come with wearing a watch every day.
Both smartwatches feel good on your wrist, but the Galaxy Watch 5's upgraded display and design make it a better fit, especially if you want to take full advantage of the various health sensors onboard. Both sizes of the Watch 5 support 20mm width bands, offering more versatility, so you can take advantage of the great bands available for the Watch 5. The Watch 3 also supports 20mm bands on the 41mm model; however, the 45mm model requires a 22mm band. The difference in band sizes could make it more difficult to find different band options depending on your model.
Battery
Battery life is one thing that Samsung's Galaxy Watch series has always handled exceptionally well, and neither the Galaxy Watch 3 nor the Galaxy Watch 5 are exceptions to that rule. Both watches offer long-lasting battery life, rated to last up to two days on a single charge. Of course, hitting those claimed numbers isn't always easy, and both watches can struggle to hit the full 48 hours between charges depending on how you use them.
However, most users have struggled to last a full day without needing to charge their Galaxy Watch 3, which is where newer battery tech in the Galaxy Watch 5 can come in handy. There's also the fact that the Galaxy Watch 5 supports faster charging times than the Galaxy Watch 3, allowing you to recharge up to 45 percent of the battery in the Galaxy Watch 5 with just 30 minutes of charging.
If you're looking at the battery life solely, there are plenty of reasons to upgrade, especially if you want to use the various sleep-tracking applications already loaded into the newer smartwatch without worrying about the battery dying while you sleep. The faster charging also means you won't have to worry about forgetting to put it on the charger and then waiting hours to recharge.
Software and features
The software and features show the biggest differences between the Samsung Galaxy Watch 3 and the Galaxy Watch 5. The Galaxy Watch 3 was the last of Samsung's smartwatches to include its now aging Tizen operating system, and every smartwatch from the company since has come with Google's new WearOS software, along with some of Samsung's own tweaks.
While Tizen 5.5 is still a reliable operating system for most daily use, the advancements and improvements made to WearOS since Samsung launched the Galaxy Watch 4 with it have helped make it a complete game changer. Not only is it faster and smoother, but better support for third-party apps means that you can take advantage of applications like Spotify on your Galaxy Watch 5. You can also count on more third-party apps being added down the line as WearOS continues to improve and expand.
Because Samsung is no longer working with Tizen, though, the Galaxy Watch 3 isn't likely to receive any major software updates anytime in the future. This means the smartwatch is quickly becoming more and more dated as WearOS improves and Tizen is left behind completely.
Source: Samsung
There's also the matter of features. The Watch 3 was a great contender when it was released, but after three years, the reliability of its various hardware and software features is beginning to show even more. Inaccurate health sensors mean you can't rely on the data they provide, making them useless. On the other hand, the Watch 5 includes an improved curved back, which puts its various health sensors in a better position to connect with your skin and provide more reliable readings.
The Galaxy Watch 5 also comes with new features like sleep coaching and workout detection – which the Watch 3 also supports. Overall, the improved software and better performance from the more refined operating system make the Watch 5 perform better, despite only offering 1.5GB of RAM compared to the 1GB in the Watch 3. The 16GB of onboard storage also means more room for apps and other data before worrying about your smartwatch slowing down.
The newer Exynos W920 in the Watch 5 also provides more power, allowing for 10 percent faster performance compared to the Exynos 9110 found within the Watch 3. The Watch 5 starts at $280 (depending on the model), which makes its asking price very close to what you might have paid for a Galaxy Watch 3 back when it was released.
Should you upgrade?
While the Galaxy Watch 3 continues to hold its own in most accounts, the lack of software updates is a huge negative. The Watch 5 offers far more features and more reliable software and UI, including updated health sensors that can track your sleep, heart rate, and more.
The more durable screen and higher resolution display also make the Galaxy Watch 5 worth an upgrade. Despite the display being a touch smaller on the Galaxy Watch 5, it offers a clearer picture, which is exceptionally important when dealing with the small displays on smartwatches. The updated software and operating system also means access to more applications directly on the Watch 5 than on the Watch 3.
If you're still sporting your Watch 3 and want a smartwatch with a brighter, higher-resolution display that is more durable and offers better battery life, it is absolutely worth upgrading to the Galaxy Watch 5.
Source: Samsung
Samsung Galaxy Watch 5
The Samsung Galaxy Watch 5 is the complete refinement of everything the company has learned from its previous smartwatches. Its updated design and more reliable readings make it one of the best Android smartwatches on the market right now, and it's absolutely worth upgrading to if you haven't already.
Source: Samsung
Samsung Galaxy Watch 3
The Galaxy Watch 3 is still just as stylish as ever, but its unreliable readings and outdated software hold it back when it stands up against the newest Samsung smartwatches on the market right now.
Conclusion on Samsung Galaxy Watch 5 vs. Galaxy Watch 3: Old meets the new
If you have any query let me know in comment section.