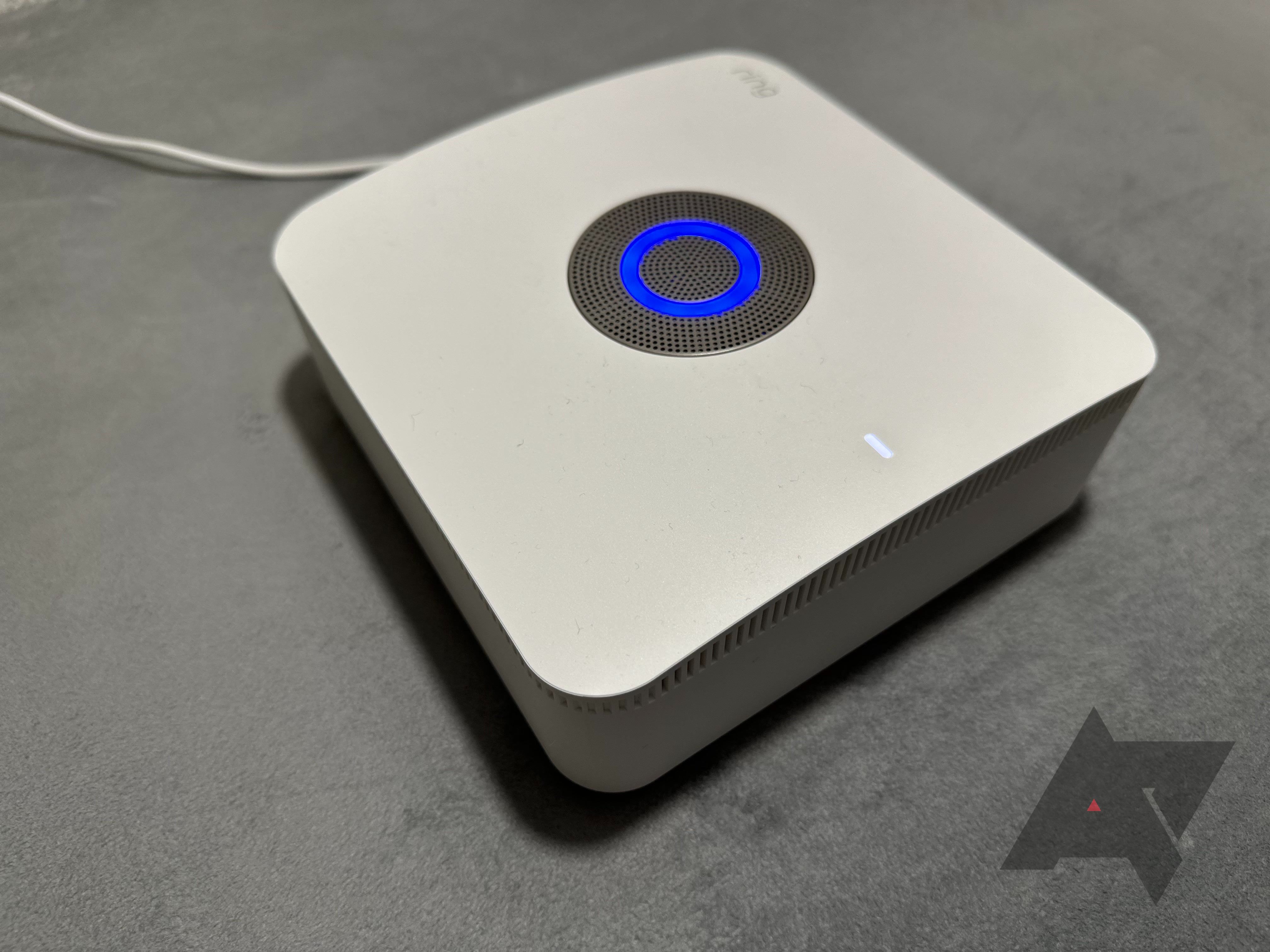 Amazon's Ring Alarm Pro is an absolute beast. It's a powerful all-in-one home security system that comes with a speedy Eero router as an added bonus, and it's priced pretty fairly for all the hardware you get — $249 to start, going higher depending on what different accessories you mix and match into your desired setup. But if you're not opting for Amazon's $20/month subscription to unlock (and maintain) its fortress-like functionality, you can save yourself some cash and headache with Amazon's simpler Ring Alarm alternative.
The Ring Alarm Pro comes with an integrated Eero router to give you a complete all-in-one setup for your home or apartment. Not only does Amazon's security system have a backup battery built-in, but you'll also be able to back up cellular connectivity for your security system if your Internet ever goes offline (for a monthly fee). Unfortunately, you'll have to pay if you want to store videos locally that you capture from a secondary Ring camera; otherwise, you're limited to "view it in real-time" functionality.
While it's great to have a single app for managing everything in your personal Fort Knox, including motion sensors, contact sensors, alarm keypads, and other devices, you may need up to three apps to get the most control over the Ring Alarm Pro — two too many, we feel. Nevertheless, if you don't mind a little work getting everything set up, you'll get lots of peace of mind from Amazon's protector; and it's highly configurable and linkable to Alexa routines, which might just turn you into a security-minded power user.
Specifications
Connectivity: Wi-Fi 6 (router included), Z-Wave
Power: Wired with battery backup
Professional Monitoring: Optional
Integrations: Alexa, Google Assistant, IFTTT
Keypad: Yes, included
Cellular internet backup: Optional
Pros
Router + Security hub combination eliminates the need for extra devices in your house
Integrated battery backup and (paid-for) cellular backup
Plenty of options and alerts to customize across your various sensors
Incredibly simple setup for adding Ring devices and sensors to your system
Cons
Too much bouncing back and forth between different apps to manage your system
Expensive subscription plans limit functionality that should be free
No real support for other smarthome platforms or protocols
Buy This Product
Price and availability
You'll want to visit Amazon's Ring site to explore all the Ring Alarm Pro's different configurations, including the $249 base version (just a Base Station + Eero router combination), the $300 Security Kit (the Base Station plus four contact sensors, a motion detector, a range extender, and a keypad), all the way up to the $585 package that throws in a video doorbell and Echo Show 5. You can also purchase piecemeal accessories, like more contact sensors or a $130 battery power pack.
The $300 Security Kit version has dropped as low as $240 over the past year, so you might be able to find a bargain on this or one of Amazon's other configurations for the Ring Alarm Pro if you're patient.
Design, hardware, what's in the box
The Ring Alarm Pro's Base Station is hefty — much larger and bulkier than the Eero 6 router that comes integrated directly into the device. The Base Station is meant to serve as your home's primary router, and it does a decent job at that, with Amazon claiming maximum Wi-Fi 6 speeds of 900Mbps.
However, the Base Station doesn't support 160Mhz channels on the 5GHz spectrum, which lessens its theoretical maximum speed compared to many other Wi-Fi 6 routers. That's probably not going to be an issue unless you have a very fast internet connection and no interference from neighboring networks, but it's still a curious omission for a $250 all-in-one security device.
The Base Station comes with built-in cellular connectivity — more on that in a bit — and an integrated, rechargeable battery backup. In addition, it can connect to Bluetooth and Z-Wave devices, has two Gigabit Ethernet ports on the back (one WAN, one LAN), and a microSD card slot for local video storage (spoiler: not free). Finally, the Base Station has an integrated 104db alarm meant to either scare the crap out of intruders or you if you don't disable your system in time.
The Security Kit version includes the Base Station, four contact sensors, a keypad, a Wi-Fi range extender, and a motion detector. The range extender needs to be plugged into the wall, but the latter charges its internal battery via USB or an included power adapter. The sensors and motion detector are all powered by simple coin batteries, and replacing them isn't too taxing.
It's incredibly easy to link new devices to your Base Station. If they don't automatically appear within the app, ready for setup, integrating them manually is as easy as scanning a QR code printed on the device. You'll typically be asked a question or two about each device's specific features, and the app will ask you to add it to a room in your house and name it. It takes about a minute, if that long, to set up any given device.
Setting up the Base Station itself exposes some of the complexities Amazon unnecessarily builds into the Ring Alarm Pro. The biggest one hits you right out of the gate: You need two separate apps to get the Base Station configured, Amazon's Ring app and its Eero app, since the device doubles as a wireless router.
You'll be handed off from one to the other (and back again) during the initial setup, which is otherwise very well-guided by both apps. You'll need to bounce between two apps to fully manage the Base Station within your Amazon-laden home, which isn't very fun. You'll have to bounce between three apps if you also want to connect your security system with your Alexa-based devices.
You can't disable the Wi-Fi on the Ring Alarm Pro at any point, as it's designed to be the router in your home network, not a secondary security hub you simply plug in. You can run it as an extender in an existing Eero setup, but you'll lose access to a number of features found in its accompanying Protect Pro subscription if you sign up. You get a free 30-day subscription out of the box, but that's it.
Software and performance
The Ring security app, where you control the various security features of your Base Station and accompanying devices, is fairly straightforward. It comes packed with plenty of features to play with as you take your first steps toward building your personal Fort Knox at home.
The app's home screen immediately lets you set your entire security system into one of its three key modes: "Disabled" or two versions of "Armed" (one turns on your proximity sensors, while the other enables everything you've got, including motion sensors). You can configure what gets turned on and off for the two arming modes at your leisure, and you can even view a quick snapshot of any connected Ring cameras immediately, which is a nice touch to give you some quick peace of mind. Firing off your system's alarm is simple: just tap the red icon in the upper-right, confirm your choice, and cover your ears.
You'll definitely want to explore each of your connected security device's specific settings. Tapping on any of them within the Ring app pulls up a smart grid of fairly straightforward options. For example, you can create schedules for arming/disarming your home security automatically, control your devices' LED lights, check your Base Station's battery, and view the full event history of your security system, to name just a few options.
I appreciated the ability to specify different actions for when the Ring Alarm Pro's contact sensors are tripped, such as adding a delay to disarm the system before the alarm goes off versus always sounding the alarm whenever the system is armed. And you can even set your system to emit a noise whenever the contact sensor is triggered.
But I was surprised I couldn't adjust the sensitivity of the contact sensors. Instead, this becomes a bit of trial-and-error during the installation process, where you'll want to ensure that the sensor correctly registers a door or window being shut instead of just slightly ajar. (The contact sensors' two halves have a buffer of about an inch before they trigger activity.)
The motion sensor is a bit more robust. For instance, you can set one of three different motion sensitivities to prevent your pets from prompting a call to the police. You're also given "test mode" to check the results without having to arm and disarm your entire system constantly. The included keypad doesn't have much you can configure beyond LEDs and audio settings, but I found it odd that the setting to change the same code you use to arm and disarm your system is buried elsewhere within the Nest app. The right sidebar's Settings > Shared Access section isn't where I expected to find the option.
I appreciated the ability to specify different actions for when the Ring Alarm Pro's contact sensors are tripped.
The Ring app's supplemental "Neighbors" section is Nextdoor for Ring users. Say what you will about the privacy implications of neighbors sharing footage of this, that, or the other, but it's useful for things like theft warnings, missing pets, or general "what was that loud noise?"-type questions — assuming your neighbors are helpful, not horrible.
What's not so helpful is the fact that the Ring app is but one of three that you might ultimately use to control your security system. You'll also need the supplemental Eero app to take charge of all things for wireless networking — and the Alexa app if you want to connect your Ring Alarm Pro to other Amazon devices like Echo speakers or smart displays with built-in cameras.
Oddly, you have to download a Ring skill in Alexa before you can even create routines around actions, like having an Echo speaker say something if a contact sensor is triggered. I (incorrectly) assumed they would have already been linked if I used my singular Amazon login for everything. It was a headache to get this all sorted out initially.
Ultimately, Amazon needs a single app that controls everything related to the Alarm Pro. In cases where it might need another app's help (say, Alexa), you should be able to perform the same actions in either app. It's inconvenient, if not outright confusing, to have to jump between so many apps and triple-check that you're cross-linking them in the right ways. Less tech-savvy people will undoubtedly forget which app controls what and have to go on a detective mission whenever they want to update their security system's settings.
Worst, since this is Amazon, the Ring Alarm Pro does not connect to any other smart home platform, such as Google Home or HomeKit. Nor does it support the Thread or Zigbee protocols. Annoyingly, the Ring Alarm Pro's Base Station has a Zigbee chip installed, but it's disabled for the time being. It also remains to be seen if the Ring Alarm Pro will support the Matter smart home protocol at some future point, which is designed to give everyone's devices a single, unified way to interact.
And then there's the issue of that monthly subscription. Pony up $20 each month, and you'll get full access to everything Ring offers, including a backup cellular connection for your Base Station to help your house stay secure if your Wi-Fi goes out. You also get live monitoring that can allow others to trigger an emergency response on your behalf if your alarm is tripped. In addition, you get the rather annoying ability to save the video from any connected Ring cameras locally to your Base Station — which will require you to shell out for a separate microSD card, too.
Cheaper plans, such as the Plus ($10/month) or Basic ($4/month), allow you to store and access video recordings in the cloud and can alert you if a person is spotted on your video feed. The only difference between the two is that Plus gives you an extended warranty for all your Ring devices at a single address.
While it makes sense for Amazon to charge a monthly fee for some of the fancier monitoring features of its Protect Pro plan (even though you'll be paying extra for data if you go beyond 3GB/mo on its cellular backup), I think it's idiotic that you have to pay $20/month to enable local storage for connected cameras. It's your storage, not Amazon's; this incredibly useful feature should be free.
Competition
If you don't need another home router and don't really care about having cellular back-up for your home security system, Amazon's standard Ring Alarm (not "Pro") can save you $50 for all the same accessories and even has a cheaper five-piece version. Basically, if you do not intend to pay a monthly fee for home security, you probably don't need the Ring Alarm Pro; the standard Ring Alarm should be plenty if all you need is a solid alarm and notification system for your home or apartment.
There are many other all-in-one security kits out there; whether they're enticing or not depends on your needs at home. Abode's Security Kit, for example, is compatible with all the major smart home platforms. It's still unclear whether it supports the Matter protocol, however. If you're patient, I'd wait and see which security systems will get the upgrade before taking the plunge, as that'll greatly help you integrate your disparate smart home devices, should they also support Matter.
If you're looking for something that lets you capture video to local storage without paying a subscription fee, you might have to go the DIY route with cameras and storage to get the best results. This will be much less convenient than an all-in-one kit but cheaper.
Should you buy it?
If I were buying a security kit for a loved one, I'd have no issue going with Amazon's Ring Alarm Pro. As an all-in-one solution, it packs a fast-enough router, comprehensive security features, and a useful group of accessories into a single, easy-to-install kit. The tri-app setup is aggravating, but most people will probably stick to the singular Ring app after of setting everything up. Even if you're not paying oodles for the subscription, you still get a great system that can alert, alarm, and notify you about all the goings-on around your home.
The Ring Alarm Pro is hardly perfect, as evidenced by the many apps you'll need to control its features, but most people are unlikely to take an enthusiast's mindset to setting up their home hub. Spend a day setting everything up, and you're home free — and will probably just use the Ring app to check in on what's going on at home. The Ring Alarm Pro works great as long as your home is generally outfitted with Amazon/Ring products (or you don't mind making that your new thing). It's not very compatible with other manufacturers' smart home products or competing platforms, but that probably won't deter those who want a simpler home security setup that works.
Conclusion on Lots of sensors, lots of apps
If you have any query let me know in comment section.