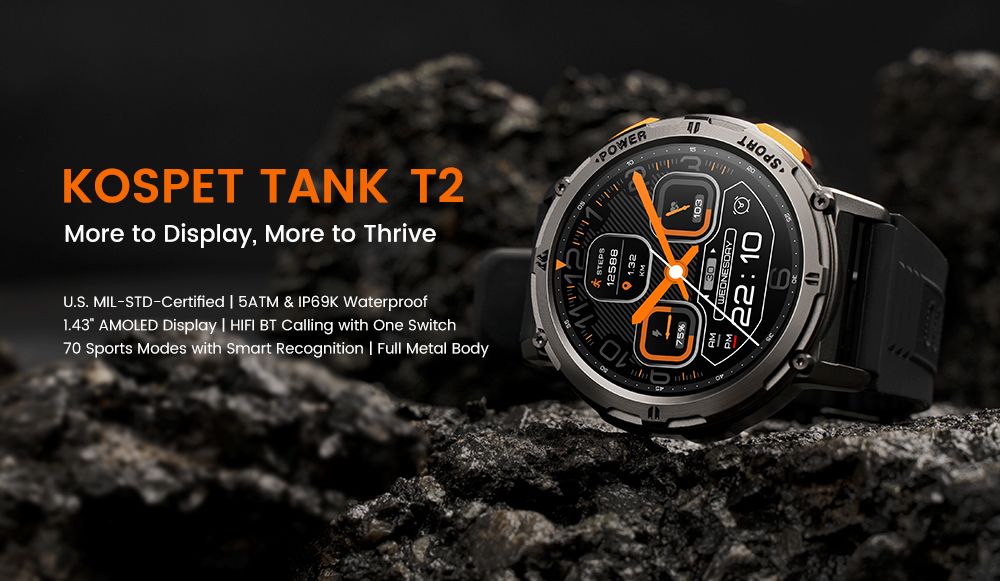 Just because your dream of becoming a soldier disappeared with your GI Joe collection doesn't mean you can't enjoy the same technological advances as our brave men and women in the armed forces. Namely, the T2 and M2 smartwatches, which have passed rigorous testing the likes of which would have me too afraid to leave my barracks and attempt. Yes, you can have a wrist more decorated than General Patton when you don these devices, which will be your key to surviving everything from Tough Mudder training to a Black Friday sale.
But first, a word or two on Kospet.
The Kospet brand
Kospet, the manufacturer of the T2 and M2, is as remarkable as the products that bear its name. The company has been around since 2018, with offices in China and the United States. It is known the world over for its diverse and unique product design, testified by its millions in annual sales and its domination of both Android and Rugged smartwatch markets. This is all just a way of saying that Kospet is a dependable company that makes dependable products.
Now back to those tests.
Military-grade testing
How many devices do you know that have conquered 12 U.S military standard tests, including a low-temperature test, high-temperature test, damp-heat test, shock test, vibration test, rain test, salt-spray test, low-pressure test, fungus test, contamination-by-fluids test, sand & dust test, and solar radiation test? Of the few devices you know that can boast this feat, you can add the T2 and M2 to that diminutive list.
There's a reason these watches are called Tanks.
Reinforced design
Their all-new design comprises special composite materials and a metal shell, optimizing them for durability and long life. That high-strength metal renders them resistant to vibration, drops, and being crushed by cars. Both models are incredibly static waterproof up to 50 meters and dynamic waterproof, having surpassed the rigorous IP69K rating test, which means you can wear it while participating in water sports and activities, such as swimming, diving, and surfing. The seeming invincibility continues inside where both watches feature a 410mAh pure cobalt battery with high capacity and voltage. The single-chip processor minimizes power consumption, resulting in a 50-day standby time and 10–15 days of daily usage. So, whichever adverse conditions you submit yourself to, know that these watches will remain intact.
Vitals at a glance
They will monitor at the push of a button your blood pressure, heart rate, steps, calories, distance, blood-oxygen levels, the sports you play, the music you listen to, and the time it takes you to do it all. Both watches support over 70 sports modes (who knew there were even 70 sports?!), including hiking, skiing, swimming, and other indoor and outdoor workouts. The M2 goes beyond, with intelligent recognition of six sports: stationary state, walking, running, cycling, elliptical, and rower. Those who participate in these activities will have their progress monitored without having to enter Sports Mode manually. It also gathers information on your physical state even when you aren't doing anything, acting as a sleep monitor during deep slumbers and short naps. It can tell you your exercise status and heart rate when unconscious, compile comprehensive data and extrapolate meaningful analysis to improve your sleep quality.
The total package
And yes, the T2 and M2 can do all those things you've come to expect from more advanced smartwatches. You can receive notifications, check emails, and take photos. Thanks to the latest single-chip processor from RealTek, the watches feature dual-mode Bluetooth. Upon connecting to the app, your watch will be able to make/take phone calls via Bluetooth with one switch and listen to music in high fidelity, with crisp highs, deep lows, and clear mids. The sound is truly stunning. Supplementing all these are the Kospet Fit and Kospet Fit Lite apps, which provide all the information your watch gathers and displays on your phone's larger screen. Also, available via the app are numerous official watch faces, providing you with the means to personalize the interface.
Style and function
Though they are built like tanks, the T2 and M2 have the style of a Ferrari. The M2 features an exclusive two-color liquid silicone rubber mold around its 1.85" IPS screen with 320×385 resolution. A product of Kospet, this design marries style and substance for a watch that can remain on your wrist during the day's play and evening's festivities. The T2 has a 1.72" AMOLED-powered screen with a retina display, so it will be visible in even the most intense outdoor lighting. Its always-on-time display will always keep you informed even when your hands aren't free.
Kospet has surpassed even its standards with the M2 and T2. Should you be in the market for a smartwatch that is more rugged than other 2023 Android smartwatches, and doesn't compromise function or style, look no further than these diamonds – tough and beautiful. You can purchase the Tank M2 for $99.99 on the Kospet site while the Tank T2 is currently on sale for $109.99. Order now and get a free protective film worth $12.99.
See T2 at KospetSee M2 at Kospet
This is a sponsored post. The product choices and opinions expressed in this article are from the sponsor and do not reflect the editorial direction of Android Police or its staff.
Conclusion on Fortify yourself against the elements with Kospet's latest TANK smartwatches
If you have any query let me know in comment section.