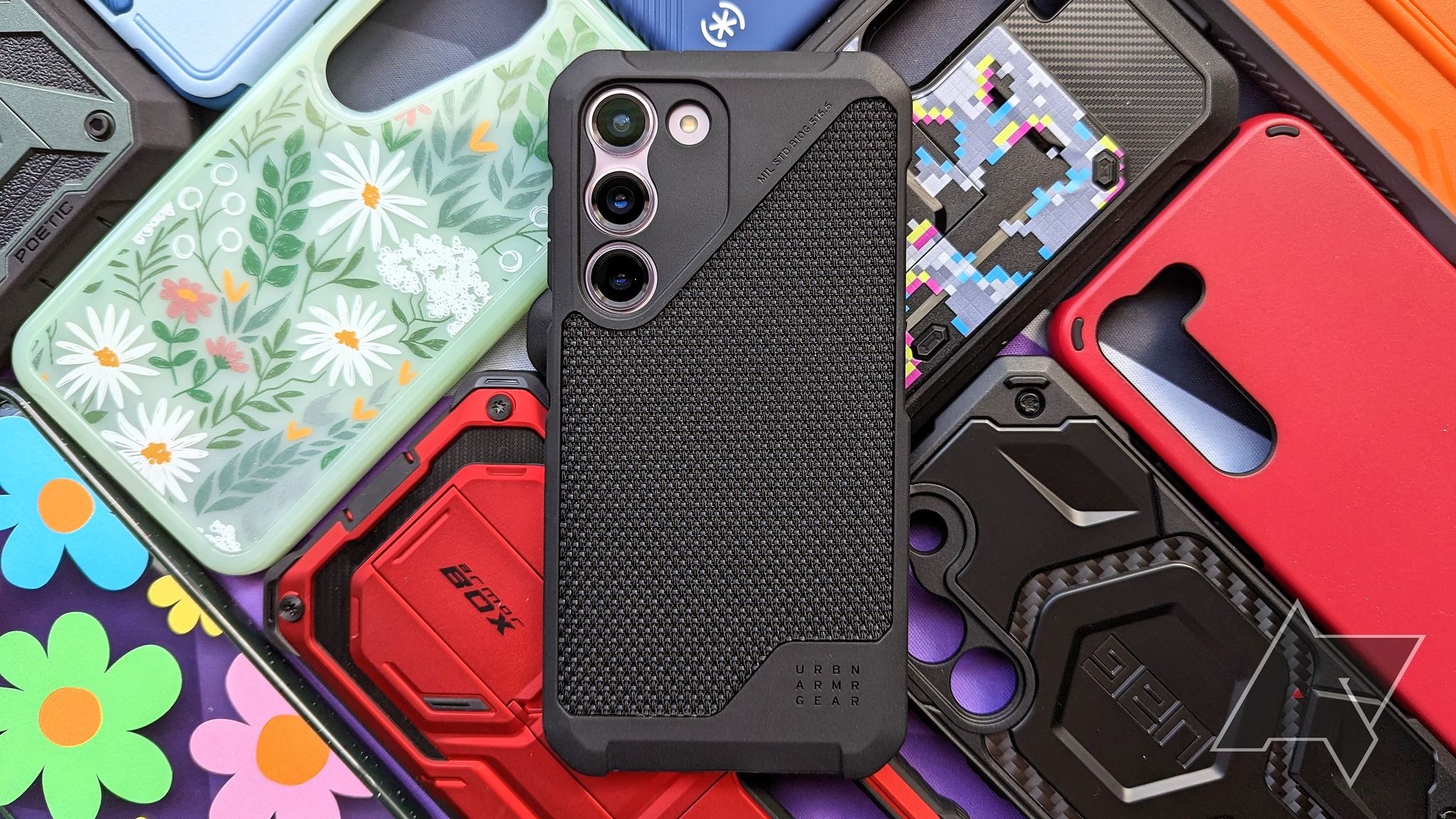 With the release of the new Samsung Galaxy S23 lineup approaching very quickly, there is much anticipation — and some great Galaxy S23 leaks surrounding this year's models. So, if you're planning on hopping on board with the newest generation of Galaxy phones, you're going to want a case that can protect such an expensive investment.
While the Samsung Galaxy S23 won't officially be available to the public until near the end of February, you can still find a good handful of cases available online right now. And as the release date comes closer, we should start to see some of the bigger brands releasing their case designs. While this list will continually grow, these are some of the best heavy-duty cases for the Samsung Galaxy S23.
The release of the new Samsung Galaxy S23 lineup has been met with a lot of anticipation, some great Galaxy S23 leaks, a ton of rumors, and, as expected, a higher price tag. While the prices for smartphones continue to climb, so do the costs for repairs, so you might want to think twice before walking around with your bare S23 exposed to the elements. In the past, heavy-duty cases may have been a little heavy on the bulky side, but designers have come a long way with cases, keeping profiles slim and lightweight and ensuring protection is the number one priority.
If you're planning to hop on board with the newest generation of Galaxy phones, you will want a case that can protect such an expensive investment. These heavy-duty cases have everything from thin to thick and clear to colorful.
Source: UAG
UAG Metropolis LT Pro for Galaxy S23
Premium Pick
This case might look like all bark and no bite, but don't be fooled by the friendly and sophisticated Kevlar covering. The UAG Metropolis LT Pro has a great design and feel, precise fitting, and it's slim and lightweight. The Metropolis boasts 18-foot drop protection with an impact-absorbing core, so a simple slip from your hand should be okay. You'll also be able to charge wirelessly through the case with a built-in magnetic module that aligns perfectly with the necessary contact points. This case is probably one of the lightest heavy-duty cases you'll find.
OtterBox Commuter Series for Galaxy S23

Editor's Choice

While nothing new, the OtterBox Commuter Series has been a tried and true reliable case for countless devices over countless years. So it's no doubt you can expect to see this case at the top of the list. Staying true to their prices as well, you can snag this case for $40, and if you buy from OtterBox themselves you can save 22% when you buy two products. The Commuter Series comes in four different colors, includes port covers to protect from dust and dirt, works with wireless charging, AND has Otterbox's unique protection rating: DROP+ (which means crazy good protection).
Source: Amazon i-Blason Armorbox for Galaxy S23

Promoted Pick

In partnership with i-Blason

If you had no idea that i-Blason is the sister brand of Supcase, then you are not alone. After all, we've come to expect more style-centric and less heavy-duty cases from i-Blason, but the entire equation changes with the i-Blason Armorbox. What seems to be lacking in the Supcase UB Pro, i-Blason has brought into the Armorbox. Not only do you get full drop protection, but you also get port covers, a solid kickstand, nice grips, and the front frame option, including a screen protector.
Ghostek Covert for Galaxy S23

Best Value

This no-bulk case gives your device all-around protection without extra weight, thickness, or random attachments on the back. Although the Ghostek Covert is straight to the point looking, the layers of protection within this case will give you more than enough peace of mind. Not only are the edges raised around the screen, but they're also raised around the camera to protect your glass from front to back. The crystal clear back is scratch-proof, and the silicone corners are shock-proof. If the anti-slip hand grips don't keep your phone in your hand, the Covert can survive 8-foot drops without worries. 
Source: Casetify
Casetify Ultra Impact Series for Galaxy S23
Stylish Protection
Not all heavy-duty and rugged phone cases have to be big and bulky, and that's what we're seeing from the Casetify Ultra Impact Series. The protection for your device comes from air-cushioned corners, EcoShock lining for impact absorption, and a whopping 11.5-foot drop protection. You can also bet that the Impact Series is as stylish as it is tough, so you've got a large variety of designs and color options. Casetify proves that you don't have to sacrifice the protection of your device for a good-looking case — you can have both.
Speck Presidio Perfect for Galaxy S23

Crystal Clear

If you've got an exclusive device color you just can't help but show off, then clear cases are the way to go. The Speck Presidio Perfect is one of the clearest and cleanest cases with added protection. While this case may not look like it can handle much, the cushioning rubber materials lined within allow for 13-foot drops, scratch resistance, and can withstand antenna interference. The soft outer coating feels great in hand and keeps them clean with an integrated antimicrobial treatment, reducing 99% of bacteria growth on the case. 
Source: Amazon
Caseborne V Series for Galaxy S23
Heavy-Duty Defense
The Caseborne V Series is probably the heaviest rugged case you'll find on the market, but it's a fair trade-off for the sheer protection it gives. This case is different right from the get-go, as you'll notice the built-in kickstand is big, bold, and way better than some of those tiny flimsy stands that just don't cut it. You'll also get much better protection for your camera with a precisely cut camera plate that you'll need to apply separately from the case. With five layers of protection, it's no wonder the Caseborne V Series is rated for 21-foot drops.
Kate Spade New York Defensive Hardshell for Galaxy S23

Functionable Fashion

When we asked for a trendy cheetah print case for our phones, we're almost always met with disappointment over the sheer lack of quality and protection. Well that all changes with the Kate Spade New York Defensive Hardshell case styled in signature colors, with intense protection you wouldn't even expect. The shell contains cushioned, shock-absorbing bumpers able to accommodate for up to 12ft drops, and the scratch-resistant coating — along with antimicrobial technology — keeps each design looking as fresh as day one. You can also still use wireless charging without having to remove the case.
Supcase Unicorn Beetle Pro Rugged Case For Galaxy S23

Promoted Pick

In partnership with Supcase

Unicorn Beetle Pro Series cases have a reputation for being some of the best heavy-duty smartphone cases. You can expect them to stay true to their quality of protection with the Supcase Unicorn Beetle Pro Rugged Case. This full-body case gives you coverage from front to back and side to side with raised bezels, shock-absorbing TPU, and an unbendable polycarbonate design. There's also a kickstand with three viewing angles, doubling as a ring holder. You also receive a free rotating belt clip holster that you can attach for easy use or just put aside.
Ringke Fusion-X Case For Galaxy S23

Sleek Style

The Ringke Fusion-X case is probably the thinnest heavy-duty case you can find, and the lack of bulk doesn't compromise its integrity at all. The raised edges are made with a soft TPU material that makes it easy to grip and hold onto while protecting the camera and screen. The backing of the case is made with a hard, impact-resistant clear or camo-black design, depending on your color choice, and both are resistant to fading and discoloration. Also included are Duo-QuikCatch holes to attach accessories like a hand strap, keychain, or lanyard.
Poetic Revolution Series Case For Galaxy S23

Affordable Protection

The Poetic Revolution Series Case looks great and is designed for full-body protection of your phone. The military-grade protection means your device remains protected from all angles, including shocks, drops, hard impacts, and scratches. The raised edges and built-in screen protector also help keep your screen safe. (Poetic has also included an extra frame without a protector if you prefer to use your own screen protector.) The case comes in six great colors and features a wide kickstand built into the back, allowing you to use your phone in landscape and portrait mode.
AICase Tough+ Protection Series For Galaxy S23

Colorful Options

The AICase Tough+ Protection Series is a full-body coverage case with certified drop protection and multiple layers of defense, making it a great budget pick. The soft inner layer is made with polycarbonate rubber for cushiony protection inside, while the hard outer shell keeps your device safe from drops, falls, and impact. In addition, your screen stays clean with two screen protectors, and the raised edges protect the camera from damage and scratches. You can purchase the case with accessories like a belt clip and a camera protector, and it is available in over ten colors.
Armor-X Waterproof Case For Galaxy S23

Waterproof Protection

With the Armor-X Waterproof Case, you can fully submerge your S23 up to 6.6 feet underwater for an hour without any issues. The case is also shockproof and can withstand drops up to 3.9 feet. It's fully protected from harsh outdoor environments and has a built-in screen protector with full fingerprint and touch functionality. It also has an attached carabiner clip and strap for extra security and includes a small expandable key tool holder to store your sim card tool. The handy mini toolbox also doubles as a magnet and works with a huge range of phone mounts.
Protecting your investment
When you buy a new phone, it's not just a frivolous small purchase. The best Android phones are anything but cheap. If you're looking to get your hands on the new Samsung Galaxy S23, you're certainly in for an investment and will need to protect such a pricey piece.
Heavy-duty cases are undeniably the best cases when it comes to the ultimate protection of your Galaxy S23. Features like military-grade protection, drop protection certification, and resistance to the elements mean your Galaxy S23 stays protected through everything life throws at it. With UAG, OtterBox, and even now i-Blason, you get all of this protection and some great looks, too. But, of course, such features and security generally add some weight and bulk, so if you're looking for something a little lighter and smaller to fit in your hands, there are heavy-duty cases as well.
Sleeker heavy-duty cases like Ghostek, Speck, and Casetify all have nice profiles with a much thinner design that doesn't compromise the protection value. Not only are these cases more pocket-friendly, but clear designs like the Speck Presidio Perfect allow users to show off the exclusive colors of their devices while still keeping them properly protected. No matter which heavy-duty case you choose, you can rest easy knowing you're protecting your investment in the Samsung Galaxy S23.
Conclusion on Best Samsung Galaxy S23 heavy-duty cases in 2023
If you have any query let me know in comment section.