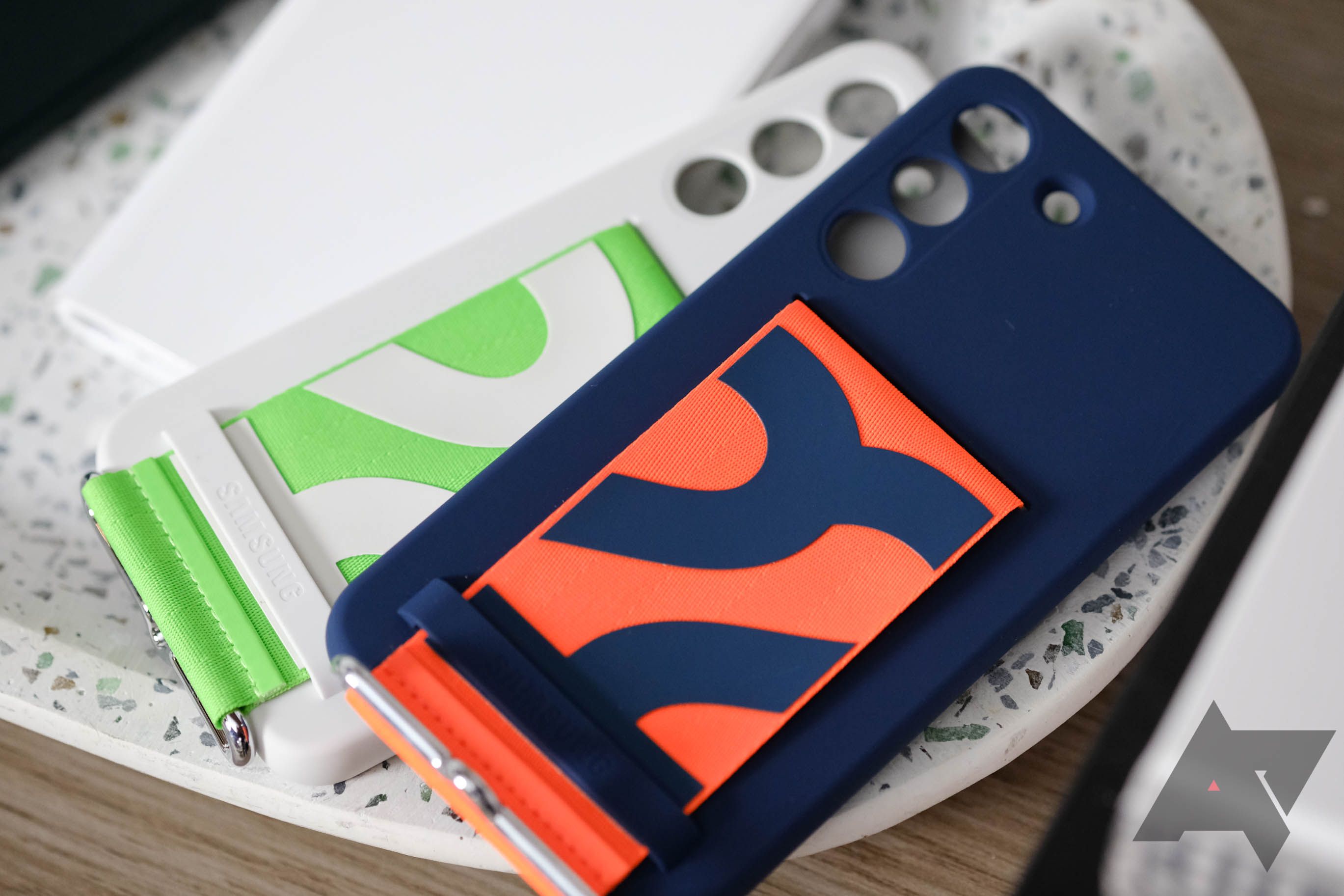 No matter your taste, your Galaxy S22 needs a case to add grip, protection, and style to your pocket-friendly flagship
The Samsung Galaxy S22 may have been replaced by the Galaxy S23 but it's still an excellent little phone. Unlike its larger brothers, the S22 is genuinely small with its 6.06-inch display, making it comfortable to hold and easy to pocket. It's still a metal and glass sandwich, though, so a drop could spell the end for this little phone.
Thankfully, there are plenty of cases available for the S22, and we've collected the best of the best to help you pick the best one(s) for your needs and keep your phone looking fresh for as long as possible.
Source: Amazon
Poetic Neon for Galaxy S22
Colorful Protection
As Poetic's newest case series, the Neon strikes a balance between heavy-duty protection and a more lithe profile. It uses the same tried-and-true dual-layer design as the Spigen Tough Armor and OtterBox Commuter Series, but Poetic has refined the design to achieve greater functionality and an iconic look. And cutouts on the back and sides of the hard plastic shell allow the grippier, impact-absorbent TPU (thermoplastic polyurethane) to keep your phone from sliding around a table or falling out of your hand.
i-Blason Cosmo Series for Galaxy S22
Promoted Pick
In partnership with i-Blason
i-Blason cases are always among our favorites thanks to their robust protection and beautiful design. While the classic Pink marble remains a crowd favorite, you might consider a few extra i-Blason exclusives for the Galaxy S22. A black/white/gold version looks impressive with the Phantom Black Galaxy S22, but the most unique offering is a clear/silver model that pairs well with each colorway while still having the classic overlay.
Source: Casetify
Casetify Impact Case Series for Galaxy S22
Infinite Possibility
While solid color cases may be easier to make and sell, nothing's as fun as a well-designed graphic case. Casetify's variety of Galaxy S22 cases is completely out of this world. From licensed Co-Labs like Harry Potter, Star Wars, and the NBA to hundreds of original and customizable designs, there's a design for every Galaxy S22 owner and then some. Best of all, almost every single design is available in multiple colors or durability levels. Whatever your taste, you'll find a case to love.
Souce: Samsung
Samsung Silicone Cover with Strap for Galaxy S22
Best Official Case
Samsung stepped up its case game last year with the Silicone Cover with Strap, giving the Galaxy Z Flip 3 an instantly-iconic look that could be further jazzed up with swappable straps. With the Galaxy S22, Samsung is kicking things into the next gear, promising to offer a plethora of straps from everyone from Disney to UEFA soccer and everybody in between. The strap does more than look cute, though; it also works as a softer phone grip that won't interfere with wireless charging.
Source: Spigen
Spigen Liquid Crystal Series for Galaxy S22
Favorite Clear Case
The Liquid Crystal is one of the most consistently superb thin clear cases, adding grip while showing off Samsung's full design prowess, but you might not know that it comes in two flavors. The regular liquid crystal fills the role of invisible case well, but its sparkly counterpart is the one we recommend. Adding some glamour to your case does wonders to make the S22 look less dreary.
Supcase Unicorn Beetle Pro Series for Galaxy S22
Promoted Pick
In partnership with Supcase
If you need a case that can survive the apocalypse, Supcase crafted the Unicorn Beetle Pro just for you. Tested against 20-foot drops and complete with a dust flap to keep sawdust or zombie guts out of your all-important USB-C port, the UB Pro series of cases have survived run-ins with bikes, cars, and even lawnmowers. It might be slightly too thick to work with most wireless chargers, but the case makes up for that with a great kickstand.
UAG Monarch for Galaxy S22
Luxurious Indulgence
This case may seem a bit extravagant between the 5-layer design and the $60 starting price, but the UAG Monarch is truly fit for a king, or at least for an adventure-seeking prince looking to slay dragons for glory. Like the Supcase UB Pro, the Monarch is rated for 20-foot drops, but even with the 5-layer construction, the Monarch is still thin enough to allow for wireless charging on most wireless chargers.
Source: Amazon
Caseology Parallax for Galaxy S22
Most Comfortable
Don't mistake the Parallax's mesmerizing rear pattern for some printed design; it's a 3D texture that feels pleasant in hand, looks enchanting, and offers a flat-enough surface for you to stick on PopSockets or an adapter for your magnetic car mount. Along the sides of this Samsung Galaxy S22 case sit two textured pads, adding even more stability when you're trying to use the phone one-handed or type. The color selection is a great bonus, especially the green that matches the S22.
Source: Amazon
Torro Genuine Leather Cover for Galaxy S22
Best Folio
Crafted from American leather, this British-born case is wonderfully detailed. The wallet portion can carry three cards plus cash, and the magnetic clasps that hold it closed have been shifted down so they don't cover the power button. (You might think that'd be a no-brainer, but that detail gets overlooked far, far too often.) The dark brown colorway feels more subtle and suave, but honestly, the black with that bold red threading and detailing looks too good to ignore.
Source: Amazon
Otterbox Symmetry Series for Galaxy S22
Comfortable and Strong
OtterBox turned itself into the Kleenex of the heavy-duty case world, and after over a decade of amazingly rugged entries, it has its Galaxy S22 cases down to a science. Sleeker than the Defender Series and way better colored than the Commuter Series, the Symmetry is durable and dependable without turning into an unwieldy tank. Available in some breathtaking colors, the Symmetry Series is the best OtterBox for the Galaxy S22.
Source: Ghostek
Ghostek Covert for Galaxy S22
Clear and Colorful
This clear case is built for a beating. Ghostek utilizes R2X silicone shock absorbers to resist the ever-dreaded corner drop, and raised bezels protect your screen and camera module from scratches. While the Ghostek is definitely not an "invisible" clear case, that's a good thing because clear cases often end up looking squirrely around the curves and corners. Ghostek also has limited edition bumper colors in Red, Teal, Blue, and Purple, though this long after launch, they're getting harder and harder to find.
How to pick the best Galaxy S22 case

The cases on this list are well-made, and they all offer at least some protection to varying degrees based on the type of case. For example, if you're clumsy or work in an environment that will place the phone at risk, you'll need a case that can keep your phone safe no matter what, while others prefer slim cases that are more comfortable. If you're unsure of what case you need, this might help you pick:
How much drop protection do you need?
Slim cases are enough if all you're worried about is your phone sliding off of your desk or out of your pocket. Samsung's Silicone Cover and the Spigen Liquid Crystal are perfect in this case. If you're on the accident-prone side or work somewhere that isn't friendly to sensitive electronics, then the Supcase UB Pro or UAG Monarch are better options, both sporting 12-20-foot drop protection.
What thickness will you tolerate?
Cases protect your phone from impacts by absorbing the kinetic energy generated and dispersing it around the phone, and thin cases are less able to do this. Hard cases made of polycarbonate (PC) are good for scratch protection, but they'll shatter in a bad drop, offering no protection to the phone. The only thin cases of any use here are those made of TPU, with slightly thicker cases like the Caseology Parallax bridging the gap between protection and comfort.
Are you against fun?
Why buy a good-looking phone like the S22, especially the Bora-Purple one, if you're going to hide it in black plastic? The Poetic Neon has some great color options, and the Casetify Impact Series has dozens of designs to pick from. You can also add a PopSocket if you want an extra splash of color or flare.
Once you have durability and thickness dialed in, you can start thinking about materials. Clear cases, fabric cases, silicone, and leather — there are plenty of options to choose from. And there's no reason to stop at just one case. We use something slim and comfortable around the house to prevent scratches and then hulk out into something more durable when we go outside.
No case would be complete without a great Galaxy S22 screen protector to cover your S22's glass, not just the body. Another worthwhile addition is a PopSockets PopGrip. You can twist the top off and still use wireless chargers while getting a more stable grip and a kickstand for those break room YouTube binges.
Conclusion on Best Samsung Galaxy S22 cases in 2023
If you have any query let me know in comment section.