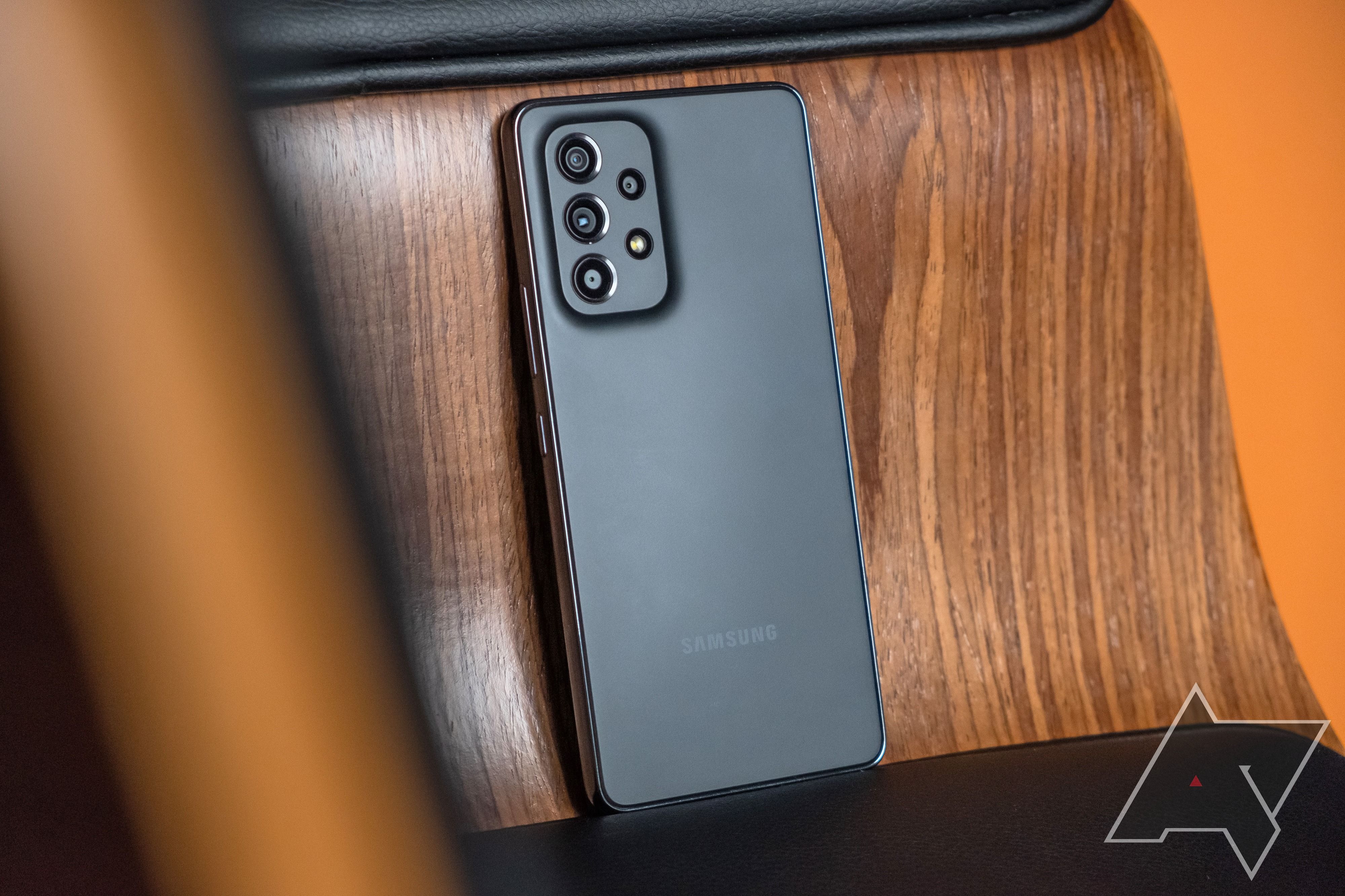 The Galaxy A53 perfectly fits your life and budget, and it deserves a case to match.
The Samsung Galaxy A53 may not be as revolutionary of an upgrade as the Galaxy S22 Ultra, but its consistent performance, design, and durability make it one of the best budget Android phones on the market today. With five years of security updates ahead of it, your Galaxy A53 can last you quite a long time — but only if you keep it safe and intact. We've rounded up the very best Galaxy A53 cases to ensure your phone is safe, secure, and stylish.
The Samsung Galaxy A53 may not be as revolutionary of an upgrade as the new Galaxy S23 series, but its consistent performance, design, and durability make it one of the best budget Android phones on the market today. With four more years of security updates ahead of it, your Galaxy A53 can last you quite a long time — but only if you keep it safe and intact. We've rounded up the very best Galaxy A53 cases to ensure your phone is safe, secure, and stylish.
Supcase Unicorn Beetle Series for Galaxy A53
Premium Pick
The Supcase Unicorn Beetle Series only comes in black, but the color shouldn't matter much; this case is built to last, made to withstand the elements, and will keep your device protected from harsh and rugged environments. The deeper bezels around the camera and screen leave more space between your glass and any rough surfaces, and the stout and sturdy kickstand even doubles as a phone grip. Angled detailing across the back also aids with extra grip to keep your device in your hands.
UAG Scout for Galaxy A53
Premium Pick
While it's not your typical UAG ultra heavy-duty style, the Scout perfectly suits the Galaxy A53 with minimal detailing and distinct protection. This case uses a specialized honeycomb pattern inside for more effective air cushioning, and on the outside, we have subtle sculpting for more tactile side bumpers. Along with the standard durability testing, this case is also tested to withstand harsh chemicals and cleaners. Unfortunately, you will only have two colors to choose from though.
Caseology Athlex for Galaxy A53
Best Value
Caseology's newest series, the Athlex, is a heavy-duty case without the heavy-duty bulk. Tested to withstand dozens of 4-foot drops — pocket or chest-height falls — this case combines air cushioning and a grippy exterior into a Galaxy A53 case perfect for joggers, runners, and app addicts who never put their phones down. While it's aimed at the athleisure crowd, the design makes it ideal for any user — it's sturdy, secure, and grippy without being a grime magnet.
OtterBox Commuter Series Lite for Galaxy A53
Big Brand Protection
The Otterbox Commuter Series Lite has soft inner layers and an outer shell to provide shock protection where you need it most. In addition, the thin profile lets you easily keep your Galaxy A53 in your pocket without too much bulk. Unfortunately, the Commuter Series Lite doesn't come with a built-in screen protector, but this does reduce the cost making it more affordable, and it allows you to choose a screen protector that works best for you.
i-Blason Cosmo Series for Galaxy A53
Promoted Pick
In partnership with i-Blason
The i-Blason Cosmo series is as fun as its namesake with this dazzling Marble Pink design, and just like Supcase's more macho models, this case offers serious drop protection using the same two-piece design. The outer shell of this case is smooth and grippy to keep it from slipping out of your hands, while the inner frame holds your Galaxy A53 safe and snug with a built-in screen protector for 360° protection.
Spigen Liquid Crystal for Galaxy A53
Crystal Clear
Clear cases always seem to fall under quite a niche category, with some users preferring them to display personal photos, ID, transit passes, or anything really. However, with the international versions of the Galaxy A53, a clear case like the Spigen Liquid Crystal case can do so much to show off the phone's Awesome Blue, Awesome Peach, or Awesome Black colors. Despite the smooth look, the Liquid Crystal's grip is excellent, and the reinforced buttons allow for a quick response.
Speck Impacthero for Galaxy A53
Two-Tone Design
Using an inner air bubble design to add impact resistance and a soft non-slip texture, the Speck Impacthero gives the A53 two things it desperately needs: grip and color. Four two-tone color options give you more choices than the majority of heavy-duty cases. The impact resistance is "only" eight feet, but Speck's detailing for the buttons and corners more than makes up for it by giving us a case that won't slip out of your hands or slide off that glass-topped patio table.
Oterkin Waterproof Case for Galaxy A53
Ready For A Swim
Available in three colors, the Oterkin Waterproof case protects your Galaxy A53 from dust, dirt, and debris, and is also waterproof with the ability to last up to 30 minutes submerged underwater. With a non-slip grip and the option to attach a lanyard, you'll probably never drop your phone again. If you do end up dropping your phone, you don't have to worry about damages with the shock-absorbing bumpers, built-in screen protector, and raised edges.
Source: Samsung
Samsung Silicone Cover with Strap for Galaxy A53 
Swappable Straps
With swappable straps and unique designs, the Samsung Silicone Cover with Strap might be the best way to spice up your A53 while staying distinctly Samsung, thanks to the precise camera cutouts. With spare straps being few and far last summer, we're now up to over 20 strap styles — including Marvel and Star Wars. From spotlight artist straps to cutesy animal designs, there's a little bit of everything (and some plain solids if you're allergic to fun).
Spigen Liquid Air for Galaxy A53
Fine Textures
While the Liquid Crystal case is very appealing to clear case users, the Spigen Liquid Air case appeals to a larger audience. This case employs two different textures: one shallow triangular pattern across the back, and diagonal grooves around the bumper for extra stability as you hold it one or two-handed. You'll also appreciate this case matching the gradual curves of the Galaxy A53's camera module rather than having that uncomfortable ridge surrounding the camera that sticks out like a sore thumb.
Ghostek Covert (6th Gen) for Galaxy A53
Clear And Colorful
Ghostek's clear case makes sense whether you've got the black Galaxy A53 or a special internationally colored version repping that "Awesome" line of colors. Between the combination of A53 colors and the colors on the bumpers of the Ghostek Covert case, you can create a design that pops like no other. Besides looks, the Ghostek sports extra drop protection with air cushioning, R2x gel inserts in each of the four corners, and textured side bumpers adding grip without drawing attention.
Crave Dual Guard Case for Galaxy A53
Enhanced Grip
If you're looking for a case for your Galaxy A53 with more color options, the Crave Dual Guard has you covered. You can choose from nine colors to make this case your own. Made with a tough rubber casing to protect your smartphone from accidental drops and scratches, the case also stays secure in your hand due to an enhanced grip. While the Crave Dual Guard does not come with a screen protector, it is designed to fit most screen protectors for the Galaxy A53.
SaharaCase Grip Series Case for Galaxy A53
Comfortable Grip
The SaharaCase Grip Series case is lightweight, sleek, and provides your Galaxy A53 with triple the protection. Reinforced shock-absorbing corners keep your Galaxy A53 safe from accidental drops, while the anti-slip grip keeps your phone in your hands. In addition, the clear case has a built-in screen protector to fully encase your phone for complete coverage. Finally, the closed design of this case keeps dust, dirt, and debris out of your phone, so your Galaxy A53 stays clean and works great.
Samsung S-View Wallet Cover for Galaxy A53
Recycled Materials
This slim and sturdy case by Samsung brings you something a bit different and unique for your Galaxy A53. Made with recycled materials, the Samsung S-View Wallet Cover features a rigid back and tough outer layers to keep your Galaxy A53 protected from all sides. The clear front window lets you quickly check the date and time and doubles as a scratch-resistant screen protector. For your convenience, there's also a hidden pocket within the case to store your favorite and most used cards.
Ringke Fusion Card for Galaxy A53
Added Convenience
In the age where you can pay for everything with your phone, wallet cases can seem a bit redundant, but there's still one card the vast majority of us can't digitize quite yet. That's our driver's license/ID card. Ringke's Fusion Card is only designed to hold one card, but that should be all you need with Samsung Pay and Google Pay. Ringke's one-card design grips your card well, while the push cutout ensures that it's never more than a swipe away when you need it.
Phone protection possibilities

Thanks to the continuous popularity of the Samsung Galaxy A53, case makers continue to roll out high-quality options with almost seemingly endless phone protection possibilities. The Supcase Unicorn Beetle and the Oterkin Waterproof cases combine protection and practicality in a decently affordable package. Both cases also maintain high durability standards to be sure they last a long time. As far as long-lasting cases go, you'll also find the affordable but reputable Otterbox Commuter Lite case to last just as long, if not longer, than some others on this list.
Now if you're looking for a slim but protective casing for your Galaxy A53, the Spigen Liquid Air, UAG Scout, and the Speck Impacthero offer it up in spades. The Speck and UAG focus on color and style, while Spigen doesn't mess with its winning formulas. i-Blason gets a bit more of an edge as a heavy-duty option with that built-in screen protector, but not everyone is brave enough to rock this awesome mix of pink, white, and rose gold.
All of these cases are compatible with wireless charging — yes, the Ringke Fusion Card can without a card in it — and should play nice with a good screen protector. And really, you should grab a tempered glass screen protector ASAP. Cases may offer a lip around the screen, but you're still looking at a multi-hundred-dollar repair if it falls on an uneven surface.
Conclusion on Best Samsung Galaxy A53 cases in 2023
If you have any query let me know in comment section.