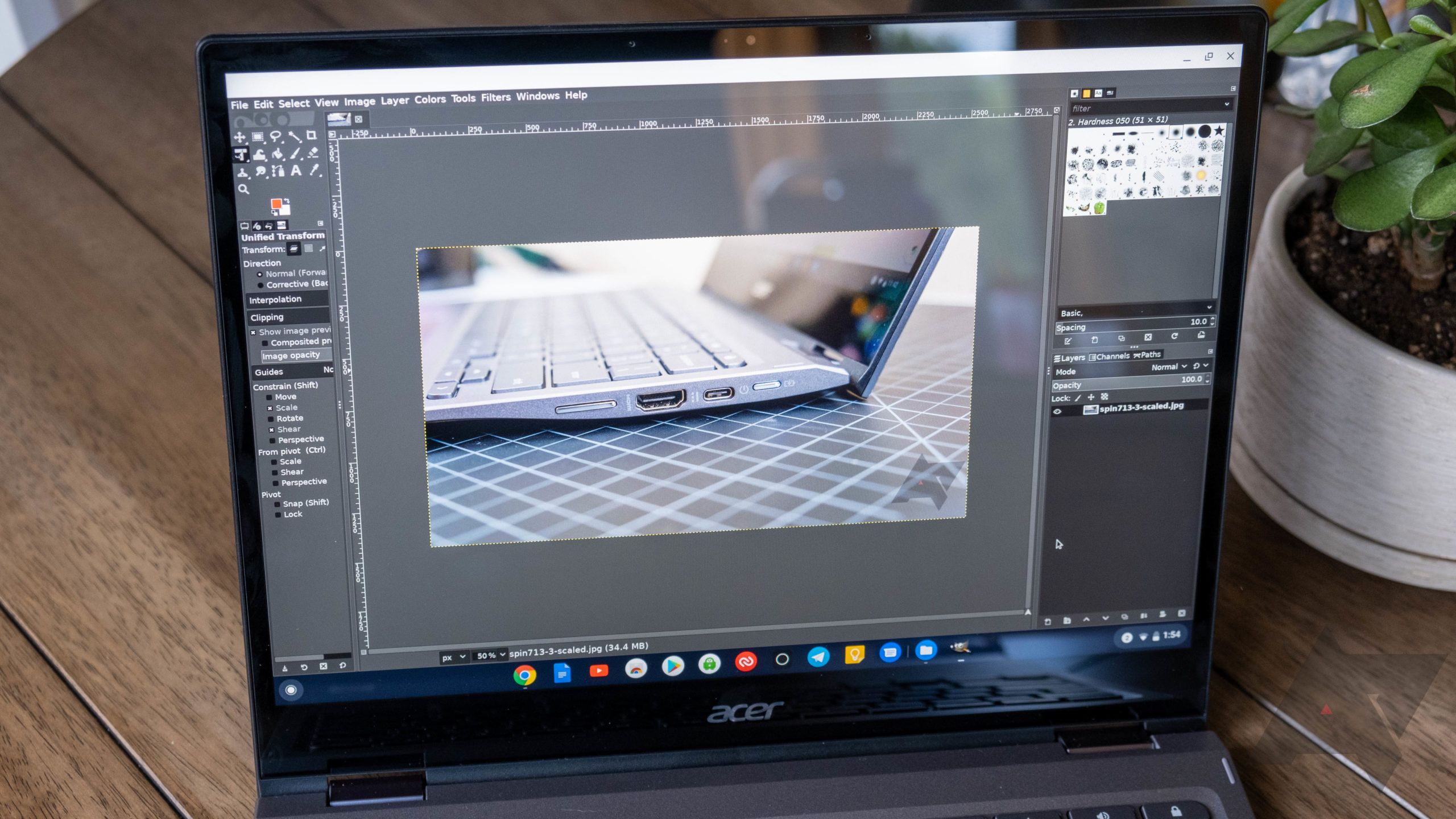 It's not often that we see a web browser become a fully-fledged OS. And yet, that's exactly what happened with Google's Chrome. Chrome OS devices started out as little more than hubs for checking e-mail and watching YouTube, but times have changed.
Today, Chromebooks offer an affordable alternative to Windows and Mac devices. They cover a wide array of features, including those sufficiently powerful to deal with minor productivity tasks. The addition of Android apps means that you have access to many of the best apps Android has to offer.
As such, there are plenty of options to store your photos. But Editing them could prove a little more difficult, as professional apps like PhotoShop are yet to make their way to Chromebooks. Thankfully, there are alternatives.
These photoshop alternatives range from simple apps that allow you to perform basic image editing to more complex apps that feature advanced capabilities like layers. In today's roundup, we outline the best PhotoShop alternatives for your Chromebook.
1 Krita
Krita is an app purposed for artists, and it's the full app, perfect for a Chromebook. Krita provides an extensive selection of tools and features to express yourself in any way you can imagine. With Krita, you can create drawings, manga-style comic sketches, storyboards, and more.
You'll find a plethora of brushes, stabilizers, and assistants, as well as a useful distraction-free canvas for producing art. It's worth noting that Krita is still in beta. As such, feature availability and device support may vary.
But while the app doesn't work with phones just yet, Krita should run on most of the current tablets and Chromebooks.
2 Canva: Design, Photo & Video
Simple in terms of accessibility, Canva is the perfect app for anyone who wants to dabble in photo editing. The app features thousands of free templates and options for enhancing your pictures. These include the ability to crop, adjust brightness or saturation, or add background blur. You can easily arrange multiple pictures in a collage as well.
Canva also allows you to create mockups of your chosen design, either by putting it on a mug or a t-shirt. Subscribing to Canva Pro gives you access to additional features, such as premium templates and a one-click background remover. But other than that, even the free version won't pester you with ads or watermarks.
3 Infinite Painter
Unlike Canva, which is purely a photo and video editing app, Infinite Painter is aimed at artists. With a recent patch, it received Chromebook support. Now, Infinite Painter is probably among the best drawing apps that you can get for your Chrome OS device.
Infinite Painter features hundreds of different brushes and pencils and just as many settings to adjust them. A minimalist interface allows you to pin your favorite brushes and quickly switch between them. Infinite Painter offers a seven-day free trial, and if you like what you see, you can unlock the full app for $10.
4 Lightroom Photo & Video Editor
While you won't find full-blown Photoshop software on your Chromebook, Adobe does offer some of its software via the Play Store as mobile apps. Lightroom is among the best apps for passionate photographers. In addition, it has possibly the most robust assortment of photo editing features.
Lightroom allows you to edit both photo and video content, adjust things like exposure, saturation, and luminance, put on filters, or even change the perspective of the composition. Many of these features are free.
That said, you'll need a premium membership to access some of the more advanced features. These include the ability to perform video editing, masking, geometry change, and access to the app's cloud storage.
5 Pixlr – Photo Editor
Pixlr is a photo editor similar to Canva. You can easily play around with backgrounds and exposure, adjust the tone of the picture, or add text and other effects to it. Pixlr also allows you to arrange your pictures into a collage, with numerous layouts to choose from.
If you're looking for an abundance of options, Pixlr offers over two million different combinations of effects. There's a variety of pencils and brushes to make quick adjustments with. But Pixlr can also automatically fix minor blemishes, adjust skin tone, or remove red-eye effects. Oh, and beyond this Android app, there's also a progressive web app that also works great on Chromebooks.
6 Photo Editor Pro
Photo Editor Pro features over 60 filters for adjusting the visuals of your photography. This also includes options for separately adjusting things like brightness, saturation, and warmth of the composition. There are over a thousand filters and two hundred visual effects to choose from.
If you want to go further, there are options for adjusting the shape and length of the body. You can even apply specific filters to make yourself look more cartoony. Have you ever wanted to look like an anime character? Then this is the app for you. Keep in mind the interface is designed for phones, but for quick edits of your photos, Photo Editor Pro works in a pinch.
7 PhotoRoom Studio Photo Editor
If you're in the business of running a marketplace, be it eBay or Etsy, you may want to take a look at PhotoRoom. This photo editor works similarly to many other apps of the kind but is more focused on e-commerce.
For one, PhotoRoom makes it easy to remove unnecessary elements from your pictures. With a single button press, you can remove backgrounds or specific objects or replace them with something else. PhotoRoom also allows you to enhance pictures with various effects and filters.
Certain features, particularly those aimed at resellers, require a purchase of a subscription. That said, there's a trial period in place, so you can find out whether you can make do with the app's free offerings.
8 Sketchbook
Sketchbook is a drawing app akin to Infinite Painter and Krita. If you can't wait for the latter to come out of beta, then Sketchbook could easily fill that void. This app features a plethora of tools, pencils, and brushes to guide you through the creation of an artful piece. There's a clean and minimalist interface in place that focuses on just the tools that you need.
Sketchbook touts itself as feeling just like the real thing. Meaning the app feels like drawing on real paper. Pencils and brushes behave like their real-world counterparts, too. If you're more old-school and reluctant to try your drawings on a digital pad, then Sketchbook could be the app for you on Chrome OS.
Accessible photo editing on your Chromebook
Chromebooks have come a long way since their inception. As long as your device offers a touchscreen, which most contemporary Chromebooks do, you should have no problem installing and using photo editing apps.
There's also the added benefit of bigger-screen real estate, of course. But since all of these apps are available on the Play Store, you can just as well use them across all of your Android devices.
We'd like to think that we covered all the bases when it comes to Photoshop alternatives on Chromebooks. But in case we missed any, by all means, let us know in the comments below.
Conclusion on Best Photoshop alternatives for Chromebooks in 2023
If you have any query let me know in comment section.