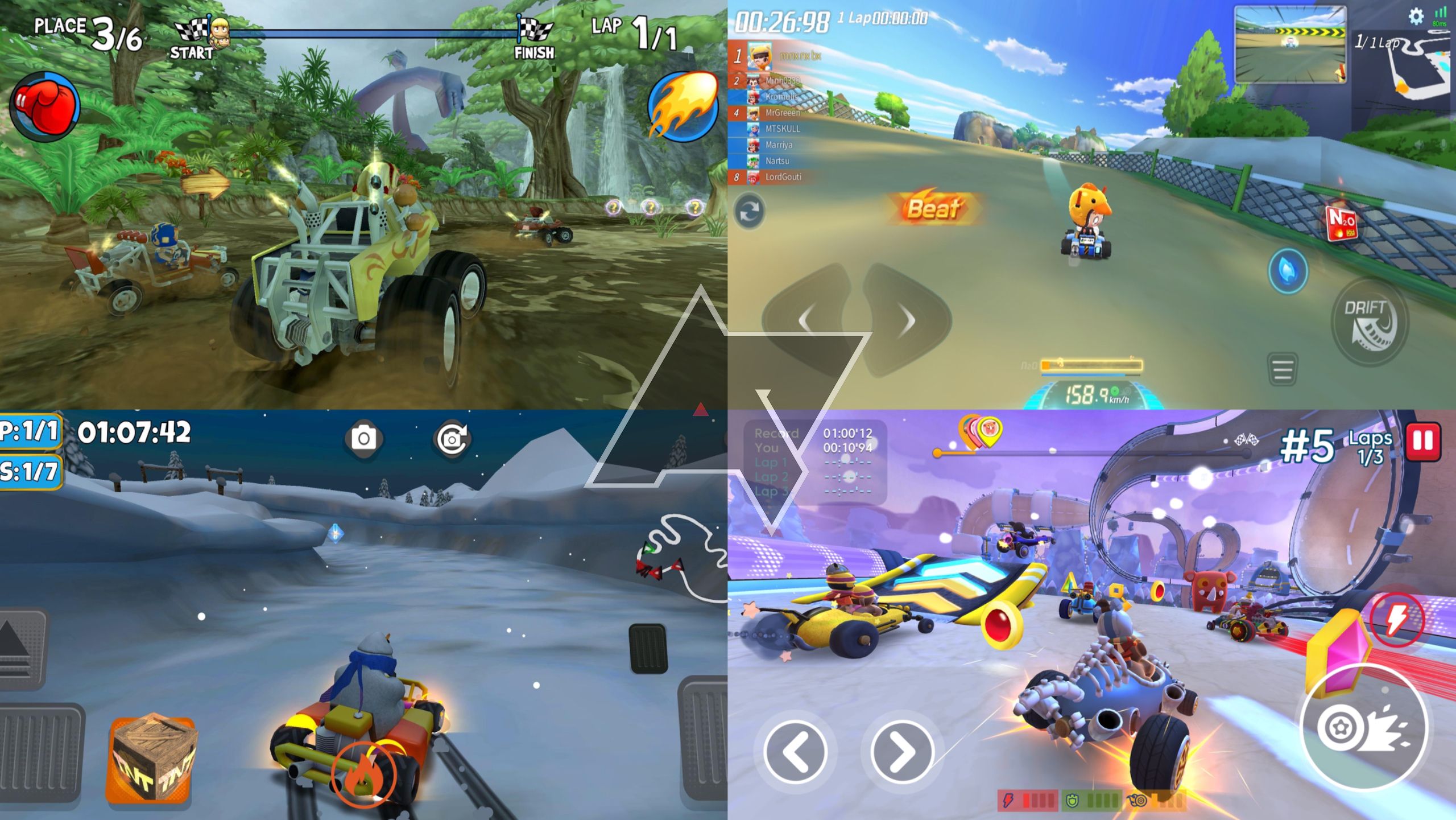 Did you know that Mario Kart 8 is among the best-selling video games of all time? With over 60M copies sold, it considerably surpasses Triple-A titles like Red Dead Redemption 2 and The Witcher 3. What makes these numbers more impressive is that the core Mario Kart games are Nintendo exclusives. Meaning these sales cover only a small ecosystem.
Nintendo has released Mario Kart Tour, a mobile-exclusive entry that looks exceptionally vibrant on contemporary Android smartphones. But aside from that, you won't find Mario Kart games on other platforms. However, since its inception in 1992, the series has inspired a number of copycats.
Mario Kart, and kart games in general, share features with the best games on Android. Competition, drifting, and breakneck speeds are all part of the game. But kart games place a cartoonish spin on the racing formula with wacky vehicles, powerups, and vibrant fictional racetracks. To highlight the genre, we've listed the best games that offer experiences similar to Mario Kart on Android.
1 Beach Buggy Racing
Today's roundup starts by going off-road with Beach Buggy Racing. This kart racer primarily takes place in open environments, like beaches and deserts. Each contestant competes for first place by manning the wheel of an off-road vehicle, like a truck, dune buggy, or muscle car.
Similarities with Mario Kart grow apparent when drivers use every means possible to take out the competition. This could be a timely power-up or a special ability unique to each driver.
The game features six game modes and well over a dozen tracks, and more are added via regular updates. Beach Buggy Racing is free. That said, if you want to enjoy an ad-free version without in-app purchases, you can get the game via Play Pass.
2 Boom Karts
Boom Karts moves the roundup into urban territory while also maintaining the core concepts of a Mario Kart game. As per usual, you'll get to drive a variety of carts and customize their racers. Powerups include lasers, rockets, bombs, and even soap. Yes, soap.
On top of the usual drifting and powerups, Boom Karts lets you manage your very own racing team. And as is usually the case with Mario Kart games, Boom Karts puts a focus on multiplayer racing. But there's also an extensive single-player mode and time trials for you to partake in.
3 KartRider Rush+
KartRider Rush+ oozes with cuteness, from its chibi characters to the crazy racing carts that range from regular cars and motorcycles to shopping carts and toilet seats on wheels.
KartRider Rush+ features its own story mode that also introduces you to the game's mechanics. Speed Race mode, on the other hand, relies on nothing but your ability to drift and maintain a winning velocity.
Meanwhile, the included Arcade Mode adds mechanics and gameplay features that you've come to expect from kart games. Once you've had enough practice, KartRider Rush+ features multiplayer racing for up to eight players online across seven game modes, which should keep players busy for some time.
4 Mario Kart Tour
Nintendo has brought many of its IPs over to mobile in recent years. You'll find the chill Animal Crossing, Fire Emblem, and Mario-themed games garnishing the Play Store pages. In 2019, Mario Kart Tour joined this roster, and it's every bit as good as you'd expect a Mario Kart game to be.
Mario Kart Tour features familiar characters from the series, including Princess Peach, Bowser, Donkey Kong, and, of course, the mustached plumber himself, Mario. There's the usual hectic racing with powerups and drifting galore. Racing well and collecting points allow you to unlock new characters, karts, and much more. Best of all, Mario Kart Tour is free, making it the most accessible entry in the series.
5 Moorhuhn Kart Multiplayer Racing
Moorhuhn is a franchise that has survived since the turn of the century. It covers an array of genres, including shmups, adventure games, and even Mahjong. Every game has something in common, though, and that is chicken. That's right; poultry takes the wheel in Moorhuhn Kart. It's a ridiculous premise and one that fits well as a Mario Kart game.
Moorhuhn Kart features almost a dozen powerups, eight tracks, and seven drivers to take them across. With no in-app purchases, it's a little light on content. But on the bright side, everything you might want to get is already in the game. Furthermore, since the game was also released for PC, Switch, and PS4, cross-play is enabled across all platforms, widening the player pool by a large margin.
6 Nickelodeon Kart Racers
Nickelodeon Kart Racers could very well compete with Mario Kart in terms of character recognizability. With the Nickelodeon brand behind its back, the game features characters from a multitude of popular franchises.
There's a total of 30 drivers from cartoons like Sponge Bob, Rugrats, and Teenage Mutant Ninja Turtles. Even more familiar characters make an appearance as a pit crew. Hey, those tires aren't going to change themselves.
Other than that, Nickelodeon Kart Racers is like a simplified version of Mario Kart. Thanks to its simpler gameplay mechanics, the game will likely appeal to kids and newcomers to the genre. But you'll still find plenty of options to play with, including upgrades to drivers and racing karts.
7 SmashKarts.io
SmashKarts.io brings something different to the racing kart genre. That's because the game touts itself as a MOBA instead of a racing game. It's accurate because there's no racing. All it takes to win in SmashKarts.io is destroying the opposition within the confines of an arena.
In other words, it's a deathmatch for up to eight players online with a plethora of powerups and weapons to use against them.
Characters also don't lack in variety. Drivers include squirrels, rabbits, aliens, and even hamburgers, to coincide with the ridiculous nature of this vehicular scramble. Each kart can be further outfitted with various customization options to ensure you look the part while taking them out.
8 Starlit On Wheels: Super Kart
Based on the Starlit franchise by Rockhead Games, Starlit on Wheels turns the adventure puzzle universe into a frantic Mario Kart alternative.
Starlit on Wheels takes you through a story that sees you oppose the evil villain, Nuru. The story spans 128 races across eight zones with mind-boggling deathloops that often conclude in a boss race.
You'll hit air time with ramps and use various powerups to stop the opposition in its tracks. Of course, in addition to an extensive single-player experience, Starlit on Wheels features online play and even lets you create tracks and share them with other players.
Explore the best Mario Kart alternatives on Android
With Mario Kart Tour on Android being as great as it is, there may seem to be little reason to try anything else. But if you're eager to delve into other franchises, games like Nickelodeon Kart Racers and Starlit on Wheels are going to be great alternatives. SmashKarts.io, on the other hand, caters to those who simply enjoy the destruction aspect of kart racing.
How did we do? Is there a better kart game on Android? Leave a comment down below and let us know.
Conclusion on Best Mario Kart alternatives on Android in 2023
If you have any query let me know in comment section.